Are you looking for a cute and simple Valentine's Day card kids can create easily on their own? If so, you are going to love this adorable cactus Valentine card. In this post, learn how to make the cutest Cactus Valentine card you've ever seen with our helpful template, step-by-step tutorial and video.
You won't believe how simple these darling cactus Valentine cards are to make. In fact, their simplicity makes them a perfect craft to make at a classroom Valentine's Day party. All you need to do is grab our cactus Valentine template and a few supplies and you are good to go!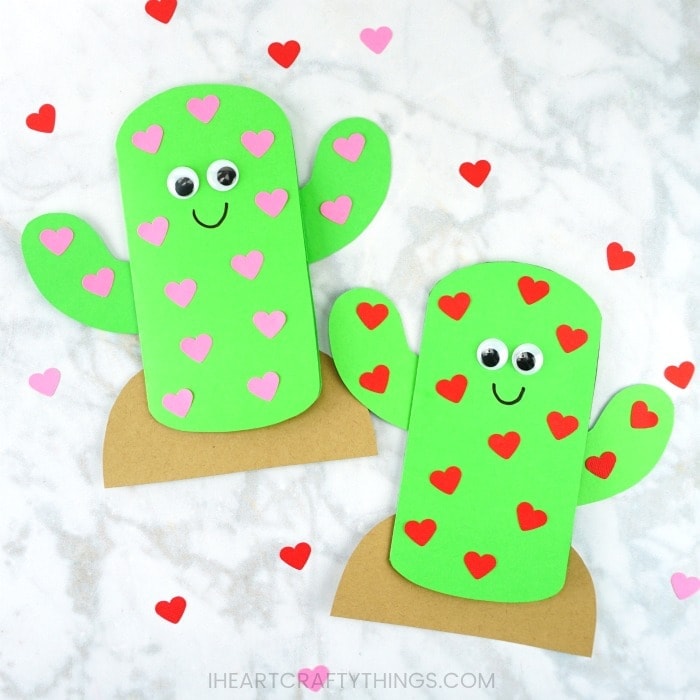 How to Make a Cactus Valentine Card
This post contains affiliate links to the products mentioned. I Heart Crafty Things is a participant in the Amazon Services LLC Associates Program, an affiliate advertising program designed to provide a means for sites to earn advertising fees by advertising and linking to amazon.com.
Supplies:
Instructions:
1. Start by downloading and printing out the cactus Valentine card template. Cut out the pieces of the template.
2. Grab your green cardstock paper. Fold it in half to create a card. Line the cactus template piece along the folded edge of the green cardstock and trace it onto the card with a pencil.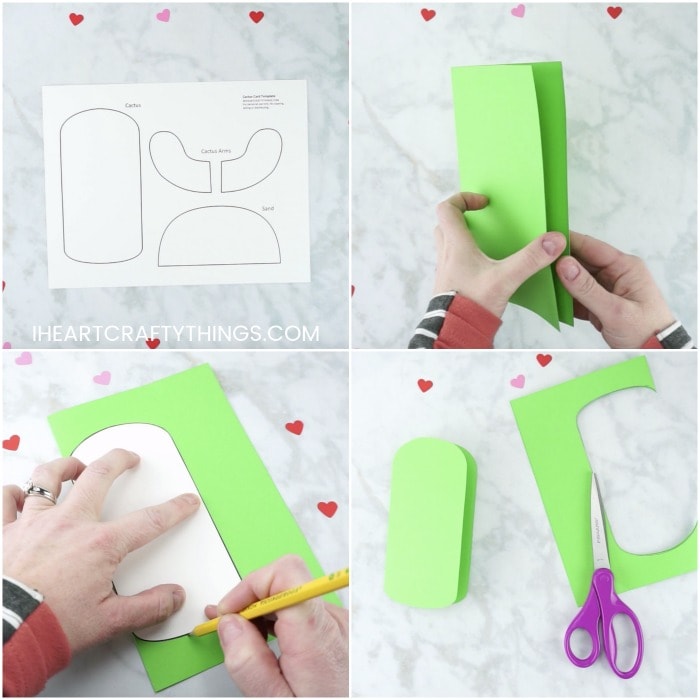 3. Cut out the traced cactus, making sure to leave the folded edge uncut. Your cactus is now opens up like a card.
4. Trace the cactus arms on the leftover edge of your green cardstock. Then trace the sand section on your brown cardstock. Cut each of the template pieces out.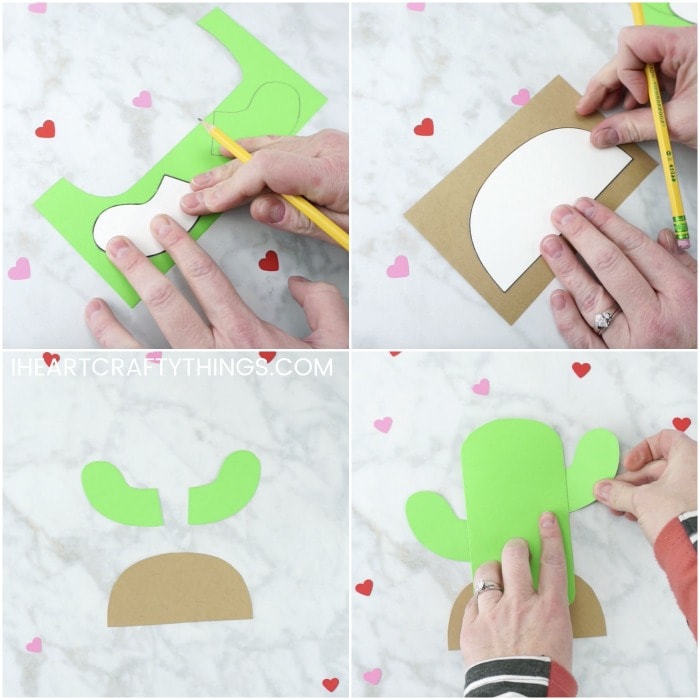 5. Add some glue to the bottom back of the cactus and glue it onto the sand piece. Now glue both of the cactus arms on the back of the cactus.
6. Glue two googly eyes on the front of your cactus card. Use your black marker to draw a smile on your cactus Valentine card.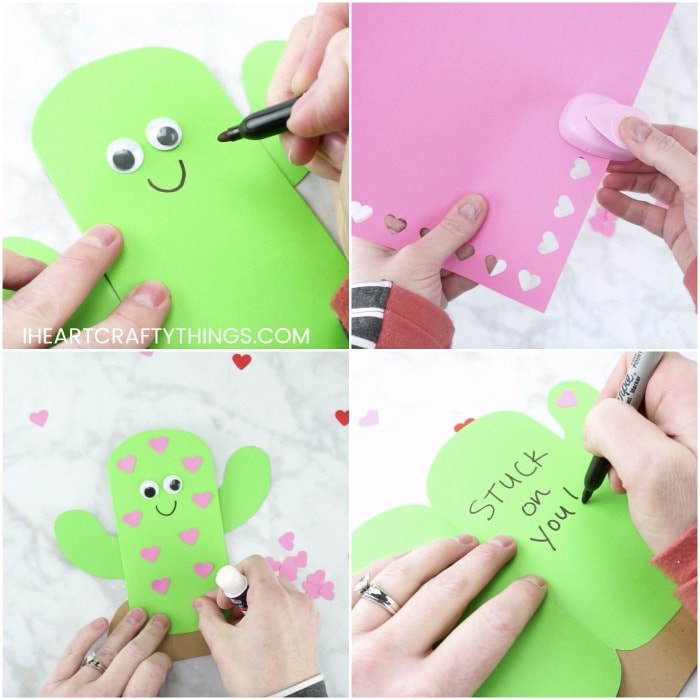 7. Grab your small heart punch and cut out 15-20 small hearts with pink or red cardstock. Glue the hearts around the cactus and cactus arms.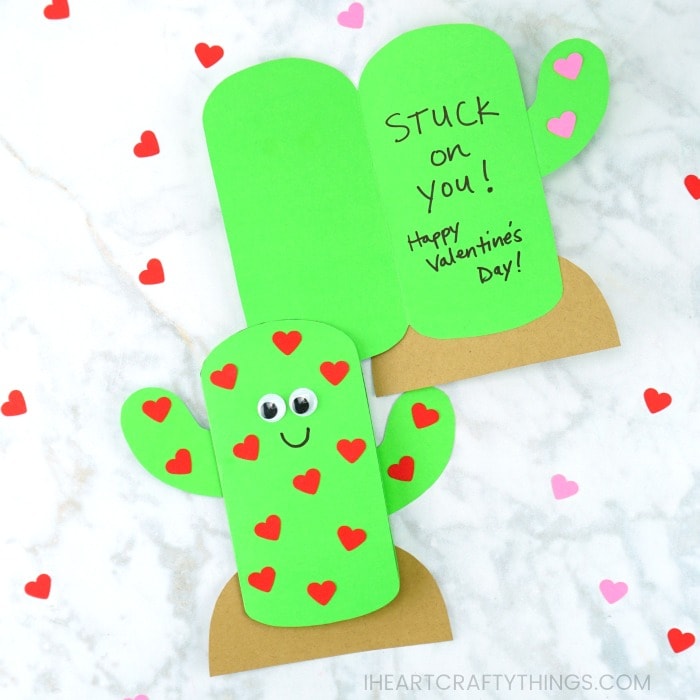 Your Cactus Valentine Card is complete!
Use a marker to write a fun message on the inside of your cactus Valentine. One cute option is "Stuck on You!" You can add a simple Happy Valentine's Day on the card too. Another fun cactus themed Valentine saying you can write in your card is "Let's stick together, Valentine!"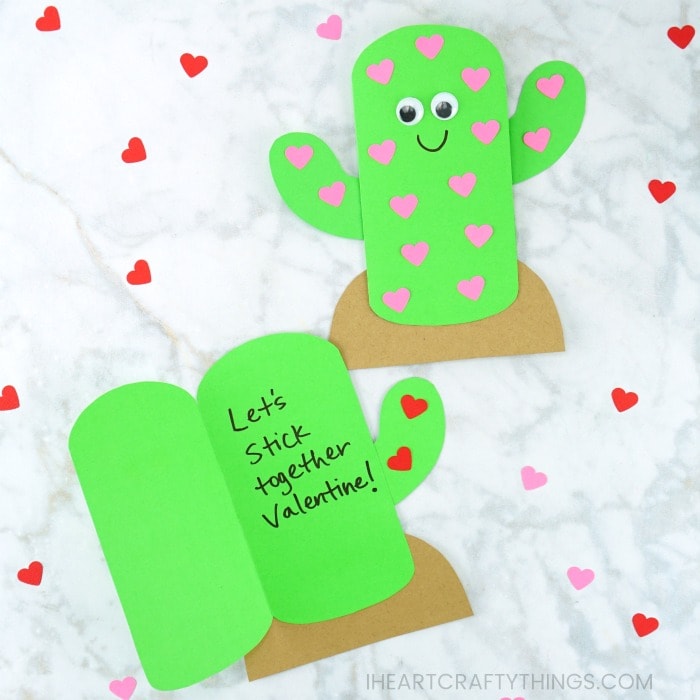 Our handy template and the simplicity of this darling Cactus Valentine card makes it a perfect craft for kids to make at a classroom Valentine's party for their Mom, Dad or grandparents. Included with our template is a cactus card sheet where you can simply print it out on green paper, fold along the dashed line in the center and cut out along the cactus template.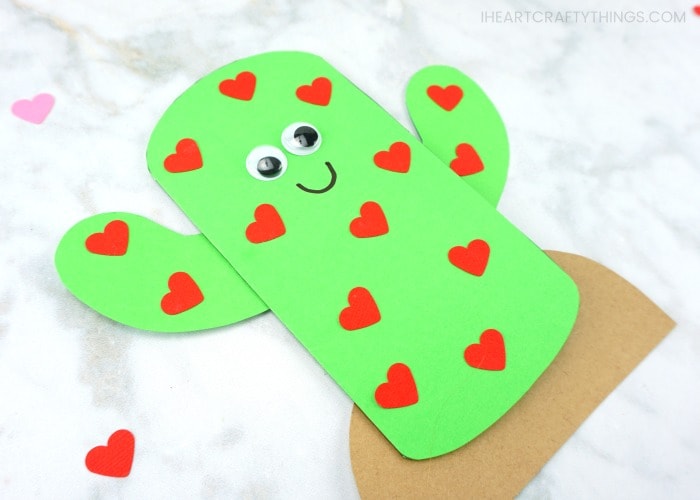 Another fun option for this craft is to use a marker to draw the prickly spines all over the cactus and then cut out hearts and glue them on the top of the cactus or the cactus arms to look like pretty cactus flowers. You could also have children color in the hearts all over the cactus with a marker or crayons.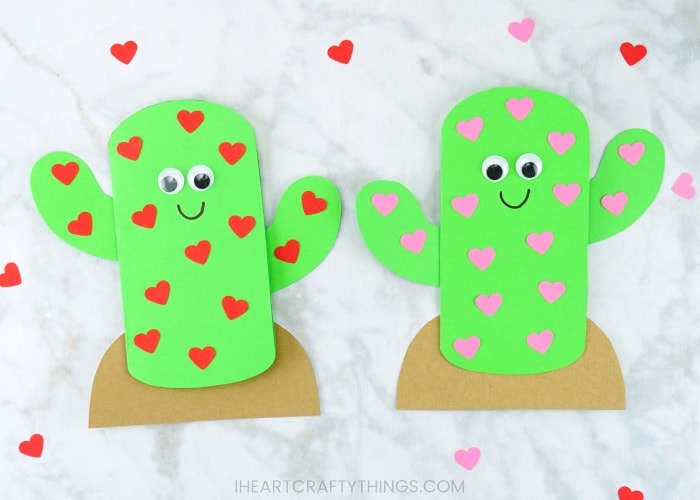 Video Tutorial: How to Make a Cactus Valentine Card
Watch the video below to be guided through each step of this cactus Valentine card. You can view more easy kids craft tutorials on our Facebook page, or right here on our website.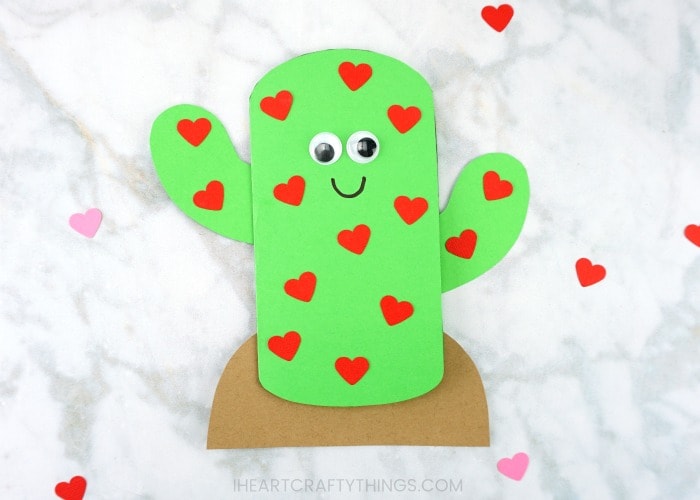 More fun Valentine Card ideas for Kids
Have unicorn fans at your house? They will love handing out these printable unicorn Valentine cards this year. We've attached a unicorn stamper to the card for a fun non-candy Valentine's Day treat.
This Bear Valentine Card is another easy Valentine card to make with the help our free template. The person you give it to will know you love them "beary" much.
Doilies are iconic for Valentine's Day decor. Here's a fun way to use them to create a beautiful paper flowers bouquet craft for Valentine's Day.