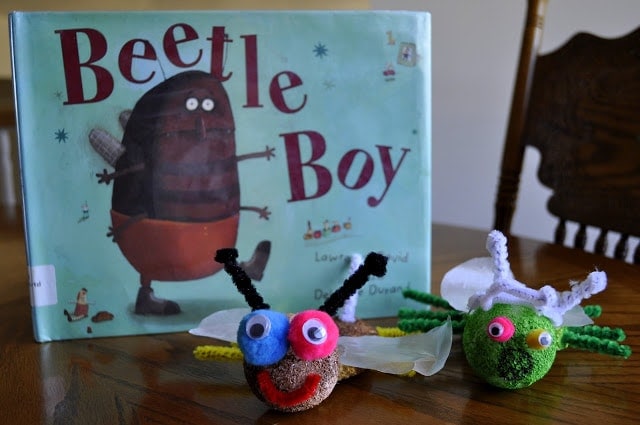 I picked up a fun book at the library called Beetle Boy by Lawrence David. It is about a boy in 2nd grade named Gregory Sampson who wakes
up and is surprised to learn that he has transformed into a giant beetle. He
tries telling his parents, but they won't listen to him. His mom says "You were
always our little bug-a-boo dear." The only person who notices he has turned into a beetle is his best friend. He is forced to improvise by cutting extra
holes in his shirt to accommodate his extra arms (or are they legs he wonders?),
and he uses his extra appendages to score in soccer. Will he stay a beetle forever? You'll have to read to find out! It is a lengthy picture book so I would recommend this book for ages 5+.
After reading this story I thought what better way to bring it to life than to let my boys create a bug of their very own. We started by talking about all the different parts on a bug (antennae, eyes, thorax, legs, wings, abdomen) and how we wanted to make sure our bugs had all those parts.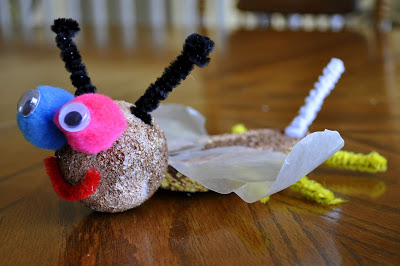 One of my favorite parts of this craft was letting my boys look through my craft closet with me picking out items they wanted to use to make their bugs. They really had their creative juices flowing!
For the head they used a Styrofoam ball and painted it the color of their choice. For the body they cut a sponge into an oval shape and painted it. They poked toothpicks in the sponge for the legs and wrapped them with pipe cleaners. The antennae were made the same way. You can see for the face they both wanted to add pom-poms with wiggly eyes for the eyes.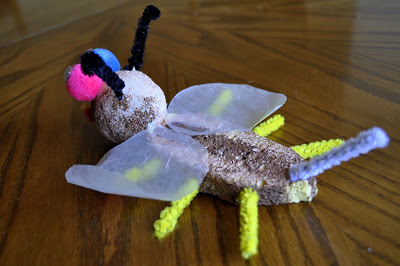 They both added wax paper wings. My oldest son's is in flight, but youngest has his wings closed. My oldest also included a stinger in his and used a pipe cleaner for a mouth.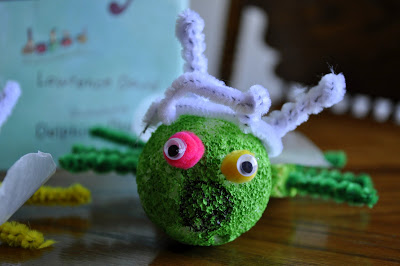 My youngest opted to draw his own mouth with sharp teeth in it and he made a crown out of a white pipe cleaner that he added on top of his head.  🙂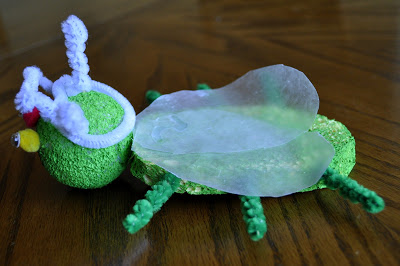 They both LOVED this project!!
If you want to make this project with a preschooler 4yrs or under, a great book to pair it with is  I Love Bugs by Emma Dodd. It has been a favorite of ours over the years! A little boy loves all kinds of bugs, from spiky spiny bugs to pretty spotty bugs. But the best bugs are hairy bugs—eightlegged scary bugs
that send the boy squealing!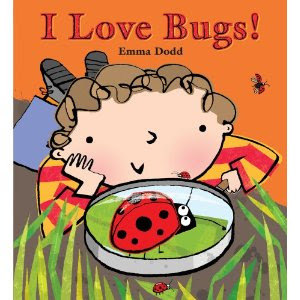 Happy Crafting!!
I like to link my posts up to
THESE
fun link parties.