Using bubble wrap is one of our favorite crafting mediums! Not only is the painting process super fun for kids but the texture of the bubble wrap can be used to make some amazing crafts. We've joined together with some of our friends to bring you some fun summer-themed bubble wrap craft ideas for you to make with your children this summer. This bubble wrap hot air balloon craft we are sharing with you today is stuffed with newspaper to give it a 3-D effect and the bubble wrap printed balloon adds so much fun texture to the craft. Make sure to check out more bubble wrap craft ideas at the bottom of this post! Get ready for a summer full of bubble wrap fun because you are going to love all of these fun ideas!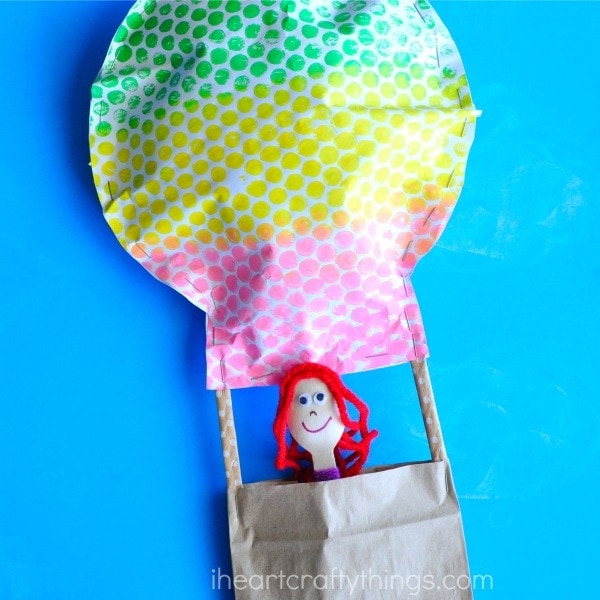 This post contains affiliate links to the products mentioned. Read our disclosure policy for more information.
How to Make a Bubble Wrap Hot Air Balloon Craft
Supplies Needed for this Hot Air Balloon Craft
– white craft paper (we used our roll from our art easel)
– bubble wrap
– paint (color of your choice)
– paintbrush
– stapler
– newspaper
– brown paper lunch sack
– brown paper straws
– scissors
Directions for this Bubble Wrap Hot Air Balloon
1. Start by cutting off a section of craft paper from your roll and a section off your bubble wrap, similar in length. We made our paper big enough to cut out both the front and back of the hot air balloon.
2. Paint your bubble wrap. We decided to paint ours in stripes but you can paint it however you choose. Mix colors, or paint one color, or paint in patterns, you decide. Once your bubble wrap is covered in paint, place it down onto your craft paper and pat down on it to help transfer all the paint from the bubbles onto your craft paper. Then peel it off of your craft paper.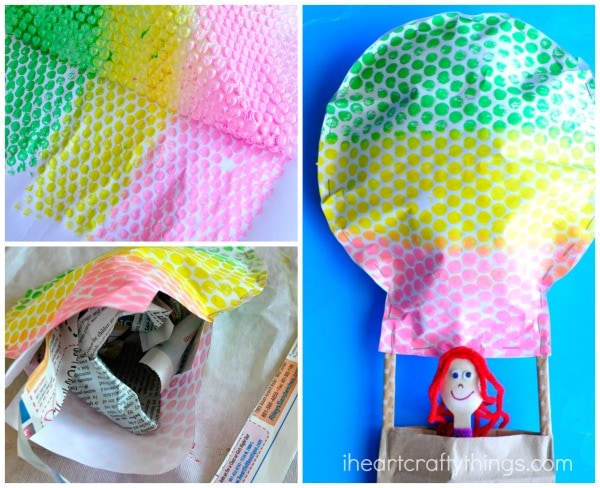 3. Once your craft paper is dry, draw and cut out two shapes of a hot balloon on it, both the same size. Cut them out. Begin to staple both pieces together on the outside edges but leave the bottom of the hot air balloon open. Stuff it with cut up newspaper strips to make it puffy.
4. Cut your brown paper straw in half and staple each half at the bottom corners of your hot air balloon opening. Then staple the bottom of your hot air balloon shut.
5. Cut the top of your brown paper lunch sack off to make a hot air balloon basket. Staple the other ends of your straws on the inside of your paper lunch bag.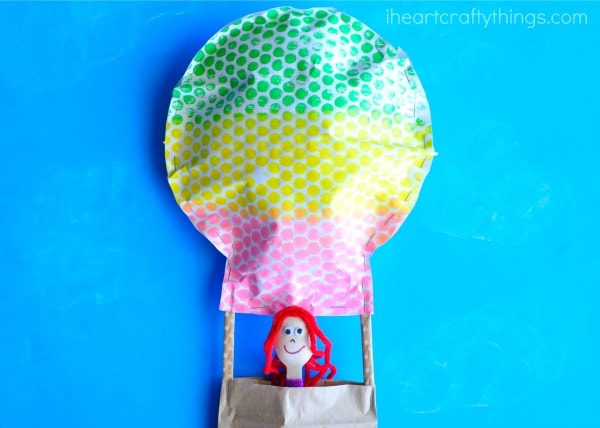 Using the paper lunch bag is fun because you now have an opening where you can insert a person to fly around in your hot air balloon craft. We put our wooden spoon mermaids and our wooden spoon pirates in our hot air balloons and they were the perfect size. You could also cut out a picture of yourself and glue it inside the basket. In fact, I was thinking how these would make a great classroom wall display with pictures of the students inside and the saying "Oh the Places we'll go…" from Dr. Seuss.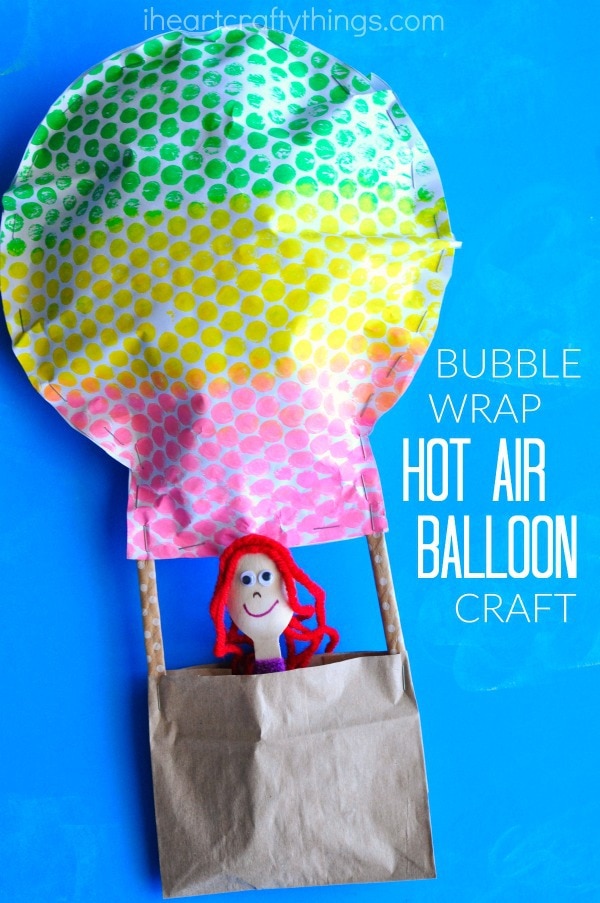 Check out these other fun bubble wrap summer-themed crafts for kids:
Bubble Wrap Ice Cream Cone | Crafty Kids at Home
Bubble Wrap & Paper Plate Jellyfish Craft | The Resourceful Mama
Paper Plate Bubble Wrap Turtle Kid Craft | Glued to My Crafts