While we do a lot of adult directed crafts in my house, you don't get to see the behind the scenes of how much my daughter enjoys crafting and creating all on her own. My craft closet is like an open book to her and she spends time every week using the materials of her choice, creating all sorts of wonderful arts and crafts.
So when she gave me her Christmas list this year it came as no surprise that she included several toys that inspire imaginative and creative play like Beados.
This week we had our sets out and created these darling Beados Christmas Ornaments. They are super simple for kids to make and will add such a fun touch of color to your Christmas tree.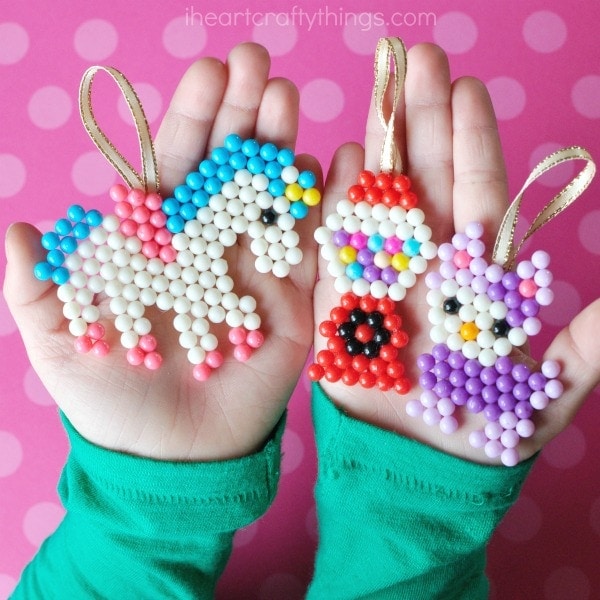 There is a plethora of benefits that children get from creative and imaginative play. For instance, creativity in making arts and crafts is great for bilateral coordination, fine motor coordination and is also a great booster of self-esteem. Imaginative play is great for language development and developing independent skills which is so important.
These are some of the reasons we turned to Moose Toys when choosing Christmas gifts for our nieces and nephews this year. They have an amazing line of toys that will have your kids smiling from ear to ear and will get their creative and imaginative juices flowing. From collectibles to crafts, they have every kids holiday list covered!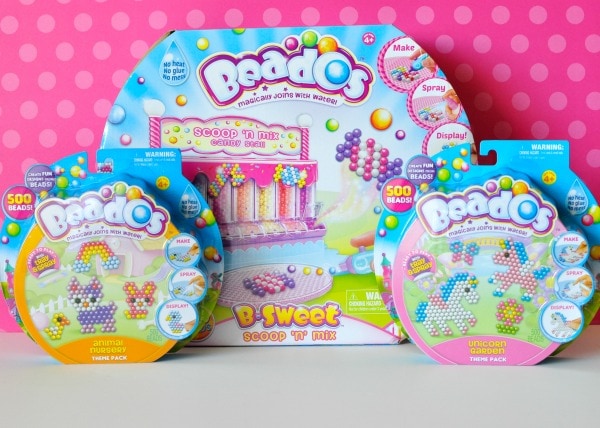 One of my daughter's favorites is Beados. With Beados, kids create their own unique characters and designs in three simple steps. The best part, no heat, no glue, no mess! The B-Sweet Scoop 'n' Mix playset is perfect for Christmas since you can design your own sweet and colorful candy treats and put them on display on the candy cart or lollipop stand. We also love the Animals Nursery and Unicorn Garden theme packs.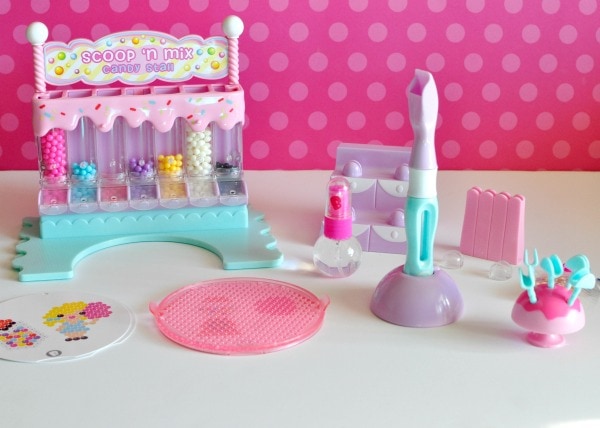 How to Make Colorful Beados Christmas Ornaments

Supplies Needed to Make these Beados Christmas Ornaments
– Beados B-Sweet Scoop 'n' Mix playset (or any Beados playset)
– ribbon
– hot glue gun (adult use only)
Instructions for Making these Beados Ornaments
1. Set up your Beados playset. Choose the template you would like to use and attach it to the back of the circular tray.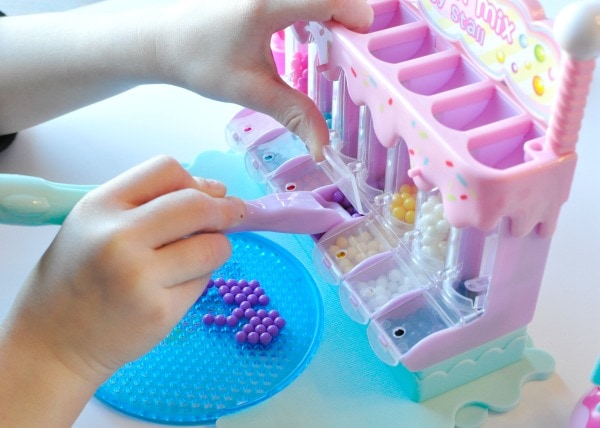 2. Scoop up one color of beads from your set into the special pen and put them in place on your template. Continue with different colors until your template is complete.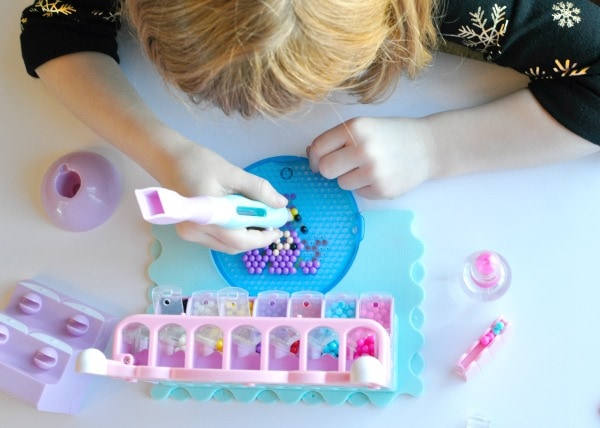 Seriously, look at the joy on this girl's face. This set is sooo much fun! My daughter loves to use the templates but you can also make your own unique design without a template.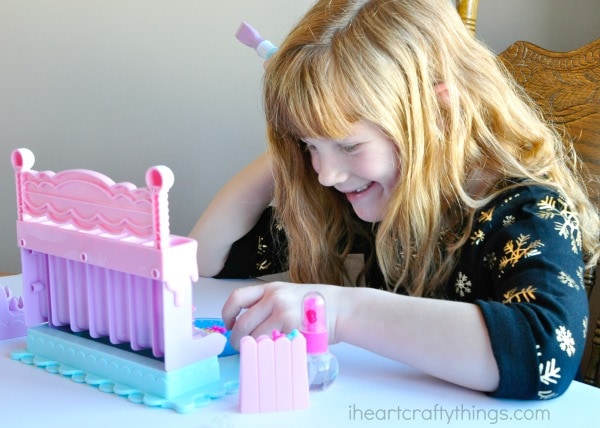 3. Fill the spray bottle with water and spray your design, covering it evenly about 5-6 sprays. Refer to the instructions for more details.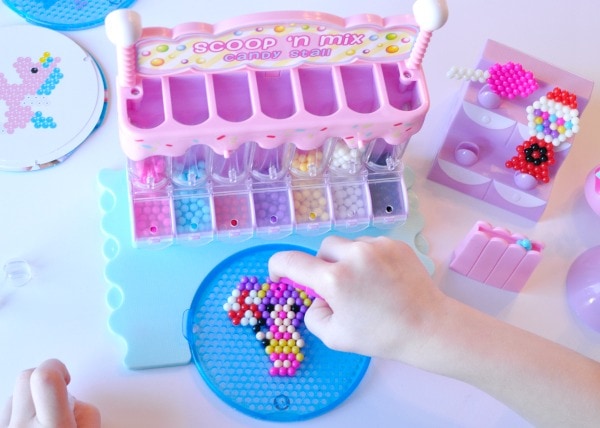 4. Allow your creation to dry for about 20 minutes before handling it. As the beads dry, they fuse together. You can place your creation on one of the stands included in the kit (like how my daughter did in the picture above), or for Christmas you can turn them into ornaments to hang on your Christmas tree. Simply hot glue a ribbon to the back of your finished creation and you have colorful Beados Christmas Ornaments.
Your child might also love to give some out as Christmas gifts to friends, neighbors or family members.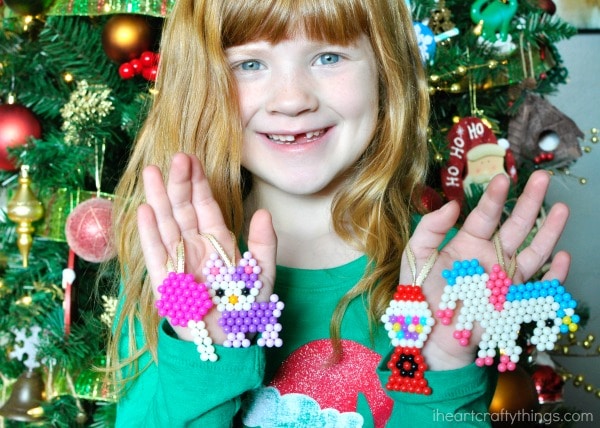 With the colder months ahead of us, Beados is a great activity for kids to enjoy indoors all winter long. They offer hours of play and endless possibilities for kids to be creative while they design their own Beados world. Visit the Beados website for more information about their great products.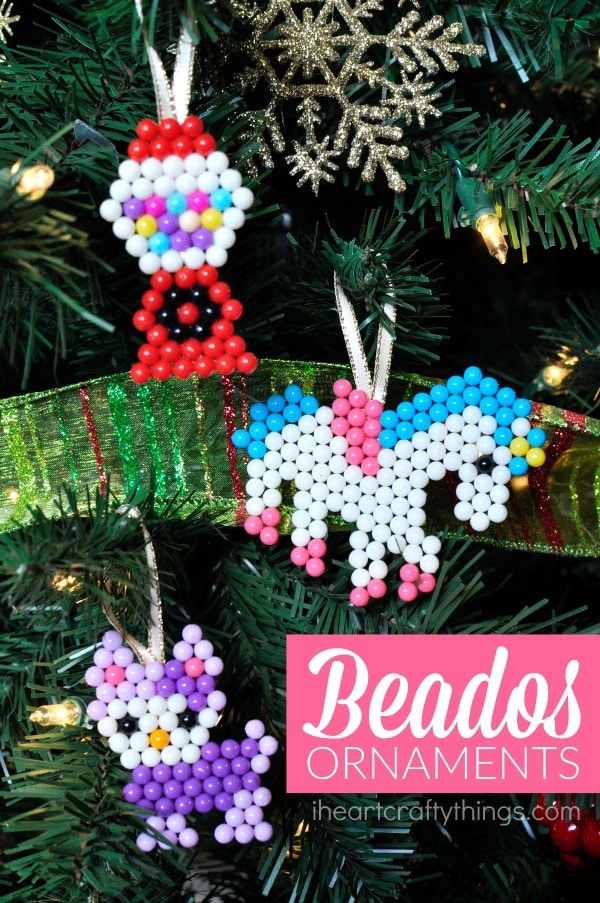 I was selected for this opportunity as a member of CLEVER and the content and opinions expressed here are all my own.