Christmas is in only a few short weeks and you know what that means…holiday parties!
Every year I inevitably end up hosting at least one at my house and between immediate family, extended family, friends and work, the weekends are chock full the entire month of December.
Keeping the kids entertained while grownups want to visit can be a daunting task so this year I created these Printable Christmas Coloring Place Mats that will keep the kids busy and smiling at your next holiday party.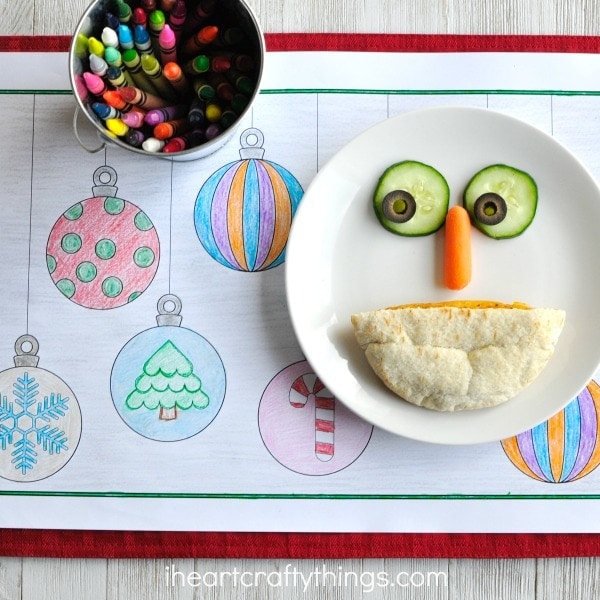 Not only are these cute coloring place mats great for entertaining children but they also help add to the decor, taking yet another item off your holiday party to do list. It's a two for one! I also added Sandwich Bros. Flatbread Pocket Sandwiches into the mix and before I knew it, my party prep was finished and I was sitting down with my feet up, watching my favorite Christmas movie.
How to Use the Printable Christmas Coloring Place Mats

Supplies Needed to Make these Christmas Coloring Place Mats
– Christmas Coloring Place Mats Printable
– Crayons, markers or coloring pencils
– Small bucket or container to hold the crayons
Directions to Make these Printable Christmas Place Mats
First, if you don't have a high tech printer at home that prints in larger sizes, you'll need to have the place mats printed at your local office supply store. I added the file to an SD card and they were able to pull it up and print it all within a few minutes. Have the place mats printed as Ledger size (11-inches by 17-inches). I printed 10 place mats for under $3 so it's super affordable!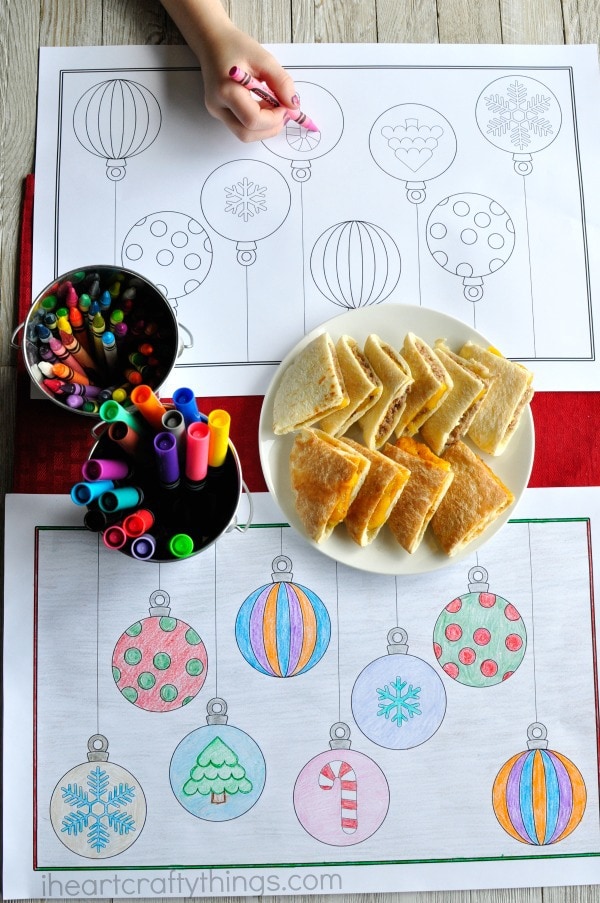 Before your party begins, lay out the place mats on the children's table together with your buckets of crayons, markers or colored pencils. When your guests arrive before dinner is served, children can sit together at the table and have fun coloring their own Christmas themed place mat.
We have made two different printable Christmas coloring place mat designs for you to choose from. One is simple for kids of all ages and one is more detailed that older children and even adults will love coloring.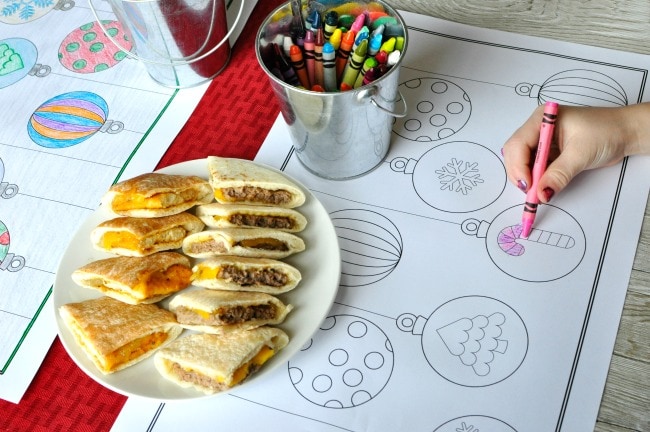 Notice the cute Sandwich Bros. Flatbread Sandwiches laid out and ready to fulfill your little one's appetite. They are Really…Really Tasty! I love how they are the perfect go-to snack or meal for kids and how they offer a good dose of protein. I also love how I can keep them stocked up in my freezer so I always have them on hand. My daughter and I love the Angus Cheeseburgers but my son's are partial to the Chicken Melts. They come individually wrapped making it easy for all of us to enjoy our favorites when we want.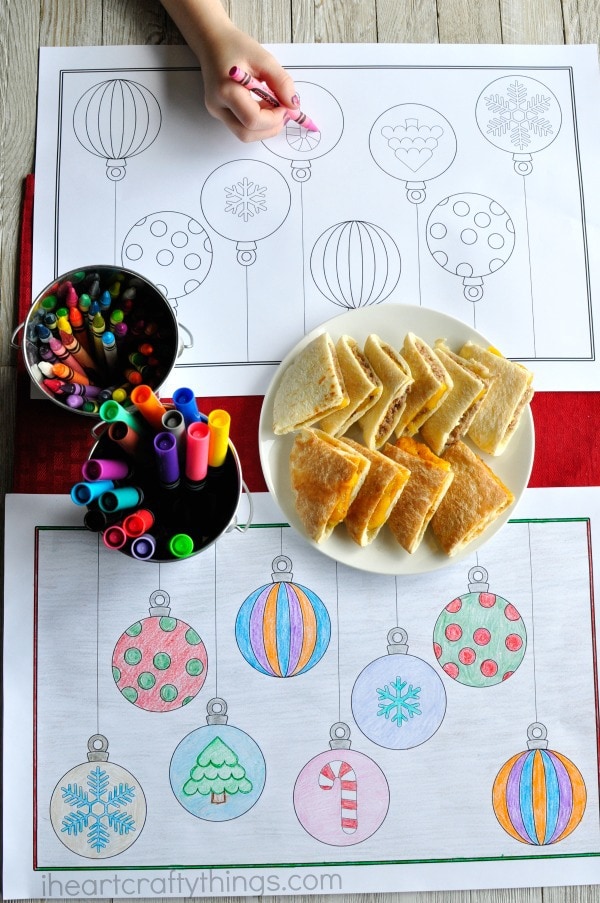 You can cut them up into smaller triangles and offer them as an appetizer for sampling on a tray at your holiday buffet with different dipping sauces, or for the kids, we adore turning them into silly face meals. Start out with your favorite Sandwich Bros. Flatbread Sandwich at the bottom of your plate for the mouth, and include a variety of different veggies that your child can use to create a silly face.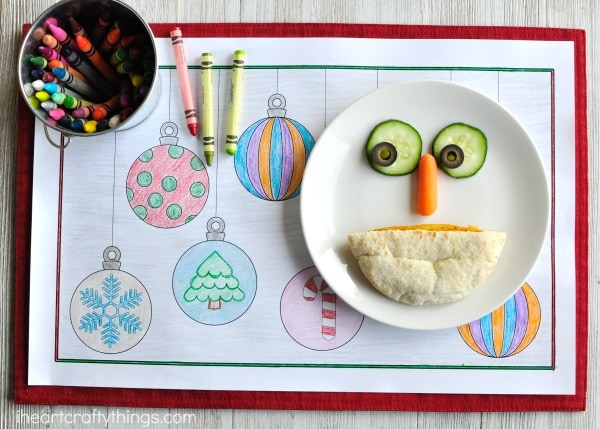 Some examples for vegetables to use for facial features includes: cucumber slices, zucchini slices, olive slices, peas, broccoli or cauliflower hair, carrots and celery. Or to stay in tune with the holiday theme you can lay out Christmas cookies and candies to decorate your face with. Either way, kids are sure to have fun creating their silly face and gobbling it all up!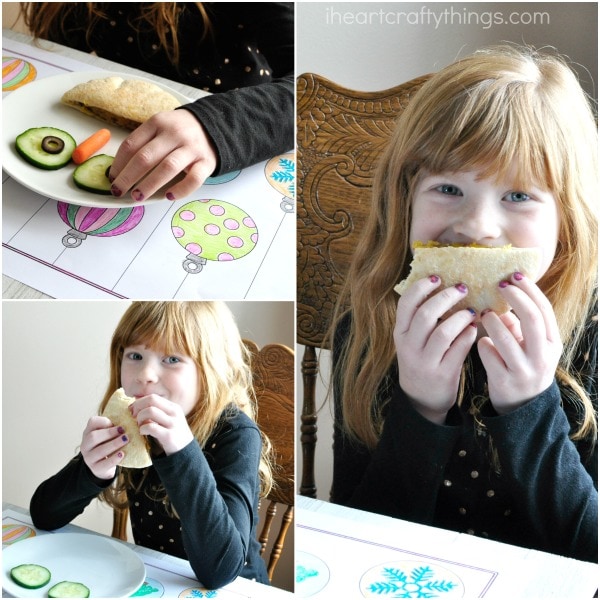 This year, de-stress your holiday by including these fun Christmas coloring place mats and Sandwich Bros. Flatbread Sandwiches at your holiday parties! Visit Sandwich Bros. website today or find even more fun ways to use Sandwich Bros. by following them on Facebook.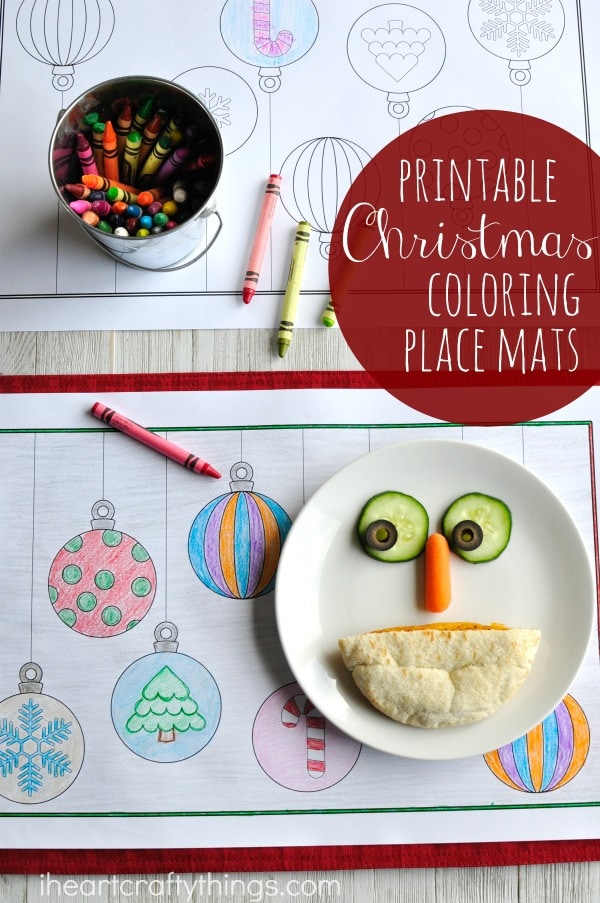 This is a sponsored conversation written by me on behalf of Sandwich Bros. The opinions and text are all mine.