The avocado is one of the tastiest and most versatile treats that you can enjoy! On top of being delicious in any form you have it in, it also happens to be very good for you as an added bonus.
Avocados are popular around the world, and many people enjoy this creamy fruit every day. It also has a simple and distinctive look, and fans of the fruit can have fun learning how to draw an avocado.
By the end of this guide, you will know everything there is to know about drawing one.
We hope you enjoy our step-by-step guide on how to draw an avocado!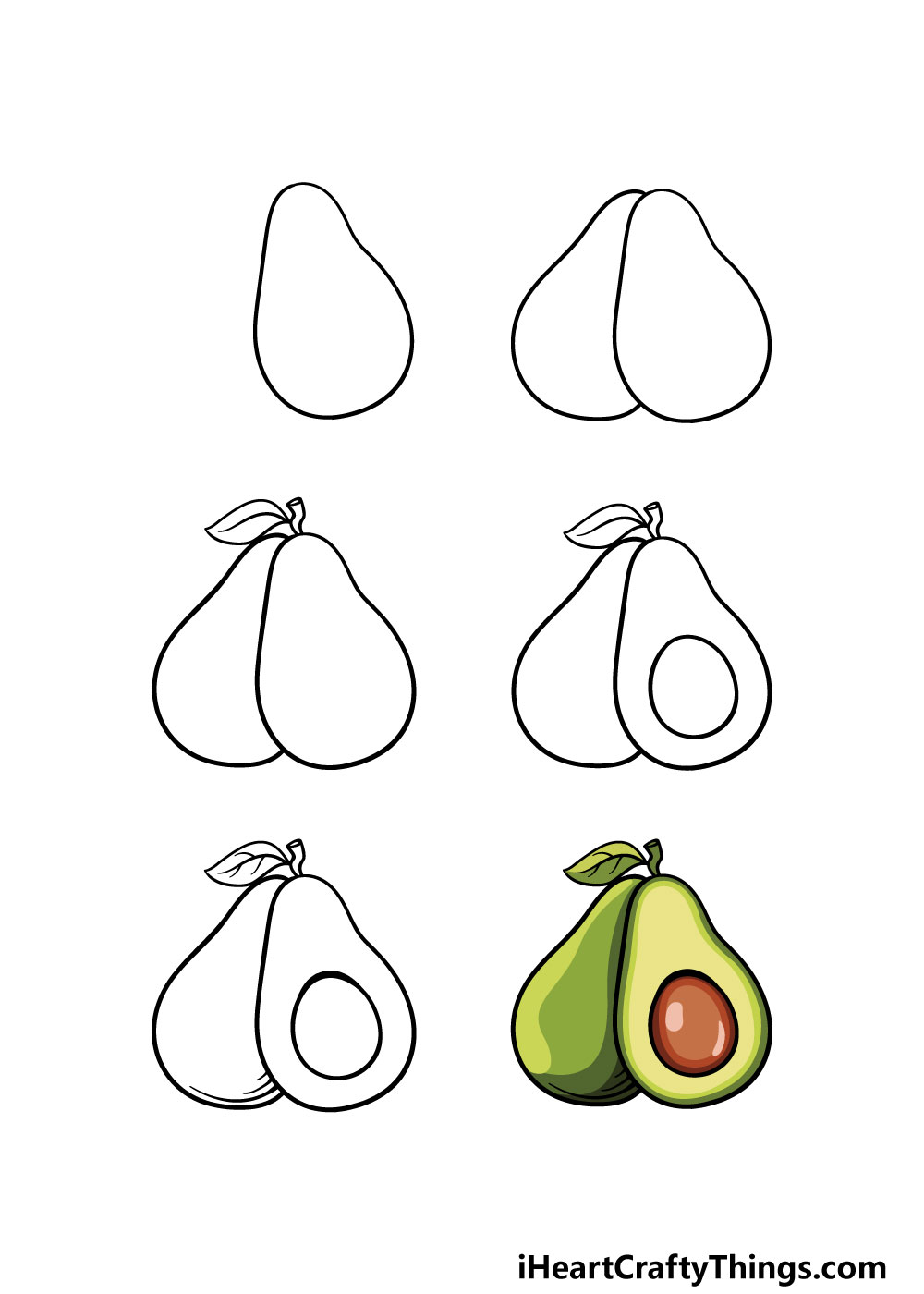 How to Draw An Avocado – Let's Get Started!
Step 1
We will be drawing two avocados in this first step of our guide on how to draw an avocado. As we mentioned in the introduction, the avocado has a simple yet distinctive shape, and we will replicate that in the outline in this first step.
The shape is very rounded, and as you can see in the reference image the bottom will be bigger and rounder than the top, which will be a bit more narrow.
That's all there is to it for this step, and we will draw the second avocado in the next step.
Step 2 – Draw the second avocado of the picture
As promised in the previous step of your avocado drawing, we will be drawing a second avocado outline in this second part.
This one will be very similar in shape to the very first one that you drew, but it will look a little bit different due to the fact that it is situated behind the avocado from step 1.
That will take care of the outlines for the avocados, and in the next steps we will add some extra details and inner elements.
Step 3 – Next, draw a stem and leaf for one of the avocados
We will be starting on some finer details and elements in this step of our guide on how to draw an avocado. For this part, we will be drawing a little stem and leaf for the avocado on the right.
You can draw this step using some curved lines to create a somewhat bent stem with a small circle at the end of it to show where it was cut off.
Then, you can draw a simple leaf shape coming off of the stem, and then add a line to the center of it to finish off this step.
Step 4 – Now, draw the seed of the avocado
The avocado on the right that is in the foreground will be sliced open with the big round seed showing.
That seed is what we will be drawing in this part of your avocado drawing, but it will also be a very simple addition to add! All you need to do is draw a simple oval shape in the center of the avocado on the right.
With the seed added, we will add some final touches in the next step before you move on to coloring in your avocado drawing.
Step 5 – Finish off the final details and elements
Your avocado is already looking really good, but we will add a few final details to make it even better in this step of our guide on how to draw an avocado!
These details will be fairly simple, but they will be effective in finishing off the drawing nicely. They will mostly comprise of some simple curved lines throughout the avocados to give them some texture detail.
Then, you can add some veins to the leaf to also give it some more realistic detail. That will do it for our details, but you can also add some of your own before moving on.
It could be fun to draw a background, for example you could have the avocados on a plate with another of your favorite foods. You could also draw a line along the inner outline of the avocado on the right to show where the skin begins and ends.
These are just a few of many ideas that you could go for, but you should have fun and be creative with it to see what you come up with!
Step 6 – Finish off your avocado drawing with some color
This is the final step of your avocado drawing, and it's the one where you get to have lots of fun adding some amazing colors to your picture!
In our reference image, we showed you one way that you could go about doing this drawing.
We used various shades of green for the avocado while using some browns for the seed and stem. This example image can serve as a great reference if you want to keep the colors a bit more muted and realistic.
There are other options you could go for as well, however! If you would like a more stylistic image, then you could use some of your favorite bright colors to finish it off.
You can also get some great color variation depending on the art mediums that you use to convey the colors that you choose.
Whether you want a bright and striking image or something more subdued, you have many options for bringing your vision to life!
Here's how you can make your avocado drawing even better…
Make some tasty artwork as we make your avocado sketch even better with these fun tips!
Avocado is a food that can be enjoyed in many different ways. You could show some other ways that avocado could be enjoyed by adding other elements to your drawing of avocado.
For example, one way that avocado is enjoyed is on toast. You could show this by drawing some toast with avocado spread on it next to this piece of avocado you have drawn.
What other ways could you show this avocado being enjoyed?
Whether you added some other food or not, you could also make this drawing more interesting by adding some background elements. This would be a great way to create a setting for this image!
The background could be a simple living room house setting, or you could draw a fancy restaurant.
These are just a few simple ideas, but you could use your imagination and create something more unique.
What are some other background settings you could use for this picture?
Another way to make your avocado drawing more personalized would be by adding a human character to the image.
They could be drawn in a cartoon or a realistic style, and it would work really well if you created a background setting!
If you love to eat avocado yourself, then you could base the character on yourself to show how you would like to enjoy this tasty treat. Who else could you put in this image to finish off the scene?
Avocado has a creamy, rich texture, and you could show this with the colors and art mediums you choose. One way of doing this would be by using some thick paint for your avocado sketch.
One medium you could use would be acrylic paint. This paint can maintain a thickness while not taking that long to dry.
It is just one medium you could use, and you may even prefer to use a lighter medium like watercolor paints instead. It's up to you to decide on how you would like the colors to look!
Your Avocado Drawing is Complete!
You have finished this step-by-step guide on how to draw an avocado, and you have an amazing drawing to show for it!
While avocados are quite simple in shape, it can still be a challenge to draw them when you get down to it, so we hope that this guide showed you that drawing them can be fun and easy.
Now that you have finished this guide, remember that you can change up some of the details and add your own if you wish!
We mentioned a few ways that you could have fun being creative with it, but we can't wait to see what else you can come up with.
Please be sure to check out our website for more amazing drawing guides. We also upload new guides often, so be sure to visit us there often!
You worked hard on this amazing avocado drawing, and we would love to see it! Please be sure to share it on our Facebook and Pinterest pages when it's done for us to see.