The anime style of animation is one of the most popular in the world! Originating from Japan, anime boasts a wide selection of styles that cover any kind of story or genre.
It has become very popular around the world, with some anime franchises becoming some of the biggest on the planet.
It is popular to depict humans and animals in what is seen as the classic anime style, and many anime fans like to learn how to draw an anime dog.
Doing so is a great way to imagine their own anime scenarios and characters!
If you love anime and would like to know how you could do that too, then look no further than this tutorial!
Our step-by-step guide on how to draw an anime dog in just 6 easy steps will show you how to design your own awesome anime animal.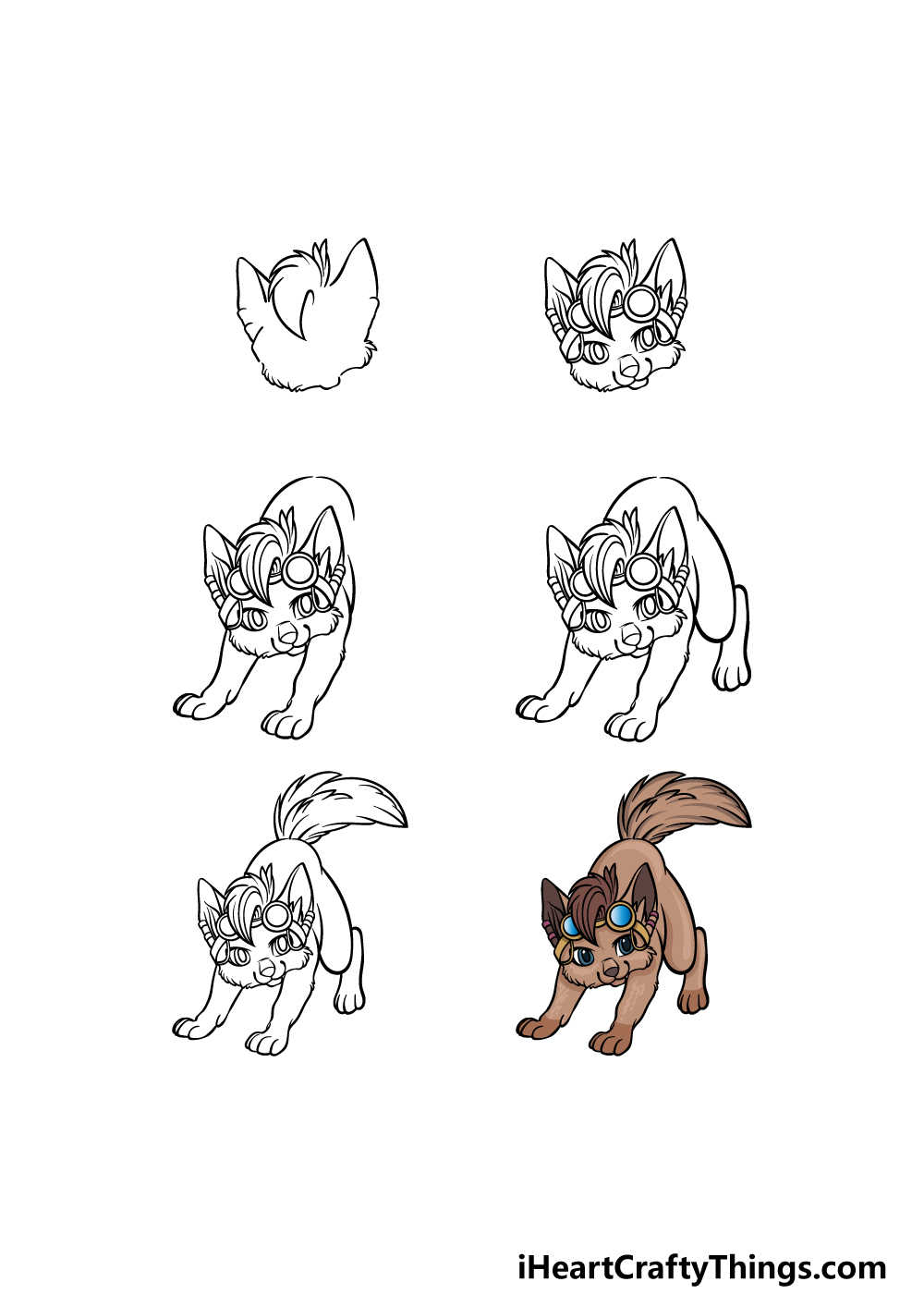 How to Draw An Anime Dog – Let's Get Started!
Step 1
While there are many different kinds of styles and characters throughout anime, it will typically take on a rather stylized and exaggerated style.
That will certainly be true of the design we will be working on in this guide on how to draw an anime dog. For this first step of the guide, we will focus on the head and face outline of this dog.
For the base of the face we will be using some small, jagged lines. These will be used to make the face look furrier.
You can also draw the sides of the head, and these will extend to some large, pointy ears that you can draw using some smoother lines.
Finally, we will be drawing a large curly tuft of hair extending from between the ears and over the face. That's all there is to it for now, and then you can move on to the next step.
Step 2 – Now, draw some facial details and the goggles it is wearing
You have completed the head outline, and in this second part of your anime dog drawing you will be adding some inner details and elements.
First, we will be drawing some cool goggles that it will be wearing. These will be drawn using some circles near the top of the head, and then you can add a smaller circle inside of each one.
Then, use some curved lines for the thin straps securing them to the head.
Next, we will be drawing the eyes of the dog. In typical anime fashion, these will be very large and expressive.
Finally, draw a small triangular shape for the nose and then extend some curved lines coming from the base of it for the mouth. Finish off with some details inside the ears and then we shall proceed.
Step 3 – Draw the start of the legs and body
You have completed the head of the dog, and in this third step of our guide on how to draw an anime dog we will start focusing on the body. First, we shall draw the front legs.
The pose we have this dog in will show it stretching its front legs forward, and these leg outlines can be drawn using simple curved lines with small jagged line details for extra furriness.
Finally for this step, you can draw the back of the dog. This will be drawn using a simple curved line extending upward, as shown in the reference image. Then it will be time for step 4!
Step 4 – Next, draw the back legs
Continuing with this anime dog drawing, we will now be adding the back leg of the dog. First, draw a rounded shape using a single curved line extending from the dog's back to the belly.
Then, draw another long, thin and rounded shape behind that for the lower part of the leg.
Finish off this section by drawing some smaller round lines for the paws before we move on to some final details in the next step.
Step 5 – Add the final details to your anime dog drawing
To complete the design before moving on to the final step of this guide on how to draw an anime dog, we will be adding a large bushy tail.
This will be drawn using lots of curved lines that have pointy tips to them connecting to one another in order to create the entire tail.
Once you have added this tail, you could also add some extra details and ideas of your own!
It could be fun to draw a background to show what kind of adventure this anime dog may be taking part in. What kinds of settings do you think this dog could be in?
Step 6 – Finish off your anime dog drawing with color
Now you can finish off this anime dog drawing in style as you add some color! Anime characters often come in bright vibrant colors, but they can also be more muted in appearance.
This second approach is what we went for in our reference image.
We used some lovely shades of browns for the fur of the dog, and then we used gold for the straps of the goggles with blue for the lenses.
When coloring your own artwork, do you think you will go for similar colors or will you maybe go for a brighter, bolder color scheme? Anything you choose will look great, and we can't wait to se it!
Here's how you can make your anime dog drawing even better…
Make this anime dog sketch even better with these fun tips we have for you to try!
This drawing of an anime dog that we created in this guide is wearing some cool goggles. These look great, but you could also add other types of clothing and accessories.
Maybe it could be wearing more elaborate goggles, glasses or maybe even a hat. These are just a few ideas, but you could add any items you can think of!
This would be a great way for you to create your very own unique character that shows off your own personality.
Once your anime dog looks perfect to you, you could really test yourself and create a second anime dog friend for the first one. To do this, you could start off by choosing a dog breed that you love.
Then, use some photos of the dog breed and try your best to adapt it into an anime dog similar to the one that we created. You can also add some clothing and accessories to this second dog!
Creating a second dog is not the only way that you could add a friend to this anime dog drawing. Another way would be to create a character using a different animal.
For example, you could have an anime cat or an anime hamster if you want to stick to a theme of pets.
Whatever you choose, we would once again suggest looking up photos of your chosen animal to help as you adapt it.
This anime dog sketch shows a character that isn't from any particular series, but you could still add your favorite anime character to the drawing.
This would be a fun way to show off your favorite anime character, and it would be interesting to see how they interact with this anime dog. Another idea would be to create your very own anime human character.
Maybe you could even base the character on yourself or someone you know! Who would you like to base a human character on?
Your Anime Dog Drawing is Complete!
You have completed this guide on how to draw an anime dog in style, and now you know everything there is to know about creating this awesome design!
We hope that it proved to be a fun and easy experience for you while working through the steps we laid out.
Now that you have finished this guide, be sure to also add any of your own ideas and additions!
You could even take what you have learned here to design your very own unique animal anime characters!
Then, you can head on over to our website for access to an ever-increasing collection of awesome drawing guides to enjoy!
Checking in often is the best way to make sure you never miss out on the fun.
The final step of the process is showing off your amazing picture! You can share your creation on our Facebook and Pinterest pages for us to see and admire!