Craft sticks are one of those items that you always want to keep a good supply of in your craft supply stash. Why? Well, not only are they super versatile when it comes to crafting but you can make some seriously awesome things with them!
When I was a kid all that was available was Popsicle sticks (affiliate link) but now they have mini craft sticks, jumbo craft sticks and even wavy jumbo craft sticks for kids to get creative with. How cool is that?!!
Check out these 25 crazy cool craft stick crafts that your kids are sure to love!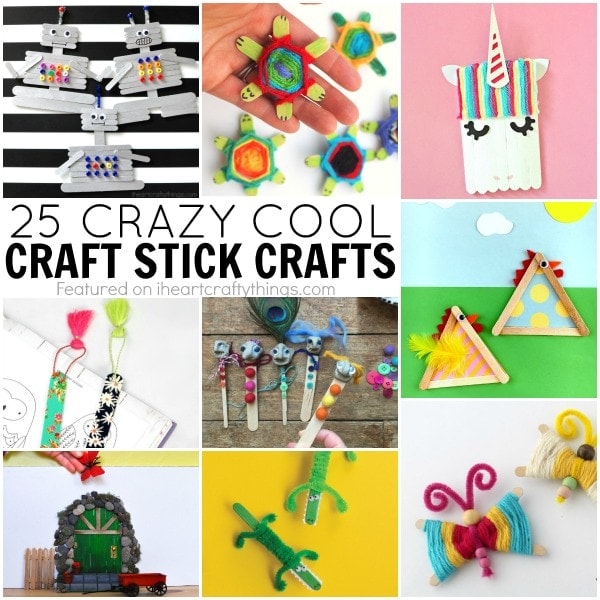 25 Crazy Cool Craft Stick Crafts for Kids
All of the images of the craft stick crafts I am sharing below have been shared with the permissions from the respective bloggers for the purpose of this post. Click on the title links underneath the photo collages to be taken to the full craft tutorials. If you would like to share this post (please do!) we would appreciate if you would use the top square image or the bottom vertical image for pinning.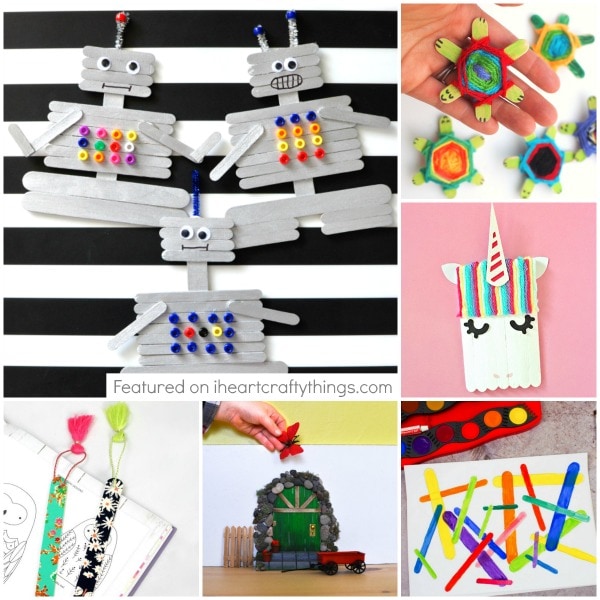 1. Combine regular, mini and jumbo craft sticks to design some awesome craft stick robots.
2. These little mini woven turtles are about the cutest thing I've ever seen!
3. Have any unicorn fans at your house? They will love this beautiful craft stick Unicorn craft.
4. Add some fancy flair to your daily reading with these no-sew fabric and craft stick bookmarks. Aren't they gorgeous?!
5. Step up play time to a whole new level of awesome with these diy craft stick fairy doors.
6. Use different sizes of craft sticks to create this beautiful process art activity. A fun craft for any time of the year!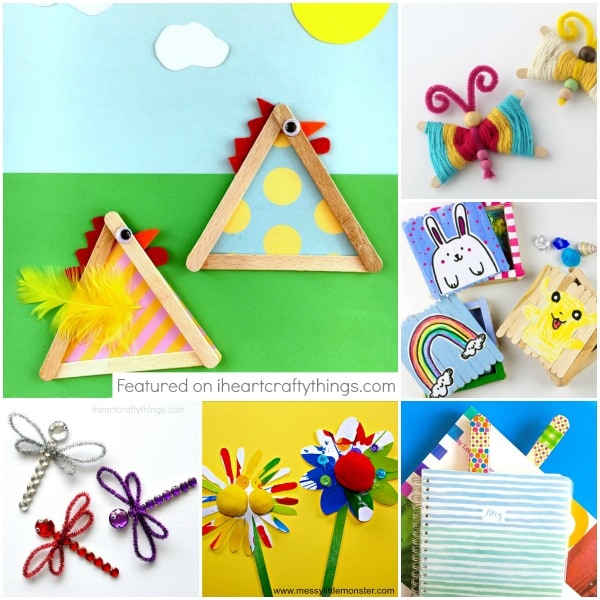 7. Aren't these craft stick chicks adorable?! I love how you can use different colors and patterns of paper on the inside to make them all unique.
8. Beautiful woven craft sticks butterflies…Need I say more? I mean, they are the coolest!
9. Build your own treasure box out of craft sticks to hold all of your favorite treasures.
10. Use craft sticks as a base to create bright and shimmery dragonflies!
11. Here's a fun idea of how to turn beautiful process art into pretty spring flowers. I can see Grandma smiling from ear to ear over these.
12. Grab your washi tape stash and get creative making a colorful craft stick bookmark. A simple and quick craft, perfect for a rainy day.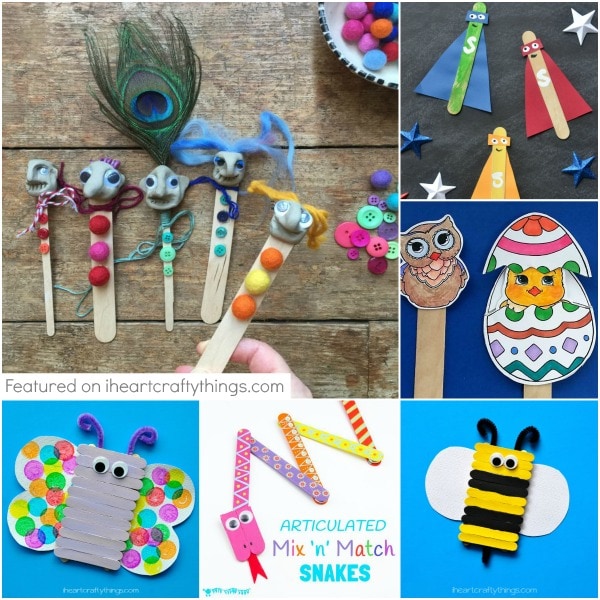 13. Craft sticks + Clay + Yarn + Embellishments = The coolest craft stick puppets ever!
14. The little superheroes in your life will love this easy, peasy craft stick superhero craft.
15. Print off the pattern and have an afternoon of fun creating these Easter surprise eggs. Aren't they fun? Check out the video of them in action when you head over to grab the printable.
16. This colorful craft stick butterfly craft is perfect for spring!
17. While snakes in real life are a bit scary, this articulated mix 'n' match craft stick snake is anything but! What fun pattern will you create for your snake?
18. This craft stick bee craft is another fun spring craft that kids will love.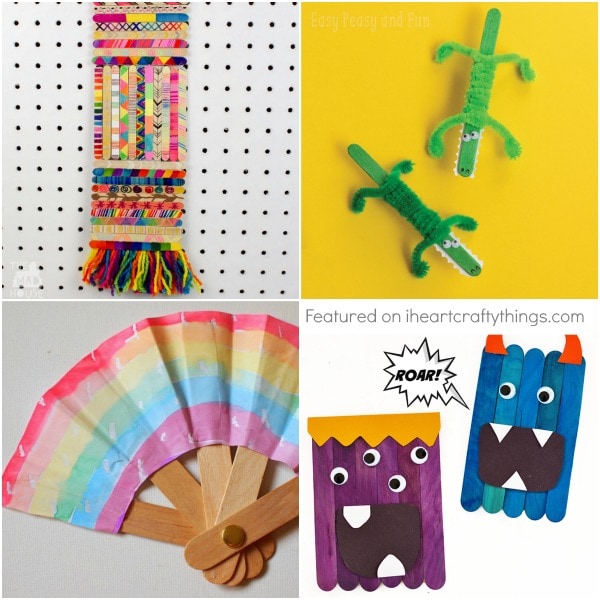 19. This craft stick wall hanging is simply amazing! Who knew a handful of decorated craft sticks could be turned into such a beautiful decor piece?!
20. Craft stick crocodiles…Oh the cuteness!
21. Easy instructions for how to make a folding craft stick fan. I want to make one for myself!
22. Craft stick monsters -A classic and creative kids craft.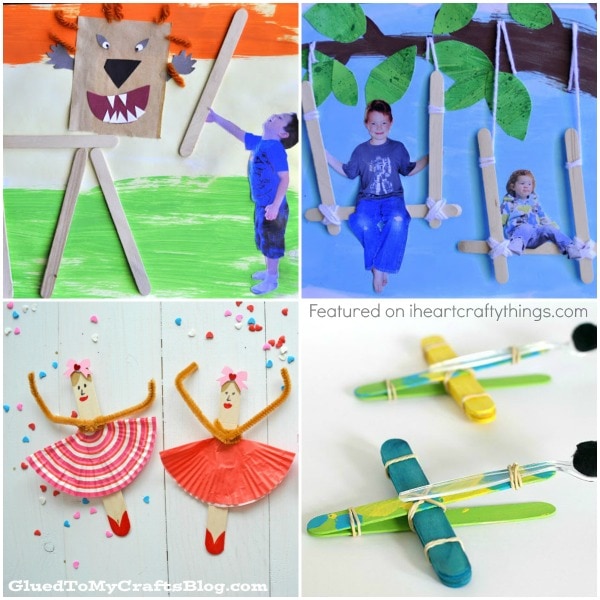 23. Have you ever heard of the book Six Sticks by Molly Coxe (affiliate)? The book lays out the perfect opportunity for kids to get creative and create artwork based on six craft sticks.
24. These little craft stick ballerinas are so simple, creative and cute!
25. Use craft sticks to explore this fun STEM activity and make a craft stick catapult. Educational and fun!