Created by the Kratt brothers, Wild Kratts is a television series that features the adventures of Chris and Martin as they go around the world going to different animal habitats.
They get to meet incredible wild animals – teaching kids about science (biology, zoology, and ecology) while having fun!
Each episode of the series is an adventure in itself! Kids aged 6-8 love the show's engaging stories of adventure, mystery, and rescue. This animated show aims to promote age-appropriate science as well as love for animals and empathy!
It's a show that is meant to be enjoyed not only by kids but also kids at heart!
If you want to take on a Wild Kratts adventure on your own, here are 10 free Wild Kratts coloring pages that you can download and print on your own!
10 Brand New Wild Kratts Coloring Pages – Free to Print and Color
This Wild Kratts coloring page features Chris Kratt. He's the younger brother and stands proud and looking happy with a smile as he anticipates the next Wild Kratt adventure.
He sports his green Creature Power Suit over his usual outfit of a green sweater with the sleeves rolled up to his arms paired with his favourite khaki shorts. His boots match the overall adventurer look.
Chris' Creature Power Suit is green and is characterized in the show with the same color. But if you'd like to change that, what color would you assign him?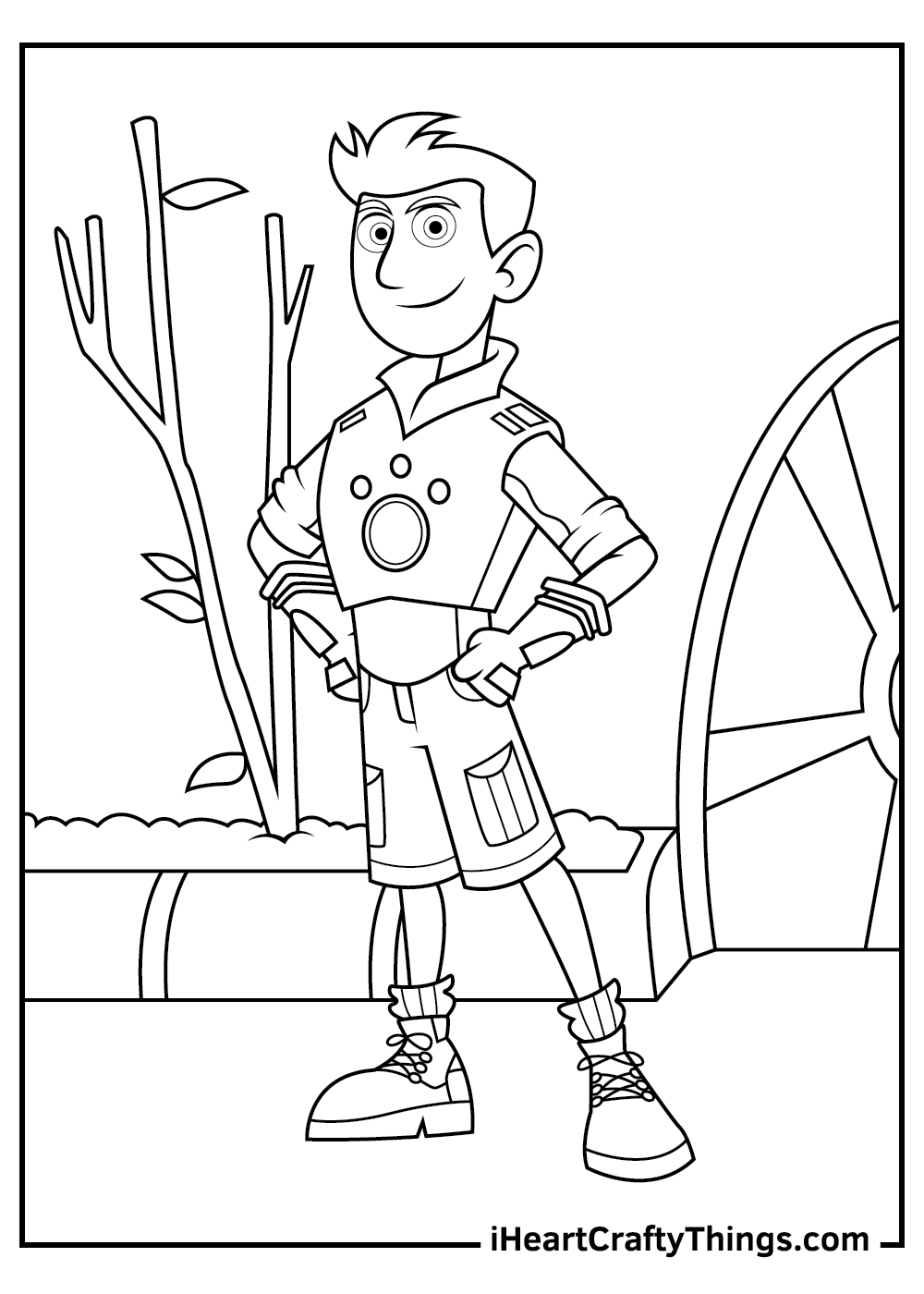 This Wild Kratts printable features the Kratt brothers with Aviva Corcovado, the third-in-command of the Wild Kratts team. She is standing in the middle of Chris and Martin, looking happy with her favorite yellow sweater and blue jeans.
Chris is proudly standing on the left with his usual green sweater but no sign of the Creature Power Suit, one of Aviva's inventions. Martin is on the right side, beaming with a smile as he stands tall and proud beside his two admired Wild Kratts crew. He's wearing his usual blue sweater.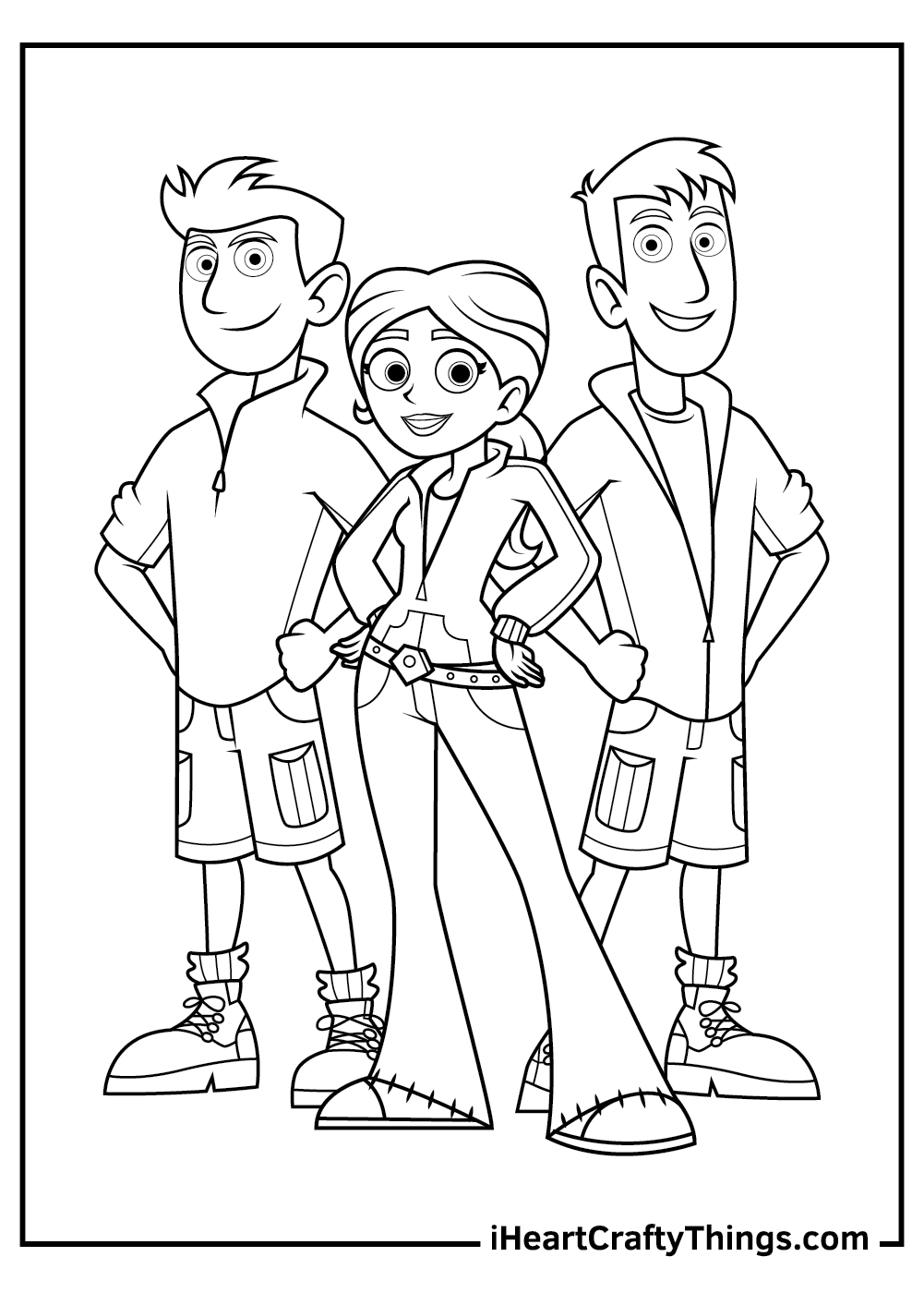 Now here's Martin Kratt! He's standing tall and proud with a smile as he showcases his blue Creature Power Suit – a special invention that gives the user featured abilities of different animals.
Martin sports the same adventurer outfit as Chris but is characterized by the color blue. What do you think? Does this color match the playful side of Martin?
You are free to design colors on this Wild Kratts coloring page for kids!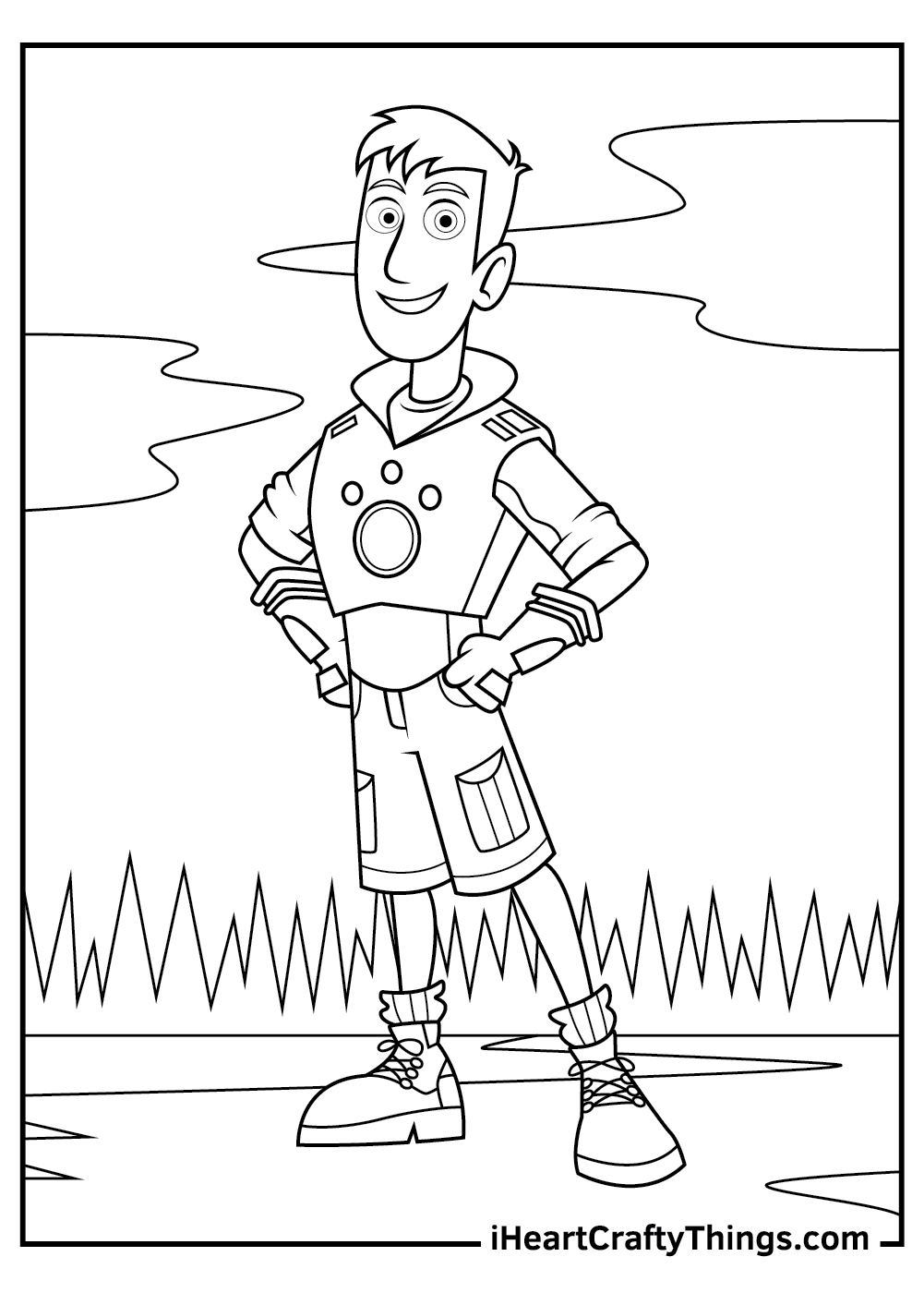 In this image, both Chris and Martin have transformed into elephants using their Creature Power Suits!
It's a good day for another fun and adventure! Martin is on the left side showcasing his blue elephant suit while Chris is showing off this green elephant suit. It's a beautiful day in the savanna with clear skies and a blushing green tree behind the Kratt brothers!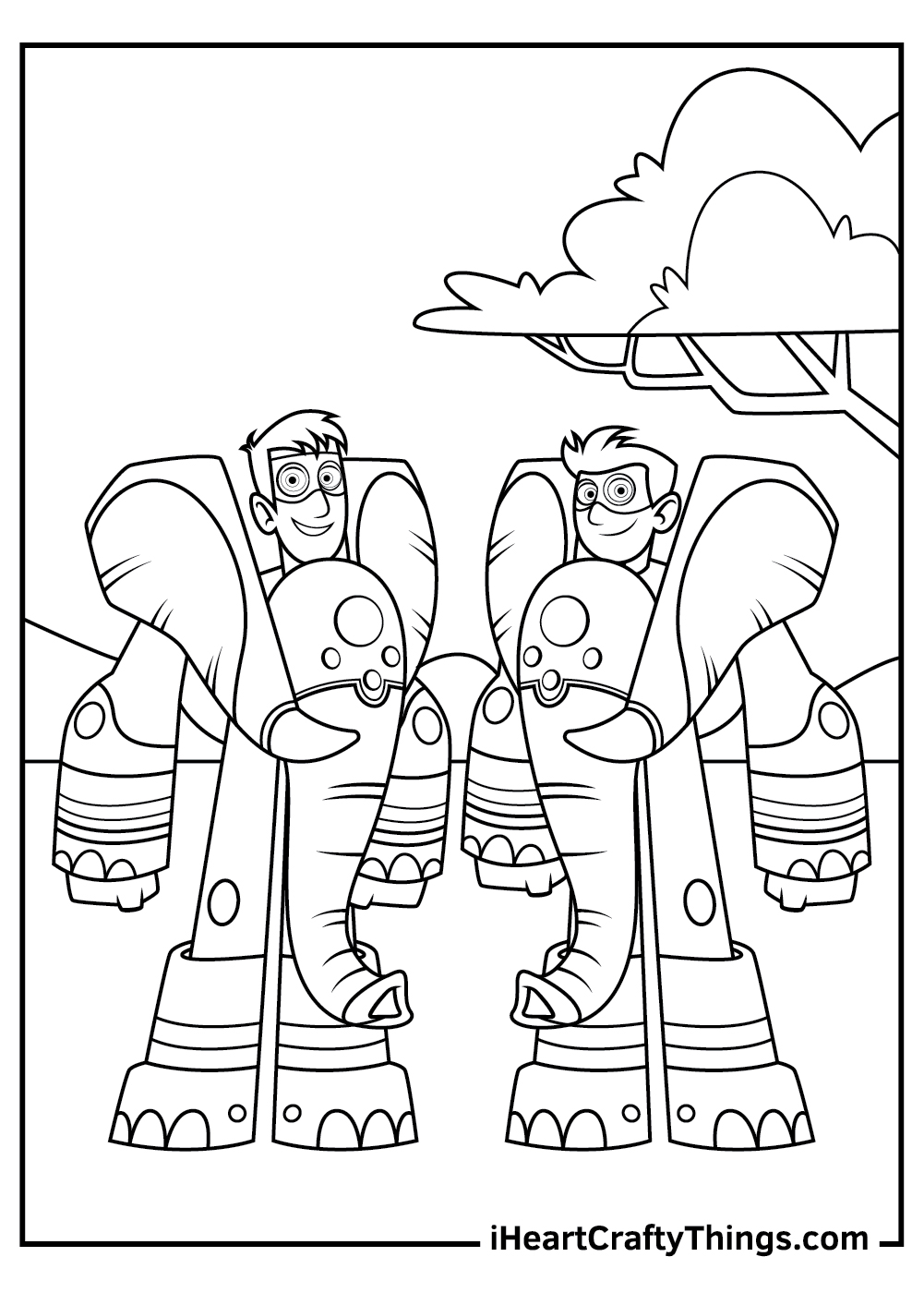 This Wild Kratts coloring page features Aviva Corcovado!
She is happily showing off the Creator Power Suit she invented. She has green eyes and olive skin. Her dark brown hair is tied back in a ponytail and she usually wears a purple shirt under her yellow jacket.
Her signature color is purple and when she transforms using the suit, it's always the color purple. It's such a unique color fit for her strong leader trait.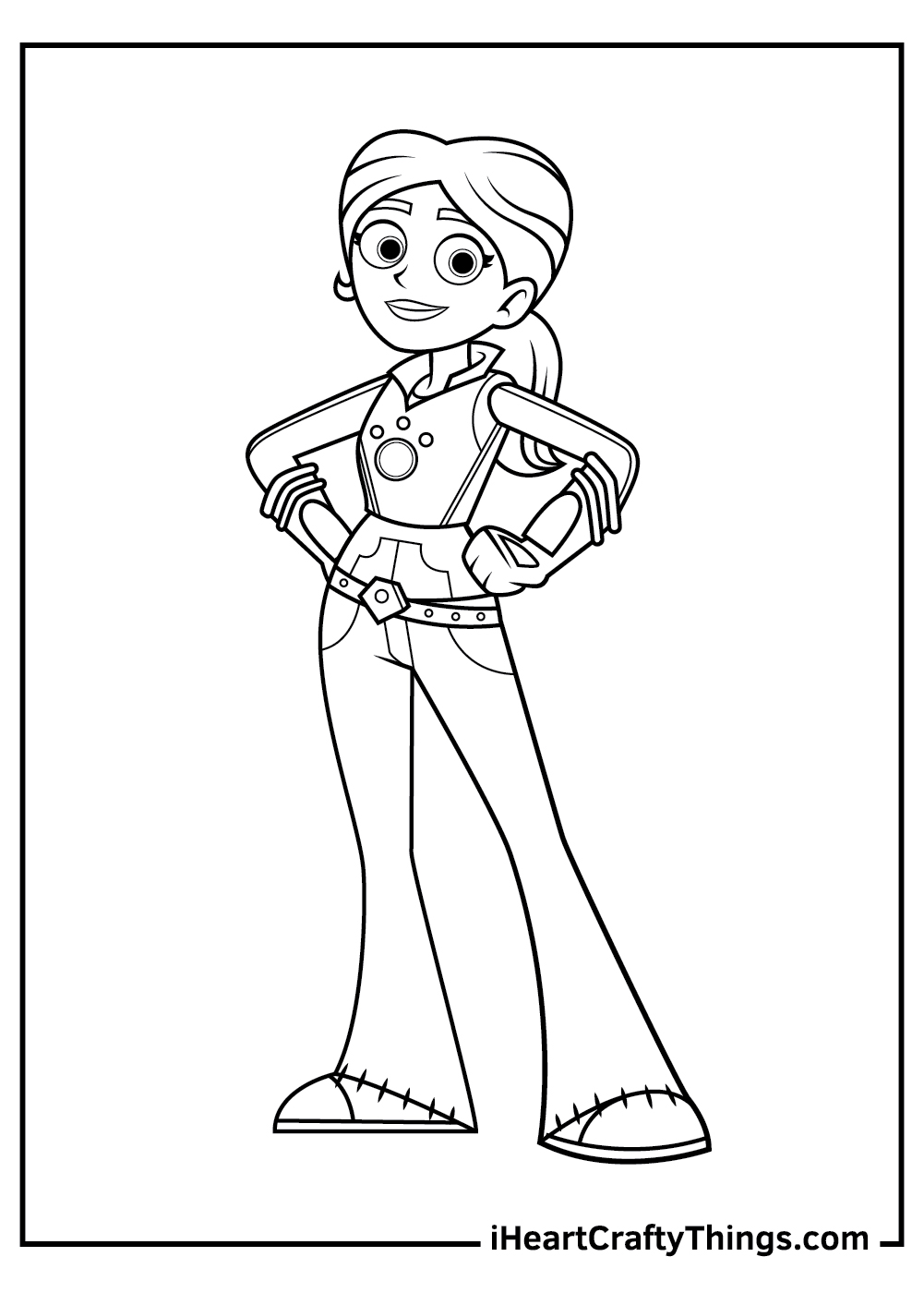 This page features the Kratts brothers in action. They are seen holding the discs that activate the Creature Power Suits. The discs contain the animal abilities that can trigger activation of the suit, allowing the brothers to transform.
Martin and Chris are seen happily showing off the discs with the images of mountains behind them. Judging from the animal discs on their hands, a bird and a butterfly, where do you think are they? This Wild Kratts coloring page for kids is a perfect way for you to get your imagination rolling!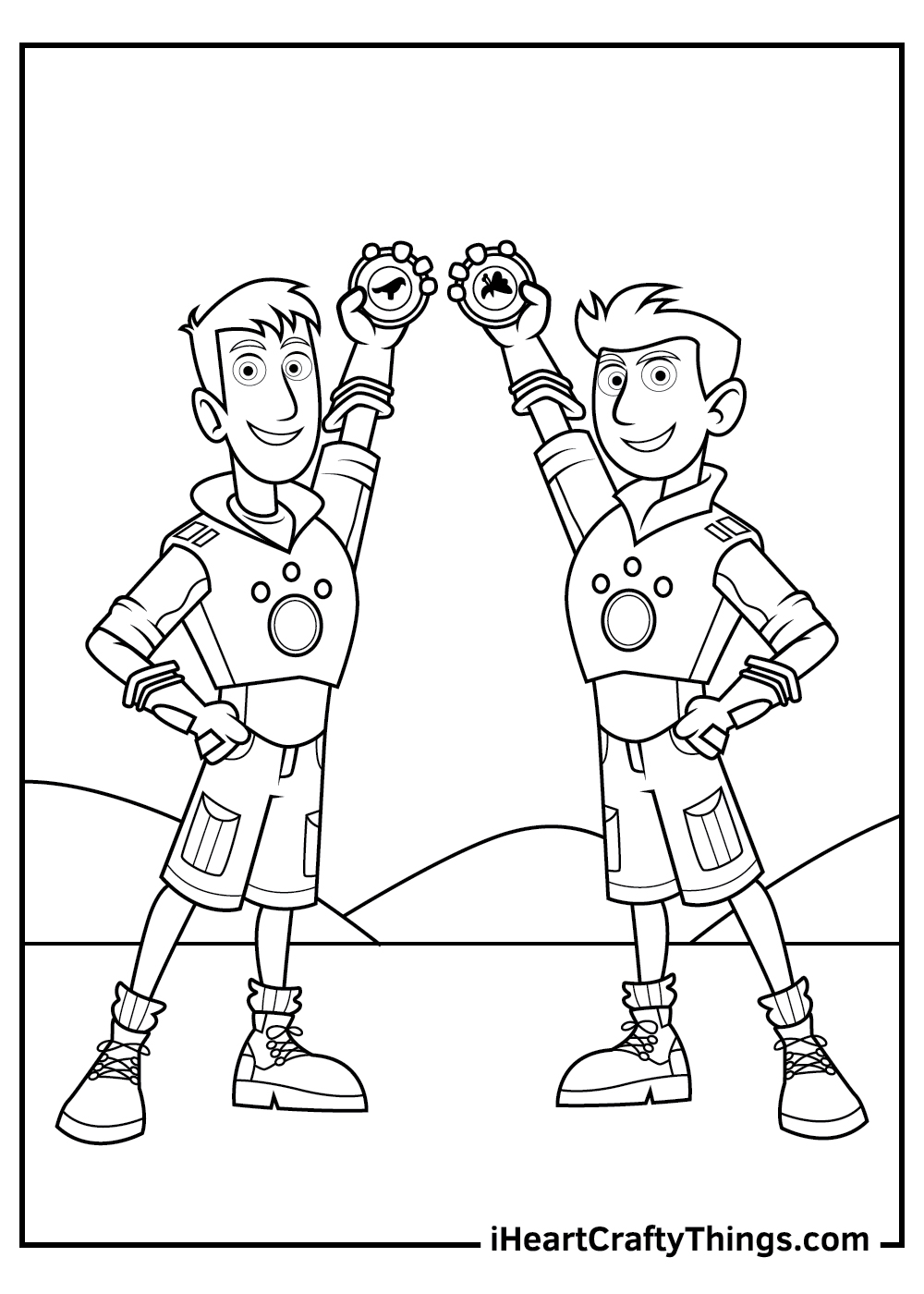 Martin, in this image, is happily showing his parrot friend. He is wearing his usual happy grin and blue sweater.
His outfit matches the bird he's holding as it's a blue-throated macaw. It has a brilliant blue head and wings paired with a bright yellow chest, belly, and under-wing.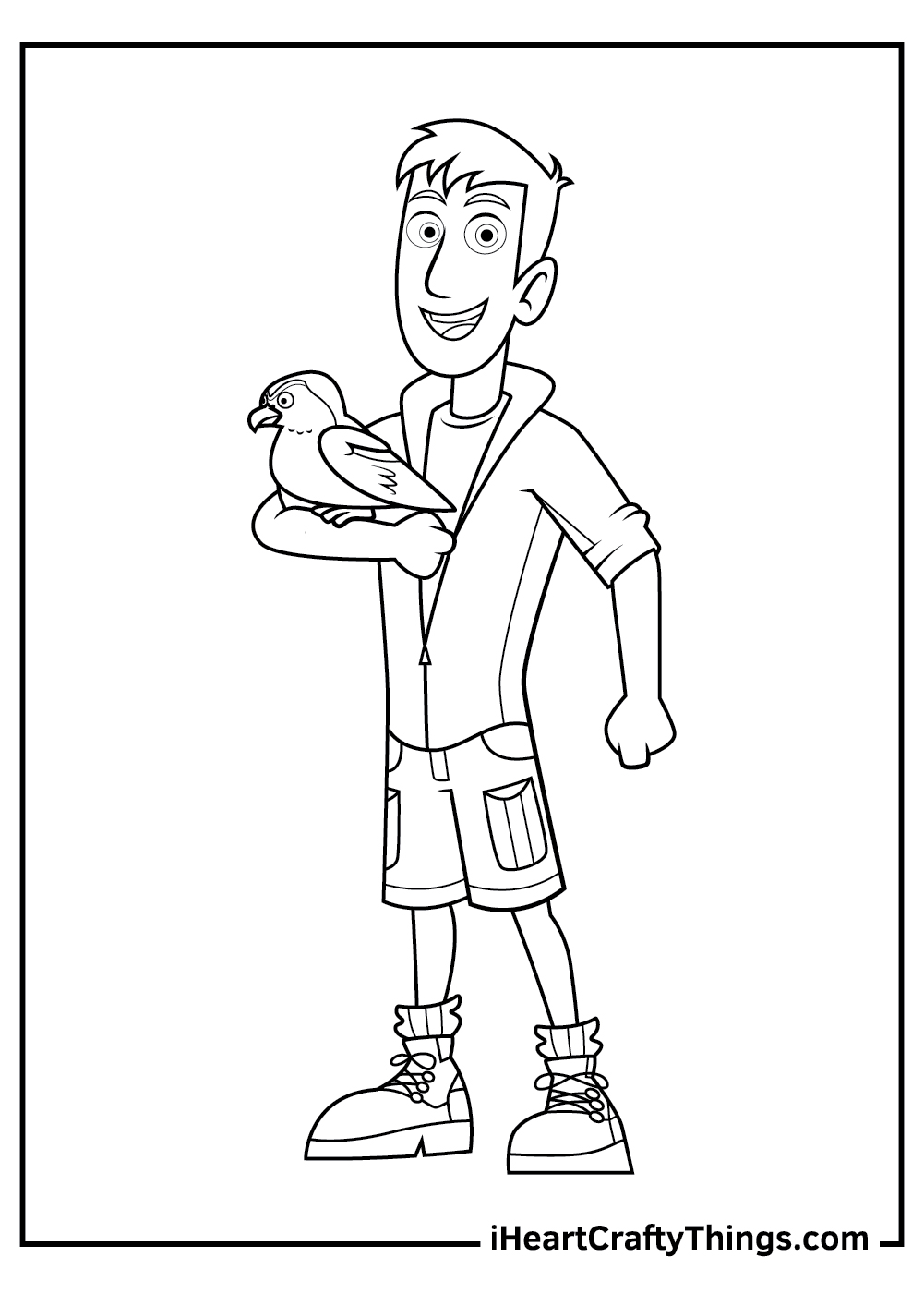 Here's Koki and Jimmy Z – the other two members of the Wild Kratts crew. They're both standing behind a Safari jeep.
Koki is the mechanic and computer geek and is responsible for the communications systems of Tortuga. She's a young African American woman and has dark skin, Afro-styled hair, and brown eyes.
Jimmy Z, on the other hand, is the main pilot of the Tortuga HQ and teleporter. He's a pretty chilled guy with reddish-orange hair and light blue eyes.
You can freely mix and blend the colors on these Wild Kratts coloring pages! What colors would perfectly suit Koki and Jimmy Z here?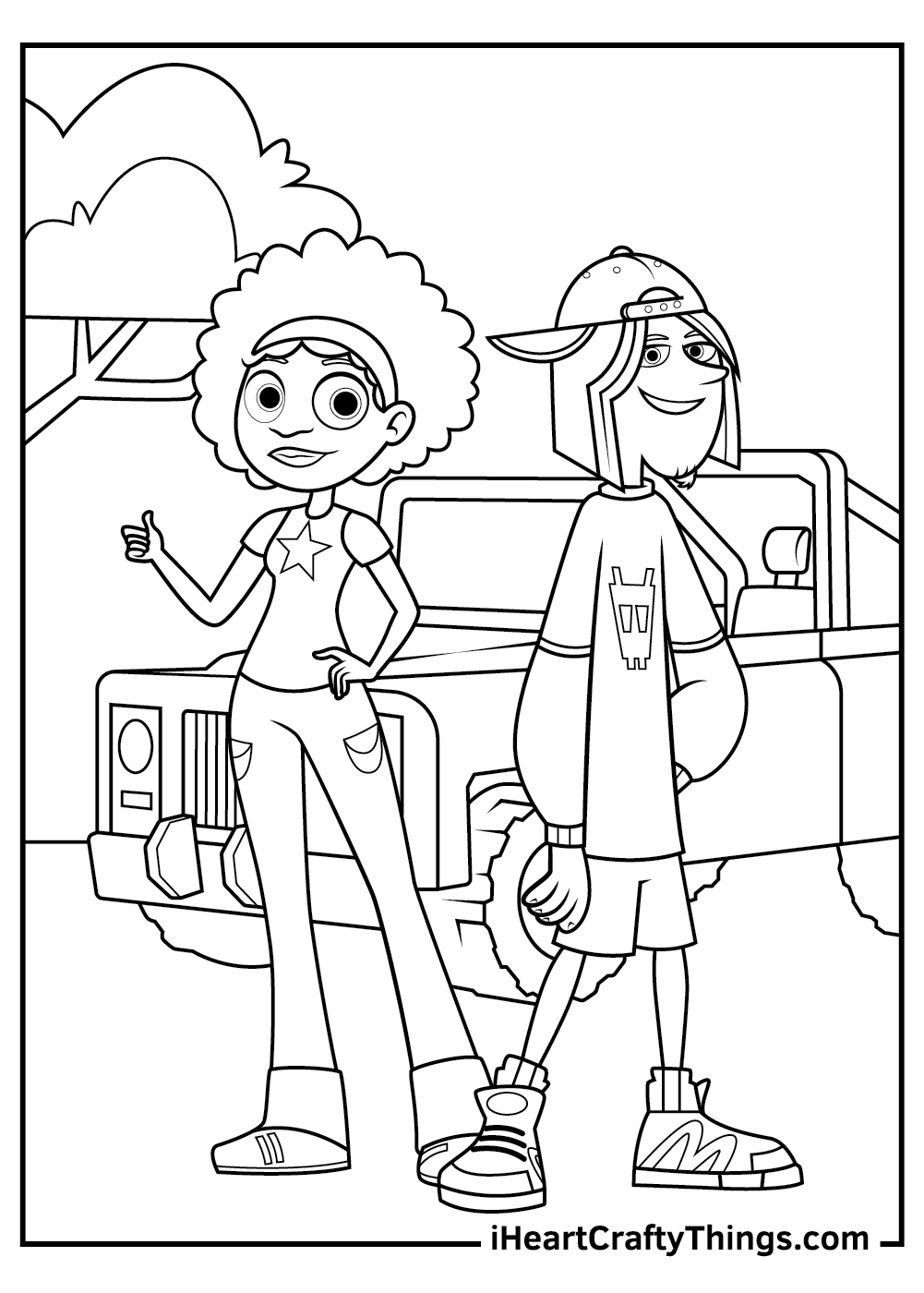 The Kratts brothers are standing happily with their arms crossed on this Wild Kratts printable.
If Chris is identified with a green sweater and Martin with a blue one, what other colors would you give them if you have the option to change it?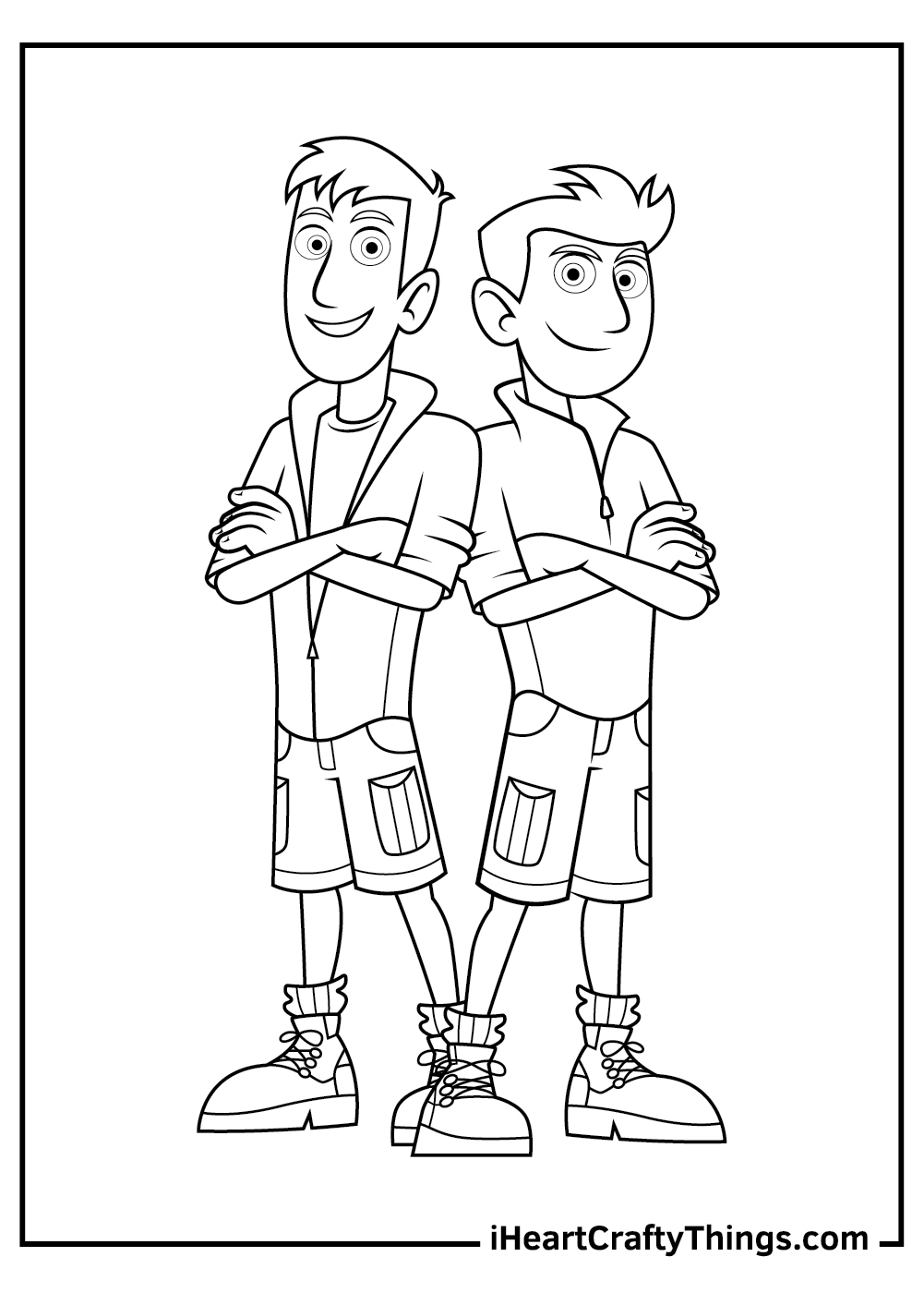 Shown in this last image of the Wild Kratts Coloring Pages is the whole crew!
Koki, Chris, Aviva, Martin, and Jimmy Z are the adventurer buddies of this coloring adventure. Will you follow their signature colors? Or will you give them a new one? After all, this is your adventure!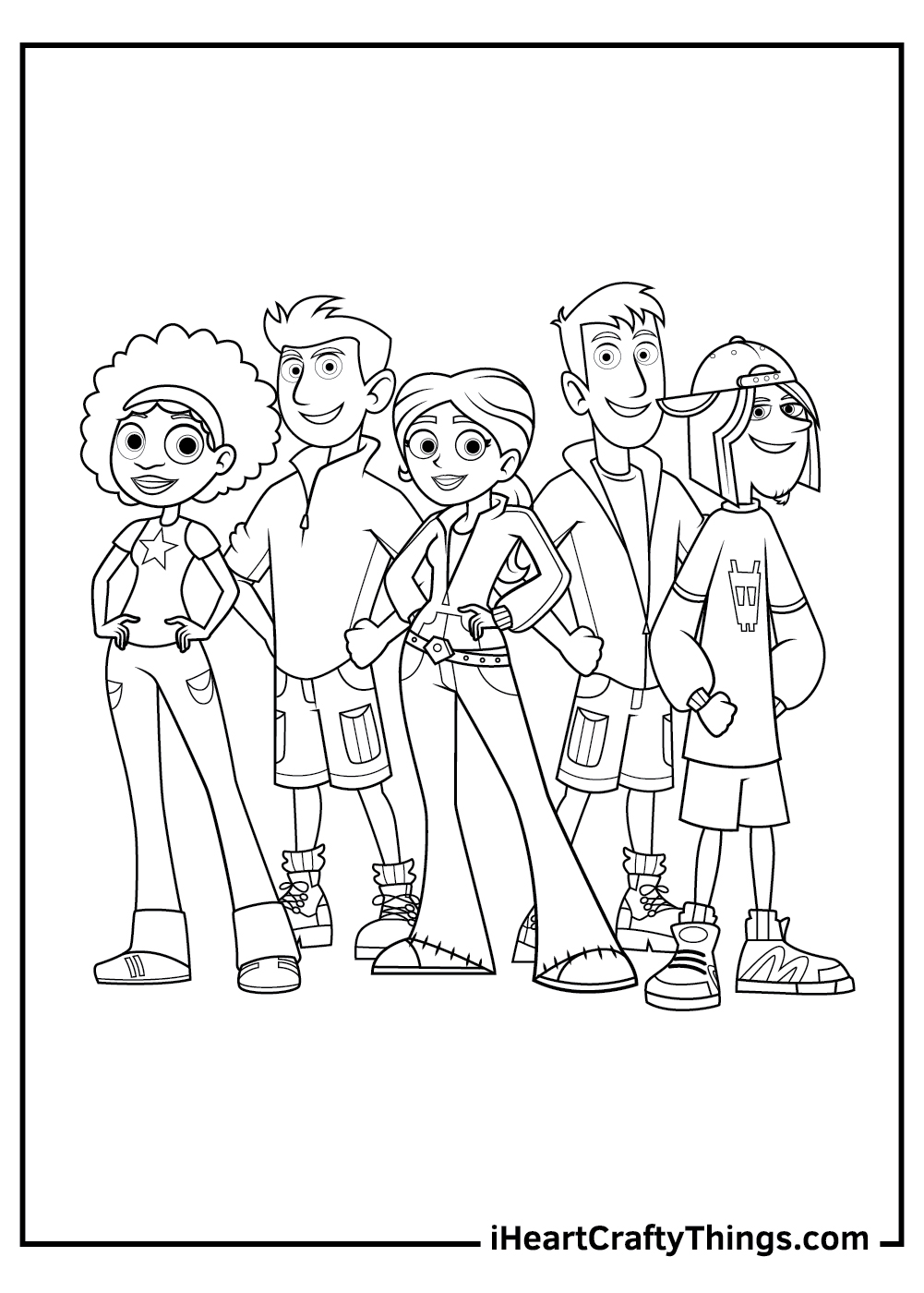 Wild Kratts Coloring Pages – What's your color adventure?
You've reached the end of your coloring adventure with the Wild Kratts Coloring Pages! This set is special as it features vivid colors pleasing to the eyes. Coloring is an adventure and these free Wild Kratts coloring pages are made for you to enjoy and print on your own. You can even share it with friends!
Did you follow the designated colors of each Wild Kratts character or did you choose your own?
Whatever coloring adventure you took, we're glad we're part of it! Share it on our Facebook page as we'd love to all your creations!