Superheroes are more popular than ever these days, and their popularity doesn't seem to be fading any time soon!
Whether it's in movies, comic books, video games, action figures or any kind of medium, these super-powered men and women can be marveled at anywhere!
You may be one of the millions of people who love superheroes, and if you are then you may have thought about how fun it would be to create your very own superhero.
This step-by-step guide on how to draw a superhero will give you the tools you need to draw your very own superhero in no time!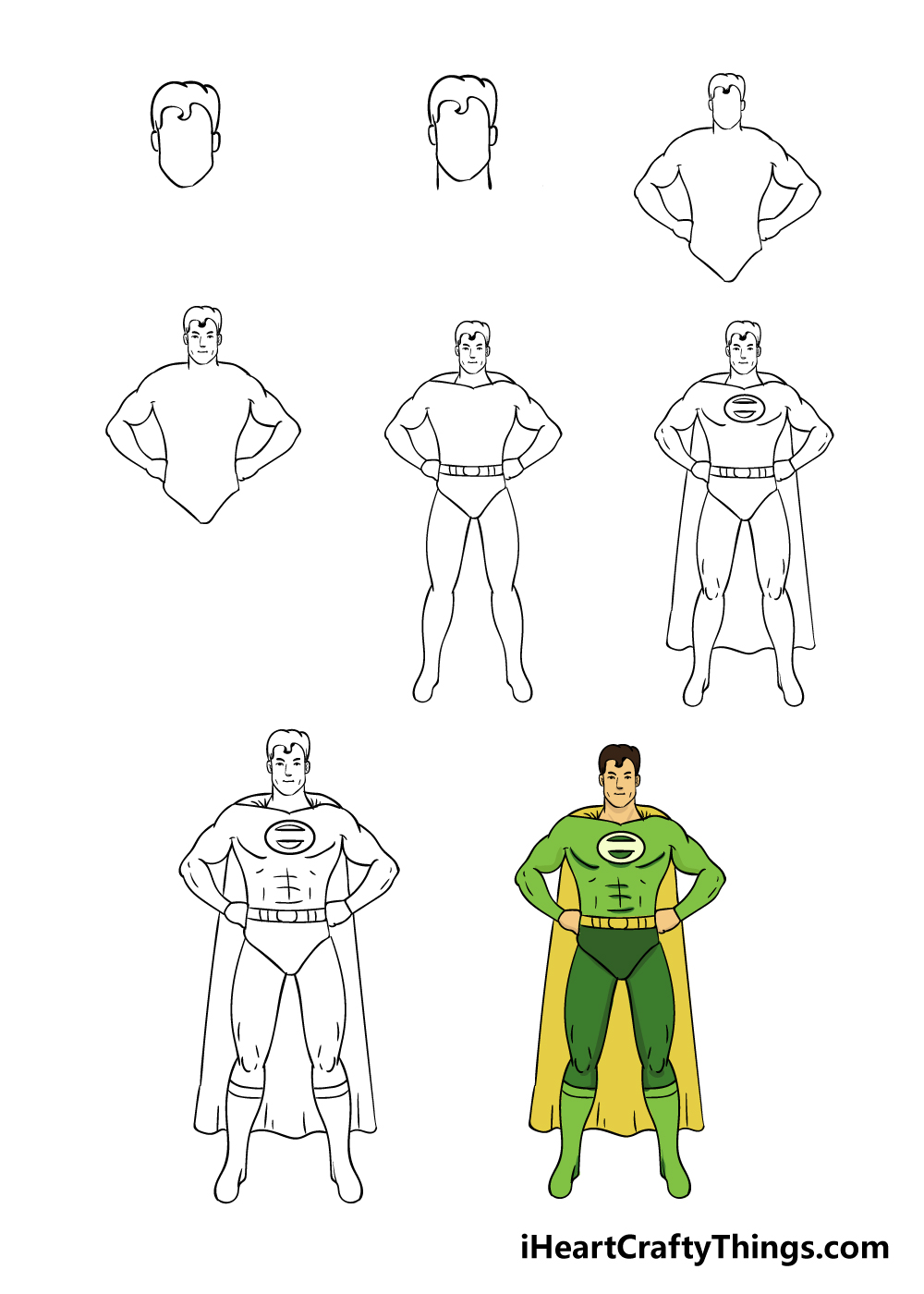 How to Draw A Superhero – Let's get Started!
Step 1
For this guide on how to draw a superhero, we will be showing you the basics of a template for a character, and as we move on to later steps you will be able to personalize aspects to make your own character!
For now, we shall start with the head of the superhero. This drawing can be quite tricky, so it's recommended to use a pencil to draw first before going over in pen later.
For now, simply draw in the face shape and draw in the hairstyle as seen in the image. You could also use photos of other hairstyles you like if you want to personalize your hero a bit more!
Step 2 – Next, draw in a neck for your superhero
We'll be taking this superhero drawing slowly to make sure that you don't get stuck on any parts of it!
With this in mind, simply draw two vertical lines down from the jaw of the face that you drew in the previous step.
Step 3 – Now, start drawing the arms and torso
In this third step of our guide on how to draw a superhero, we have a bit of a tricky step, so be sure to follow the reference image closely while taking it slowly.
Drawing down from the neck, carefully draw the shoulders sloping downwards.
Then, looking closely at the reference picture, draw in the arms while paying close attention to the shapes of the various muscles as they appear in our example.
Once you're happy with the arms then you can draw in the torso and waist of your superhero.
This is a step that would especially benefit from using a pencil first, and it might take some practice! We know that you can do it, though, so don't give up!
Step 4 – Next, draw in the face for your superhero
The classic superhero style has a rather simple and pared-back usage of lines for faces. Using the reference image for help, you can draw in a face for your superhero drawing.
This may look complicated at first glance, but it is actually made up of pretty simple lines. You can also change the lines a bit for different facial expressions if you would like!
Step 5 – Let's give your superhero some legs
The legs that we will draw for step 5 of this guide on how to draw a superhero may also look a bit complicated, but if you refer to our example picture closely, you can see that they are composed of some fairly basic shapes.
There will be a somewhat triangular shape below his waist, and then you can draw his legs coming down from that shape.
Once you're happy with how the legs look, simply draw in some details like a belt, collar and sleeves for your hero's outfit.
Step 6 – Draw a cape and some details
Your superhero drawing is really coming together now! For this step, you can use some straight lines down from the shoulders and behind the arms to give your hero a cape.
Then use some thin lines by the elbows, chest and knees as shown in the image for some muscle definition.
Then, we have drawn an example of a logo on his chest, but you can get creative with this step!
Maybe you could design a logo of your own to create a new superhero? What theme will your hero have? You can show us by using the logo that you design!
Step 7 – Now, draw in some final details
In this step, we shall add some final details before moving on to the coloring. You can draw in some lines on the midriff to add more muscle definition to your character.
Then, you can finish off the details with some lines for the tops of his boots and cape.
Step 8 – Now finish off your superhero with some color
Your superhero drawing is now almost finished! Now comes the fun part of coloring it in, and you can really show us how creative you can be here!
We chose a color scheme for our example, but you should feel free to use your own colors, as this guide is all about creating a superhero of your own!
What powers would this superhero have? If you have a theme in mind, then you could color him in to suit that theme.
I think that colored pens would help to give this image a great comic book feel to it, but any art mediums that you love would look amazing!
4 More Ways To Make Your Superhero Drawing Unique
These 4 tips are here to save the day and show you how to make this drawing even better!
This superhero has been left pretty open for you to customize. We spoke about changing the logo on his chest, but you could change and add so much more than that!
For example, you could give him a mask, change his hairstyle or add more patterns and symbols to his outfit.
These small changes can add up in order to give you your very own unique superhero drawing. What are some details you would change about his outfit?
Once you have made any changes you want for the design, you can also change his pose. This is suggested for when you have mastered this basic pose.
Then, you could change his limb positions in order to put him in different scenarios. Maybe he could be floating in the air or zooming around.
Or, he could be about to punch a bad guy! If you want to change his position, you may want to consult photos online to see how to pose the limbs and body of this superhero.
Then, we suggest adding a background to this drawing of a superhero. This will go really well with the previous suggestions! He could be in the city that he protects or maybe an alien world.
These are just a few examples, but you can get really creative with it. When paired with the previous suggestions, you will land up with a wonderfully unique artwork!
Superheroes usually have bright, striking colors for their outfits. We think you should have some fun choosing the colors that you will use for this particular superhero sketch!
There are no colors that are off limits when it comes to finishing off this superhero sketch. If this hero has a theme, then, you could use colors that go well with that theme.
For example, if he is a fire based hero then you would probably use reds, yellows and oranges. What colors will you use for him?
Your Superhero drawing is complete!
You have reached the end of this guide on how to draw a superhero, and you should be very proud of your drawing!
We created this guide to show you that creating your own superhero doesn't have to be difficult, so we really hope that you had an amazing time with this guide!
Now that you have your superhero drawn, you can show how creative you are by creating your own themed hero!
You can have some great fun picking some ideas for a theme for your hero, and you can also come up with a name for him!
Maybe you could write the name of your hero underneath him to show us what he would be called!
Then you can pick a fun and bright color scheme with your favorite art mediums for your superhero to really finish him off!
If you had fun with this guide, then stay tuned to our site for more awesome drawing guides that you can enjoy!
We would also love to see the amazing superhero that you create, so please do share your superhero drawing on our Facebook and Pinterest pages for us to admire!
We can't wait to see the cool superhero that you create.