One of our must read favorites during winter time is Snowmen at Night by Caralyn Buehner (affiliate). It's an imaginative and fun story about what kinds of things snowmen might do during the night while you're sleeping.
It's a perfect story to read after building a a snowman on a snowy, winter day and afterwards you can get crafty creating this snowmen at night craft by printing circle sponges and making q-tip snowflakes.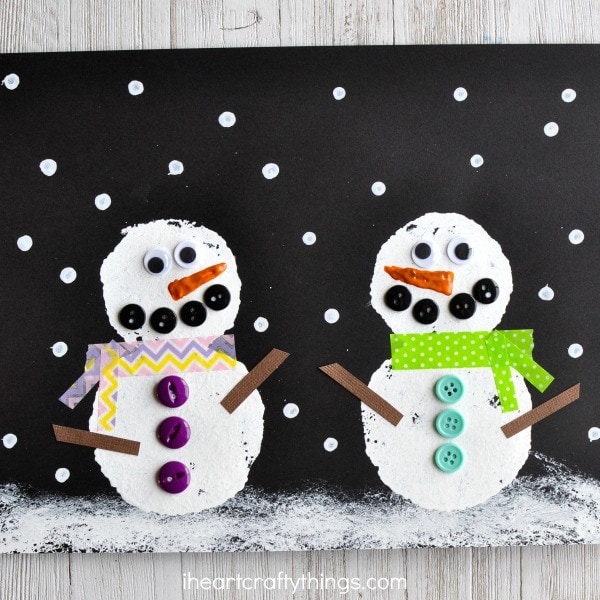 How to Make a Snowmen at Night Craft
This post contains affiliate links to the products mentioned. Read our disclosure policy for more information.
Supplies Needed for this Snowmen Night Craft
– black cardstock
– sponges
– q-tip
– white paint
– paper plate
– googly eyes
– buttons
– washi tape
– orange puffy paint (or orange paper)
– brown paper
You can purchase Snowmen at Night on Amazon today!
Instructions for Making this Snowmen at Night Craft
1. Start by cutting out two different sized circles from your sponges for your snowmen. We traced two different circle objects onto our sponge so it would be easier to cut them out.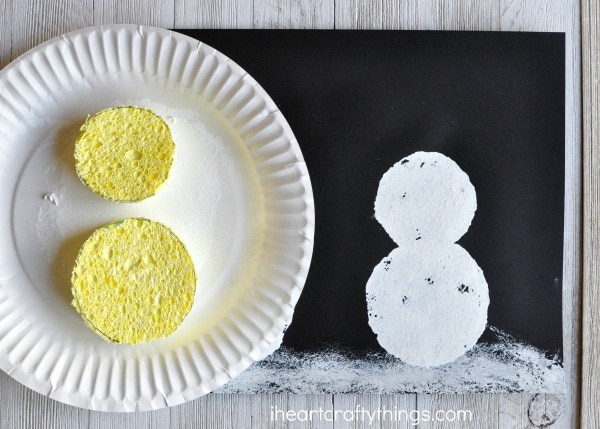 2. Pour some white paint onto your paper plate. Dab your sponges into the white paint to cover the entire bottoms of the sponges. Use of your sponges to print along the bottom of your black cardstock to make a snowy covered ground. Then dab your sponges into the paint again and print them on your cardstock to make snowmen. Print the larger circle at the bottom and the smaller one on top. We put two snowmen on our page but put however many you want.
3. Grab your q-tip, dip it into any extra white paint on your paper plate, and stamp it onto your black cardstock all over to make white snow falling from the sky.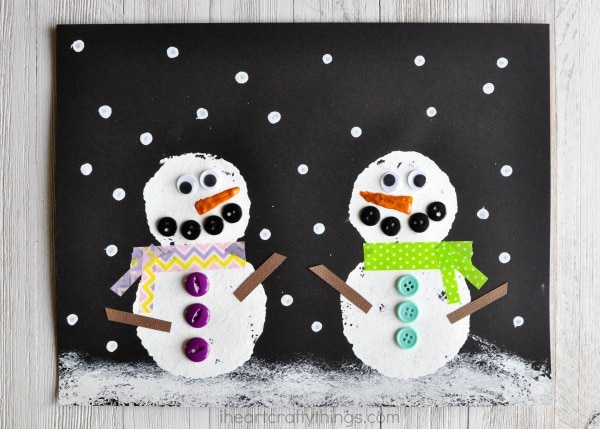 4. Finish your snowmen at night craft by adding embellishments to your snowmen. We added googly eyes so they looked alive just like in the book, a button mouth and buttons down it's belly, a washi tape scarf and brown paper twig arms. For our carrot nose we used puffy paint but you could also cut out a nose from orange paper and glue it on.