There are many reasons to love the chilly months of Winter. This is a time where the air grows icy, snow starts falling and usually means that Christmas is just around the corner.
There's plenty of fun to be had in the snow with activities like snowball fights and licking snow cones, but one of the best things to do is build a snowman!
When celebrating the Winter months, you may be wondering where you can learn how to draw a snowman, and if that sounds like you then we have the perfect guide!
This step-by-step guide on how to draw a snowman will have you creating a new icy friend in no time.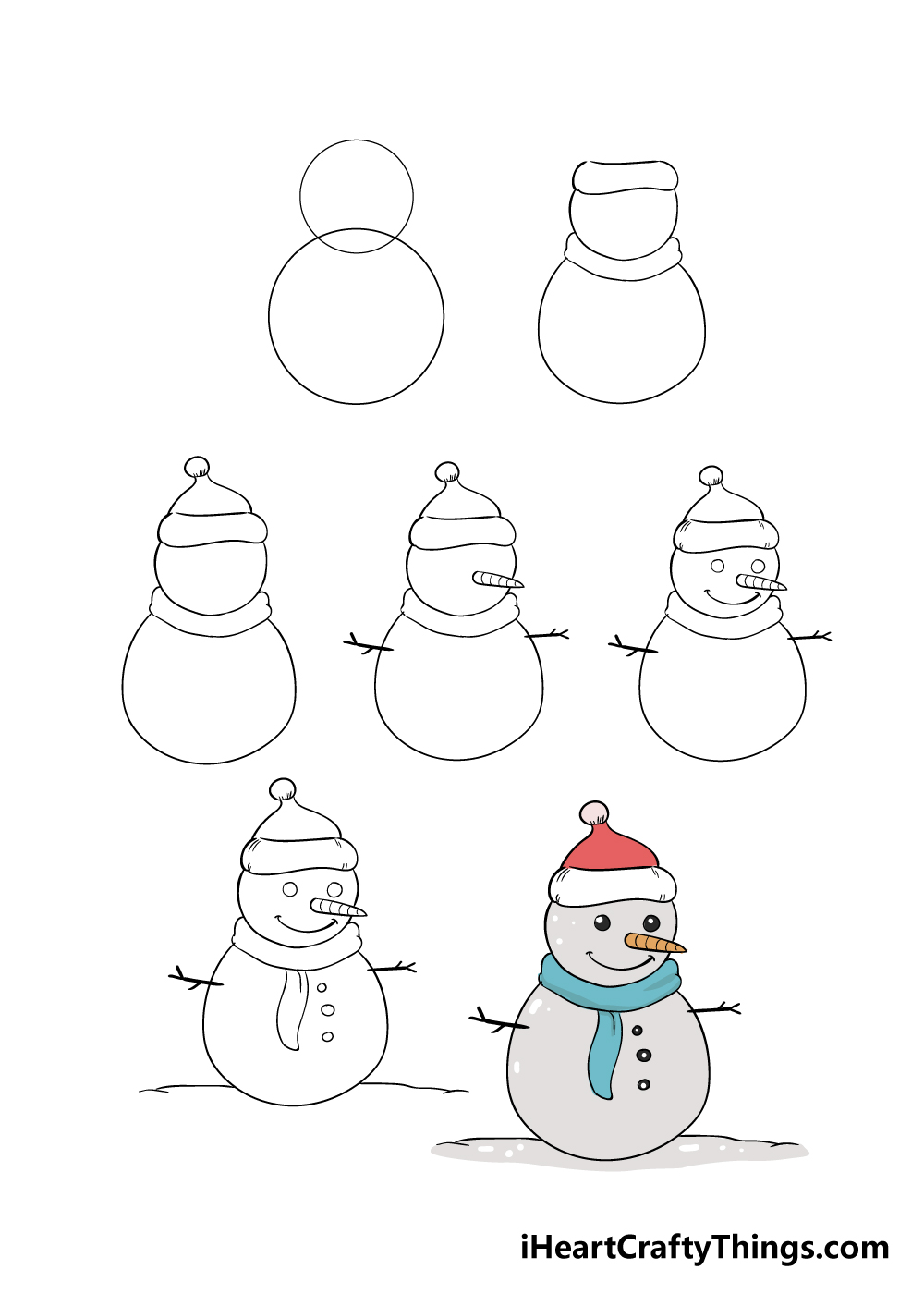 How to Draw A Snowman – Let's Get Started!
Step 1
To kick off this guide on how to draw a snowman, we shall be starting with some guide shapes.
For this step, you will want to use a light pencil, as we will erase them later on as you draw the final lines.
All you have to do is draw a medium-size circle and then have it intersecting with a larger circle below it.
You could use a drawing compass if you want perfect circles, however having perfect circles for these guide shapes isn't really necessary, as the final snowman will have some bumps and imperfections with it.
Step 2 – Start with the final lines of the snowman body
Using the shapes that you drew in the previous step, you can start using a pen or a darker pencil to draw the final lines.
You can draw the fluffy base of the hat about three-quarters of the way up the top circle. Then, you can draw the scarf between the two circles.
Then, you can draw the final circles around the guide ones.
As we mentioned in the previous step, you shouldn't worry too much about keeping the outline of the body perfect.
Step 3 – Add the pointy hat
Now that you have the fluffy base of the hat, you can draw the pointy top of the hat in this third step of our guide on how to draw a snowman.
Simply use some curved lines up from the base of the hat, and then you can draw a small bobble on the tip of the hat. Once you have the hat drawn, you're ready for the next step.
Step 4 – Now draw the nose and stick arms
Every great snowman has a great carrot nose, so let's add one in this step of your snowman drawing.
To draw this, simply use some straight lines coming off the face of the snowman.
Finally, you can use some thick lines coming off from the body of the snowman with more lines coming off of them for the hands.
Step 5 – Draw the face of the snowman
Your snowman drawing needs a nice happy face, so we shall add one in this step. The eyes of the snowman will be simple with two small circles that are made from something like two stones.
Then, use a nice curved line for a smiling mouth on the snowman. You could also make a mouth using several small circles for the mouth to make it look like it's made of small stones or rocks.
Step 6 – Now, add some final details
In this sixth step of this guide on how to draw a snowman, we shall be adding some final elements and details.
First, use some curved lines coming down from the scarf around the neck for the end of the scarf trailing down. Then, you can draw three small circles going down the belly of the snowman for some buttons.
Finally, you can draw a straight line at the base of the snowman to give him some ground to be standing on.
Those are the details that we would add, but you should also feel free to let your creativity shine and run wild!
You could add a cool background to give this image even more of a Winter atmosphere or draw some patterns on the clothing that he is wearing.
You could even draw another snowman or even a snowwoman to go along with this snowman!
How will you finish off this snowman before moving on to the final step?
Step 7 – Finish off your snowman drawing with some color
Now that you have finished the final details, elements and background of your snowman, you can finish off this final step of our guide on how to draw a snowman with some beautiful colors.
Because this is a snowman in a Winter setting, you might think that you are stuck with using cooler blues and greens, but while that can be a beautiful look for your image, there are many options!
You could use some cooler colors for the snowman while using some bright, warm colors for the clothing for one option.
You could also make the picture more stylistic by using your favorite vibrant colors for your snowman.
Once you know the color scheme you would like, you can also have some fun with the art mediums that you use.
For an image like this, I would use some watercolors or colored pencils for a softer, colder look to the image, but it would look equally great to use some acrylic paints and colored pens.
Whichever colors and mediums you use, I know that you will end up with an incredible image!
Do this to take your snowman drawing to the next level
Enjoy these super cool tips we have for making your snowman sketch even better!
This drawing of a snowman that we created in this guide is made of two sections; the body and the head. A snowman can be made of more sections than this, however!
In real life, they will often have three or more sections that will usually be smaller the higher you get on the snowman.
You could also add different sections on the snowman to create different poses and details. This is a great way to make your own unique snowman design!
This snowman has a hat and a scarf to give it some personality. You could use many other kinds of clothing, however!
For example, it could be wearing some glassed or maybe a jacket. It could also be fun to use different colors and patterns for the scarf and the hat to make them more distinct.
Using these different clothing elements can also be a fun and simple way to make your snowman look even more unique and personalized.
Once your snowman drawing looks exactly as you want it, you could then show who built the snowman. The characters you add could be based on you and your friends, for example!
Or, you could depict a family working on the snowman. These characters could be drawn in a realistic style or they could be more cartoony depending on your preferences.
Who do you think would have built this snowman?
Finally, it would really finish off your snowman sketch nicely if you were to add a background. Once again, this could depend on you!
There are so many great locations that you could use for the background. It could be based on a real place where you have built a snowman, or you could create a more general location.
When adding a background, try to think of elements such as trees, houses, plants and other elements such as these. Where do you think you would like to set this drawing?
Your Snowman Drawing is Complete
With the colors and details finished on your snowman finished, that means you have reached the end of this guide on how to draw a snowman!
We hope that you had a lot of fun going through this guide with us. We wanted to show you that you can draw your own amazing snowman easily once you know what to do, so we hope it was fun and helpful for you!
Now that your image is complete, you can show us how creative you can be with it in several different ways.
Whether it's with extra details, a fun background or even another snowman to go with this one, we can't wait to see what you do!
Be sure to check out our website for plenty of fun drawing guides like this one! We upload more all the time, so check in often to make sure you never miss out.
Lastly, we can't wait to see your amazing snowman drawing, so please feel free to share it on our Facebook and Pinterest pages for us to admire!