Sea turtles, also known as marine turtles, are massive, air-breathing reptiles that live in the tropical and subtropical seas all around the world.
Because of their unique and distinctive physical features, sea turtles are indeed a fun subject to draw.
As a result, how to draw a sea turtle has become a highly-requested tutorial. You've asked for it, so we delivered.
Finally, we have curated a step-by-step tutorial on how to draw a sea turtle summarized in 9 easy and simple steps.
You can apply these steps whether you want to draw a realistic-looking sea turtle or an animated one.
Tips To Prepare You For This Sea Turtle Drawing
As you can see in the steps ahead of you in this guide on how to draw a sea turtle, we will be drawing a realistic turtle in this guide.
This could be a challenge for some people, as many people prefer to draw in a simplified cartoon style. If that is a style that you prefer, then you could adapt this drawing to suit a style that you prefer.
This could also result in a drawing that suits your tastes more closely. However, it can also be fun to challenge yourself to complete a drawing in a style you find chalenging!
We encourage you to try your best, and you may surprise yourself with what you come up with. You can also make it easier in a few ways.
One is by closely following the steps in the guide. They have been designed to break it down into easier steps, so following them closely should make it easier.
You can also prepare more by doing some practice sketches with your pencil on spare pieces of paper. These don't have to be perfect, but they can help you to get the hang of the proportions of the final image.
Once you feel more confident, you will be able to take on the finer details of the image with greater ease. Looking up pictures and videos of sea turtles can also be surprisingly helpful.
It might help make the images make more sense if you see the real thing in action, and it can make a great companion to our reference images.
We hope these tips helped to make this guide less intimidating to take on! Now, we can begin the guide properly.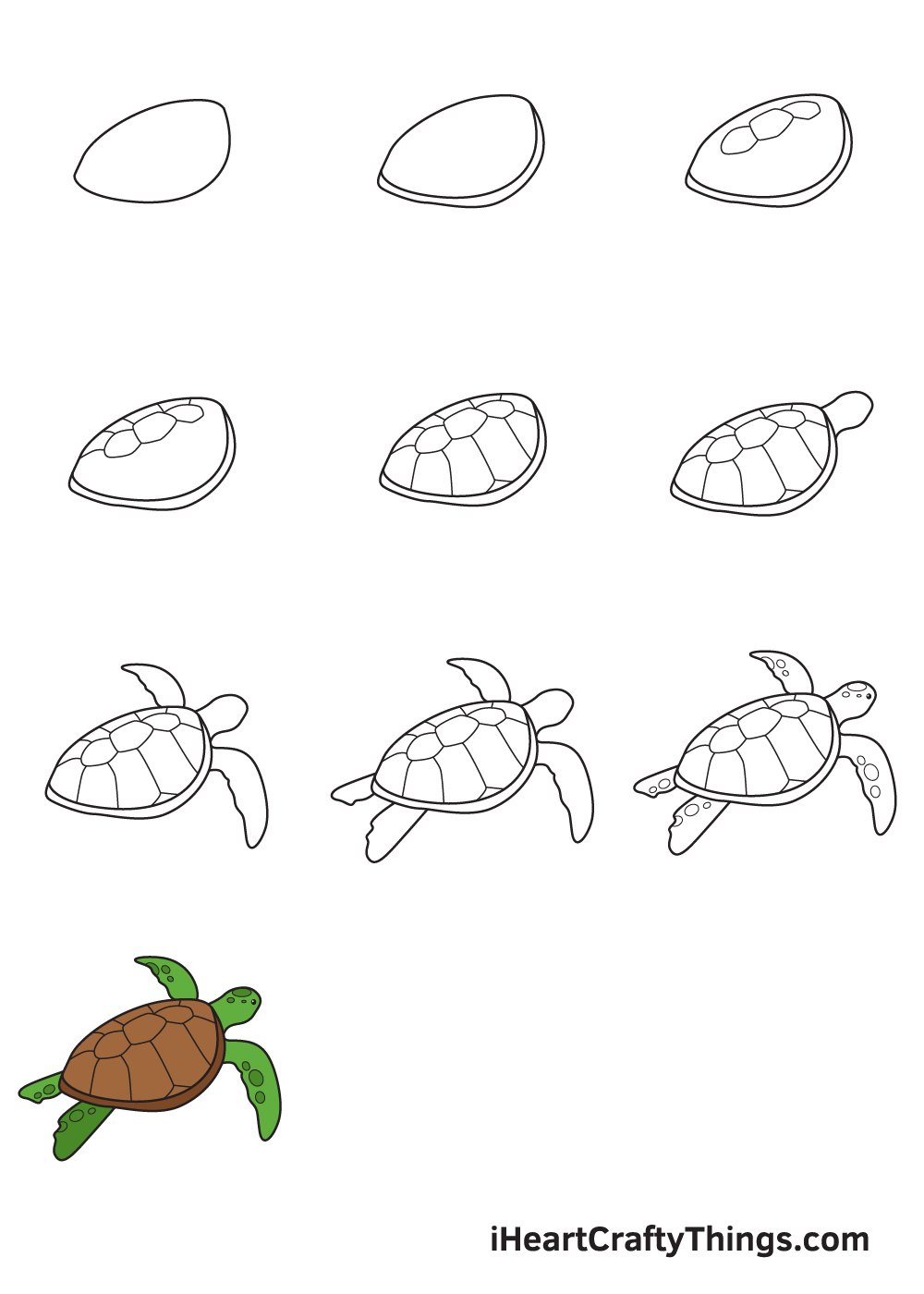 Each step is accompanied with comprehensible illustrations that serve as your visual guide as you follow the instructions.
Whether you are a novice or an expert in drawing, we're sure you can follow these steps effortlessly. What's more, you can add your own style and improvise in every step.
Feel free to mix and match colors to customize your artwork and make it unique. Let your imagination wander and unleash your creativity. So, pick your favorite drawing tool and start drawing!
Have fun and use your artistic skills!
How to Draw a Sea Turtle – Let's get started!
Step 1
Draw an outline of the sea turtle's shell in the center of your paper.
To ensure that the outline will be positioned in the middle correctly, draw a horizontal and a vertical line across the paper to create reference lines. The spot where the two lines meet is where you should draw the outline.
Step 2 – Draw an Outline of the Shell
Within the outline of the shell we drew in the previous step, draw another outline following the shape of the shell.
The space between the outlines is where the precentral, postcentral, and marginal scutes are located.
Step 3 – Add the Vertebral Scute on the Shell
Structure the vertebral scutes on the shell by drawing irregular and uneven circular shapes linked together in the center of the shell.
Don't stress over making the scutes perfect and flawless. As a matter of fact, the more uneven they are, the more realistic they appear.
Step 4 – Draw the Costal Scute of the Shell
Draw uneven geometric shapes similar to the previous step on the left side of the shell. The scutes should all be connected together, as shown in the illustration.
Step 5 – Now, Complete the Scutes of the Shell
Repeat the previous step on the right side of the shell to finally complete the sea turtle's scutes.
Step 6 – Draw the Head of the Sea Turtle
Create the sea turtle's head by drawing an elongated narrow curve line from underneath the shell. When drawn correctly, it should look like the sea turtle is peeking from beneath its shell.
Step 7 – Draw the Flippers of the Sea Turtle
Construct the flippers by drawing an elongated curved line with a serrated horizontal line at the bottom on each side of the shell.
This outlines the sea turtle's flippers, which helps it wander across the ocean effortlessly for long periods of time.
Step 8 – Draw the Hind Legs of the Sea Turtle
Now that we have drawn the flippers in the previous step, it's time to draw the hind legs to complete the sea turtle's limbs.
Draw two straight lines connected by a jagged diagonal line to form the sea turtle's hind legs. Repeat the same process on the other side of the shell to create a pair of hind legs.
Step 9 – Add Patterns All Over the Sea Turtle
Draw circular shapes in various sizes all over the skin of the sea turtle. This outlines the unique spots on the surface of its skin.
Here, you can see the sea turtle is nearly finished! The only thing it's missing is a dash of multiple colors to complete your artwork!
Finally, here is the most exciting part—filling in the colors for your awesome drawing! This is the part where you can show off your artistic skills and your ability to mix and match various colors.
The color of a sea turtle varies depending on its species. However, the most common colors of sea turtles are yellow, olive-green, greenish-brown, reddish-brown, and black.
Some species even have distinctive patterns all over their skin, thus they may have more than one color. This gives you a lot of color options to choose from when coloring your sea turtle!
Feel free to color your sea turtle drawing however you like and using any colors you like, and watch as your drawing ultimately comes to life! And while you're at it, why not try experimenting with different coloring materials such as watercolor and brush pens as well?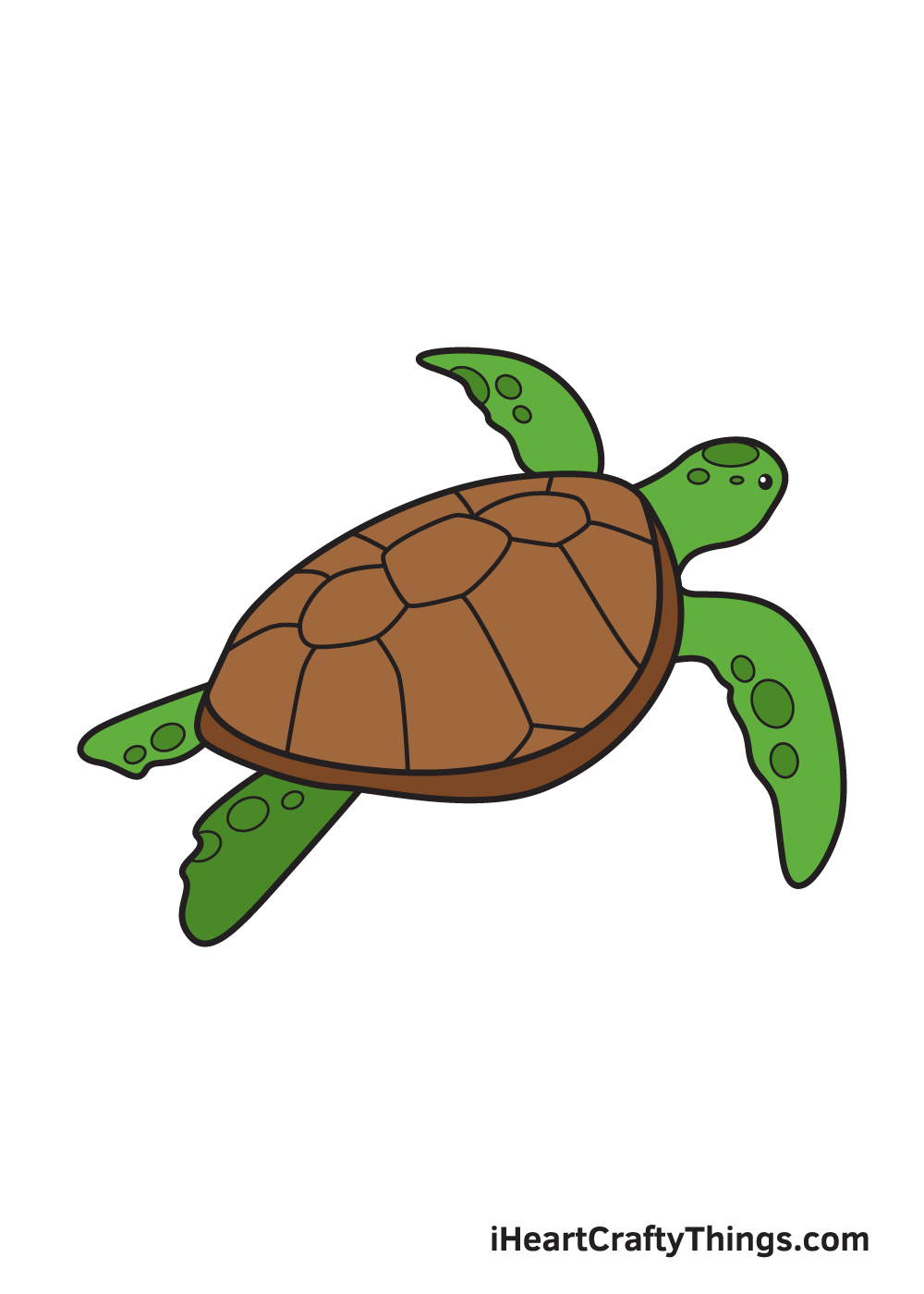 4 More Ways To Make Your Sea Turtle Drawing Unique
Let's dive down even further as we explore some more ways to make this drawing even more unique!
There are so many different species of sea turtle, and they come in all manner of different shapes, sizes and patterns.
This guide showed you how to draw one example of a sea turtle, but you could change it to look like other species as well.
By changing details and the shape of elements such as the shell or the flippers, you could make this sea turtle drawing look quite different. You could look up examples of different species in order to help you with the new details!
In the previous step, we spoke about changing details to create new species variations, but you can also do this by changing the colors that you use.
In the guide, we went with a simple brown and green color scheme that looks great, but you could use many other colors and patterns for the shell, flippers and other parts.
Why not try out some different combinations of art tools and mediums to create different textures for this sea turtle sketch.
The saying less is more applies to many aspects of creating art, and that is true when it comes to details.
For example, a turtle's shell has a really rough texture, and you could take your pen and add some of this texture detail to make it look more realistic.
This drawing of a sea turtle would look great with small textures and details on the flippers, head and other areas!
Now, we will talk about adding a background to your drawing. Adding a background can make any drawing even more stunning, and it allows you to be even more creative.
The obvious choice would be to create an ocean setting for this sea turtle drawing, and that way you could add fish, whales, other sea turtles or any other ocean animals.
Plus, adding a background gives you many more elements that you can have fun coloring! What other settings can you think of?
Your Sea Turtle Drawing is Complete!
We hope you enjoy this step-by-step tutorial on how to draw a sea turtle. With this guide, you can surely draw and color a sea turtle along with its complex features and elaborate details in no time.
And the most fun part is, you can customize its physical attributes and play with various colors as much as you like!
We are always updating our "How to Draw" catalog, so make sure to keep checking back on our website to take advantage of newly uploaded tutorials.
All you need is a pen and paper and you're all set to start drawing! We are excited to see what you will draw next. We're sure it will be just as amazing as this one!
Once you've finished your masterpiece, we're certain you must be feeling very proud of yourself—as you should be! Completing this sea turtle drawing is definitely fulfilling.
Make sure to show off your work of art and share it on our Facebook page and on Pinterest. We're sure it looks amazing! We can't wait to see your colorful sea turtle drawing!