In Star Wars, there are many great quotes, lines and phrases that are uttered by iconic characters, and these have become pop culture staples.
However, to be an iconic and beloved character from the series, you don't even necessarily have to utter a single word!
This is the case with the droid R2D2, who communicates exclusively in a series of distinctive beeps.
Even though he has not even one memorable line, he is still beloved worldwide, with many fans wanting to learn how to draw R2D2.
If you are one of those fans, then you're in the right place!
Our step-by-step guide on how to draw R2D2 in just 6 steps will show you how to recreate the famous droid.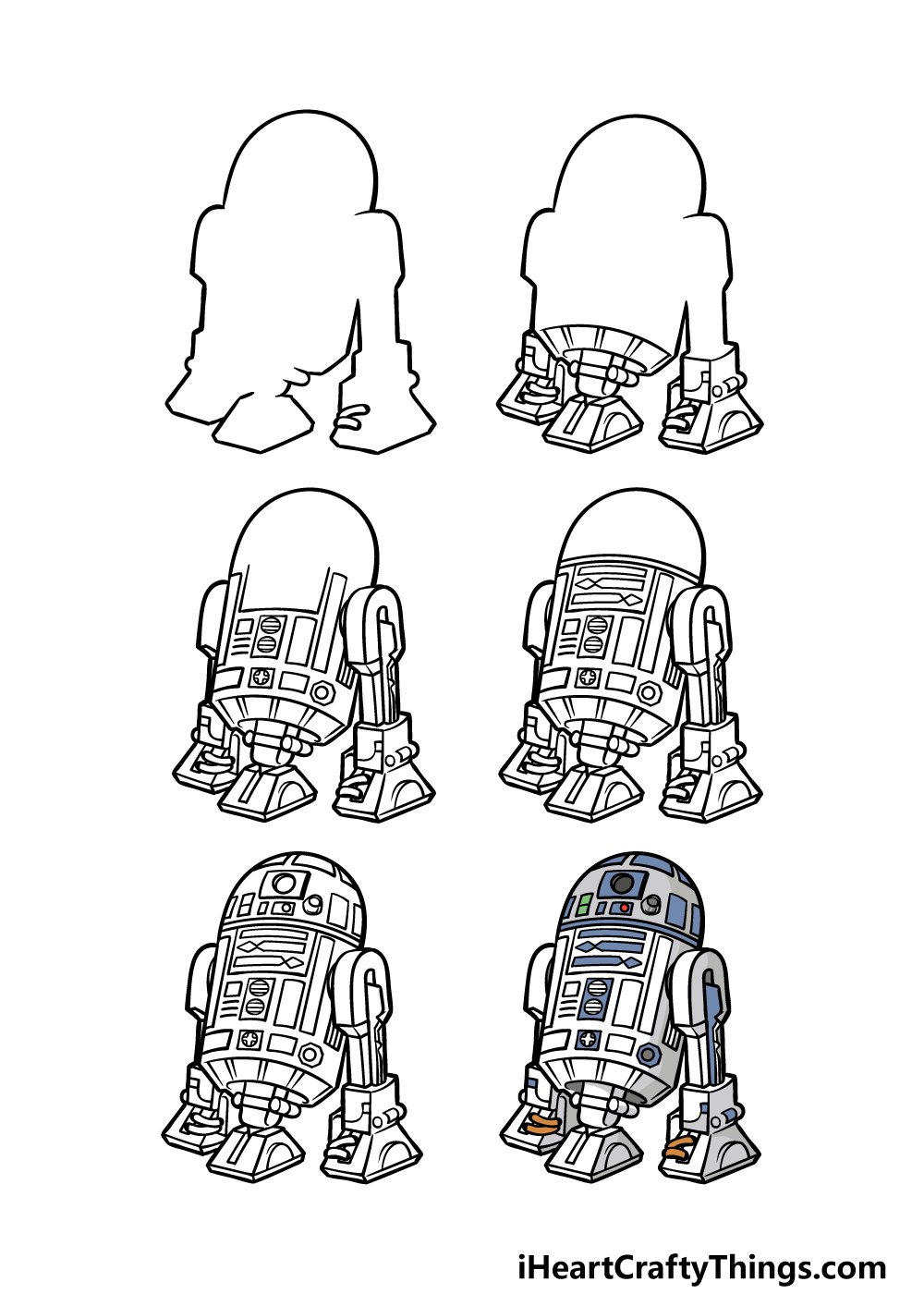 How to Draw R2D2 – Let's Get Started!
Step 1
R2D2 as a character is very detailed with lots of small and specific little aspects to draw.
This can make it tricky to draw him, but we will make it easier by taking it slowly during this guide on how to draw R2D2!
To start this, we shall first be drawing the outline for R2D2. As you do this, you would benefit from copying the reference image closely.
You should also try and refer to the final, finished reference image we provided so you can account for all parts of the droid.
Using a combination of straight and curved lines, we will be drawing the whole shape of his body, base and 'legs.'
Once this outline is drawn to look like our image, we can start adding the details in the next step.
Step 2 – Now, draw some inner details for R2D2
Now that you have the outline of your R2D2 drawing done, we can start adding those details that we mentioned.
To do this, we shall be starting from the bottom of the droid and moving upward as we proceed through the steps.
When drawing his base and legs, try to keep in mind that they are a bit more angular than his cylindrical body.
That means that we will be using a few more straight lines than will be used for the body and head.
Using the reference image to closely guide you, simply replicate all of the lines as they appear, and then you will be ready for step 3!
Step 3 – Next, draw more leg and body details
Continuing on with this guide on how to draw R2D2, we shall finish off his legs as well as adding some more details for his body.
Once again, the top of his leg will be a bit more angular, and there will be some small details on the center of it.
Then we shall continue adding some details onto his body. His body is made up of several panels, buttons and slots, and many of these parts have some fine details on them as well.
This is another step where you should definitely try to replicate our image as best you can.
Step 4 – Now, draw the final details for his body
You're doing a great job on this R2D2 drawing so far! In this fourth step, we will be finishing off his body section before we finish off with his head in the next step.
First, use some straight lines to add some details into the square section near the top of his body that you began in the previous part.
Then, we shall be drawing the divide between his head and his body. To do this, simply draw two slightly curved lines at the top of his body to show where his head would be swiveling on his body.
Then you will be ready for the final details in the next step!
Step 5 – Add the final details to your R2D2 drawing
Now you can finish off the picture by drawing some final head details in this step of our guide on how to draw R2D2!
This will get you ready to color him in for the final step. When adding these details, perhaps the most important one is the round lens in his face, as this is how he sees what is around him.
This has some details around it, and there will also be some of those same panel and button details that you added on the body.
Once these details are all drawn, you could also add some of your own! Perhaps you could draw a background or feature some more Star Wars characters to go with him.
How do you think you will finish off this awesome picture of yours?
Step 6 – Finish off your R2D2 drawing with color
This is the final step of your R2D2 drawing, and now you are ready to finish off with some color to finish him off.
The colors on R2D2 are fairly sparse, and his main colors are white and blue. In our reference image, we colored him in to look accurate to his appearances in the films, and you can see that there is a lot of blue used for the various panels and buttons on him.
Additionally, there are also hints of green, red and brown used for some smaller details.
When coloring in a finely detailed drawing such as this, you are best off using some art mediums that give you a high degree of precision.
Examples would be colored pencils, markers, pens or paintbrushes with very thin tips.
What colors and mediums will you choose to finish off this incredible picture?
3 More tips to make your R2D2 drawing easy!
Explore a galaxy of drawing fun as we make this R2D2 sketch even easier!
This drawing of R2D2 emulates the detailed style he has in the movies. There are lots of details to draw, however, and this can make it a bit overwhelming the first time.
While you are getting the hang of this drawing, you could start by simplifying some of the line details. Removing other details entirely can also be done.
When changing these details, you should try to focus on areas that are giving you the most trouble.
The more details you can maintain the better, but don't be afraid to remove any that are giving you a hard time.
Another way that you could make this R2D2 drawing easy to do would be by changing the style of the drawing. At the moment, it's looking fairly detailed and true to life.
If you find drawing in a cartoon style easier, then you could portray R2D2 in that style. You could even keep the basic pose and details, but then change it to a design you prefer.
If you need help, you can probably find pictures of R2D2 drawn in the style you choose online. What are some styles of animation and art that you could use?
Doing this will not only potentially make it easier for you but could also result in a more unique portrayal!
Finally, if there are sections of this R2D2 sketch that you simply can't get right, there are ways you could cover them. One of the most elaborate ways you could do this would be by adding another character from Star Wars.
For example, R2D2 is usually seen with his best friend C3PO by his side. You could add that character to cover a part of R2D2 that you are having difficulty with.
Or, you could also use the background to help. For example, if R2D2 were in a desert setting then a mound of sand could be covering a part of the drawing that you're having a hard time drawing.
Your R2D2 Drawing is Complete!
That will finish off this guide on how to draw R2D2, and at the end of it you have a wonderful depiction of the famous droid!
This is an image that had a load of details to include, so we hope that with the help of this guide that you found it to be fun and easy to take on.
Now it's up to you to take over and add your own background, details, additional characters or color and medium choices!
Then, when you are ready for your next fun challenge you can visit our website for more awesome drawing guides. Keep checking in, as we have many more coming out soon!
Please also make sure that you go ahead and share your finished R2D2 drawing on our Facebook and Pinterest pages for us to admire!