We created this Mother's Day Paint Pouring Art as a sponsored craft for Testors®. All opinions expressed are 100% my own. We hope you and your children enjoy making this gorgeous art project for Mother's Day this year. 
Mom is going to be in awe when she opens up this beautiful marbled art canvas on Mother's Day. The finished artwork is not only stunning, but it's super simple for adults and kids to make. Both Mom and child will feel proud seeing their finished paint pouring artwork up on display at home.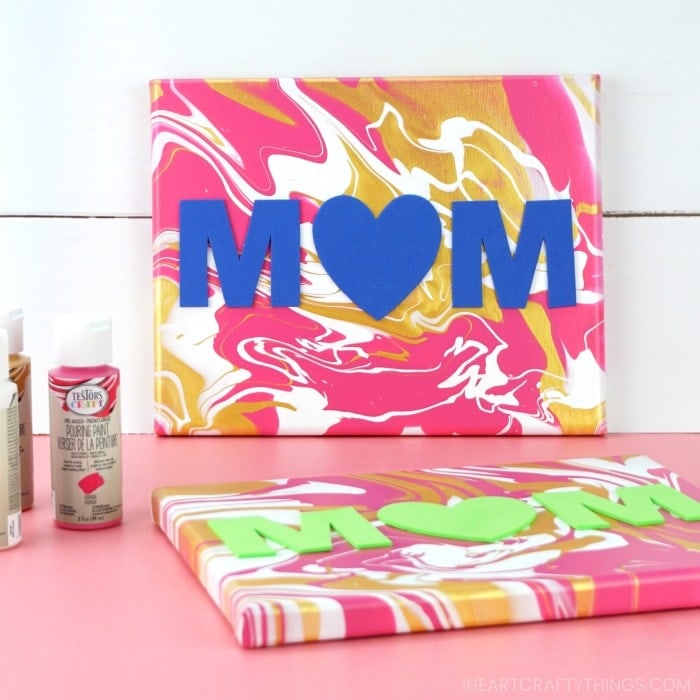 We've seen tons of paint pouring ideas out there but most either lack the guarantee of the smooth marbled finish we were looking for, or they use harsh chemicals that aren't child friendly.
Testors® Craft Pouring Paint is pre-mixed with a marbling agent which makes it so you don't have to worry about your colors mixing together during the pouring process, or when the paint is drying. The end result is a gorgeous, smooth marbled effect. You'll find this process completely safe for children too. Especially since the paints easily wash off with soap and water.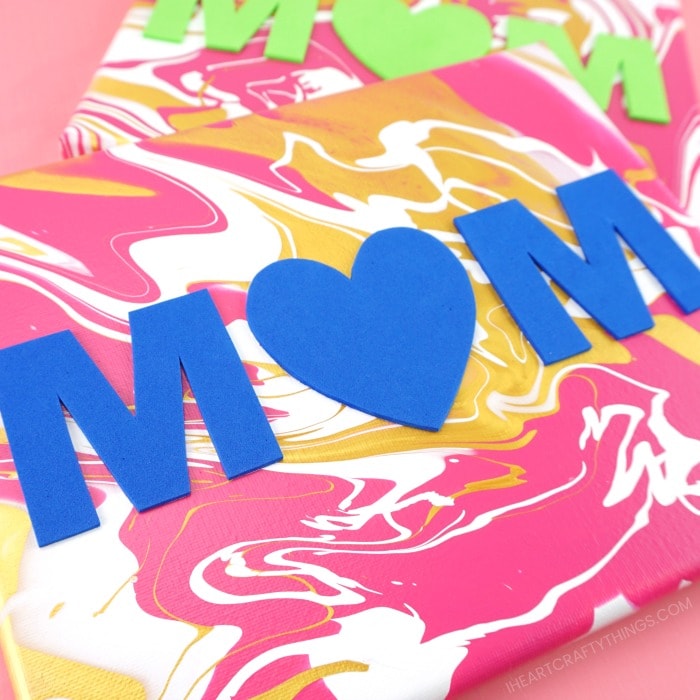 Easy Paint Pouring Art for Mother's Day
While we created this art project in mind for Mom, you can customize it to give it to grandma or any friend or loved one for Mother's Day. Leave off the M's and add a large heart in the center of the canvas in the color of your choosing to customize it for any loved one. You can also leave the letters off the canvas entirely.
Read our step-by-step instructions below to see how easy it is to create your own paint pouring art in no time at all. We also have a video tutorial inside this post you will find helpful before starting your project.
Supplies needed for your paint pouring project
8-inch by 10-inch canvas
tray for catching paint and easy clean up
2 large cups
3 small paper cups
gloves
scissors
pencil for tracing
adhesive felt sheet, color of your choice
MOM printable template <—– Get the Template Here
How to Make your Pouring Paint Canvas Art
1. Gather all of your supplies. Lay your tray on your table. Place the two large cups face down on your tray. Space them so they hold your canvas when you lay it on top of the cups.
2. Shake each of your Testors® Craft Pouring Paints to ensure they are fully mixed. Let them sit for several minutes to avoid air bubbles. Then remove the lid of each of the paints and pour each color into one of the small paper cups.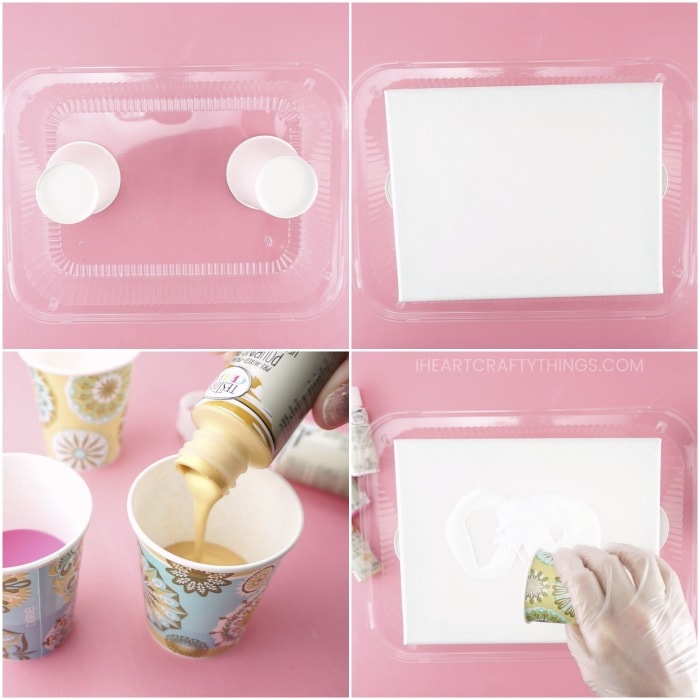 The secret behind how easy this paint pouring art project is to create is by using Testors® Craft Pouring Paint. The pouring paints come pre-mixed with a marbling agent so they are completely ready for pouring to create gorgeous artwork.
Each pouring paint pack comes with three coordinating colors. We are using the gold, fuchsia and white pack in our project today. They also have a pack in silver, black and turquoise that would also work perfectly for our Mother's Day art project.
Look for Testors® Craft Pouring Paint at your local Menards craft store starting in April. It is also available for shipping on their website if you don't have one of their stores close by.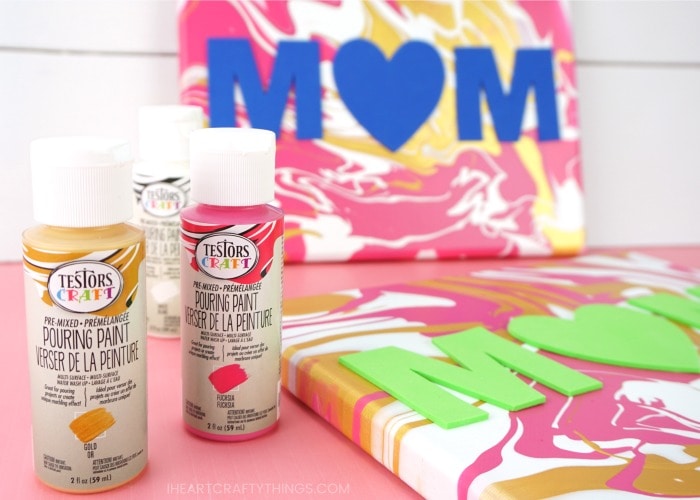 Now it's time for pour painting on your canvas
3. Put on your gloves. The pouring paint washes off hands easily with soap and water but it's still a good idea to wear gloves to help with easy clean up.
4. Choose one of your colors to start painting. We started with white. Pour the white paint, starting in the center of the canvas and making some swirls around the canvas. You don't have to use all of the paint at once. In fact, we found it best to save a small amount in the cup in case you want to add to the design as you work.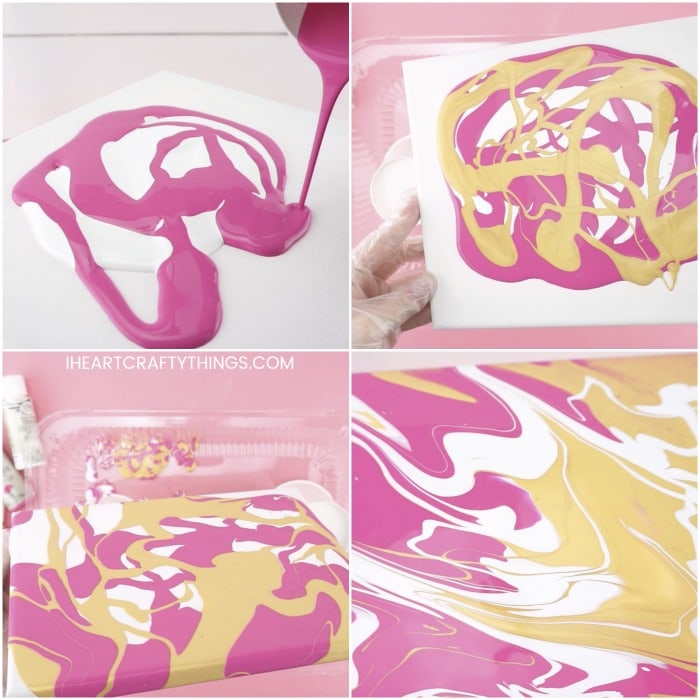 5. Choose a second color to pour on your canvas. Instead of pouring right in the center this time, we made swirls on the white paint and around the white paint as we poured the pink color on the canvas. Add the third color of paint, adding more swirls around the other colors as you pour it on the canvas.
6. When you have finished pouring all three colors of paint, pick up your canvas above your tray and tilt the surface so the paint moves around to create a marbled effect. Tilt the canvas in every direction to cover the surface completely and to achieve your desired look.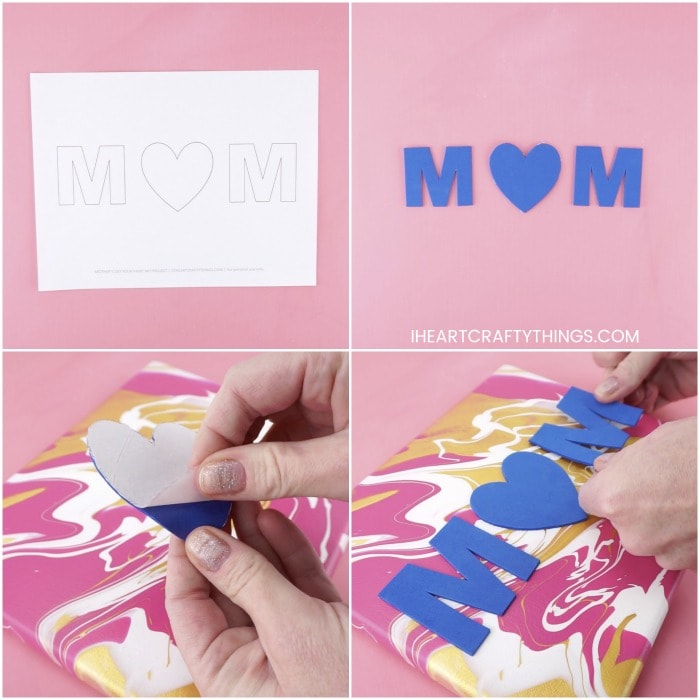 After working your pouring paint around on the canvas, you might want to pour additional swirls of colors on your canvas again, and then tilt the artwork around more until you are happy with the marbled effect.
7. When you are happy with the marbled effect on your canvas, place it back on the cups in your tray and allow the paint to dry for a full 24 hours. This step is a MUST because if you handle your artwork before it is completely dry, you can ruin it.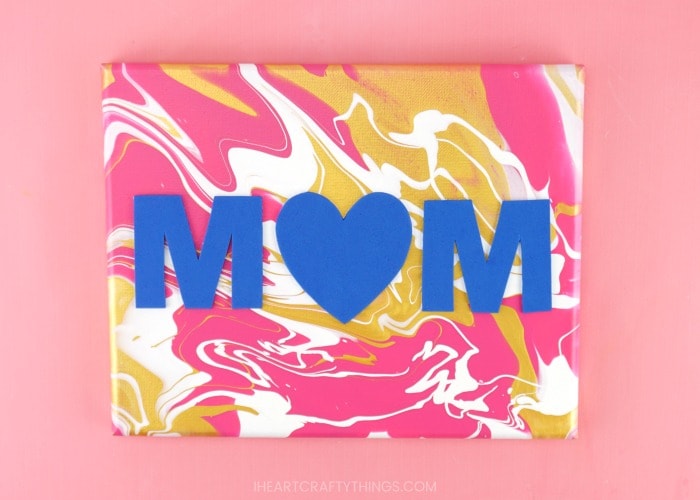 Turn your pour paint art into a Mother's Day Gift
8. Once your marbled canvas is completely dry, download and print out our MOM template. Cut out each of the letters and the heart from the template. Use them as a pattern and trace them on the back of an adhesive foam sheet. Cut out each of the pieces from the foam sheet.
9. Peel the backing off the heart shape and place it in the center of your paint pouring art. Then remove the backing of each M letter and place them on the sides of the heart.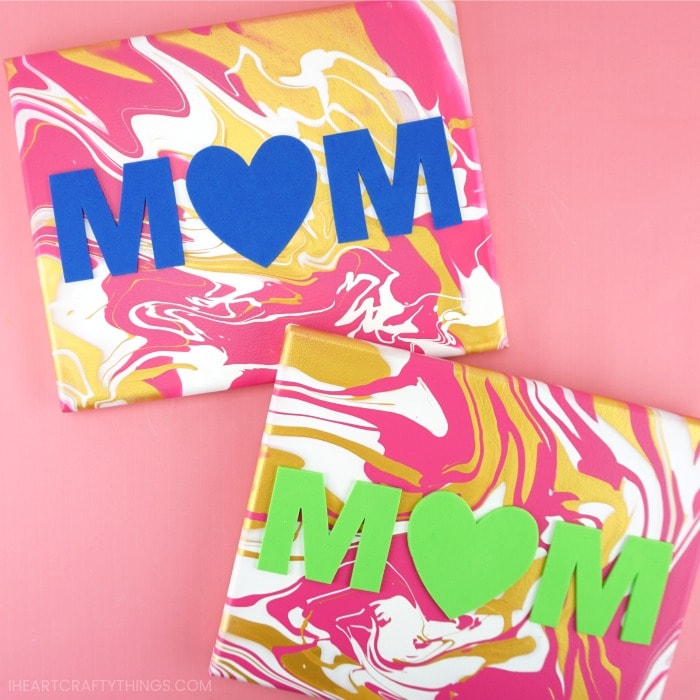 Wrap your gorgeous marbled art canvas in wrapping paper and give it to Mom for a special Mother's Day gift. She will love having the beautiful artwork up on display at home.
Visit Testors® website for more information about their craft products and to get more arts and crafts inspiration.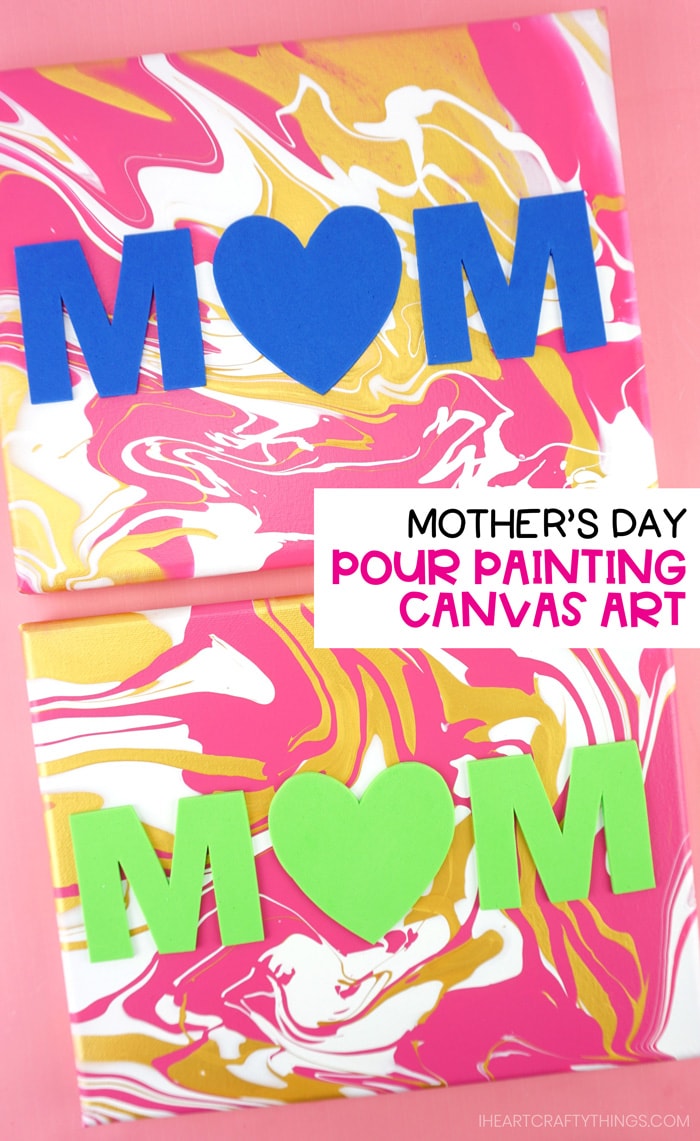 More fun art projects for Kids
Testors® also has a marbling medium you can add to acrylic paints to achieve this same marbling effect. See how we used it to create these beautiful Marble Christmas ornaments.
These Butterfly Cards are another fun art project for little ones to make as a Mother's Day gift. Children will love smashing the paint between their butterfly wings to give them a colorful and unique design.
Kids will love using acrylic paint and shaving cream to create this amazing Marbled Planets Art Project this summer.