I'm not a big fan of living in a snowy climate (Brrr!!) but I love, love looking up at our mountains and seeing the beautiful evergreen trees set against the snowy landscape every winter. We just had a big storm for Christmas so it was especially gorgeous during all of our holiday travels this past week. It inspired us to make this newspaper winter landscape art project this week. The printed bubble wrap background adds a perfect falling snow texture to the art project.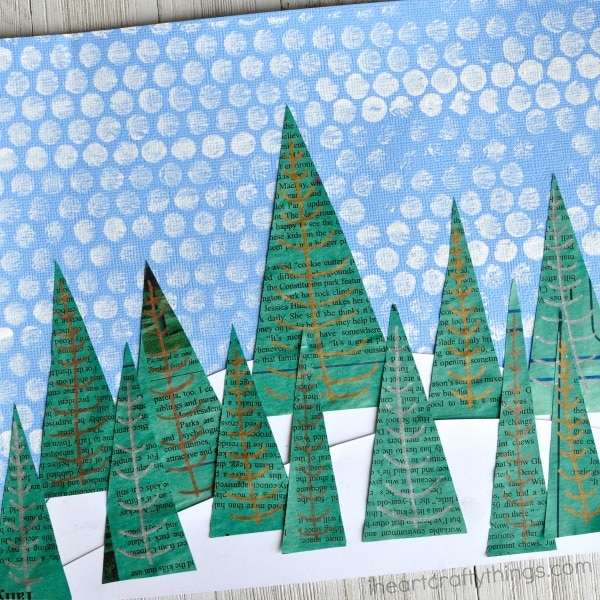 This post contains affiliate links to the products mentioned. Read our disclosure policy for more information.
How to Make a Newspaper Winter Landscape Art Project

Supplies:
newspaper
green watercolors (We love liquid watercolors!)
paintbrush
light blue and white cardstock
paper plate
scissors
glue
Directions:
1. Start by painting a section of newspaper with green watercolors. The newsprint will be saturated at first but let it dry completely for several hours or overnight and it will harden back up.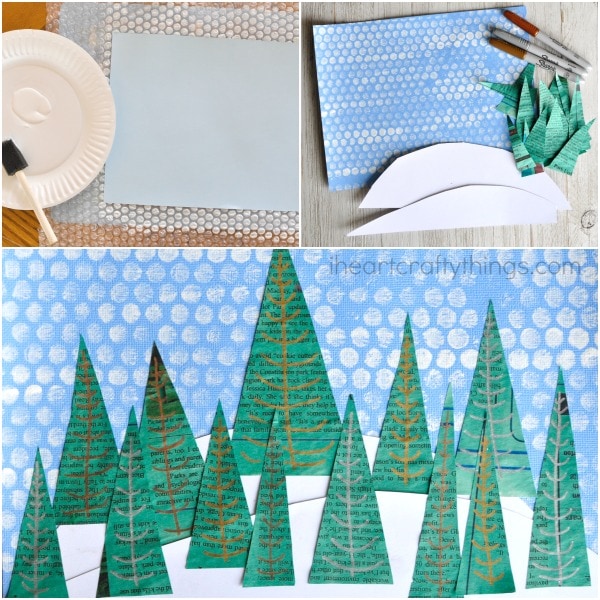 2. Cut off a section of bubble wrap a little bigger than your light blue cardstock. Pour some white paint onto your paper plate and use your paint brush to paint the raised bubbles of the bubble wrap. Carefully place your blue cardstock down onto the painted bubble wrap. Rub your hands all over the paper to transfer the white paint from the bubbles onto your paper. Then slowly peel off your blue cardstock and set it aside to dry.
3. Cut out a handful of triangles in varying sizes from your painted newspaper for your winter trees. Also cut out two snowy hills from your white cardstock.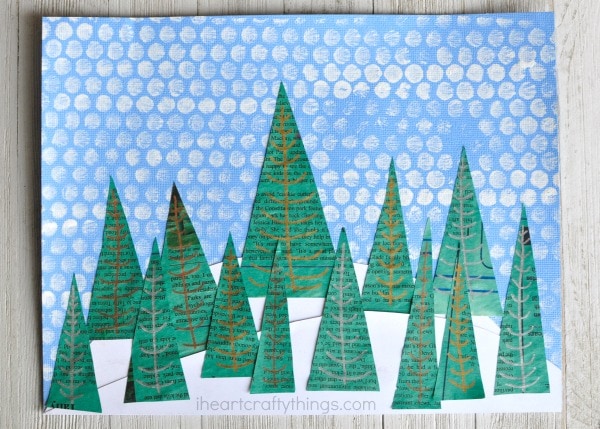 4. Glue your snowy hills at the bottom of your blue cardstock. Then glue your newspaper trees all over your snowy hills.
5. Get out your metallic markers and finish your winter landscape art by drawing a trunk and limbs inside all of your trees.