Few bonds in life are as strong or as special as that between a mother and child! Being a mom is one of the most important and yet under-appreciated jobs in the world.
In a single day, a mom can be an accountant, a cleaner, a chef, a diplomat and even an amateur doctor!
A mom's efforts can often go unacknowledged, so by learning how to draw a mom you can show her some appreciation.
This guide will show you how it can be done!
We hope you have lots of fun sharing some motherly love in this step-by-step guide on how to draw a mom!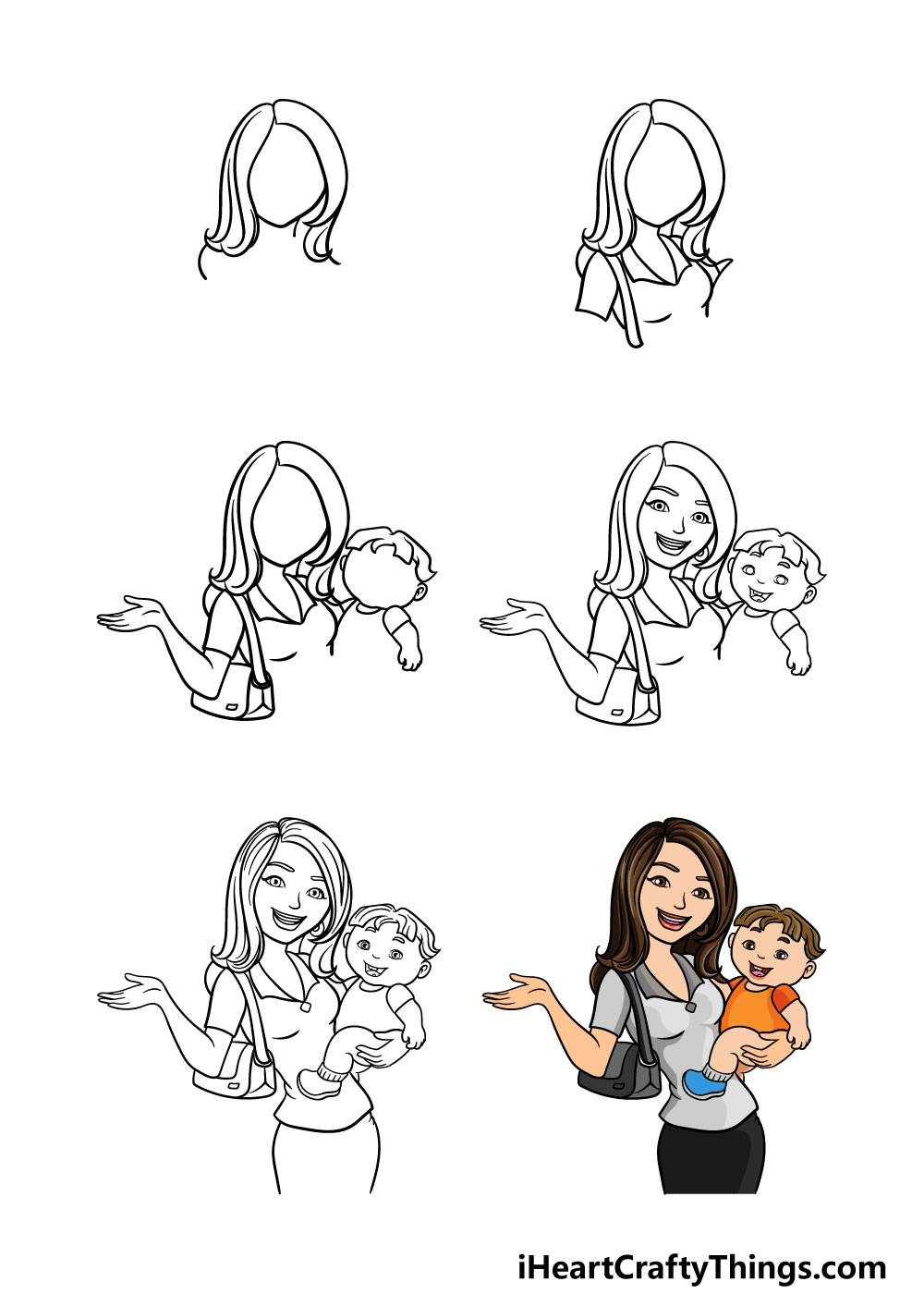 How to Draw A Mom – Let's Get Started!
Step 1
In this first step of our guide on how to draw a mom, we will be starting with the head of the mom.
This guide you're about to do will show you how to draw one mom, but once you have the hang of it you could change the details to make her look like your own mom!
For now, we will be doing the hair and face outline of the mom. We will be drawing a fairly simple hairstyle for her, and it will be drawn in several curly sections that curl a bit at the bottom.
Then, you can use a rounded line for the face outline inside of the hairstyle.
Finally for this step, you can use some simple curved lines for the neck and shoulders of the mom. That's all there is to it for this step, and now you're ready to add some more in the next steps!
Step 2 – Start drawing her shirt in this step
For this second part of your mom drawing, we will start to draw the top that she is wearing. First, you can use some curved lines for her collar below her neck.
Then, you can use some more lines for her shoulders, and there will also be a strap going over her shoulder.
That her handbag will be attached to. Once you're happy with how it looks then you're ready to move on.
Step 3 – Start drawing her arm and her child
We will be drawing quite a lot in this step of our guide on how to draw a mom, so be sure to take it slow and follow the reference picture carefully!
First, you can add her arm coming out from the sleeve on the left. It will be angled in such a way that it is bent at the elbow with her hand extending up.
Then, you can add her handbag at the bottom of the strap that you drew in the previous step.
Finally, you can draw the head outline for the child she's holding with some hair on top of it. You can also draw the arm of the child in this step, and you can also draw the start of his shirt.
Step 4 – Next, draw the faces for the mom and child
This mom drawing of yours is really starting to take shape! In this step, we will be drawing some facial details for the mom and the child.
Using some simple lines, you can add the mouth, eyes and nose for the mom to give her a nice smiling face!
You can do some similar details for the child as well to make his face, and we will be adding even more detail in the next step.
Step 5 – Now, you can finish off the final details of your mom drawing
It's almost time to start coloring in your incredible picture, but first we have some final details and elements to add.
Before adding these details, we have some larger parts to add, so we will focus on them first in this step of our guide on how to draw a mom.
You will need to finish off the bottom of the mom's body, and you will also be adding the legs and shoes for the child. Once those are added, you're ready for the final details!
These will go all throughout the drawing, adding some texture detail to the hair, clothing and accessories for both the mom and child.
You can also add some subtle details to the faces as well. Before you move on, be sure to add any more details that you may want!
You could add some text to turn this into a nice card, or you could change the details to make it look like your own mom.
What extra fun details can you think of to finish off this image?
Step 6 – Finish off your mom drawing with some color
In this sixth and final step of your mom drawing, we will be bringing it to life with some amazing colors!
In our reference image, we showed you just one way that you can bring this picture to life with your colors, but this is just a suggestion.
This is your drawing, so you should use all of your favorite colors to bring it to life.
You can also experiment with your favorite art tools and mediums, so be sure to let your creativity flow and have fun as you finish off this mom drawing!
Here's how you can make your mom drawing even better…
Create some motherly love as we make your mom sketch even better!
This drawing of a mom that we created features a cartoon character version of a standard mom. You could make this artwork more personalized by making the mom look like a real person!
For example, you could change the details of her face and hair to make her look more like your own mom.
That's one idea, but you could also use the face of anyone else you know instead.
Who would you like this mom to look like?
In the same way that you could make this mom look like a real person, the same could be done for the child. Once again, you could look at your own life and use someone you know.
For a fun idea, you could look at photos of what you looked like around this age and then add yourself to the image! You could also make the child look a bit older and have it standing next to her.
It could also be fun to add other characters to your mom drawing. For example, you could add a father character standing beside her.
This is another character that could be based on someone, or you could create a brand new character. You don't have to stop there, eIther!
You could add more characters to have an entire family, and this would make it look like a family photo. Who would you like to include in this picture of a family?
Finally, you could finish off your mom sketch with a background. There are so many fun backgrounds you could use to make the image even better.
She could be posed in a yard setting, or maybe she could be at a party or a carnival. The background could be as complex or as simple as you like, and you could make some really interesting scenes.
Maybe you could use some areas around where you live so that you have something to work from as you draw.
Your Mom Drawing is Complete!
We hope that you had a great time replicating some motherly love in this guide on how to draw a mom!
This drawing may have looked a bit intimidating at first, but we hope that by breaking it down into smaller steps that you found it to be not only easier but also more fun than expected.
Breaking down a drawing into smaller steps is always the best way to tackle a tricky drawing, so if you follow this guide we know you can do it!
Now you can go even further with this drawing by adding your own details and elements.
Whether you change it to look like your own mom, add a background, experiment with colors or use some of your own ideas, we can't wait to see what you come up with!
Your drawing fun doesn't have to end here, as we have many incredible guides for you to enjoy on our website! Be sure to check in often to never miss out on the new ones that we upload frequently.
We would also love to see your mom drawing, so please be sure to share it on our Facebook and Pinterest pages once it's done!