Family can mean many different things to different people. It can be the group of people that one is born into, or sometimes people can find themselves becoming a part of another group that feels like a family to them.
Whatever form family may take, it usually symbolizes a close-knit group of people that share a connection of love. It can also be lots of fun to learn how to draw a family!
This guide will show you how to do just that, and by the end you will be able to customize it to look like your own family as well if you would like!
We hope that you have lots of fun working on this step-by-step guide on how to draw a family!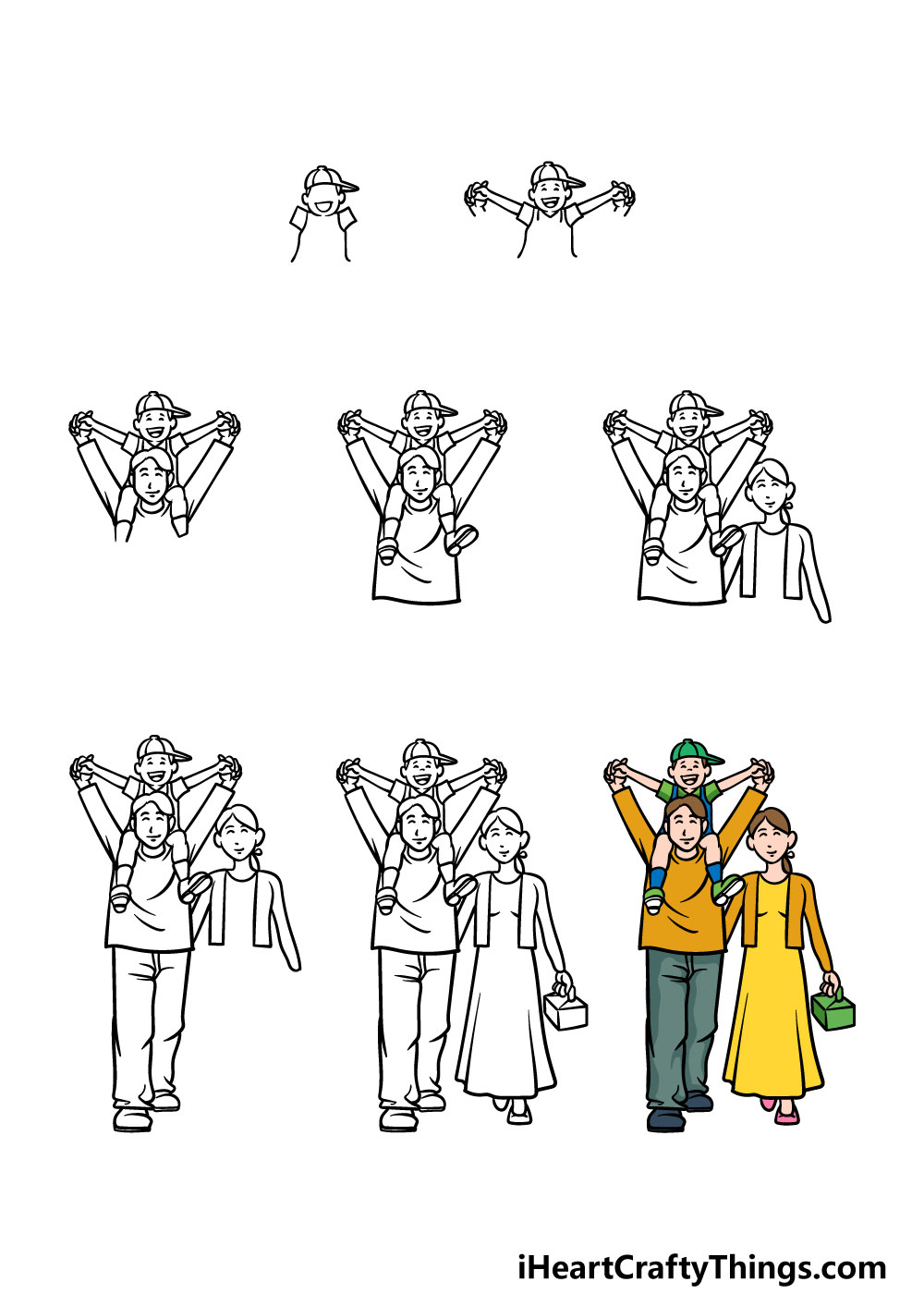 How to Draw A Family – Let's Get Started!
Step 1
In this guide on how to draw a family, we will be drawing a fairly typical family unit. This will consist of a son, a father and a mother.
As we mentioned in the introduction, however, you will be able to customize this drawing if you wish to make it more like your own family or maybe a family you know.
For now, you will be drawing the son that will be on his father's shoulders. He will be wearing a cap and a shirt, and these elements along with his head will be what we focus on in this step.
Step 2 – Next, draw the arms and face of the son
This step of your family drawing will see you adding the face and the arms of the boy. His face will be drawn with some fairly simple lines, and his arms will extend straight outward.
We will also begin to draw his father's hands, and the boy will be clinging to these.
Step 3 – Now, draw the father's head and arms
We will be focusing on the father for a bit in this step of our guide on how to draw a family. You can draw his head in front of his son, and then you will draw his son's legs around his neck.
Finally, the father's arms will also extend straight upward so that they join with the son's arms.
It may sound a little confusing, but referring to the reference picture will make it much easier as you draw!
Step 4 – Next, finish off the father's shirt and the son's feet
In this next part of your family drawing, we will be adding more to the son and the father. First, you can finish off the son's legs by drawing his feet in his shoes.
Then, you can extend some straight lines down to draw the rest of the father's shirt.
Step 5 – Now, start to draw the mom
We will be leaving the son and dad for a bit in this step of our guide on how to draw a family. For now, we will be focusing on the mom in the picture.
To start with her, you can draw her head outline while adding some line details for her face and hair. Finally, you can draw her top that she is wearing.
Step 6 – Next, finish off the dad's legs
It's time to finish off the dad of your family drawing in this step. To do this, we will be drawing his trousers using some bumpy and straight lines.
You can then finish off his legs by drawing his shoes at the base of his trousers. That's all there is to it for this step, so let's move on to some final touches in the next step!
Step 7 – Next, draw the final details
You will be able to add some color soon in this guide on how to draw a family, but first we have a few details to add.
The main element of this step will be to finish off the mom of the drawing. To do this, you will be extending her dress down while drawing her hand holding a basket as well.
Finally, you can draw her feet at the base of her dress. That's all there is to it for the drawing, but remember that you can also add your own details.
You could draw a background, add some more family members or change the details to look like your family. How will you finish off this drawing before the final step?
Step 8 – Now finish off your family drawing with some color
This final part of your family drawing is the step where you get to take over and add some amazing colors to it. In our reference image we showed you one way that you could color in this picture.
While this is a suggestion you could go with, it's also a step where you can let your creativity really flow!
Once you know which colors you would like for your picture, you can also have fun choosing which art mediums you will use to bring them to life.
Whether you choose to go bright and vibrant or more muted and subdued we know it will look amazing!
Here's how you can make your family drawing even better…
Have some family fun as we show you how to make your family sketch even better!
When designing this family drawing, we focused on the family themselves to make it easier. Now that you have finished this design, you may like to add a background setting to finish off the setting.
A family vacation is a great setting, and you would have many different options for places you could depict. What are some dream locations you can think of for a family vacation?
Adding a background is just one way of personalizing this drawing of a family. Another way is by changing the clothing of the different family members.
Once again, we went with a fairly standard approach for the family.
You could not only act as this family's stylist, but you could also give them themed outfits. For example, if you were to put them in a snowy setting, they could be dressed in warm winter clothing.
That's one way of making sure this picture is more personalized, but how else could you do it?
This family is in a standard pose, but you could easily portray them in more dynamic poses. For example, you may want to have them posed while having a snowball fight or while building a snowman.
That would fit well with our Winter example, but it is just one suggestion! If you went with a different setting instead, then their pose would reflect that.
What kinds of adventures do you imagine this family could be on?
Finally, the best way that you could personalize this family drawing would be by turning the members into your own family. This could be done easily by changing just a few small details.
It could be as simple as changing some facial features, hairstyles and colors. If you have a family that has more members than this one, you can take what you learned and use it to draw some more members.
What are some other ways you could make this family look more like your real one?
Your Family Drawing is Complete!
That brings you to the end of this guide on how to draw a family. We hope that by using this guide that you found this drawing to be much easier than expected.
Hopefully it was even more fun than you anticipated as well! Even for a drawing that's a bit more detailed like this one, it can be made so much simpler when you break it down into smaller steps.
Now that you have completed this guide, we have mentioned a few ways that you can keep having fun with it.
You could do this by adding some details of your own such as a background, more family members or by changing the details. You can also get creative with the colors and art mediums that you use!
The drawing fun doesn't have to stop here, as we have many more amazing guides that we know you will love on our website! We upload new ones frequently as well, so be sure to visit often.
We would also love it if you would share your completed family drawing onto our Facebook and Pinterest pages. We can't wait to see your amazing artwork!