Everyone loves a good donut! These tasty treats come in all shapes, sizes and variations, and there is a donut to suit pretty much any taste!
They have been made even more famous in TV shows and movies as the go-to snack of everything from cartoon dads to quirky FBI agents.
Donuts often come with bright colors and delicious flavors, and with all the options there are, it can be just as fun to make and design a donut as it is to eat them!
If you would like to design your own delicious donut, then this guide is for you!
Out step by step guide on how to draw a donut will have you designing your own sweet treats easily.
Make A Story Our Of This Donut Drawing
Creating a story out of a drawing is always a fun challenge, and it gives you an excuse to add more details and elements that you want for the image.
For some pictures, it can be easy to make a story. If you have a drawing of an astronaut, for instance, it would be easy to build some kind of grand adventure around it.
But what about for something simple like this donut drawing, surely it can't be easy to make a story around it? If you use your creativity, there are some fun scenarios you can build around this drawing.
You can think about these as you work through the guide, and then account for any details you may want to portray. One of the best ways to add a story would be by adding a detailed background.
Donuts are often associated with police officers, as there is an old cliche that police officers live donuts. So this donut could be in a police station or at a crime scene.
That would give you many opportunities to create some fun stories! Donuts are also prominently featured in many fictional shows and stories.
For a few examples, donuts are loved by characters such as Homer Simpson and Dale Cooper from Twin Peaks. If you can think of similar characters who love donuts, then you could show off your love for the characters by adding them.
If you want to go even further with it, you could make a cartoon character out of this donut and show it going on some fun adventures. These are some simple but fun ideas you can keep in mind.
For now, we will begin this guide with the first step!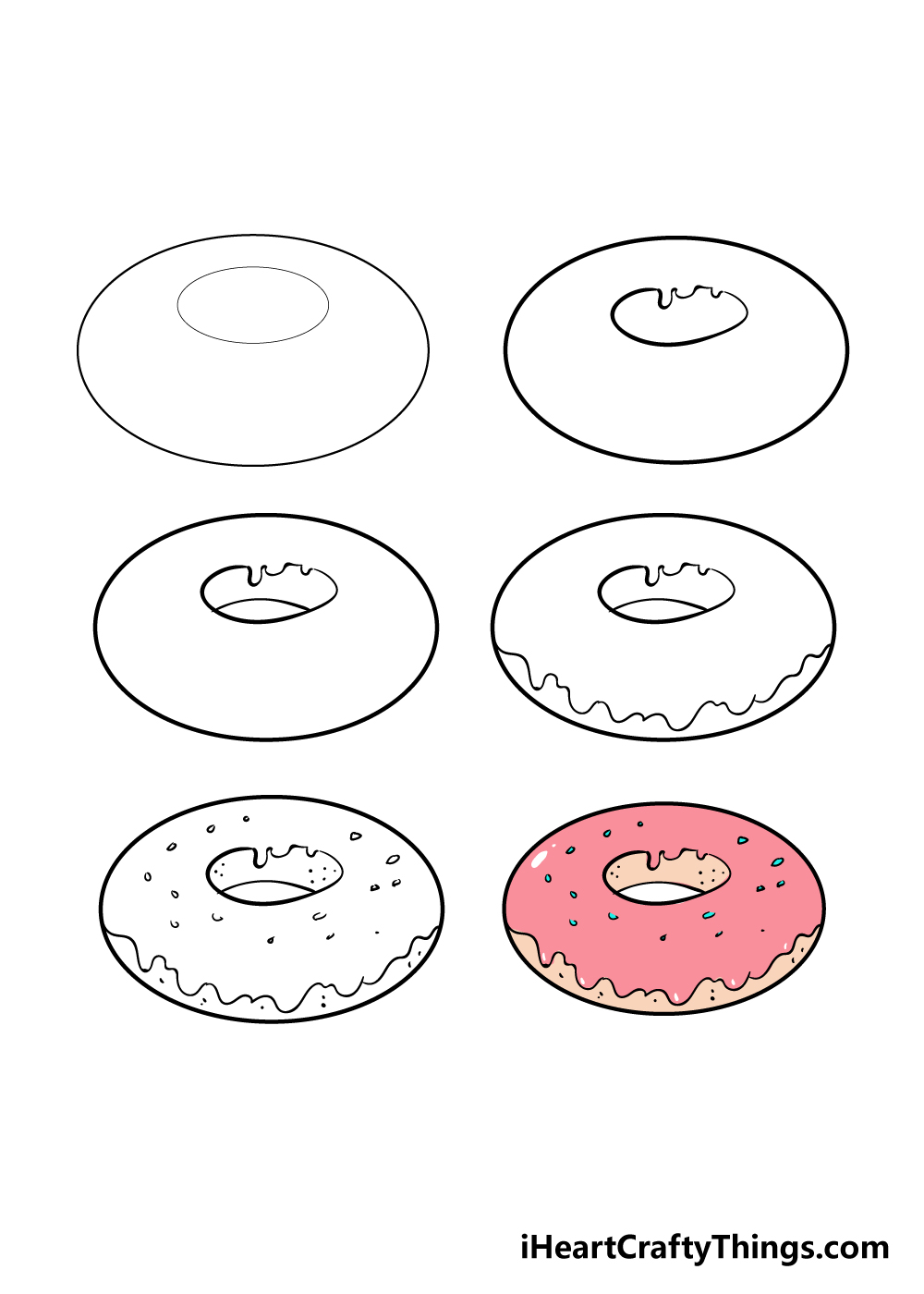 How to Draw A Donut – Let's get Started!
Step 1
Donuts are by their very nature quite round, so it makes sense that we would start this guide on how to draw a donut with some round shapes.
For this step, you will want to use a pencil for one part and your pen for the other.
Using your pen, carefully draw a flat oval shape for the outer edge of the donut. Then, you can use your pencil to draw another oval inside of it that will become the hole of the donut.
We will use a pencil for the donut hole for now, as we will be adding detail to it later on in this guide.
Step 2 – Draw some detail on the donut hole
We mentioned before that we will be drawing some details to the donut hole, so let's do just that for this part of your donut drawing!
Using your pen, you can draw a rougher oval over the pencil one. Near the top of this oval, you can draw some curved lines coming down, and this will represent the icing dripping down into the hole.
Step 3 – Finish off the donut hole in this step
We will be creating a 3D effect to this 2D drawing in step 3 of this guide on how to draw a donut. To do this, simply draw a horizontal, curved line inside the donut hole below the dripping icing.
This will give a nice 3D effect to the donut hole and will add some depth to your donut drawing.
Step 4 – Draw some icing onto your donut
The structure of your donut drawing is looking great, so let's bring it all together with some great details in these final steps!
For this part, we will be adding some delicious icing to the top of the donut. To do this, simply draw a curvy line near the base of the donut, with some sharp dips to represent the icing dripping down.
Such a simple detail really helps to make this tasty donut look even more delectable.
Step 5 – Now, you can add in the final details of your donut drawing
In step 5 of our guide on how to draw a donut, we will finish off the final details. We will show you how we finished off our drawing, but this is a step where you can also show off your own creativity!
We drew some small lines and circular shapes to give the effect of glazing and sprinkles on the donut.
You could take this even further with your own details! Perhaps you could draw your own favorite donut toppings or glaze onto this donut drawing. You could also draw a background for the drawing.
For example, maybe the donut could be on a plate next to a steaming mug of coffee!
Maybe you could even draw a hand reaching for the delicious donut or show us what tasty treat you think would go well with your donut.
This is definitely a step where you should let your imagination go wild as you make this picture unique to you!
How will you finish off this drawing before the final step?
Step 6 – Finish off your donut drawing with some color
This sixth and final step of your donut drawing is all about having lots of fun coloring in your incredible picture!
We used a tasty-looking pink for the icing of our donut, yet while this s one look you could use, this is a step where you should let your creativity run wild.
Donuts can have icing that comes in any color you can think of, so that opens you up to some incredible color choices.
For this kind of drawing, it might look nice to use some bright and vibrant colors that will make this image pop!
I especially think that some bright mediums such as acrylic paint, colored pens or markers would suit this image perfectly.
That being said, if you prefer a more muted look to the picture, something like watercolors or colored pencils would also look very pretty.
If you're feeling extra crafty, you could even incorporate extras like glitter, stickers or beads onto the icing to make this donut look tasty enough to eat!
Here's how you can make your donut drawing even better…
Make a tasty creation as we show you how to make your donut sketch even more delicious!
For this donut drawing, we didn't go too crazy with the toppings and additions. That's where you come in, as you can now make this your ultimate donut!
Donuts can come in many different variations, so you could add anything you like. There are some more common toppings such as cinnamon, icing, sprinkles and bits of nuts.
You could also add candy, bits of cookies or any other sweet treats you like. What would your ultimate perfect donut look like?
When it comes to creating the toppings for your drawing of a donut, you may want to play around with various art tools and mediums. These can help to make the toppings look even tastier!
For instance, using thick paint could help to make the icing look more realistic. There are also some crafts you can use to make the toppings look real.
For example, you could use beads and glitter to make it look like it is really covered in sprinkles. What are some mediums you could use for this donut?
Enjoying a donut is great, but it can be even better when enjoyed with other treats. These would also be great to add to your donut drawing!
These additions could depend on what you personally like to enjoy with a donut. Some people like to have a donut with coffee, for instance.
Others like to enjoy them with different kinds of pastries. These are just a few examples, but now you can show off what would be your perfect pairing for this donut!
Finally, you could also create a background to finish off this donut sketch in style. This could be as simple as adding a plate that the donut could be sitting on.
This is a suggestion that would pair well with the previous ones as well! The background could be as detailed or pared back as you like, and you could add all sorts of fun details and ideas.
Your Donut Drawing is Complete!
This brings us to the end of this step-by-step guide on how to draw a donut. We hope that this guide was helpful and fun for you to use in order to create a delicious, wonderful donut!
Now that you have mastered this guide, you could use it to create even more donut variations of your own design.
There are lots of ways available to you that you can employ to create even more great-looking donuts.
You could change the shape of the donuts, create some unique toppings or incorporate some fun art mediums to really make the drawing come to life!
You could even use thick glitter glue coming out the center to create a jelly donut that is bursting with delicious jelly inside.
Now that you have completed your donut drawing, there's more fun to be had! We have lots of great step-by-step drawing guides on our website, and we have many more coming out all the time.
Be sure to check in regularly to join the fun!
We would also be thrilled to see the creative way that you finish your donut drawing, so once it's finished please be sure to share it on our Facebook and Pinterest pages!
We can't wait to enjoy your mouth-watering donut creations.