A diamond is one of the most beautiful things you can find in nature. Humans have found a way to take this beautiful natural resource and refine them even further into objects of elegant beauty.
Because of their brilliance and value, it's common to see them on rings, necklaces and even crowns!
A refined diamond has quite a complicated geometric shape with many sides, and this can make it quite a challenge to draw.
If you would like to learn the tricks behind drawing this shape, then you're in luck!
This step-by-step guide on how to draw a diamond will make creating this beautiful object a breeze!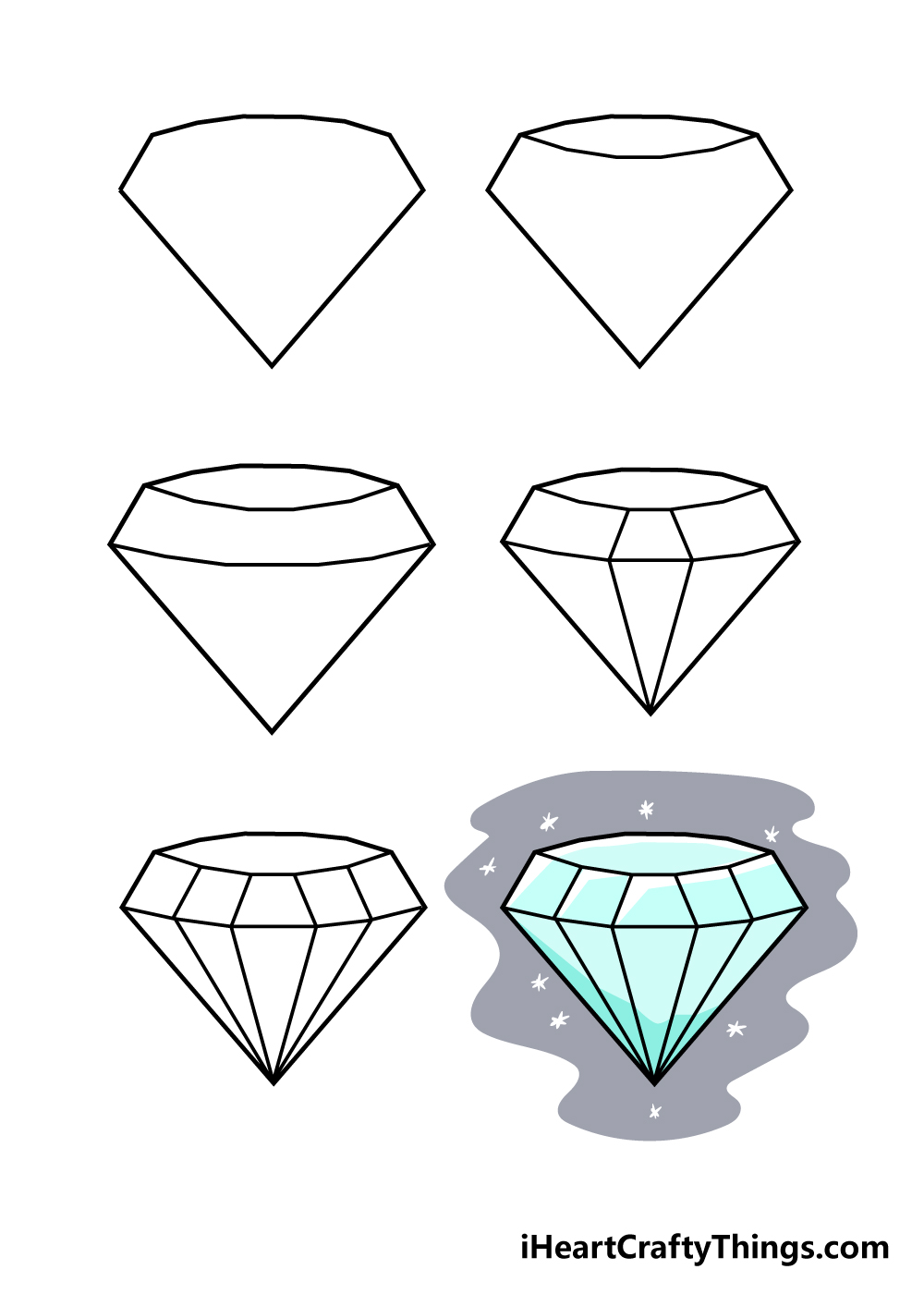 How to Draw A Diamond – Let's get Started!
Step 1
For this guide on how to draw a diamond, it will be very helpful if you use a ruler as well as a light pencil in addition to your regular drawing utensil.
Once you have a ruler to use, refer closely to the reference image to replicate the shape we have in it.
Two long lines will form the bottom, while the top will have two small ones on the side and an angular, rounded top.
Using a light pencil is recommended, as it can be a bit tricky getting this shape right! Once the outline is looking good to you, you can carefully go over it using a pen or a darker pencil.
Step 2 – Draw in the top of your diamond
With the outline of your diamond drawing done, you can start to draw in the many sides of the diamond.
The top of the diamond has a flat top, so that's what we will be drawing for this step.
To draw the top of the diamond, you will be drawing a line that connects the top corners of the diamond with one that will mirror the line at the very top of your diamond shape.
Much like the top line, this one is rounded yet still somewhat angular. If you're having a hard time with this line, though, you could also make it and the top line a little more rounded.
Step 3 – Keep adding more sides to your diamond
In step 3 of our guide on how to draw a diamond, we will be adding another angle to the drawing.
To do this, simply add another line that's similar to the ones you have just draw for the top of the diamond.
This line will go from the corners below the top corners that you used for the previous step.
Once again, you could always use a more rounded line if the subtle angles in this line aren't working for you!
Step 4 – Draw the front angle of your diamond
For this step of your diamond drawing, we shall be using some straight lines to create the angle of the diamond that is facing us directly.
To do this, you'll want to use your ruler to draw two lines angling out between the two lines near the top of your diamond. The reference picture will help you out with where to draw these lines!
Then, draw two long lines down from these ones, except move them inwards so that they meet at the point of your diamond.
Step 5 – Next, draw the final lines of your diamond
We will be drawing the final lines in this step of our guide on how to draw a diamond! There will be two more lines drawn up from the tip of the diamond until they meet the first horizontal line.
At the point that they touch that line, carefully draw two more but at a different angle so that they touch the flat top of the diamond.
Once you have those lines drawn, your diamond drawing is finished! Before you move on to the final coloring step of this guide, you could draw in any fun elements or additions that you would like.
Some ideas could be drawing a ring under your diamond, or maybe you could draw some laser lines around it to make it look like it's under guard at a museum!
What fun ideas or settings can you think of to finish off your diamond drawing?
Step 6 – Finish off your diamond drawing with some color
There were a lot of angles, lines and measurements needed to create your diamond drawing! For this final step, you can kick back a bit and relax with some fun coloring to really bring it to life.
You have a lot of options at your disposal for how you could color it in!
Diamonds come in all manner of beautiful colors, and if you have a favorite diamond then you could make this one look like it!
You can also experiment with different art mediums depending on the look that you would like for your diamond drawing.
Acrylic paints or colored pens would give your diamond drawing a bright, striking look, whereas watercolors or colored pencils would give a softer look to it.
Once you've colored it in, perhaps you could use some glitter to give it a real sparkle! How do you think you will color in your beautiful diamond drawing?
Here's how you can make your diamond drawing even better…
Make this artwork even better as we show you how to make this diamond drawing stunning!
There are many different colors you could use for this diamond sketch. Choosing the colors is just one way to make it look better, but you can also use some crafts.
Diamonds are famously bright and sparkly, and you could recreate that for this page! Using some glitter glue would be one way of doing this, but you could also use a light wash of glue over the diamond.
Then, carefully sprinkle some regular glitter onto the diamond to make it sparkle! Can you think of any other fun crafts to try out?
This diamond sketch has been drawn in a classic diamond shape, but you could also change the shape.
If you look up pictures of diamonds, you will see them in all shapes from squares to ovals and anything in between. The common detail with these shapes is that they will usually have some flat edges where the diamond has been refined. What are some shapes you could turn this diamond into?
Another way to make this drawing of a diamond even more unique would be to add a background. For example, it could be sitting on a bog pillow inside of a glass display case in a museum.
You could even create a whole scene if doing this. For instance, a ninja-like thief could be about to steal it from a maze of lasers and alarm systems! This is one idea, but what other scenarios could you create around it?
Diamonds are often used for jewelry, and you could add this one to some jewelry of your own design. It could be on the ring of someone very wealthy, for example!
Or, you could put it at the end of a royal staff or scepter to make it look like it belongs to a member of royalty.
There are so many different types of jewelry you could add this diamond to, so what are some other ideas you may have for finishing off this page?
Your Diamond Drawing is Complete!
You set out on this guide on how to draw a diamond with a mission, and you have successfully completed it!
Drawing a diamond can be quite the challenge because they have many surface areas and different dimensions, but we hope that this guide made it easy and fun for you to learn!
As long as you follow the steps and reference images while taking it slow, you'll master it in no time!
Drawing and coloring your diamond is just the start, as now you can have a lot of fun putting your own spin on it.
Whether you do that with a fun setting for your diamond drawing or with some beautifully creative colors, the possibilities are endless!
You should really let your creativity run wild and show us what you can do.
We have some awesome step-by-step drawing tutorials like this one coming out soon, so be sure to check out our site often to never miss out!
We would love to see your beautiful diamond drawing, so we hope you will share it on our Facebook and Pinterest pages for us to enjoy. We can't wait to see your sparkling diamonds!