Not everyone has a sweet tooth, but cupcakes are an exception because everyone loves it. Despite its tiny size, it will surely take your taste buds on an enjoyable and flavorful experience.
Even more so if the cupcakes have sprinkles and a cherry on top, then you're definitely in for a treat. What better way to showcase your artistic skills than drawing a delicious cupcake?
Fortunately, we have curated a step-by-step tutorial on how to draw a cupcake, summarized in 9 easy and simple steps.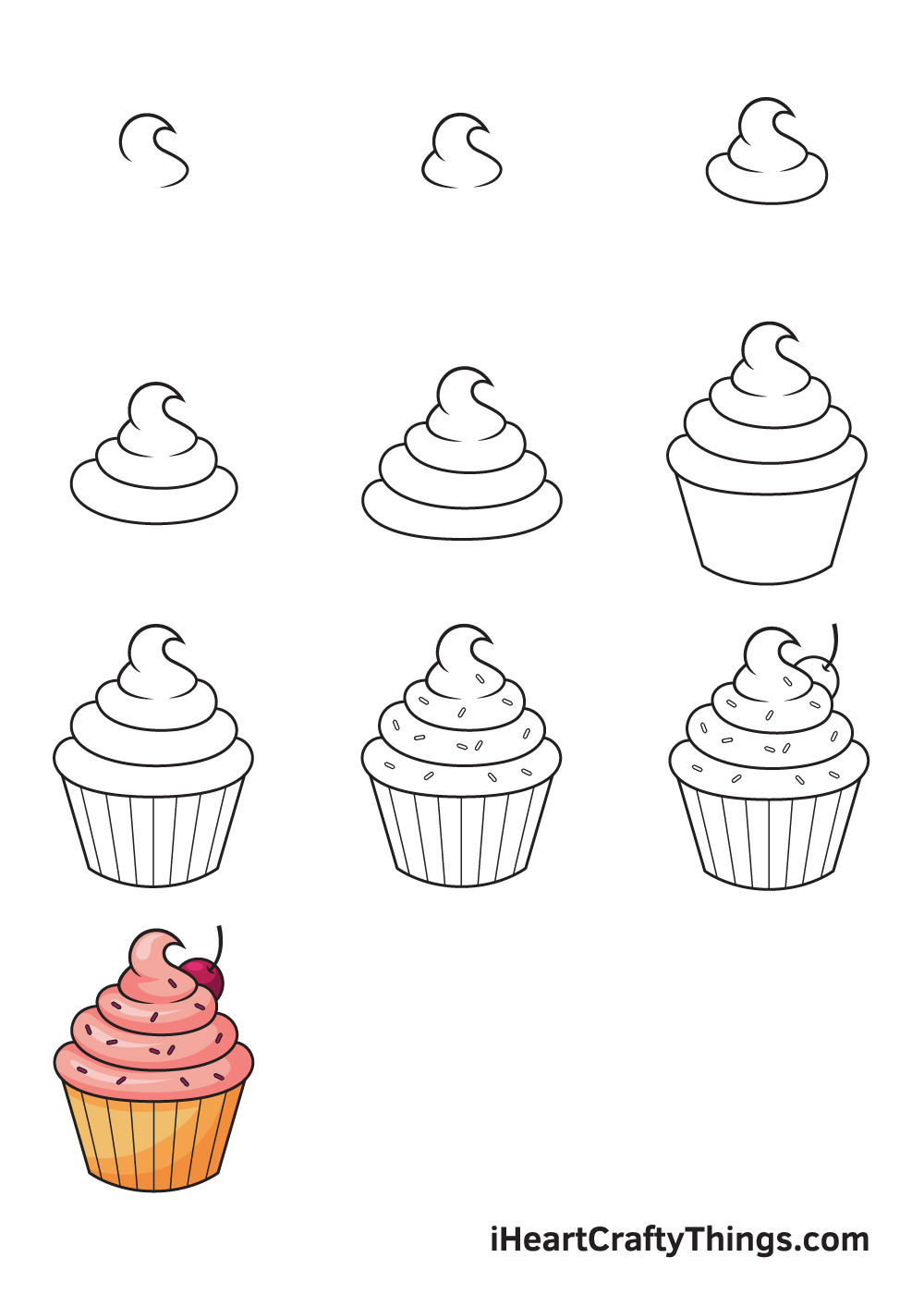 You can apply these steps whether you want to draw a realistic-looking cupcake or an animated one. Each step is accompanied with comprehensible illustrations that serve as your visual guide as you follow the instructions.
Whether you are a novice or an expert in drawing, we're sure you can follow these steps effortlessly. What's more, you can add your own style and improvise in every step.
Mix and match colors to personalize your artwork and make it unique. Feel free to let your imagination wander and unleash your creativity.
Have fun creating your very own unique and delectable cupcake drawing!
How to Draw a Cupcake – Let's get started!
STEP 1
Starting at the upper portion of your drawing space, create the frosting by drawing a tip of a swirl. When drawn correctly, it should look like a curved droplet of water. And of course, you can make the frosting appear as big or as small as you prefer.
Keep in mind to start drawing from the top to the bottom to give you sufficient space to draw your entire cupcake along with its wrapper.
Here's a useful tip: in order to ensure that the cupcake will be drawn in the middle, you can draw a horizontal and vertical line across the paper to serve as your reference lines.
Step 2 – Draw the Topmost Part of the Frosting
Now that you have drawn the tip of the frosting in the previous step, it's time to complete the topmost layer of the icing.
Draw a curved line on either side of the frosting's tip to create one layer of frosting. Make sure that the both ends of the line are close to each other, but don't meet.
When drawing the icing, it's important to keep in mind that you're working from top to bottom and not the other way around. That means, the next layers of icing will be drawn right underneath the previous one.
Step 3 – Next, Add a Layer of Frosting
Below the topmost layer of icing, draw an oval shape directly attached to it. It will be the next layer of frosting swirl. The oval shape shouldn't look too firm, rather it should look as fluffy as a pillow.
Don't stress over making it even. As a matter of fact, the more uneven your swirls are, the more realistic it would look.
Step 4 – Draw the Middle of the Frosting
Then, right underneath the previous layer, draw another oval shape that is quite bigger than the previous one. This will serve as the swirl in the middle of the icing.
Step 5 – Draw the Last Layer of Frosting
Now, we will be working on the final layer of frosting. Add another layer of swirl right below the previous layer by drawing a slightly bigger oval shape.
Make sure that every layer of frosting from top to bottom is a bit bigger than the previous one. Basically, the sizes of the swirls from top to bottom should be the smallest to the biggest, quite similar to how a Christmas tree is formed.
Step 6 – Now, Draw the Wrapper of the Cupcake
Right underneath the frosting, draw a bucket shape. Keep in mind that the frosting swirls must be just a little bit bigger than the wrapper.
This will make the frosting appear more thick at the top of the cupcake, making it look more appetizing.
Step 7 – Then, Draw the Folds of the Wrapper
To create the illusion of a folded wrapper, draw parallel and slanted vertical lines across the entire wrapper. This will make the wrapper, as well as the cupcake itself, look more realistic.
Step 8 – Put Sprinkles on the Frosting
Cupcakes, and any other sweet treats, wouldn't be complete without a hefty amount of sprinkles on top. So, of course, we will be adding sprinkles on this cupcake drawing. You definitely should, too!
Here's a fun fact: did you know that sprinkles come in a wide range of shapes and sizes? The kind of sprinkles that you see in this illustration is called jimmies, which are tiny sugar strands in short rod shapes.
There are also sprinkles in the form of spheres, flat circles, and crystals! That gives you a lot of options to choose from when drawing your cupcake's sprinkles on top!
Bonus: Customize The Topping Of Your Cupcake Drawing
In this guide, we have and will cover a few ways that you will be able to customize the topping and extras of this cupcake. We wanted to go over a few more ways that you could go about it, however.
Making cupcakes is all about how you customize and have fun making them, and there are infinite varieties you could go for. This cupcake drawing shows a classic design, but there are many other ways you could draw it.
It could be as simple as creating a smoother topping for the cupcake that is more rounded. This would make it look like whoever made the cupcake put a lot of care into flattening and smoothing the icing.
Then, you would still be able to add any toppings like sprinkles, cherries or anything else. Many cupcakes will also be themed, and this could be fun as well.
For example, maybe the cupcake was made for a pirate party. In that case, you could style the cupcake to look like a skull and crossbones and add some treasure at the base.
You could adapt any theme you can think of this way, and that example is one of many. Maybe try to think of a party theme you would like to have and then think of how you could customize the cupcake to suit it.
Also, the drawing of a cupcake you're making doesn't necessarily have to be realistic, and you could make a design that wouldn't work with real-life physics or rules.
Basically, let your imagination go overboard and see what happens! This is your perfect chance to show off what the ultimate cupcake would look like according to you, so we would be interested to see what you create.
Step 9 – Add Your Topping of Choice
Now, it's time to wrap up your drawing by adding a topping of your choice. As you can see in the illustration, we have added a cherry on top, but feel free to draw any topping you like. After all, it's your work of art!
Instead of a cherry, you can draw a strawberry or perhaps a piece of chocolate. Draw it right above the frosting and make sure it is completely visible.
Here, you can see the cupcake is nearly finished! The only thing it's missing is a dash of multiple colors to complete your artwork!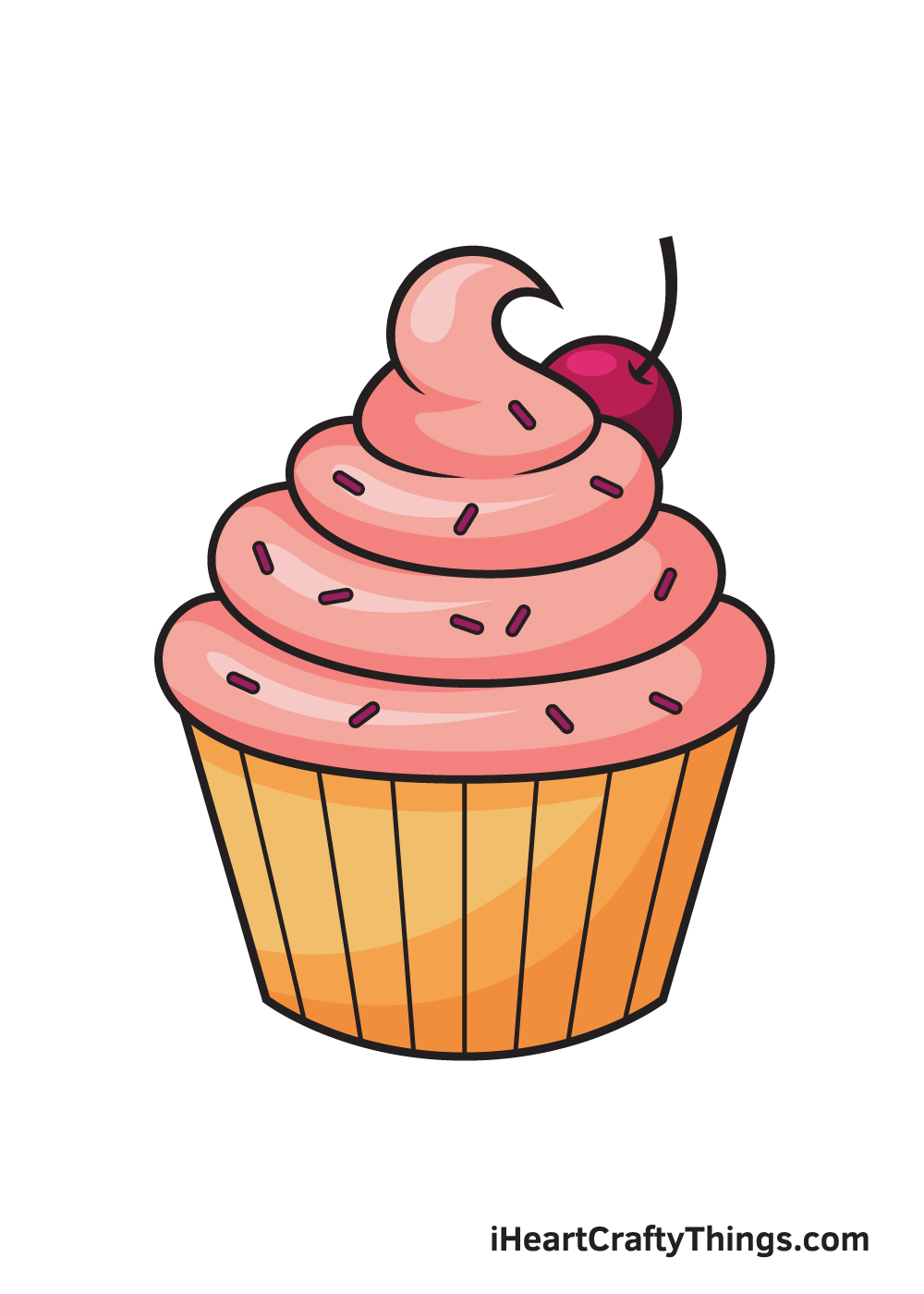 Finally, here is the most exciting part—filling in the colors for your awesome drawing! This is the part where you can show off your artistic skills and your ability to mix and match various colors.
To make your cupcake look more tasty and colorful, make sure to use different vivid and vibrant colors. The colors of your sprinkles must be different from the color of the frosting to make so they can perfectly complement each other.
Don't forget the color of the cupcake's wrapper too!
Here's how you can make your cupcake drawing even better…
Make this cupcake drawing even tastier with these fun and helpful tips!
For our example of this cupcake sketch, we kept the toppings to a cherry and some sprinkles.
Cupcakes can have so many tasty toppings, however, so you could add any others you can think of! Maybe you would like a small candy bar poking out of it, or some bigger sprinkles.
Or, maybe there could be some berries or other small pieces of fruit on top. These are just a few examples that you could use, but what other tasty toppings could you find on a cupcake?
Enjoying a cupcake is always great, but there are lots of food and beverages that are perfect to enjoy alongside them.
You may like a big mug of hot cocoa, or maybe you like to enjoy them with a slice of cake. To show what you would enjoy with this cupcake, you can draw some objects beside it. Whether it's food or a drink, you can make this cupcake drawing even more fun to look at!
Cupcakes and the icing covering them come in many colors and flavors. You have infinite options for colors that you can use, and we think you should really let your creativity flow as you color it in.
You can also mix various art tools and mediums to create a stunning image. Using crafts such as stickers can also be great for giving the colors and the image a more dynamic look. These colors will also show off what flavor you think this cupcake is.
You could also make this drawing of a cupcake even more personalized by drawing yourself into the picture! Using a mirror, you can add yourself about to tuck into the treat.
Or, you could design an entirely new character that is about to enjoy it. This kind of detail along with the other tips we mentioned can bring a whole new angle to this drawing.
Do you think you will draw yourself or another character into this image?
Your Cupcake Drawing is Complete!
We hope you enjoy this step-by-step tutorial on how to draw a cupcake. With this guide, you can draw and color a cupcake along with its complex features and elaborate details in no time.
And the most fun part is, you can customize its frosting and sprinkles and play with various colors as much as you like! While you're at it, why not try using different coloring tools as well?
Once you've finished your masterpiece, we're certain you must be feeling very proud of yourself—as you should be! Completing this cupcake drawing is definitely fulfilling.
Make sure to show off your work of art and share it on our Facebook page and on Pinterest. We're sure it looks amazing!
We can't wait to see your colorful and delectable cupcake!