The Wild West was an exciting yet dangerous place to live! There were exciting expansions in settlements and technology innovations, but there were also shootouts, standoffs and other exciting events.
Here, the legend of the cowboy was born, and these gun-slinging cowpokes have featured in many films, video games, books and more.
Now, they are featured in this collection of free cowboy coloring pages for kids!
Here we have 10 awesome pictures featuring cowboys doing cowboy things, and there is plenty of variety for you to try your hand at!
You will definitely get to use all your favorite colors while also drawing some extra details, backgrounds and other creative additions.
You won't have to rob a bank to enjoy these pages, too! Every single one is free for you to print, color and enjoy as much as you like!
You can also share these pages with the other coloring cowpokes in your life to enjoy as well.
So now, put on your boots and tuck your art supplies into your belt, as we will soon begin this journey back into the colorful Wild West!
Remember to share some of your finished pages on our Facebook and Pinterest pages, as we would love to see your awesome cowboys.
10 Brand New Cowboy Coloring Pages – Free to Print and Color
We have a happy looking guy for this first page of our collection of free cowboy coloring pages for kids!
This one is looking like he's enjoying a quiet moment, as these moments would be few and far between for any active cowboy!
There are also some nice details in this image for you to color.
You could try out some great color choices and combinations for the various parts of his clothing, and you could try and do something fun with the background as well.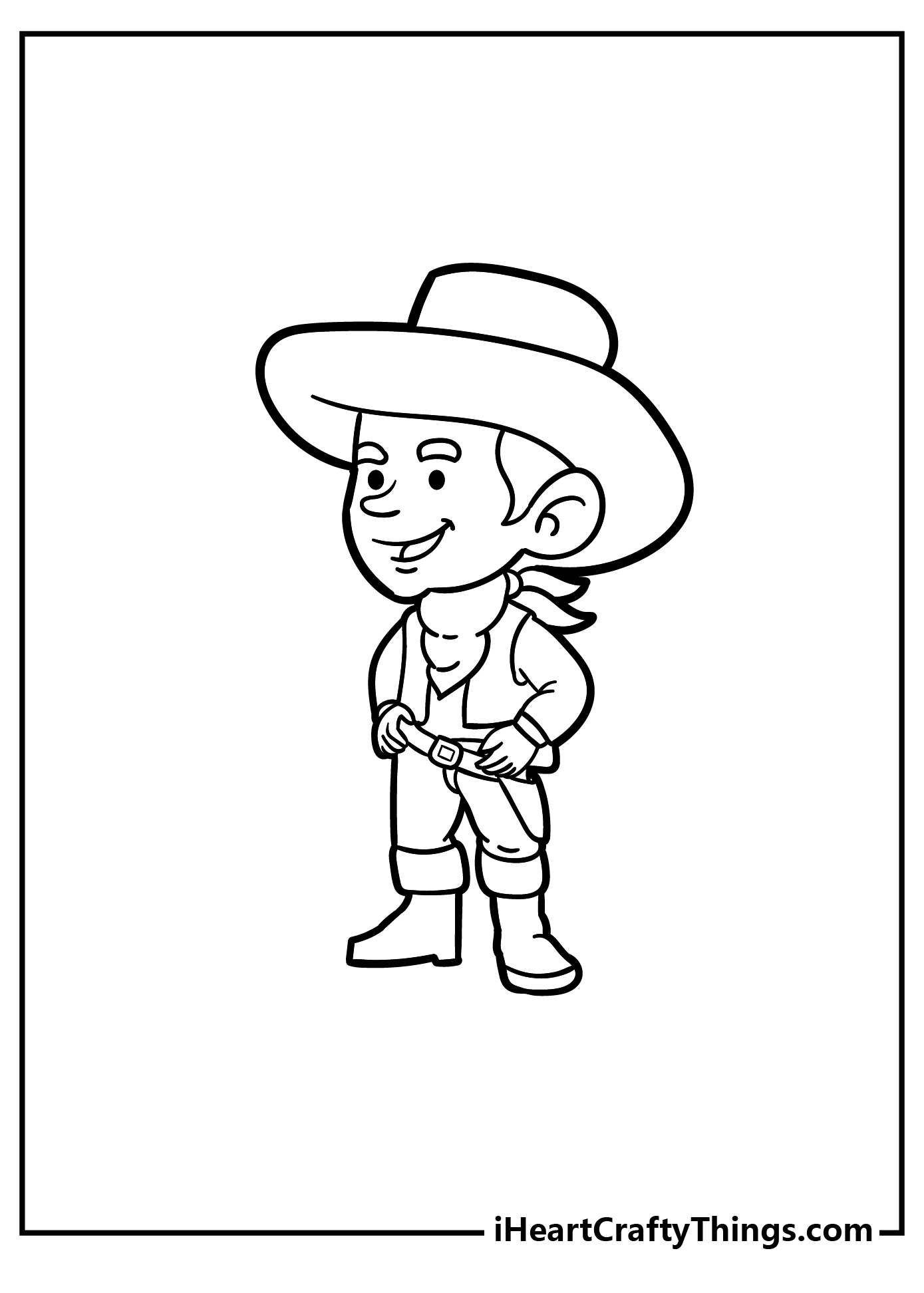 It's time for a showdown in this awesome cowboy coloring sheet! Shootouts duels are common features in cowboy stories, and it wouldn't be surprising if they were common in real life, too.
In the stories, one of the participants would yell "draw!" to signal that it's time to whip out the guns.
Instead, we will yell "color!" to signal that it's time to whip out your coloring mediums and bring some color to this dueling cowboy!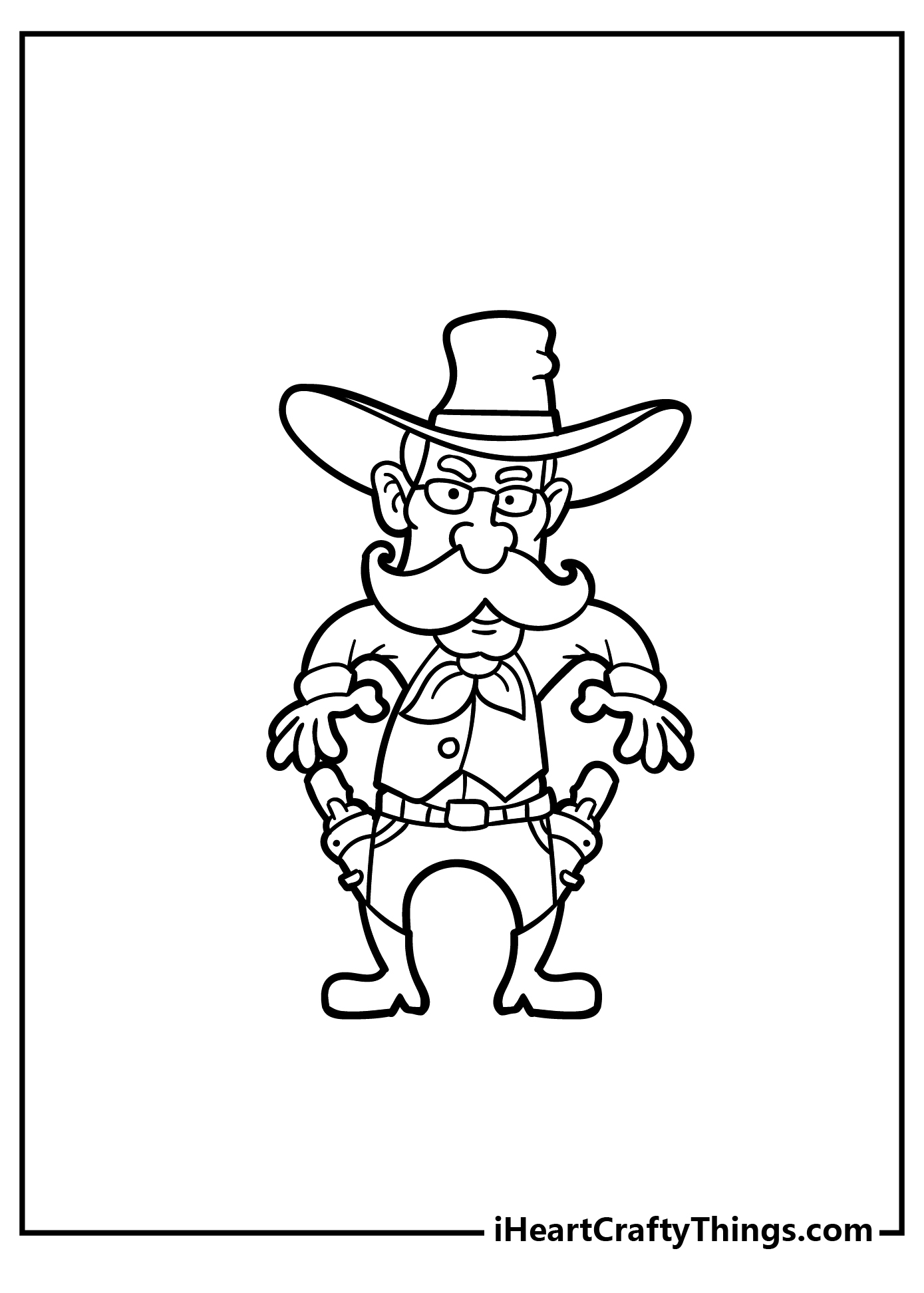 This guy is looking remarkably friendly for someone who's pointing a gun at us! This makes for a really fun picture, and there are again some great details to bring color to.
If we were coloring him in, we would use some more muted colors for most of his clothing and then contrast it with bright reds for his scarf.
This is one idea for how you could color this guy in, but what colors come to mind for you when you look at this image?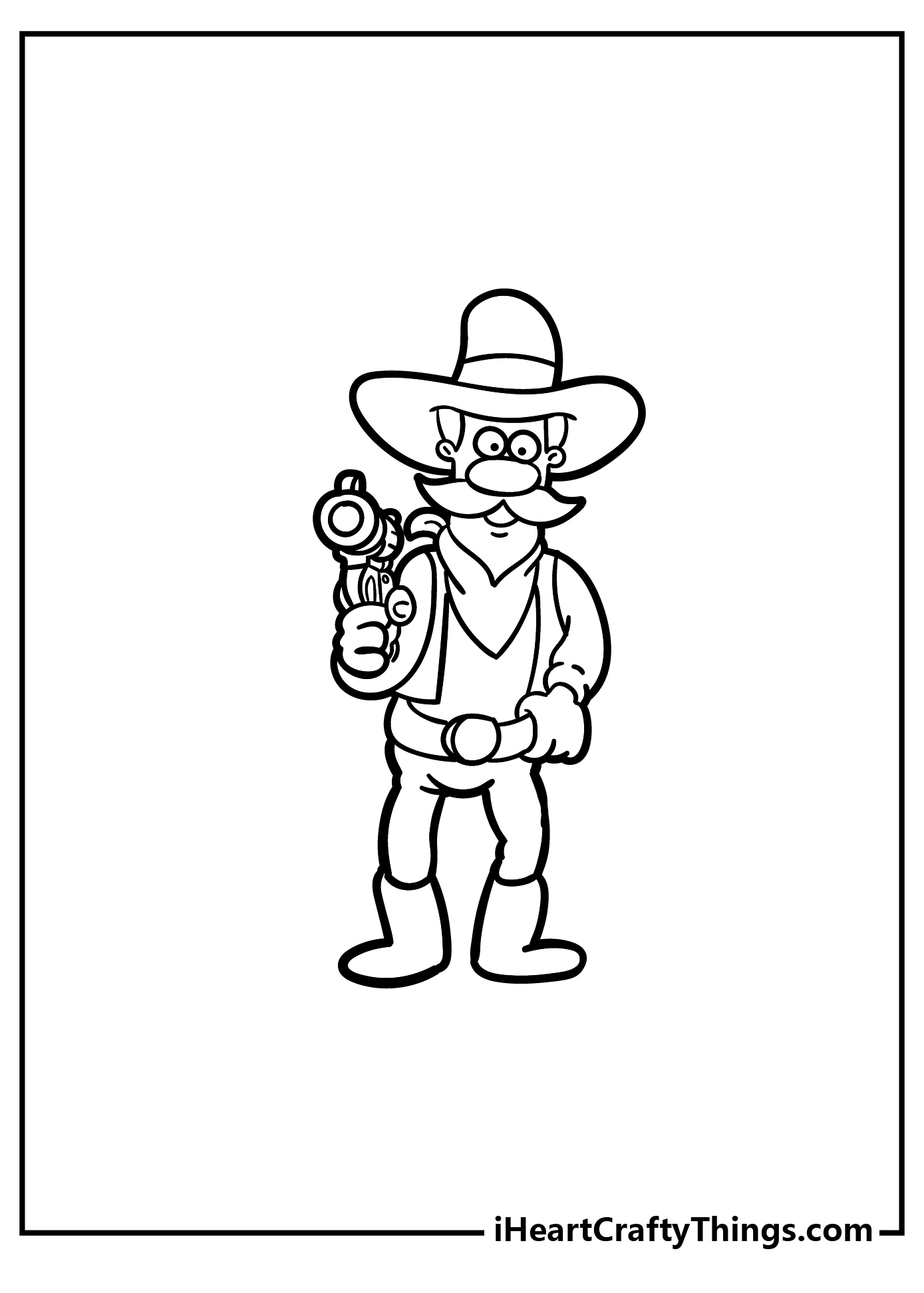 We have another cowboy enjoying a calm moment in this scene.
Being a cowboy isn't all about shoot-outs and excitement, and there were quiet times dealing with livestock and other less dangerous activities.
You could show what you feel this cowboy could be up to by drawing some background details to show where he is.
There are so many great settings you could choose for him, so what will you go for? We would draw some cattle behind him, but that's just one idea out of many you could go for!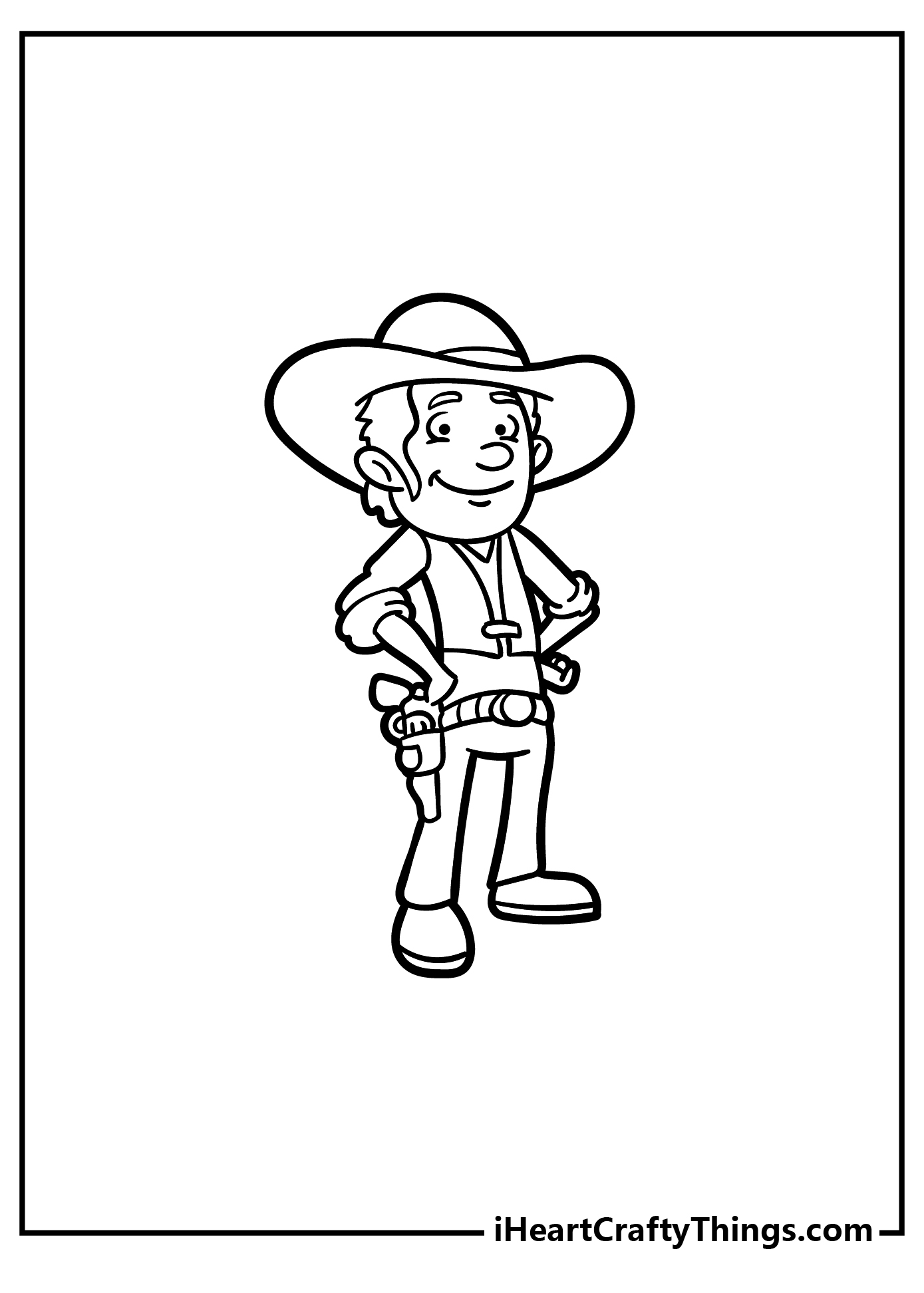 In this next cowboy coloring printable, we are again at the receiving end of a cowboy's gun! This makes for a really cool scene, even though it's not a position one would want to be found in real life.
We think that using some bright, intense colors would really suit the exciting situation shown off in this image.
Will you use bright colors, more muted ones or maybe a combination of both?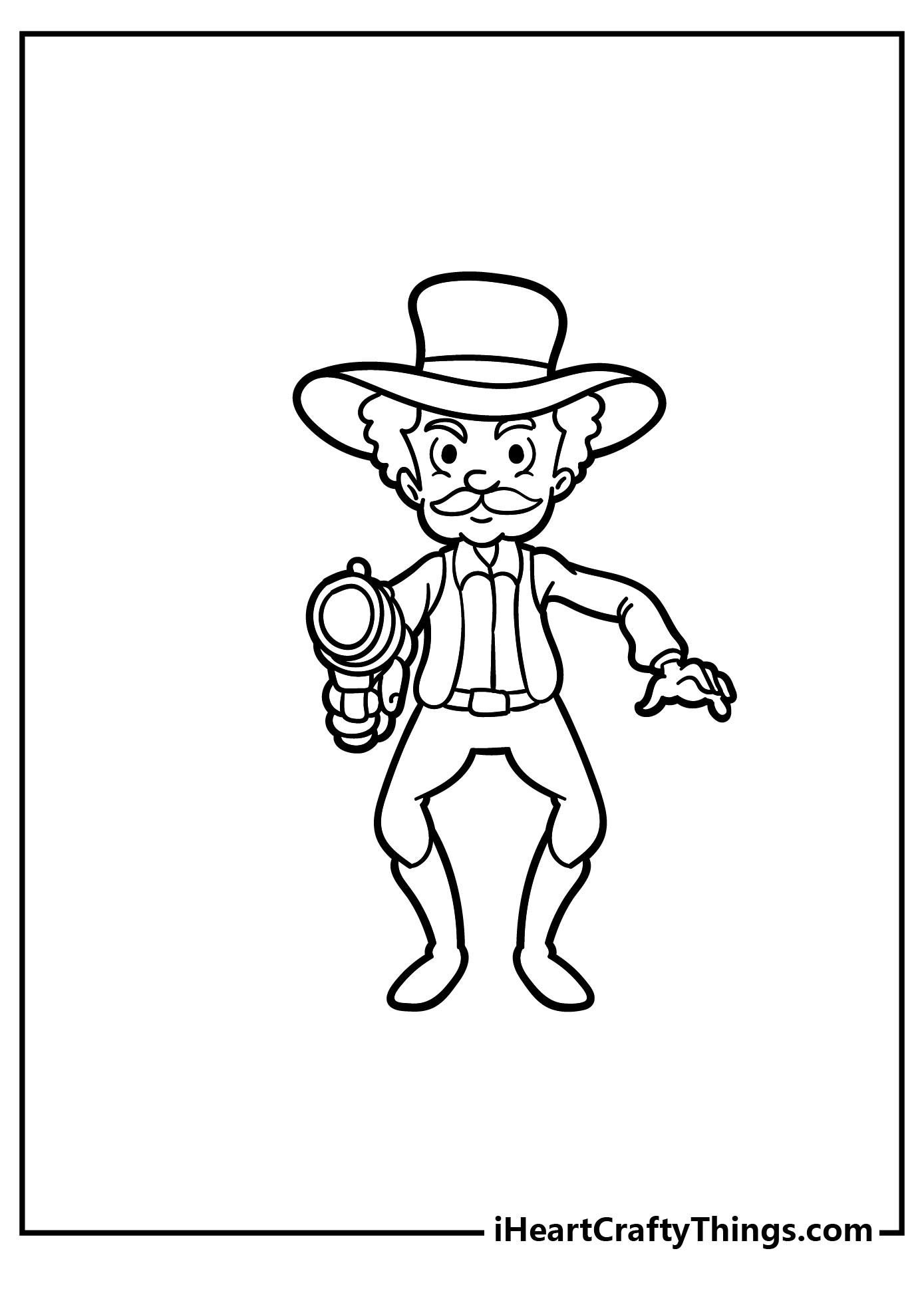 The last cowboy we had to color in was tough and meant business, but we have a much friendlier fellow for you to color this time!
This is another cowboy that looks like he's more on the agricultural side of things than the gun-slinging side.
The background behind him is once again left wide and blank, so you can again have some fun bringing some extra details to the scene.
Where do you think this cowboy would be finding himself?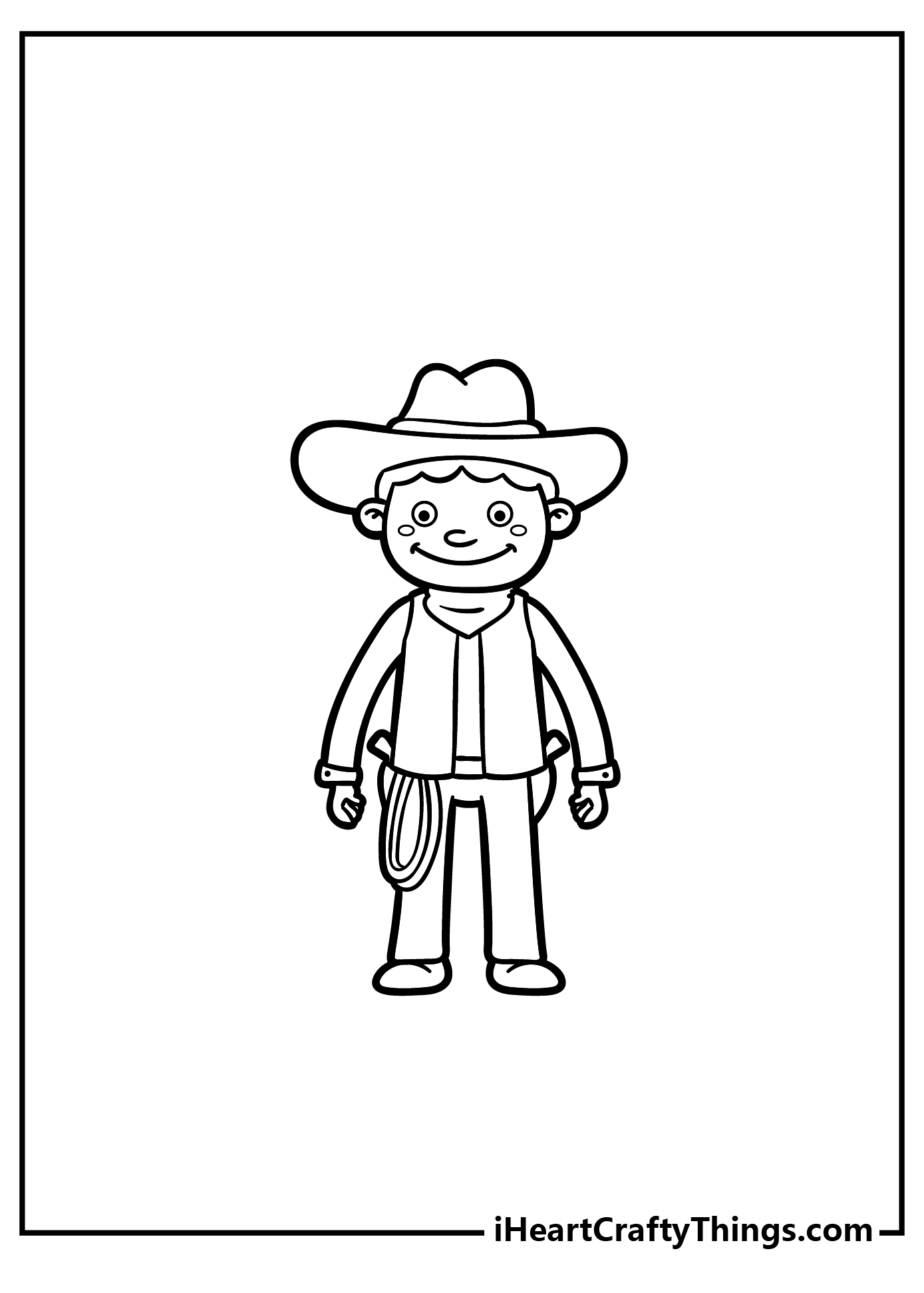 We have another cowboy ready for adventure on this page! This one looks like he is ready for just about anything, and his gun is at his side.
He also looks like he's rather happy while enjoying a nice day, and we think it would look awesome to add a bright desert background behind him!
That's one idea, but what else can you think of to finish off this image?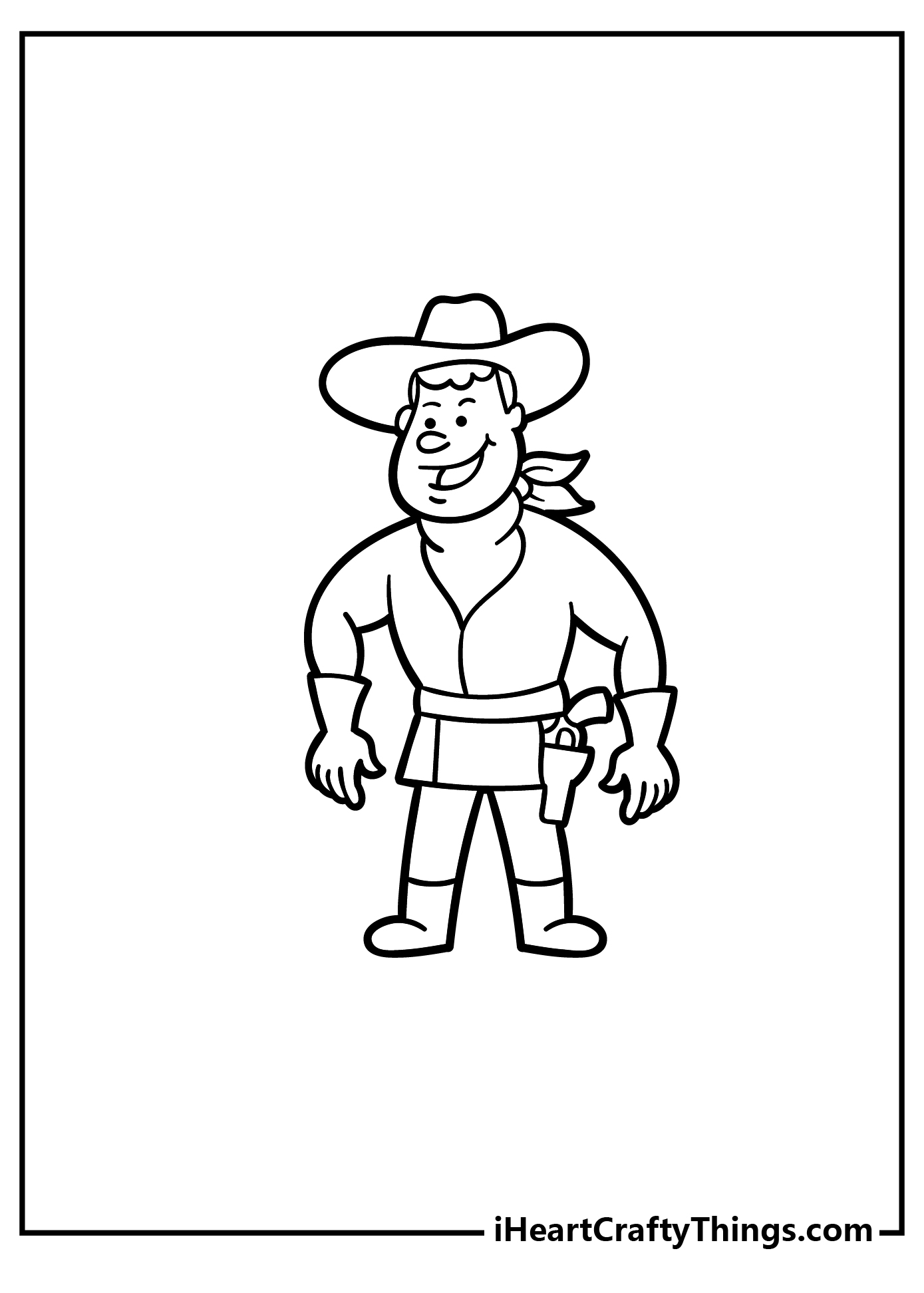 This cowboy coloring page is a lot of fun! This man is jumping up while firing both guns in the air, and it seems like he's trying to intimidate someone!
This cowboy looks like he could be a bandit instead of on the side of the law, and he could be holding up a train or carriage.
You could show what kind of scene he could be participating in by drawing some extra details for the image.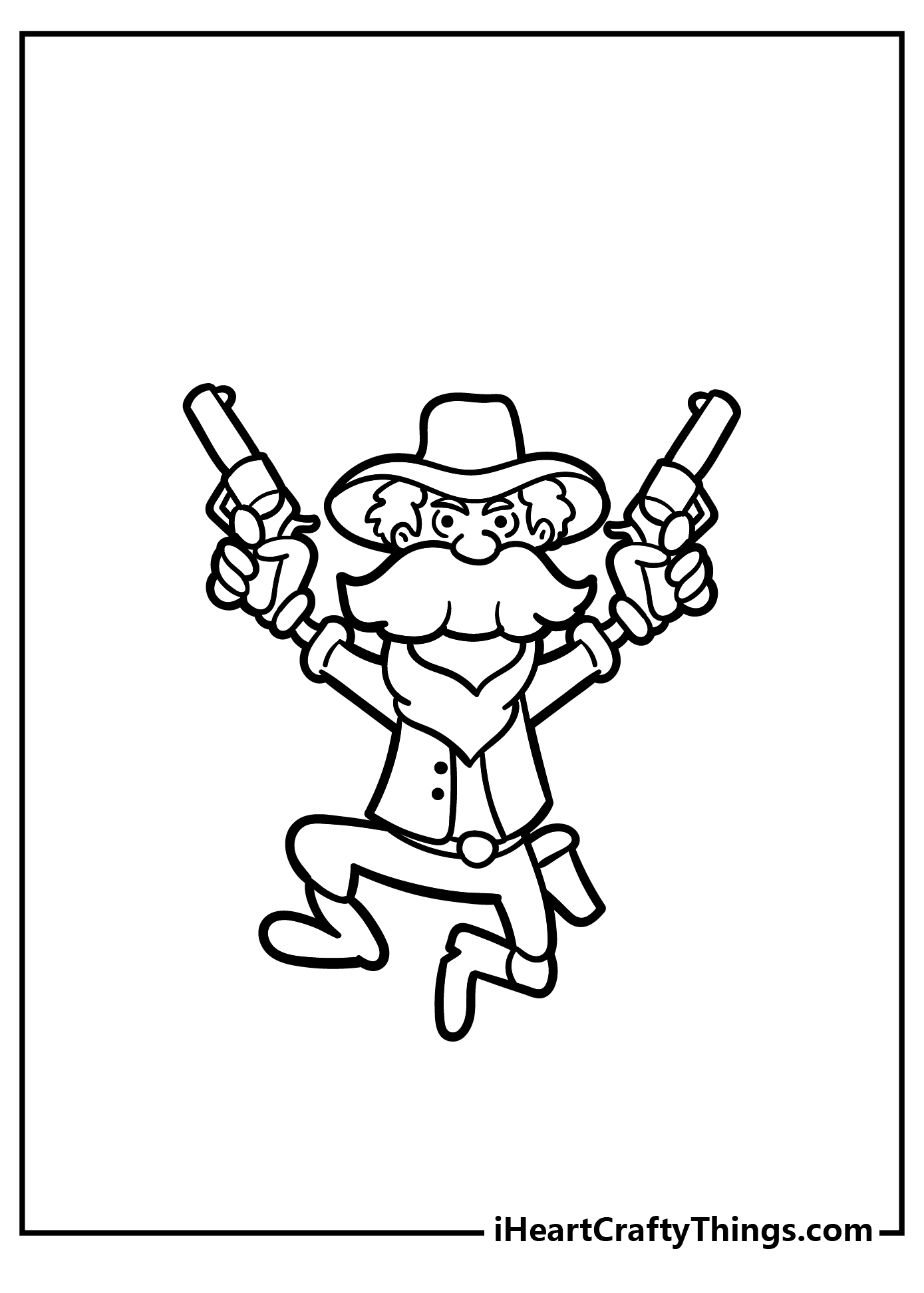 We have another stand-off in this page! This cowboy is also taking part in a duel, and he seems to be concentrating very hard.
Considering how these duels played out, it's easy to see why!  The question is, what colors would best suit this intense cowboy?
We think you should really follow your creative instincts on this one, and we know that whatever you choose will look absolutely incredible!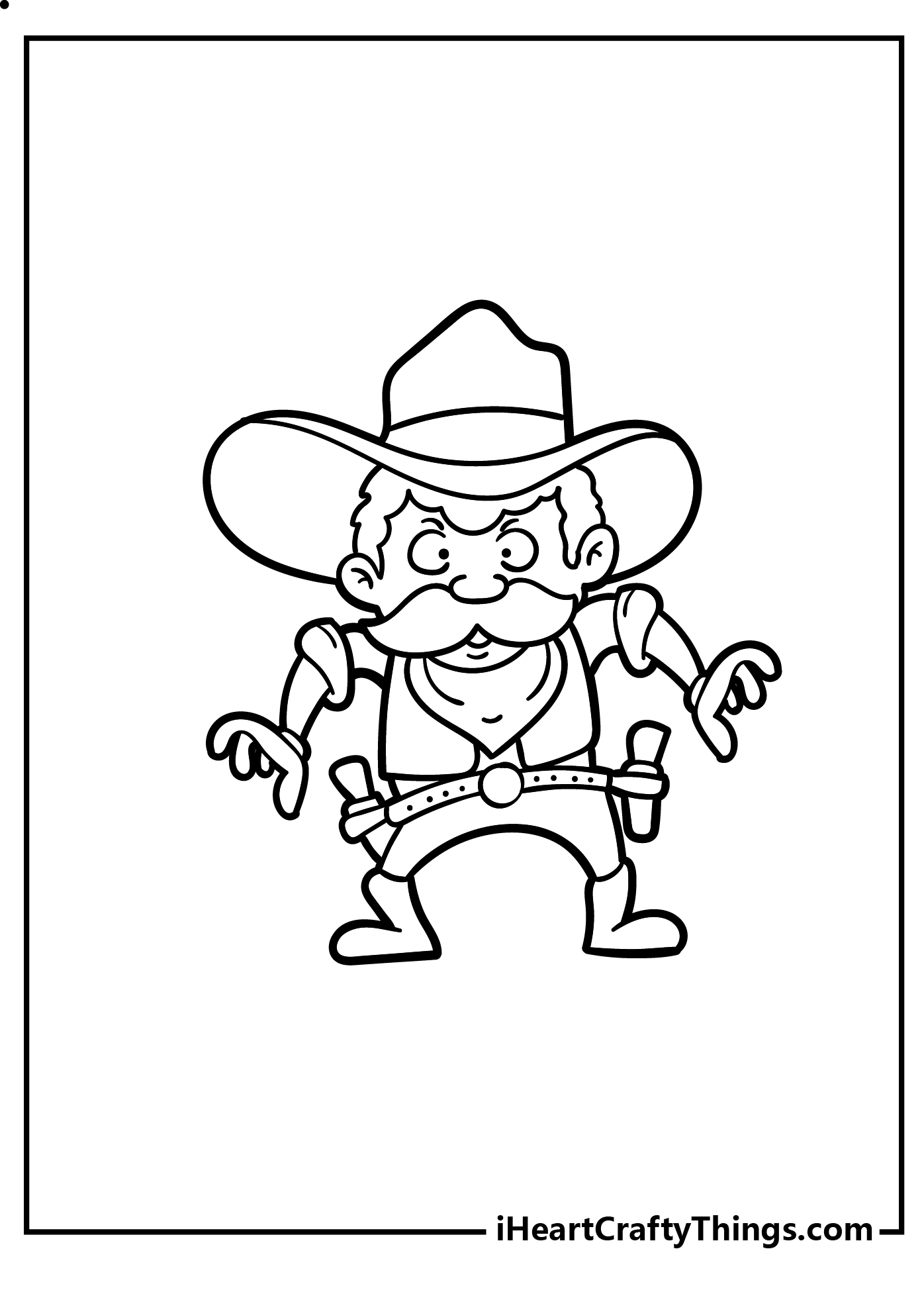 This is the final page of the collection, and we're ending things on another more relaxed note!
This is another cowboy that is enjoying a quiet moment, and we think you could reflect that with the colors you use.
We would use some milder, colder colors for this image to reflect the calmer feeling in the picture.
Will you go for the same approach we would, or do you have something different in mind for this calm cowboy? We really can't wait to see what colors and mediums you choose for this final page!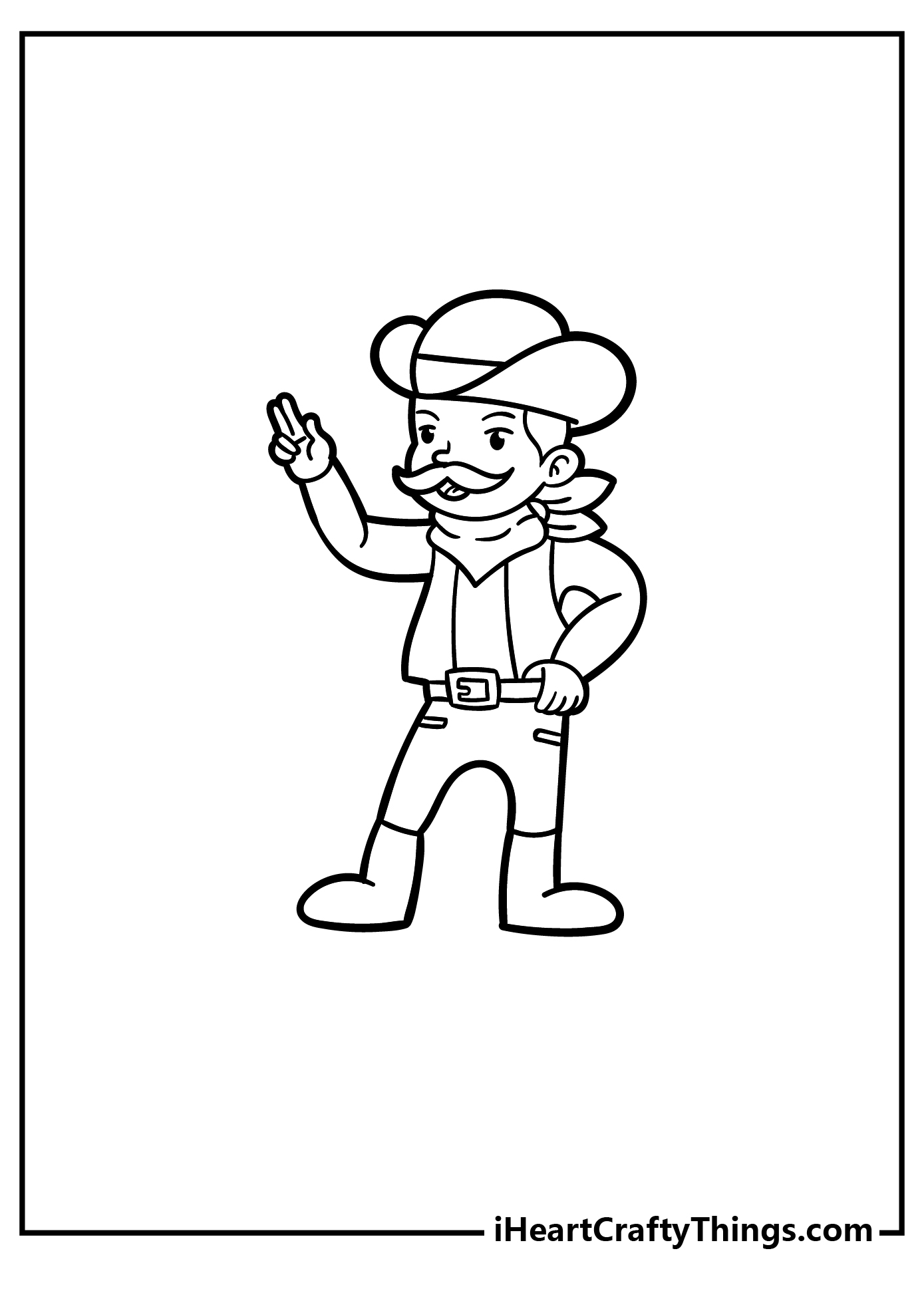 Cowboy Coloring Pages – Which will you choose?
That brings you to the end of this collection of free cowboy coloring pages for kids! We hope you enjoyed going through the collection to choose your favorite images to bring some amazing colors to.
Remember to check out our website when you are ready to try out even more incredible coloring pages and other activities! We will be bringing out more soon, so stay tuned for those!
We also really hope you will consider sharing some of your finished cowboy coloring sheets on our Facebook and Pinterest pages. It would be great to see how incredible they look!