A couch is one of the most essential pieces of furniture. We use the couch every single day of our lives. We sit on it when we watch television, eat our meal, or whenever we're just lounging around.
Drawing a basic couch is a great way to practice and hone your artistic skills. A couch may look pretty basic, but it requires focus and creativity to draw and align its parts.
Fortunately, we have curated a step-by-step tutorial on how to draw a couch summarized in 9 easy and simple steps. With this comprehensive guide, drawing a couch is made easier.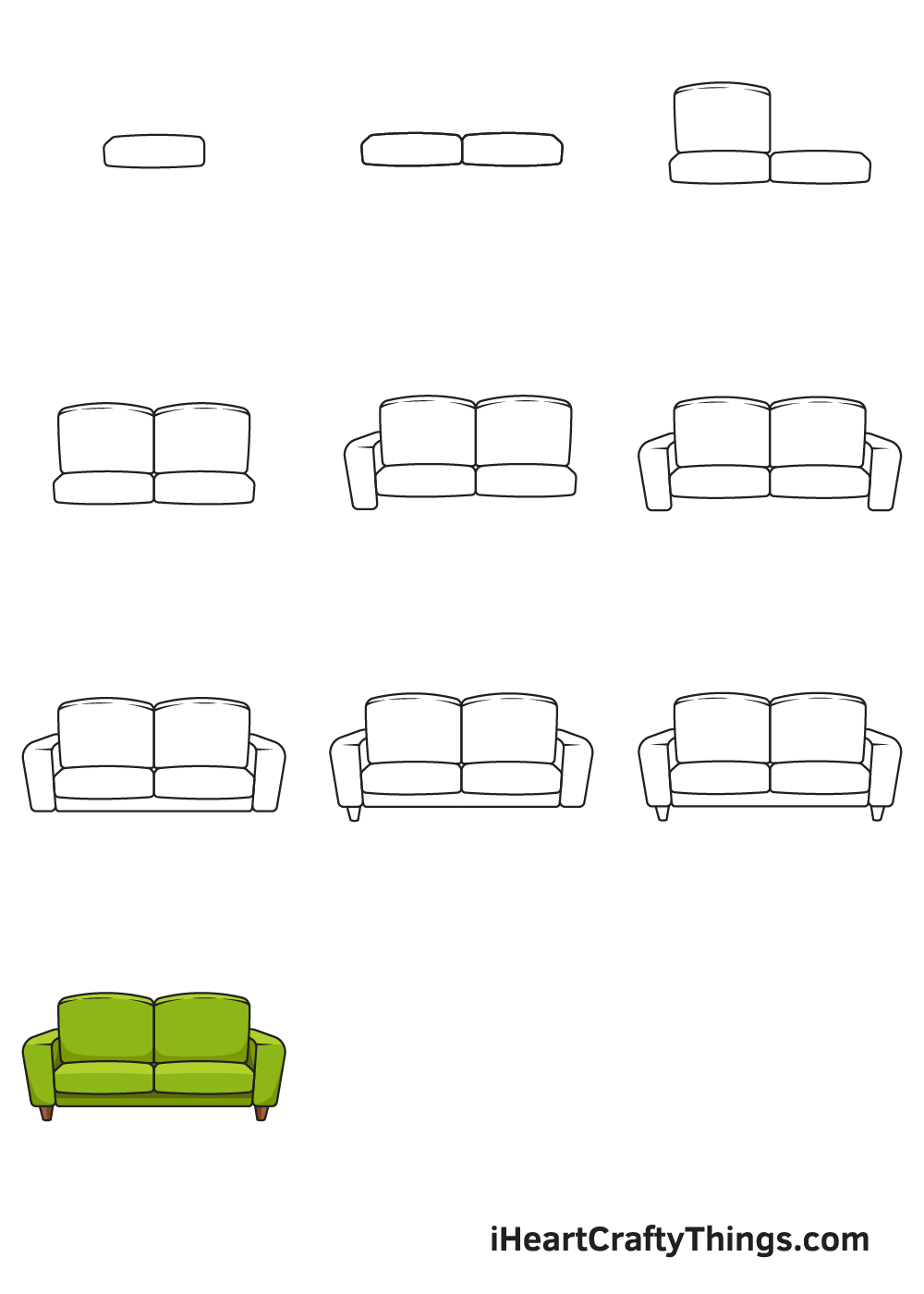 Each step is accompanied with comprehensible illustrations that serve as your visual guide as you follow the instructions.
Whether you are a novice or an expert in drawing, we're sure you can follow these steps effortlessly. What's more, you can add your own style and improvise in every step.
Feel free to mix and match colors to customize your artwork and make it unique. Let your imagination wander and unleash your creativity. Have fun and use your artistic skills!
How to Draw a Couch – Let's get started!
Step 1
On the left side portion of your paper, draw a sideways rectangular shape, as shown in the illustration.
Re-draw all four corners of the shape and make them all curved instead of pointed edges. This little trick makes the shape look like a fluffy cushion.
Step 2 – Draw the Cushion Seats
Draw another cushion seat right beside the one we have previously drawn. The two cushion seats must be aligned and drawn evenly.
Step 3 – Next, Draw the Left Sofa Back
Right above the left cushion seat, draw an irregular square shape with curved edges. The square shape must have a curved top and straight sides. It also must have a greater width than length. This creates a realistic-looking appearance for the couch.
Sofa backs support our backs when we're sitting down on a couch, enabling us to sit comfortably and maintain upright body posture at the same time.
Step 4 – Then, Draw the Right Sofa Back
Now, repeat the previous step above the right cushion seat. The two sofa backs must look identical and should be aligned.
Feel free to be as creative as you want. You can draw various patterns and designs on the surface of the couch to make it look artistic!
Step 5 – Draw the Left Square Arm
Beside the left cushion seat and sofa back, draw the left square arm. This is where we often rest our arms whenever we sit down on the couch. Without an arm rest, our arm will feel sore and numb.
Step 6 – Draw the Right Square Arm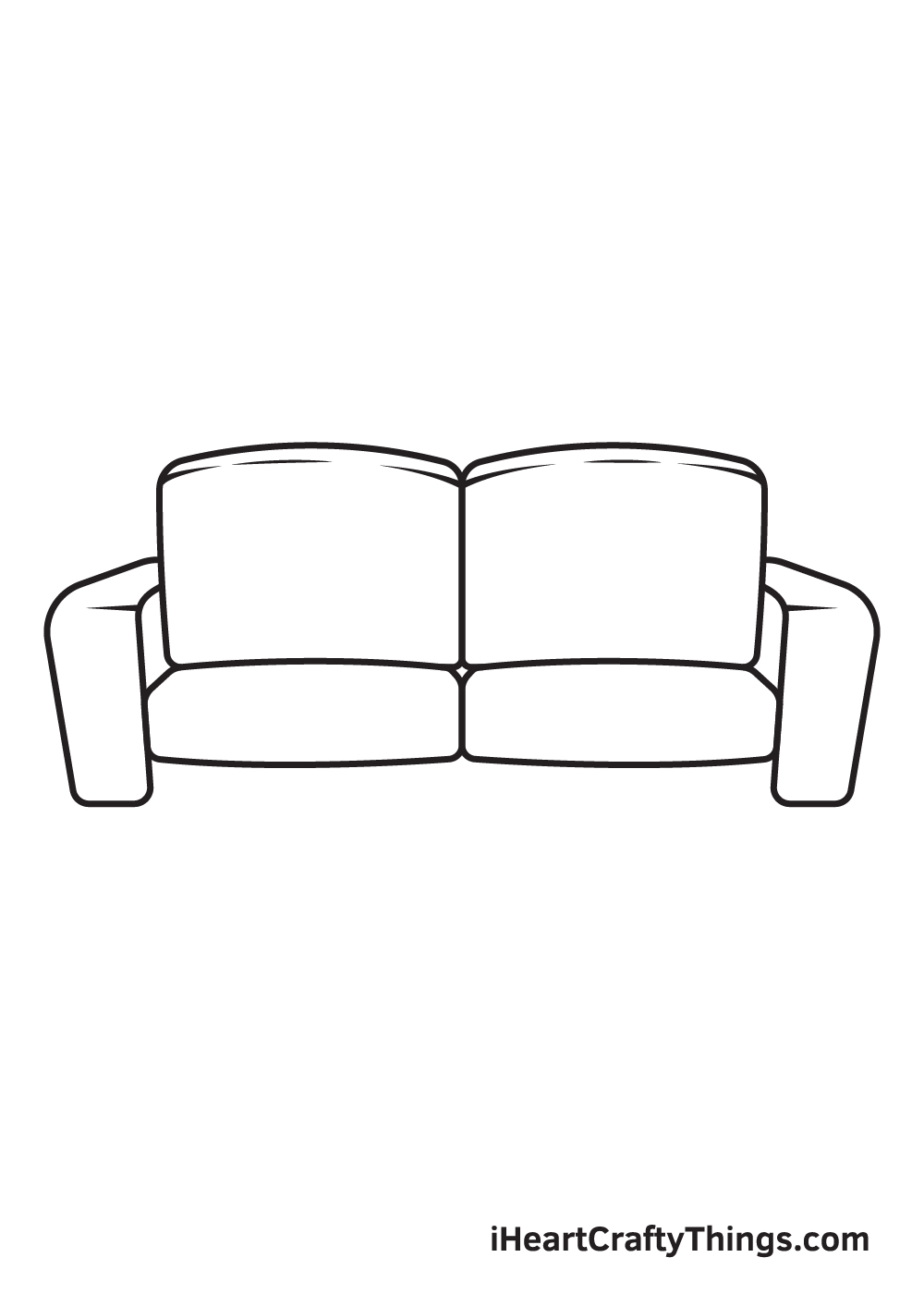 Repeat the previous step on the other side of the sofa. Keep in mind to draw the arm rests of the couch as evenly as possible. They should look identical and should be drawn within the same level.
Step 7 – Structure the Sofa with a Deck
Now, it's time to complete the structure of the couch by adding a deck underneath to support the cushion seats.
Draw a straight horizontal line below the cushion seats. Both ends of the line must end on the edges of the arm rest. The bottom of the arm rest must be aligned with the deck.
Step 8 – Add the Left Block Foot
Right underneath the deck, draw the foot of the couch on the left side. Simply draw two short diagonal lines with a horizontal line at the bottom connecting both ends of the line, as shown in the illustration.
The block foot helps support and stabilize the couch.
Step 9 – Then, Add the Right Block Foot
Repeat the previous step on the other side of the couch to complete the couch's set of legs and make it fully stable. The feet of the couch must look exactly alike and parallel.
And there you have it; you have successfully drawn a couch. Now, all it's missing is a splash of vivid and vibrant colors to finally complete your artwork!
Finally, here is the most exciting part—filling in the colors for your awesome drawing! This is the part where you can show off your artistic skills and your ability to mix and match various colors.
Couches come in a wide range of colors and designs depending on the material it is made of. Couches can be made with leather, polyester, acrylic, linen, and other durable fabrics. Don't hesitate to draw patterns on the couch and express your creativity!
Feel free to color your couch drawing however you like and use any colors you prefer! And while you're at it, why not try experimenting with different coloring materials as well?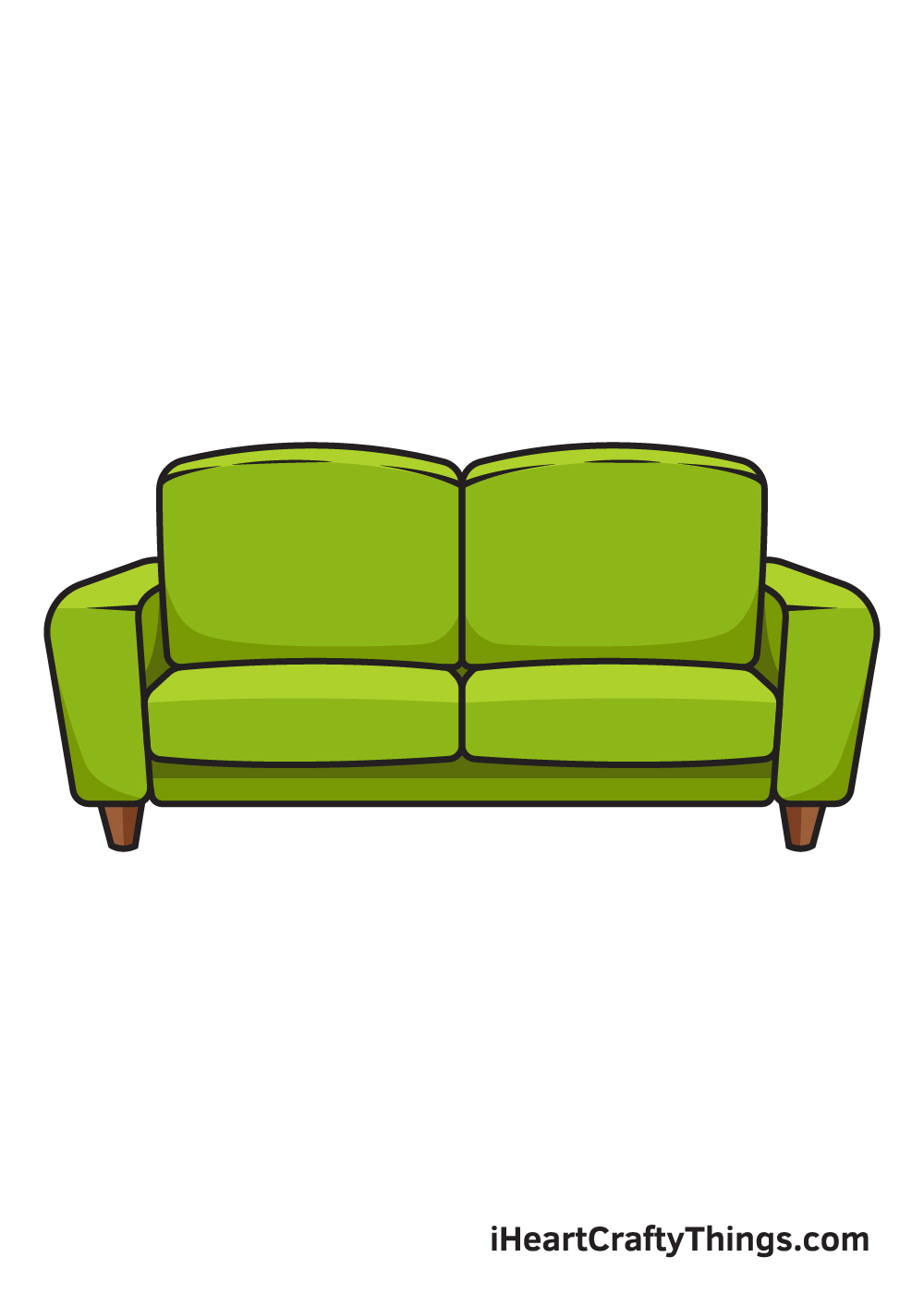 Here's how you can make your couch drawing even better…
Relax on your favorite couch as we show you how to make this couch sketch amazing?
Couches come in many different shapes and sizes, and this gives you some customization options.
For your couch drawing, you could add sections, make it smaller or change the shape entirely.
If you have couches or sofas in your house, you could use them to help you out if you want to change the design of this one.
Otherwise, you can find plenty of couch pictures online through image searches or in online stores.
Just make sure you don't accidentally buy a couch!
Having a couch is the first step, and many people like to decorate them with other things. These are some extra details you can add to your drawing of a couch!
For example, there are so many kinds of decorative pillows you could draw on the couch. Some people will even drape blankets over portions of their couches, and these are just a few ideas!
What decorative objects would you like to add to this drawing?
In the same way that couches come in many shapes and sizes, they can also come in many colros and patterns. The colors will depend on each person's taste, so this is your chance to show what colors your ideal couch would have!
Using your art tools and mediums, you could create all kinds of awesome looks for this couch! What colors, patterns and mediums will you choose for this couch?
Another way to really bring this couch drawing to the next level would be by adding a background setting. This would allow you to practice your interior decorating skills!
In drawing a background, you could add other objects such as coffee tables, lamps or windows. It's another example of a suggestion where you could use your own living room as a model to work from.
Otherwise, you could use living rooms from TV shows or movies, find some setups online or create one from your own imagination. What kind of background would you create?
Your Couch Drawing is Complete!
We hope you enjoy this step-by-step tutorial on how to draw a couch. With this guide, you can surely draw and color a couch along with its complex features and elaborate details in no time. And the most fun part is, you can customize its features and play with various colors as much as you like!
We are always updating our "How to Draw" catalog, so make sure to keep checking back on our website to take advantage of newly uploaded tutorials. All you need is a pen and paper and you're all set to start drawing! We are excited to see what you will draw next. We're sure it will be just as amazing as this one!
Once you've finished your masterpiece, we're certain you must be feeling very proud of yourself—as you should be! Completing this couch drawing is definitely fulfilling. Make sure to show off your work of art and share it on our Facebook page and on Pinterest. We're sure it looks amazing! We can't wait to see your colorful couch drawing!