It can be hard to pinpoint what makes something or someone cool or not.
Maybe it's the way they act or the style that they have cultivated for themself, but it's something you can usually recognize straight away when you see it!
There have been many characters in fiction that are considered cool, and these characters range from humans to animals and everything in between.
It may be hard to narrow down what makes someone cool, but this guide on how to draw a cool animal will get us closer to figuring it out!
This will definitely be a tutorial that you'll want to see through to the end!
We hope you enjoy this very cool step-by-step guide on how to draw a cool animal in just 6 steps!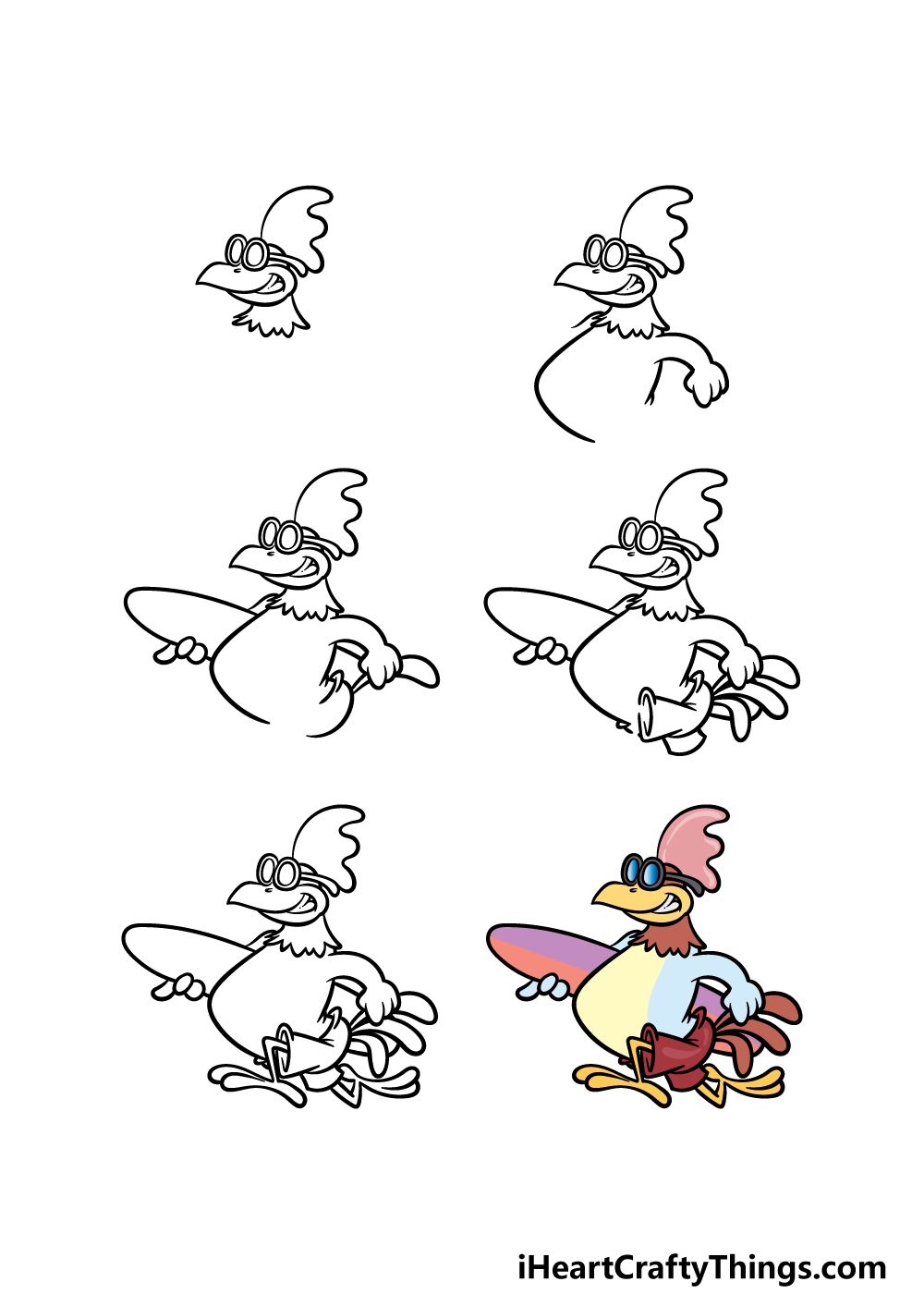 How to Draw A Cool Animal – Let's Get Started!
Step 1
In this guide on how to draw a cool animal, we will be depicting a running rooster as our subject. This rooster looks like he's racing towards the beach for some surfing fun!
We will start off by drawing an item that is often associated with being cool, and this would be a pair of sunglasses.
You can draw two small oval shapes to start these and then draw some more ovals around them for the frames.
Then, we will be using some curved lines with a pointy tip for the beak of the rooster. We will also see his grinning teeth at the center of the beak.
Finish off by using more curved lines for the crest on top of his head and add his neck, and then we can move on to step 2.
Step 2 – Now, draw the first arm and chest for this rooster
To continue this cool animal drawing, we will be adding the first arm and the chest for this rooster.
For the chest, you can draw a sharply curved line coming down from the base of the neck. Then, use some more curved lines for his arm extending on the right.
This will then have his hand balled up in a fist at the end of it.
Once you have drawn this arm and the chest, we can continue to the third step of the guide!
Step 3 – Draw the surfboard and the start of his tail
We mentioned at the start of this guide on how to draw a cool animal that this rooster is sprinting towards the beach.
The main clue for this is that he is clutching a surfboard underneath his arm on the left, and we will be drawing this now.
This will again be drawn using a long, curved line underneath the arm on the left. Then, draw some small rounded shapes underneath the surfboard to show his hand clutching it there.
Finally, draw the base of his back behind him, and then you can add a thin rounded shape for the first feather of his tail.
Step 4 – Next, draw his swimming trunks
The first clue that this rooster is heading for the beach was the surfboard, and the second is that he is wearing some swimming trunks.
These are what we will be drawing in this second step of your cool animal drawing. The pants will go at the base of his back, and they will be drawn with some rounded lines.
To show he is in mid-stride, we will be depicting his one leg as raised up with the other extending behind him.
The legs will be absent for now, but we will add them soon along with any final details in the next step of the guide.
Step 5 – Add the final details to your cool animal drawing
It's almost time to finish off with some great colors in the final step of this guide on how to draw a cool animal, but first we have a few final details to add.
The main thing we need to add to finish off this picture will be some legs. The legs will be quite thin, and they will be bent in such a way as to make it look like this rooster is running at full speed!
The toes at the ends of the legs will also be thin and a bit rounded.
Once these legs are complete, you could also add some more details and additions of your own!
It looks like he is racing for the sea, so you could maybe go with a nice beach background to finish it off. This is just one idea, so what other settings can you think of for this cool animal?
Step 6 – Finish off your cool animal drawing with color
This is the final step of this cool animal drawing, and in it we shall finish off with some colors.
When it comes to coloring a picture, the most important thing is to make sure that you have lots of fun expressing yourself with color!
In our reference image, we showed you just one of the many ways that you could go about coloring this image.
This image just serves as a suggestion, however, as you really have a chance to use any of your favorite colors.
Do you think you will use similar colors to the ones that we used, or will you go for entirely unique colors? We can't wait to see what colors and art mediums you choose for this awesome picture!
Do this to take your cool animal drawing to the next level
Make this cool animal sketch even cooler with these fun tips!
This drawing of a cool animal looks ready for a day at the beach. You could highlight this by adding some more accessories that it would need for a fun time.
For some ideas, you could add a beach ball or maybe an umbrella. These are just a small selection of ideas, but you can start by picturing what you would take to a beach getaway.
What are some fun accessories this cool animal would need to make the most out of his day out?
To take the previous step even further, you could represent this beach outing by adding a beach background. Doing this would allow you to create a beautiful vacation feeling for the image.
You could even show him running towards the waves, ready to enjoy some surfing. Then, you could add some fun details such as some sandcastles or maybe a lifeguard station.
That's one idea for a background setting, but what are you thinking for the background to this image?
This cool animal drawing shows a super cool character, and all cool characters need a catchphrase. Adding one would be the perfect addition to this drawing!
You could start by drawing a speech bubble above the chicken's head. Then, try to come up with a fun catchphrase.
When trying to think of one, try to make it themed to the animal if you're having a tough time. You could also go for a simple classic like 'surf's up!'
The last thing this cool animal sketch could use would be some more cool friends! This would be a fun opportunity to come up with some character designs of your own.
Try to think of some animals that may be found with chickens and roosters in real life. Then, you can adapt them to the same cartoon style as this one.
That's one approach you can take, but you could go for any other animals you like! What would these characters be doing?
Your Cool Animal Drawing is Complete!
You have finished all of the steps in this guide on how to draw a cool animal, and you have ended up with a very cool image indeed!
We hope that this guide made the process of drawing this character design to be fun and easy for you to work through.
Now that you have finished all of the steps, you can keep the fun going by adding more of your own cool ideas and details.
Will you draw a background, add more fun characters or go with different ideas when finishing up this picture?
If you enjoyed this guide, you'll want to visit our website for more awesome drawing guides to enjoy. We constantly add more guides to our huge collection, so be sure to keep checking in!
We would love to see how this cool animal drawing turned out, so please share your finished picture on our Facebook and Pinterest pages for us to see!