Putting up Christmas decorations and watching the Christmas lights sparkle is fun, but sadly, we get rid of the Christmas stuff again as soon as January comes around.
Why not learn how to draw Christmas stuff instead? By drawing a beautiful Christmas tree with lots of gifts underneath, you can feel the spirit of Christmas at any time of the year!
Fortunately, we have curated a step-by-step process on how to draw Christmas stuff, summed up in 9 easy and simple steps.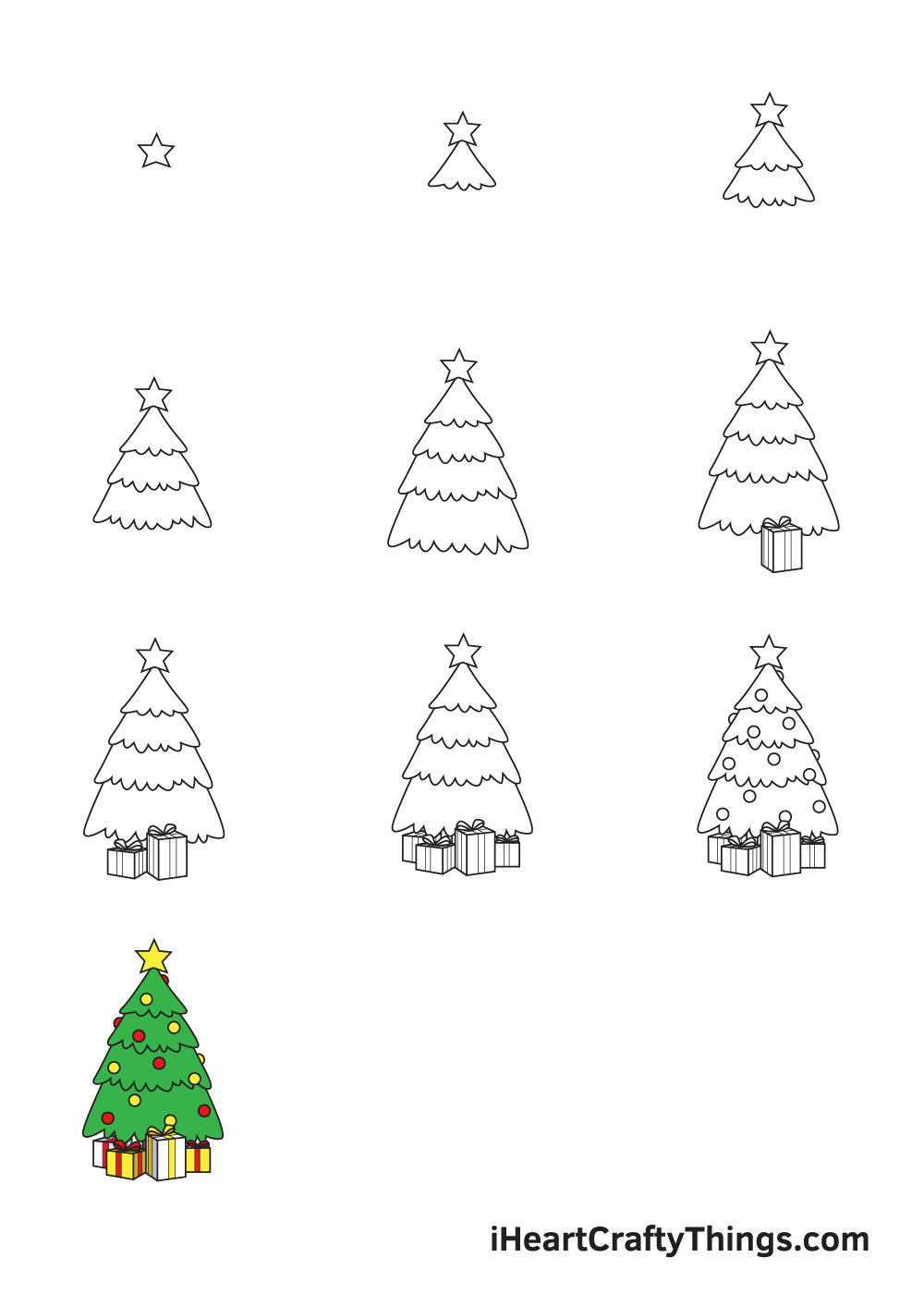 Each instruction comes with illustrations to help you follow the steps effortlessly.
So, what are you waiting for? Go ahead and grab a piece of paper along with your favorite pencil and let's start drawing Christmas stuff!
Have fun and unleash your inner creativity!
How to Draw Christmas Stuff – Let's get started!
Step 1
Starting from the top down to the bottom, draw a star in the middle of the upper portion of your paper. This will be the ornament at the top of the Christmas tree.
By starting at the top of your paper, there will be sufficient space to structure the entire Christmas tree along with a few presents underneath.
Step 2 – Draw the Christmas Tree's Topmost Layer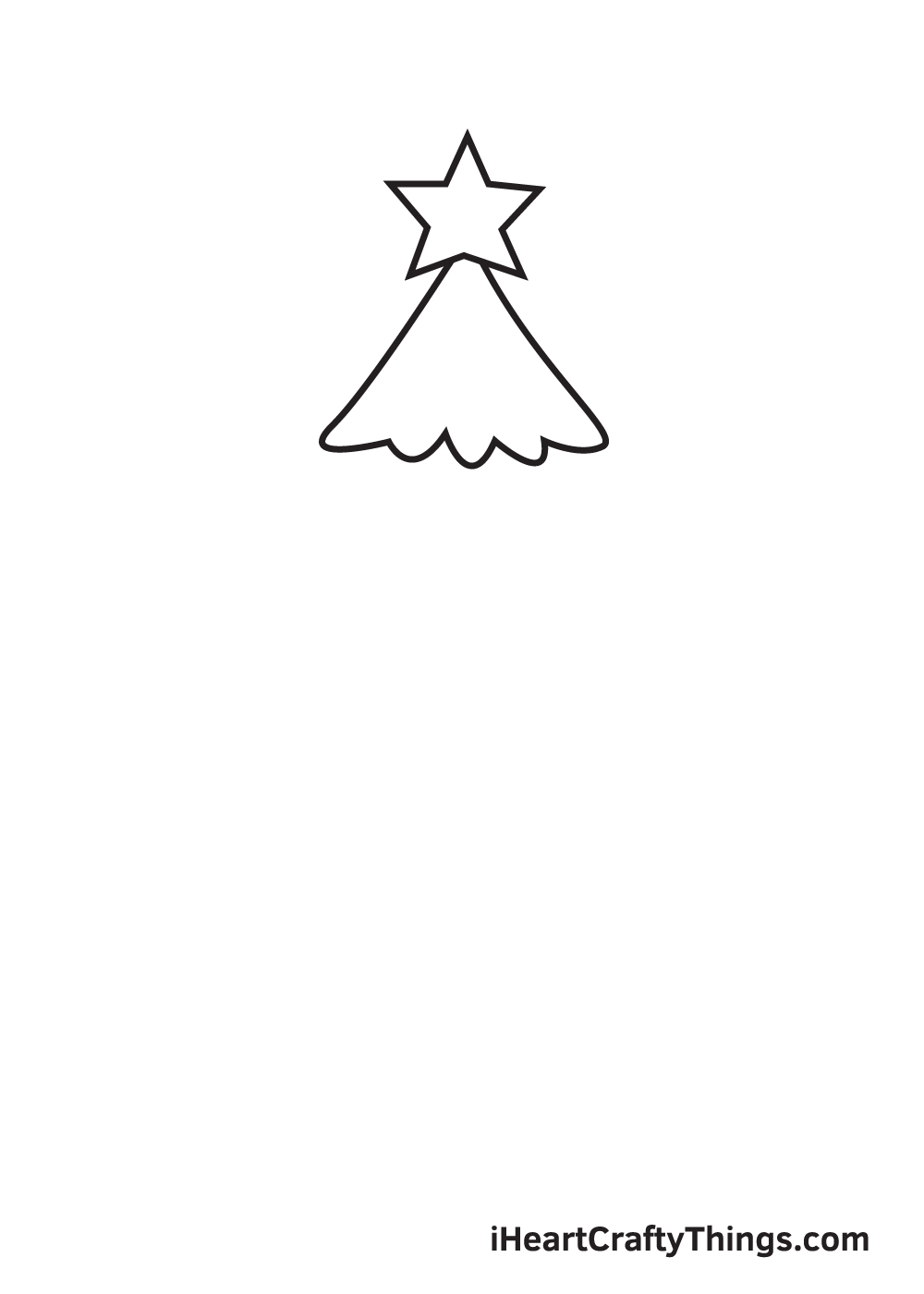 Right underneath the star, draw a triangle shape with a curvy line at the bottom. This creates the topmost layer of the Christmas tree.
Make sure that there's some slight curve to the diagonal lines on both sides and that they look like downward slopes.
Step 3 – Draw the Christmas Tree's Second Layer
Draw two downward diagonal lines headed towards opposite directions beneath the first layer we drew in the previous step.
This forms the second layer of your Christmas tree.
Step 4 – Next, Draw the Christmas Tree's Third Layer
Repeat the previous step to create the third layer below the second layer.
Step 5 – Draw the Bottom Layer of the Christmas Tree
Draw the last layer underneath the layer we drew in the previous step. This should be the biggest layer among all four layers of the Christmas tree.
Keep in mind that the Christmas tree should form a triangular shape. That means, the layers from top to bottom should go from the smallest to the biggest.
After completing this step, you should now have four layers and the structure of your Christmas tree should now be complete!
Step 6 – Add a Huge Present Under the Christmas Tree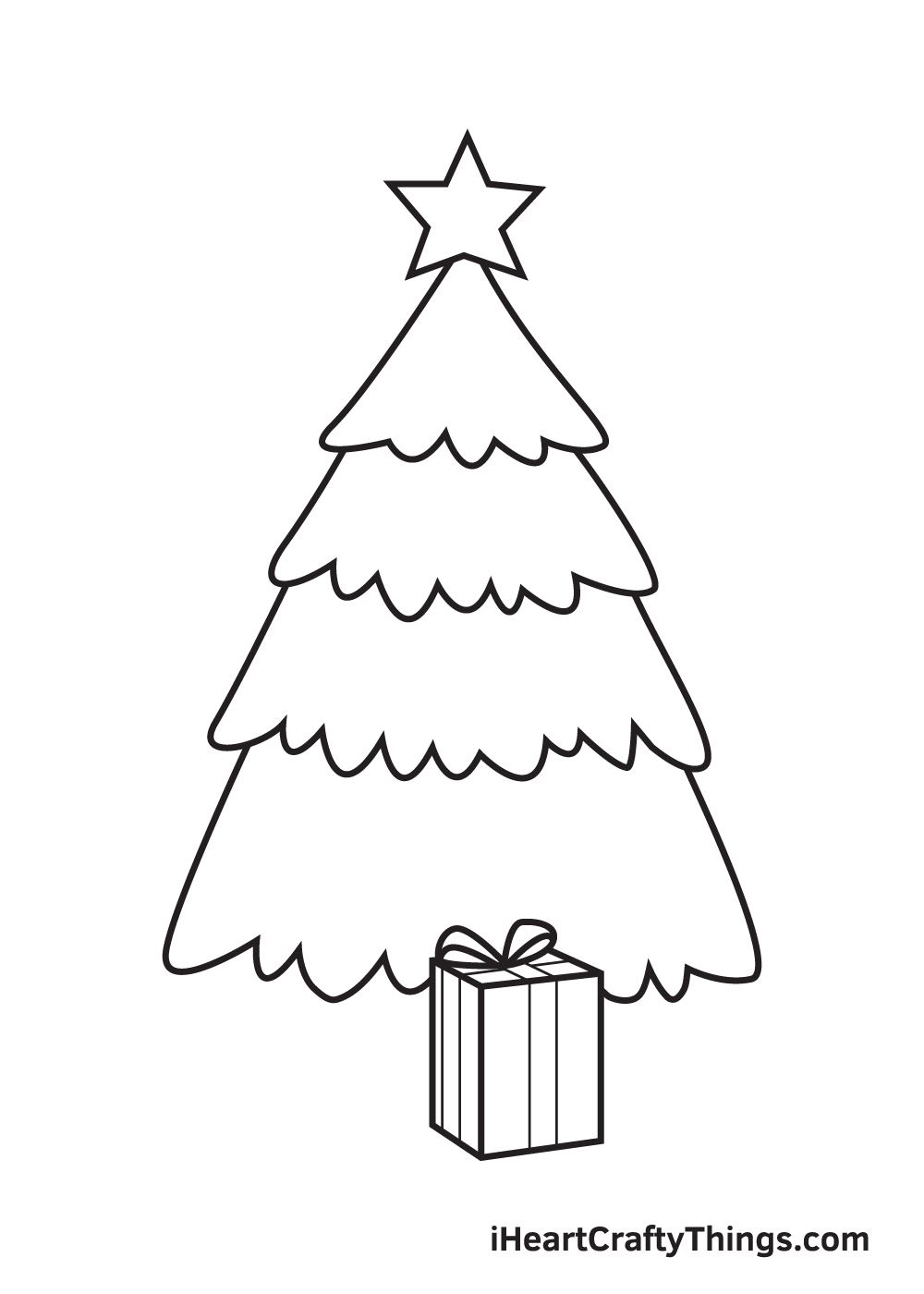 Underneath the Christmas tree, draw a three-dimensional upright rectangular box. Drawing a box with dimensions is easy!
Simply start by drawing a standing flat rectangular shape that is slightly tilted diagonally. Then, draw a narrow diagonal rectangular shape on its left side and a square shape at the top.
Don't forget to add parallel lines on all visible sides of the gift box to create the ribbon!
Step 7 – Next, Draw a Smaller Gift Under the Tree
Draw a smaller present under the Christmas tree beside the first one we drew in the previous step.
This time, however, the dimensions should be on the right side of the gift, opposite to the previous one. This makes the gifts look more proportionate.
Step 8 – Now, Draw Two More Gifts Under the Tree
Repeat the previous step to create two more presents on each side of the two gift boxes we drew in the previous gifts. Don't forget to add ribbons on these two presents as well!
At this point, you should not have four boxes of presents underneath the Christmas tree.
Step 9 – Adorn the Christmas Tree with Ornaments
Make your Christmas tree look eye-catching by adding ornament balls hanging all over the surface of the tree.
Simply draw multiple circles on different spots to make the ornaments look evenly distributed across the Christmas tree, as shown in the illustration. Feel free to place the balls wherever you like!
Now that we have successfully drawn a Christmas tree, it's time for the most enjoyable part, which is choosing the colors and coloring the Christmas tree.
Traditionally, Christmas trees are primarily colored green as they are live evergreen, pine, or fir tree. Today, however, artificial Christmas trees have been developed and it comes in many color options.
The star at the very top of the Christmas tree is typically yellow, but it also exists in other colors.
The Christmas balls adorning the Christmas tree as well as the box of presents underneath comes in a wide range of colors.
Feel free to customize the colors of the Christmas stuff in your drawing! Which colors will you choose?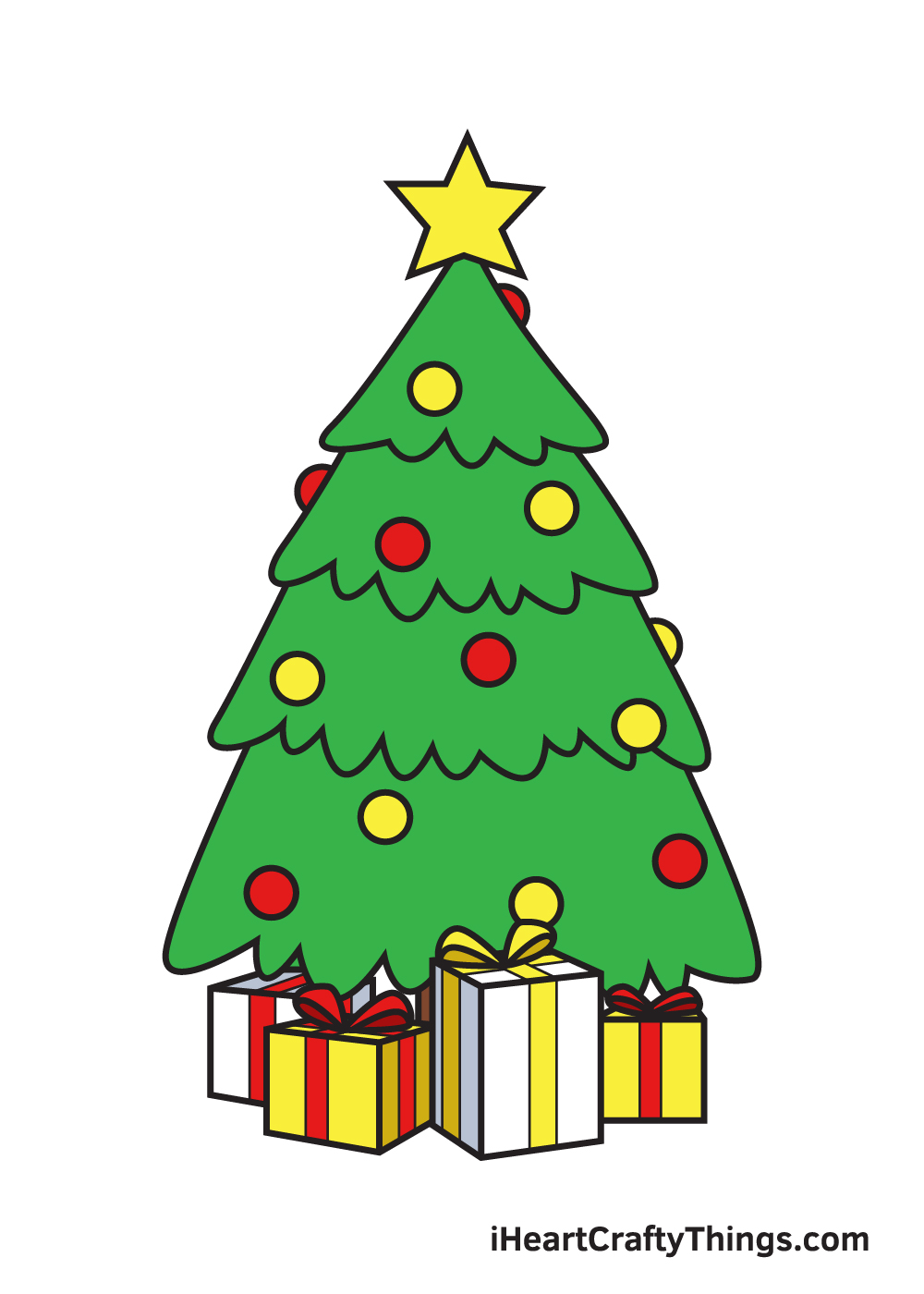 Use Crafts To Create Some Christmas Cheer!
In this guide on how to draw Christmas stuff, we went over a few ways that you can color in your festive artwork. When it comes to coloring, you don't have to stick to the traditional mediums you're used to using.
In fact, there are many awesome crafts that you could use to make this a stunning multimedia artwork. There are no wrong ways to do it, so we really encourage you to get creative with it!
For example, you could color in the baubles with pens and pencils, or you could take it one step further. Using some beads and sticking them onto the page would be a great way to create baubles that pop off the page.
Then, there are the other decorations on this tree. For example, you have the tinsel on the tree. You could color it in normally and it would look good in its own way, but why stop there?
It could look even better to rather have actually tinsel on the tree. You can find thin strands of tinsel and then cut them to size before sticking them over the tinsel in the image.
As you can see, there are many ways to add an additional dimension to the drawing in the form of touch. Then, there are common crafts like glitter that can add some magical sparkle to the picture.
These are far from the only crafts that could be used to make this Christmas stuff drawing more magical and incredible. Anything that adds color and life to the drawing is a good choice, so let your imagination run wild!
We've given you some ideas, but what are some other craft supplies you would like to use for this amazing artwork?
3 More tips to make your Christmas stuff drawing easy!
Create some festive artwork with ease with these fun and easy tips! If you happen to be working on this guide around Christmas time, then chances are that you have a Christmas tree in your house.
If that is the case, then you have the perfect model ready to go! If you do have one, you can carefully study it and then draw the details along with the steps of this guide.
Doing so will allow you to get the proportions looking perfect, as you will have the real thing in front of you! You could also make your Christmas stuff drawing match the one you have in your house already. This could even include small details like the baubles, tinsels and presents.
If you are working on this guide at another time of the year, there are still ways to make it easier! You will find thousands of beautiful Christmas trees online if you need some inspiration.
Your family may also have some photos of past setups, and that would also help you when drawing this Christmas stuff sketch.
We always recommend using a source when drawing anything, as you will be surprised how much it can help. Following this tip will help to make this Christmas stuff drawing easy!
Finally, you can also make this drawing of Christmas stuff much easier by drawing some basic shapes. To do this, get a light pencil to draw with, then draw a small circle for the very top.
Then, you can use a ruler to draw a triangular shape for the body of the tree. After that, you can use darker pencils to draw the finer details, and finally go over it all with your pen before erasing it.
Having these basic shapes will help you keep the shape of your tree consistent. Then you can focus on the fun of adding decorations, presents and even a background!
The best part is no one will ever know you used planning, so you can use as much as you need.
Your Christmas Stuff Drawing is Complete!
Christmas is definitely one of the most exciting festive holidays not just for kids, but also for people of all ages.
It is that time of the year when we gather with our loved ones to eat good food, open presents, and most importantly, light up the Christmas tree.
So hopefully, you enjoy this step-by-step Christmas stuff drawing tutorial!
We are regularly uploading new content on our "How to Draw" catalog, so make sure you keep checking back to continuously enjoy brand-new drawing tutorials like this one.
Let us know what you would like to learn how to draw next, and we'll do our best to deliver your requests!
After you finish drawing and coloring Christmas stuff, don't forget to share your masterpiece on our Facebook page and on Pinterest! Don't be embarrassed—you've worked so hard for it, so we're sure it looks incredible!
We're looking forward to seeing your festive Christmas stuff drawing!