For many people who are passionate in drawing or arts in general, being able to draw a cartoon face is a dream come true.
However, due to its intricate physical characteristics, drawing a cartoon face is undoubtedly challenging.
This is the reason why drawing a cartoon face is highly-requested by our readers. Now, you've asked for it, so we delivered.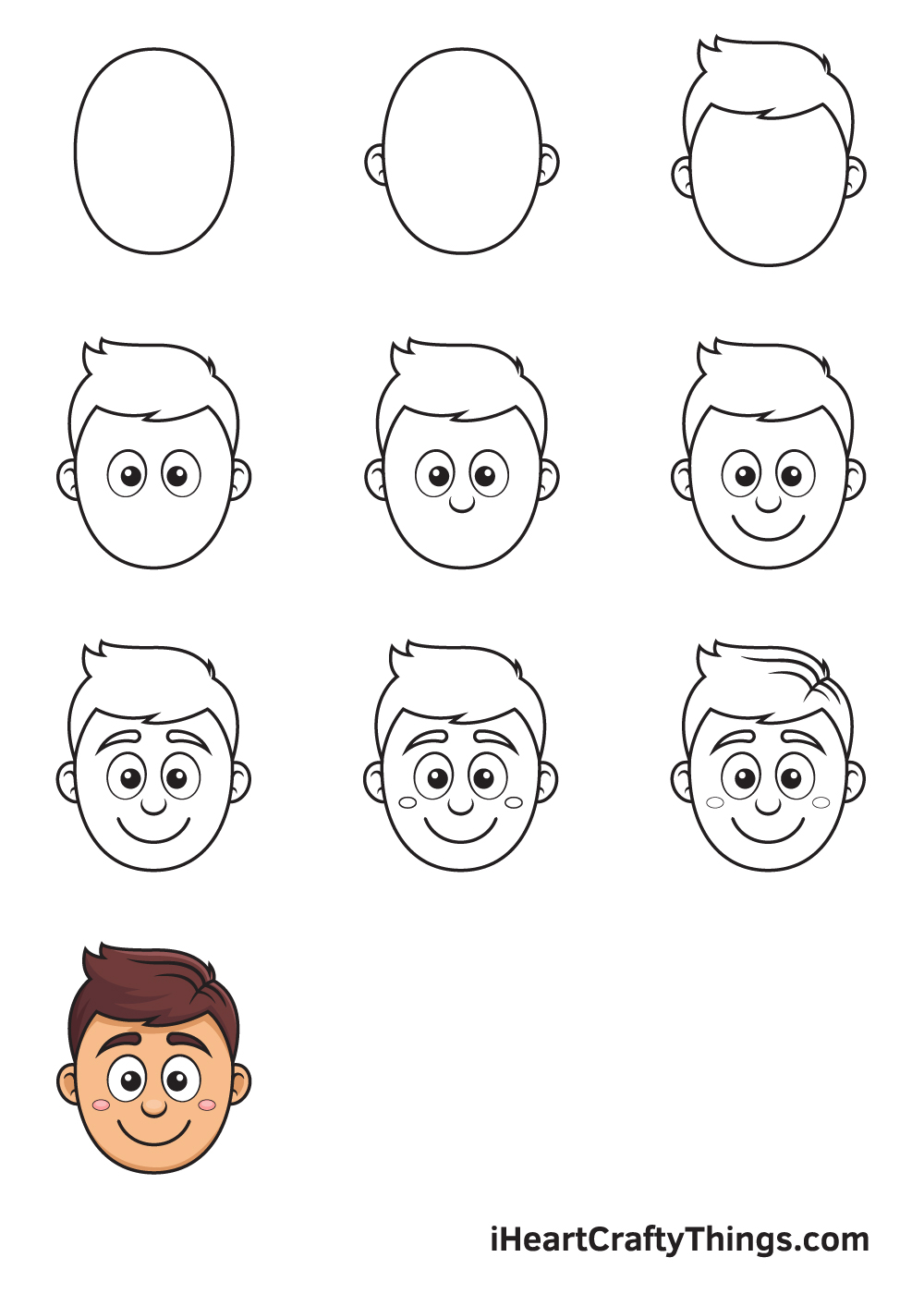 Fortunately, we have curated a step-by-step tutorial on how to draw a crab summarized in 9 easy and simple steps.
With this comprehensive guide, drawing a cartoon face is made easier. Each step is accompanied with comprehensible illustrations that serve as your visual guide as you follow the instructions.
Whether you are a novice or an expert in drawing, we're sure you can follow these steps effortlessly. What's more, you can add your own style and improvise in every step.
Feel free to mix and match colors to customize your artwork and make it unique. Let your imagination wander and unleash your creativity. Have fun and use your artistic skills!
How to Draw a Cartoon Face – Let's get started!
Step 1
In the very middle of your paper, draw an upright oval shape. This outlines the shape of the cartoon face.
To ensure that the outline will be positioned in the middle correctly, draw a horizontal and a vertical line across the paper to create reference lines. The spot where the two lines meet is where you should draw the face.
Step 2 – Draw the Outline of the Face
On both sides of the face, draw the ears. Simply draw a curved line towards the face. Don't forget to add curved lines inside each ear to create the illusion of an "inside ear".
Step 3 – Now, Add the Hair
Now, it's time to draw the hair! Draw the hairline just right above the forehead. Then, draw the outline of the hair above the hairline. Keep in mind to create pointed clumps of hair when drawing the hair. This makes the hair look more textured, thus making it appear realistic.
And of course, you can draw any hairstyle you prefer. Let your imagination take the lead! After all, it's your work of art!
Step 4 – Afterwards, Draw the Eyes
Below the hairline, draw two upright oval shapes. Then, draw two circle shapes within the outline of the eyes.
This will outline the iris inside the eyes. Shade the circles while leaving out a tiny dot unshaded to create a "glimmering eyes" effect.
Step 5 – Then, Draw the Nose
Draw an upward curved line below the eyes. To ensure that the nose is positioned correctly, it should be situated right in between underneath the eyes.
You can make the nose as big or as small as you want, depending on how you want your cartoon face's nose to look.
Step 6 – Put a Wide Smile on its Face
Now, it's time to give your cartoon face a facial expression by drawing a huge grin! Draw an upward curved line underneath the nose. This outlines the mouth of the cartoon face.
Depending on how big or small you want his smile to appear, you can customize the form of the line however you like.
Step 7 – Draw the Eyebrows of the Cartoon Face
Draw an arched eyebrow above each eye. The inner edge of the eyebrow must be curved while the outer edge should be pointed. This creates a realistic-looking arched eyebrows.
Step 8 – Add a Blushing Effect
Add a bit more emotion to your character by making its cheek appear flushed.
To do this, simply draw a tiny sideways oval shape on each cheek. These shapes should be further from the nose and near the ears.
Step 9 – Draw Hair Strands to Add Texture
Decide how you want your character's hair to be structured. Draw a division line within the hair and draw strands of hair from the line all the way down to the length of the hair.
Finally, here is the most exciting part—filling in the colors for your awesome drawing! This is the part where you can show off your artistic skills and your ability to mix and match various colors.
Start by coloring the face. To create a skin tone color, mix the colors red, yellow, brown, and white. Depending on the complexion you're aiming for, you may want to add more of a specific color than the rest.
After coloring the skin, you can move on to the hair and the eyebrows, which should be of similar color. Which hair color do you imagine would look best to your drawing? Perhaps a brunette or simple black hair? You can also use more vibrant colors such as blue, green, and more! It's all up to you!
Feel free to color your cartoon face drawing however you like and use any colors you prefer! And while you're at it, why not try experimenting with different coloring materials as well?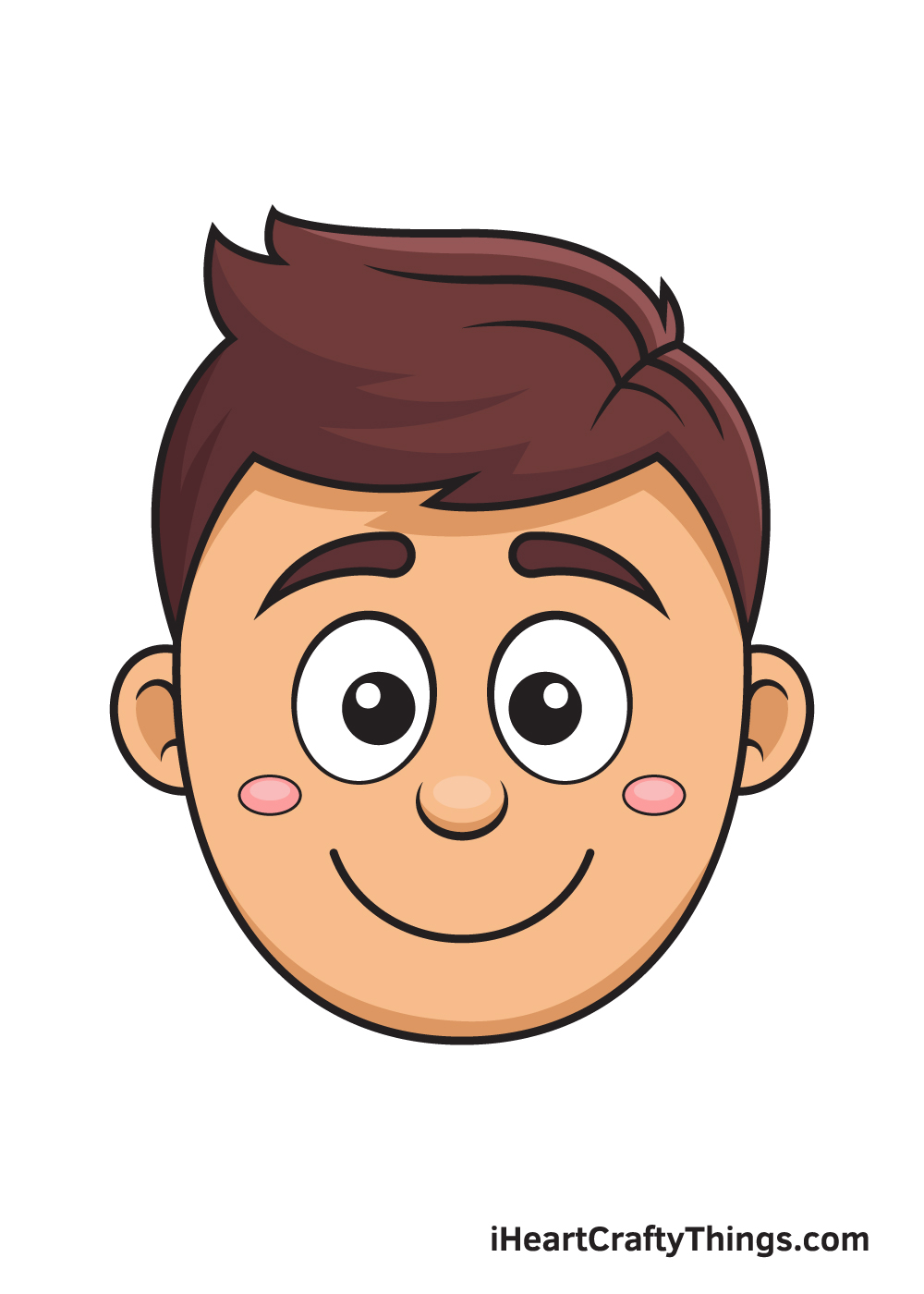 Bonus: Add A Body For Your Cartoon Face Drawing
Creating this cartoon face drawing was quite a fun challenge, but we think it could be taken one further! We think that it would be cool to add the rest of the character that this cartoon face belongs to.
This would be a bit challenging, as we didn't include that in the guide. There are a few ways to make it easier, however.
You could use various reference images to make it a bit easier to do. One way to do this would be to use real people as models.
If you ask a friend or a family member to pose for you, then you could recreate any pose you like for this drawing. It would simply be a matter of converting the pose to a cartoon style befitting this style.
If you don't have anyone to pose for you, then you could use characters from movies or TV as a reference. Another way you could make it even easier would be to use an existing cartoon character.
If you can find a cartoon character that is drawn in a similar style to this one, then you could use their body design for your drawing. It could just be a base, and then you could change the pose or clothing details.
Using existing sources can take out much of the guess work, as drawing a new person from scratch can be quite challenging. You can also build up the body using a pencil and some basic shapes.
Using circles and simple rectangles can be a great way to plan out the proportions for the body, limbs and other details of the character. What kind of pose would you like to create?
Do this to take your cartoon face drawing to the next level
These tips for your cartoon face sketch are sure to put a smile on your face!
For this drawing of a cartoon face, we kept the expression on the face rather simple. Now that you have finished this design, you could look into making different facial expressions for the face.
This could be done to portray any emotions you like, and you could get some ideas by making some faces in a mirror. By changing just a few details, you could make all sorts of fun expressions!
When you have decided on how you would like your cartoon face to look, you could add some other clothing elements to personalize it a bit more.
There are many accessories and clothing items we wear on our heads and faces you could use. These could include hats, glasses or even piercings.
Any of these and more could be used to make your character ready for the world! You could use some items of clothing that you like to use yourself so that your cartoon face will match you.
When your cartoon face drawing looks exactly as you want it, you could try out some new designs by making new faces.
This could be changing the gender of the character or changing major facial features.
Using people you know as models would be a great way to get some inspiration for how these characters could look. What ways can you think of that you could create some unique characters?
Finally, the best way to finish off this cartoon face sketch would be by adding the rest of the body that the face is attached to.
If you added some clothing items to the drawing, then the clothing on the body could match it.
Not only would this make the drawing more complete, but you could also create some fun poses for your character!
This is another idea where you could make it easier by striking some poses in the mirror.
Then, you can try to recreate them in your drawing!
Your Cartoon Face Drawing is Complete!
We hope you enjoy this step-by-step tutorial on how to draw a cartoon face. With this guide, you can surely draw and color a cartoon face along with its complex features and elaborate details in no time.
And the most fun part is, you can customize its physical attributes and play with various colors as much as you like!
We are always updating our "How to Draw" catalog, so make sure to keep checking back on our website to take advantage of newly uploaded tutorials.
All you need is a pen and paper and you're all set to start drawing! We are excited to see what you will draw next. We're sure it will be just as amazing as this one!
Once you've finished your masterpiece, we're certain you must be feeling very proud of yourself—as you should be! Completing this cartoon face drawing is definitely fulfilling.
Make sure to show off your work of art and share it on our Facebook page and on Pinterest. We're sure it looks amazing! We can't wait to see your colorful cartoon face drawing!