There are few things in this world that are cuter than a little baby! Babies are constantly delighting those around them with their innocent curiosity about the world around them.
Their adorable faces also don't hurt when it comes to winning people over!
If you love babies and have wanted to learn how to draw one, you've probably come to realize that drawing one of these little tykes can be much harder than it looks!
To help you out, we created this guide on how to draw a baby in just 7 easy steps to have you drawing an adorable baby in no time at all.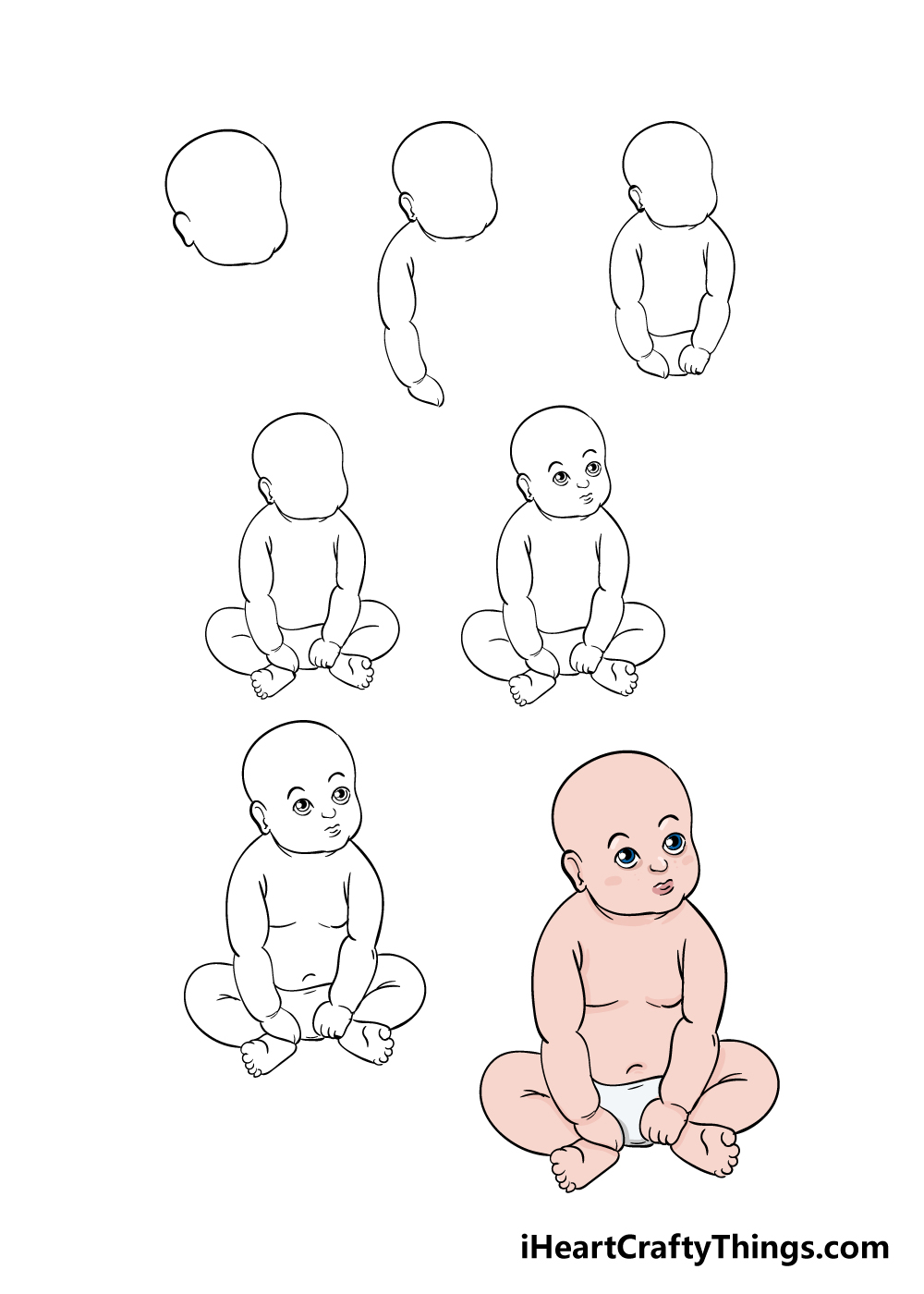 How to Draw A Baby – Let's Get Started!
Step 1
For this first step in our guide on how to draw a baby, we will start with the head of the baby. Babies have big, round heads, so we will be using a nice rounded shape for the outline of the head.
For some extra guidance, you could draw a rough oval shape with a pencil to help you out with the shape of the head.
The bottom of the head shape will be slightly flatter for the jaw, and also have a bump for the chin.
Step 2 – Next, draw in an arm for your baby
A baby's arm is still developing into a fully grown arm, so they are quite short and stubby. The arm that we will be drawing in this step of your baby drawing will primarily be made of two short sections.
You can draw a shoulder down from just under the baby's ear, and then have it come down to draw the segmented arm. Don't forget to add a cute little hand at the end!
Step 3 – Now, add another arm for your baby
We will be using a similar approach for step 3 of this guide on how to draw a baby. This arm will be on the other side, but it will look quite similar to the previous one.
The main difference with this arm is that the hand will look a little bit different from the other one, as it is at a different angle.
Step 4 – Let's add some legs to your drawing
You have the head and arms of your baby drawing, so now it's time to add some legs to it! Babies tend to sit in a slumped position, so we shall use some curved lines to draw the legs beneath this baby.
Once the legs appear as they do in the reference image, you can draw in some feet at the ends of the legs.
The feet could be slightly tricky, so be sure to refer closely to the reference image to get an idea of how they should look?
Step 5 – Now, draw a face for your baby
In this step of our tutorial on how to draw a baby, we shall add a cute face for your baby. Babies have big, round eyes, so we will use very rounded shapes for the face of your baby drawing.
You could replicate the eyes as they appear in our reference image, but if you wanted a less realistic image, you could also use much simpler shapes for the eyes.
Then, use some small, curved lines for a little nose and mouth for the baby. You could also draw these in a much simpler style if you would prefer that kind of look for your drawing.
Step 6 – Next, draw in the final details
Your adorable baby drawing is almost complete! Before we move on to color in your drawing, we shall add some final details.
Some lines on the chest, legs and arms will help to add a bit of definition to your baby, and will highlight aspects like the chest and belly button.
Once you have these details drawn, you could also come up with some extra fun details! For example, you could draw some props for your baby, such as a bottle or maybe a cute teddy bear.
If you're feeling extra creative, you could draw in a fun background or maybe a cute outfit for the baby to wear.
How will you finish off your baby drawing?
Step 7 – Finish off your cute baby with some color
That brings us to the final step of this guide on how to draw a baby! You've got to the end and have a wonderful drawing already, yet some colors will really finish this off wonderfully!
We've shown one way that you could color in your baby drawing in our reference image, but you should use your creative flair and imagination to fill in the colors!
If there's a cute baby in your life, maybe you could color in this one to look like that baby! Choosing your colors is just part of the fun, and you can also play around with some beautiful art mediums.
From acrylic paints and colored pens for brighter colors to watercolors and crayons for a softer look, there's really no wrong way to go about it. We can't wait to see what creative colors and mediums you choose for your drawing!
Here's how you can make your baby drawing even better…
Make this adorable baby sketch even cuter with these fun tips!
Babies love to play with colorful toys, and these would be great to add to this baby drawing! These could include anything from rattlers and mobiles to teddy bears and dolls.
There are so many fun toys you could add, and they would allow you to add so many more color details.
Maybe you could use some toys you remember having as a kid as inspiration for the ones you add to the drawing!
This drawing of a baby already looks great, but you could make it even greater with a background! There are a few common locations you could choose for this.
The baby could be in a crib or maybe in a colorful bedroom for a few ideas. Or, maybe you could create an imaginative scene such as outer space to show that this baby is lost in its imagination.
What fun settings can you think of for this cute baby?
One baby is cute, but it's even cuter when you have multiple babies! That would be a great idea for making this baby sketch even better.
Now that you know how to draw a baby so well, you could follow the steps of the guide to create a few more for the scene. Simply follow the steps and change a few details such as the pose and appearance of each new baby.
We're sure you could create all kinds of fun and creative scenes by adding a lot of babies to the scene!
A simple way to make this baby look even more unique would be by adding more details to the design. One of the best ways to do this would be by adding some clothing!
This would give you many options, as you can get baby clothes in many different styles. These could include a hat, some pajamas or maybe just a cute t-shirt.
You could create all kinds of fun designs if you were to do this, and you can finish this drawing of a baby in style!
Your Baby Drawing is Complete!
In front of you right now is an absolutely adorable baby drawing, and that means that you have reached the end of our guide on how to draw a baby!
Drawing a baby can be much harder than it looks, and can lead many artists to frustration! However, we hope that this guide helped you through the process and showed you that creating a baby drawing can be not only easy but also a great deal of fun!
Learning how to draw a baby is just the first part, though, and from here it's up to you! How will you personalize your cute drawing?
Whether it's by drawing a background, adding some props for your baby to play with or the creative colors and art mediums you choose, we can't wait to see what you come up with!
If you think the drawing fun is over now, I have good news for you because we have so many more fun drawing guides in store for you!
Be sure to check out our site frequently to join in the fun!
We would love to see your adorable baby drawing when it's done, so please share it on our Facebook and Pinterest pages for us to enjoy!
We'll be looking forward to seeing your wonderful artwork.