This shop has been compensated by Collective Bias, Inc. and its advertiser. All opinions are mine alone. We hope our fun Personalized Water Bottle Labels for Kids help encourage you and your family to stay hydrated. #PureLifeRippleEffect #CollectiveBias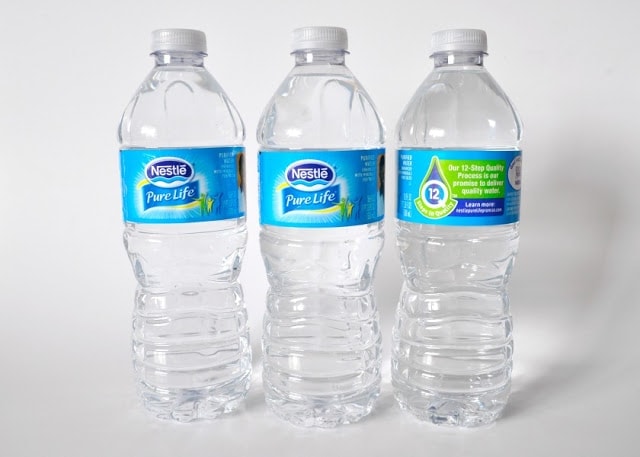 I am fortunate that I have always enjoyed drinking water. Even if I'm just heading out in the car to run some errands, you can guarantee I grab my water bottle and bring it with me. My kids on the other hand…they struggle! A few months ago I was in the doctor's office with one of my children and we learned that my son wasn't drinking enough water. Despite my best efforts to remind him how important it is to drink water, I was determined I needed to find a better solution to help my kids drink more water at home, at school, and at play. While doing some shopping at Walmart, I grabbed some
Nestlé® Pure Life® Water
and was struck with the idea to create personalized water bottle labels for my kids to bring some extra sparkle and fun into drinking water every day. So far it has worked incredibly.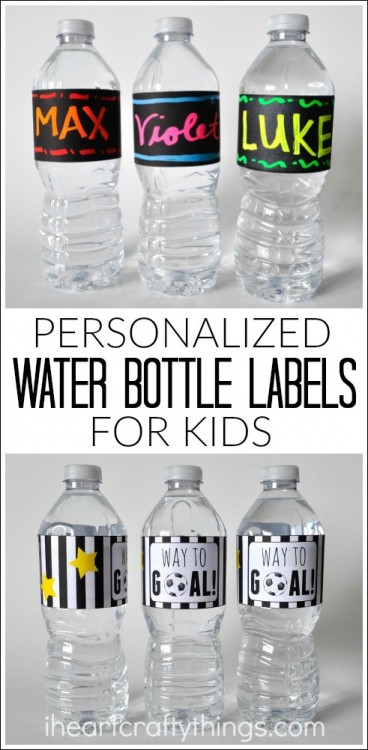 In a survey recently conducted by Nestlé® Pure Life®*, 33% of kids surveyed* find it hard to remember to drink water without reminders. One suggestion from Tips for Hydration by Robin Plotkin is to remind kids to drink more water during play dates or other group events by designating an adult Water Captain to help with hydration. The captain sets an alarm on his/her phone for various intervals, depending on conditions such as the temperature, the type and level of play. Each time the alarm sounds, the group breaks for water.
The survey conducted for Nestlé® Pure Life®* also found that 48% of moms do not regularly remind their children to drink water. I have definitely been there. What is interesting is that the survey found that kids who drink 4+ glasses of water per day are more likely to frequently exhibit healthy habits, such as getting their own water when thirsty, eating their fruits and vegetables at meal times without reminder, and requesting healthy food and beverage options for school lunches. Clearly, finding encouraging ways for our children to drink more water is very important!
My favorite fun tactic to help my kids drink more water is with personalized water bottle labels. We've made several different variations, and today I'm sharing two of my favorites with you. The first is a cool chalkboard label that you or your children can customize that is perfect for home or school. The second label is perfect for your star soccer player to hand out for after game treats to all the players on the team. Why not spread the water love around, right?!
HOW TO MAKE A CHALKBOARD PERSONALIZED WATER BOTTLE LABEL
Supplies you will need:
Fun Chalk liquid chalk markers

scissors

tape
Directions: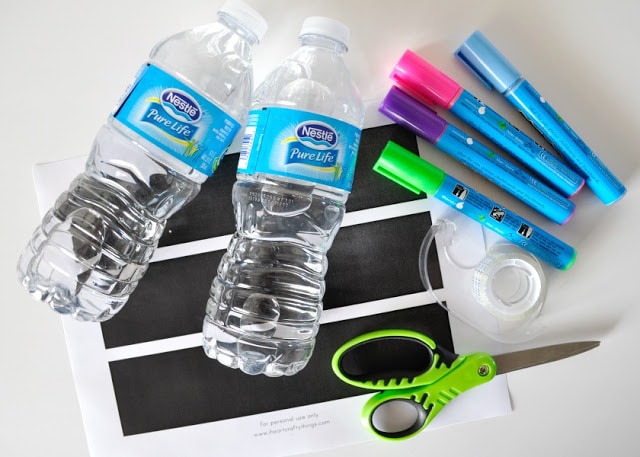 2. Next, use your liquid chalk markers to customize your labels. Sometimes I enjoy designing the labels myself (ok, ok..I enjoy it A LOT!) and other times I give each of my children a full sheet of the labels and let them design to their hearts content. My favorite way to use them is to write their name in the center of the label and draw borders and pictures around the rest of the label.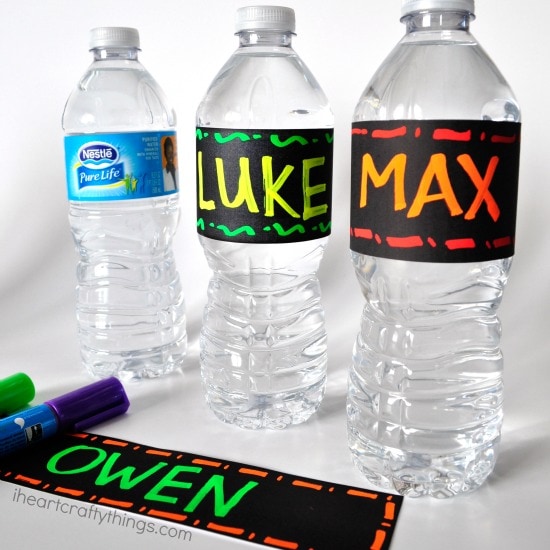 3. When you are finished with your designs, cut all of the labels out. Use your tape to secure the label in place around the Nestlé® Pure Life® Water.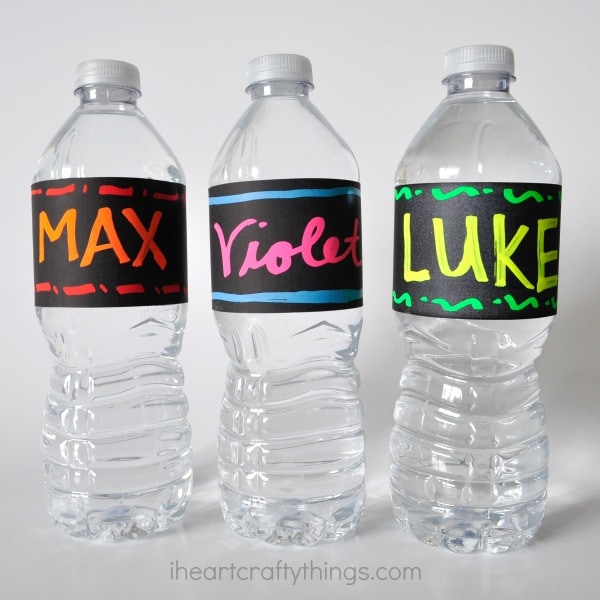 These labels are a fabulous addition when sending water bottles with your kids to school or packed in your child's school lunchbox. Seeing the personalized label sitting on their desk or in their lunchbox is a great reminder for them to open it up and take a big drink. I also like to keep several of them in the fridge so they are readily available for after school or on the weekends.
HOW TO MAKE A SOCCER GAME WATER BOTTLE LABEL
For your soccer sports fan, use our "Way to Goal!" personalized label to celebrate a game well played and to encourage children to re-hydrate after playing hard.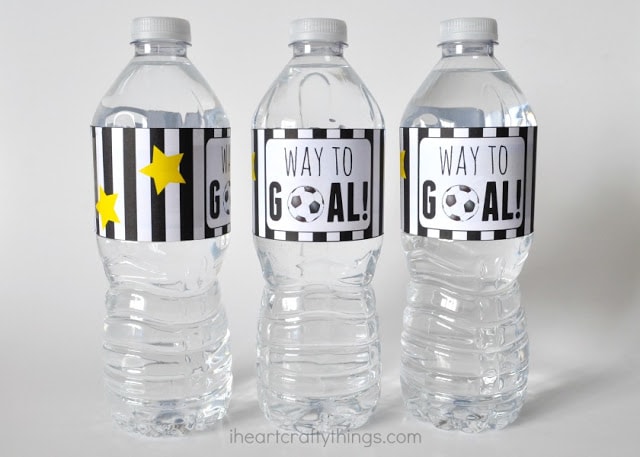 Simply
print out the label
in color, cut it out and attach it to the Nestlé® Pure Life® Water with tape. Store them in the fridge before the big game so they are nice and cold to hand out to kids after the game is over. Not only will the label make them feel like a superstar but getting the much needed hydration from the Nestlé® Water will also make them feel like a champ.
When you are out doing your shopping at Walmart, look for the Nestlé® Pure Life® Water on the bottled water aisle. Look for the Share a Smile bottles. They have fun labels and are fun sized.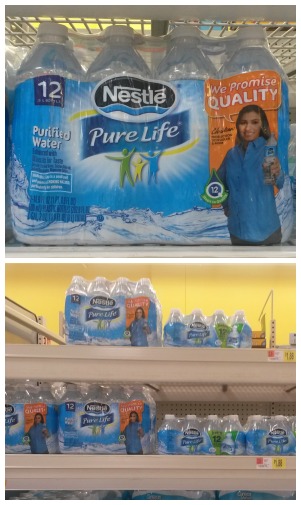 I love how
Nestlé® Pure Life®
is committed to helping all families make healthier choices, starting with hydration—that's why they are a proud supporter of the Partnership for a Healthier America's Drink Up Initiative.
We know that establishing healthy habits in early childhood has lifelong benefits.   
Nestlé® Pure Life®
calls this the Ripple Effect. At PureLifeRippleEffect.com, moms can share tips and tricks that they use to teach their kids about the importance of staying healthy and hydrated. With this movement, moms will be empowered to send their kids off to school each day fueled and hydrated.
To ignite The Ripple Effect movement and encourage kids to get the water they need throughout their day, Nestlé® Pure Life® is providing water to kids this school year through After-School All Stars, an organization that strives to keep children safe and healthy through after-school programming. Nestlé® Pure Life® has committed to provide nearly one million 8 ounce servings of water to kids this school year through After-School All Stars at over 20 participating schools in select markets across the country.
Be part of The Ripple Effect! Visit PureLifeRippleEffect.com and share your tips for healthy hydration using #pureliferippleeffect.
For more great tips follow Nestlé® Pure Life® on
Facebook
.
I've shared by fun tactic trick of how I use Nestlé® Pure Life® Water to encourage my children to stay hydrated. What is your favorite fun tactic to help your kids stay hydrated?
*Online survey conducted in June 2015 of 1,077 moms of kids ages 6-12 overall, including 254 Hispanic moms of kids ages 6-12. 1,077 kids ages 6-12 from the same household were also surveyed, including 254 Hispanic kids ages 6-12. © 2015 Nestlé® Waters North America Inc.