This shop has been compensated by Collective Bias, Inc. and its advertiser. All opinions are mine alone. I hope you and your family enjoy this peanut butter and jelly green smoothie! #SpreadTheMagic #CollectiveBias
I have loved peanut butter for as long as I can remember. Now when I say love I don't mean it's something that I occasionally enjoy. I mean love as in if I had to be stranded on a desert island and could take one food item with me, I would most definitely choose peanut butter. Do you feel me? Can you relate? I might even go as far as calling myself a peanut butter snob. I know, that's harsh, but in all honesty not all peanut butter is made alike my friends. My recent favorite is Peter Pan's® NEW Simply Ground Peanut Butter. It's perfectly creamy with a bit of crunch to it. When I tell you it's melt in your mouth delicious, I kid you not. My kids love it so much that I've even found ways to use it to coax them into eating their fruits and veggies. My latest concoction that I'm sharing today is this delicious peanut butter and jelly green smoothie. With the added protein, it's perfect for breakfast or as an after school snack for the kids.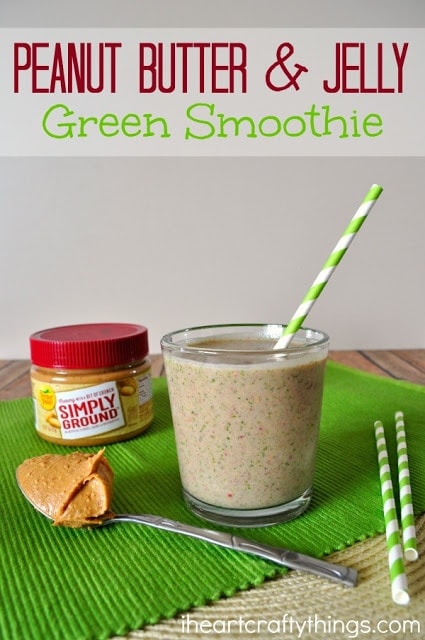 One of my favorite things about Peter Pan® Simply Ground Peanut Butter is it's creamy + crunchy texture. Gone are the fights at my house over choosing creamy or crunchy! It has a perfect balance of both and still spreads nicely on bread without tearing. It's a winner!
PEANUT BUTTER AND JELLY GREEN SMOOTHIE RECIPE
Servings: 2 or 3
Ingredients:
15 oz. almond milk
1-2 handfuls of spinach
banana
1 c. frozen strawberries (I use a heaping cup)
2 tbsp. Peter Pan® NEW Simply Ground Peanut Butter
1 tbsp. honey (optional)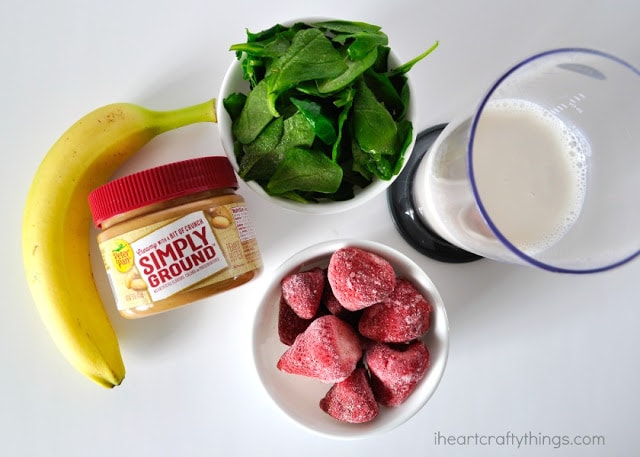 Directions:
1. Start by pouring your almond milk into your blender, then add your spinach. Blend the two together until the spinach is well combined.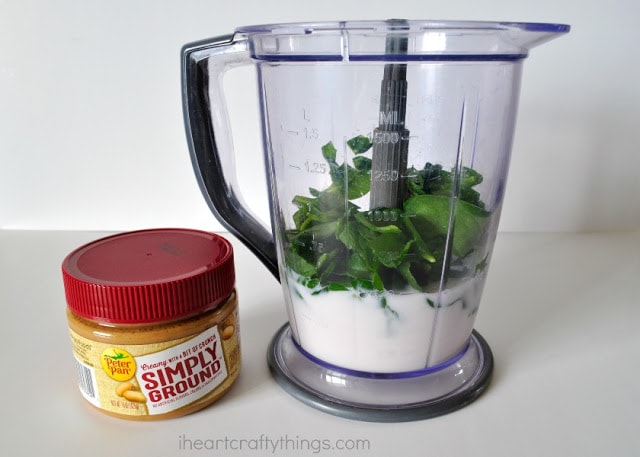 2. Add in the remaining ingredients: banana, frozen strawberries, Peter Pan® Simply Ground Peanut Butter and honey. Blend the ingredients together for about 30-45 seconds until everything is well combined.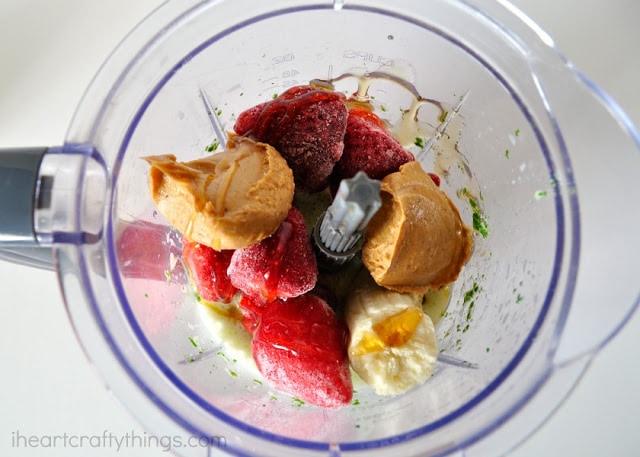 3. Pour the smoothie into glasses and enjoy. I always divide mine up into three servings for my children but if I'm eating it myself for breakfast I fill a larger glass and only get two servings.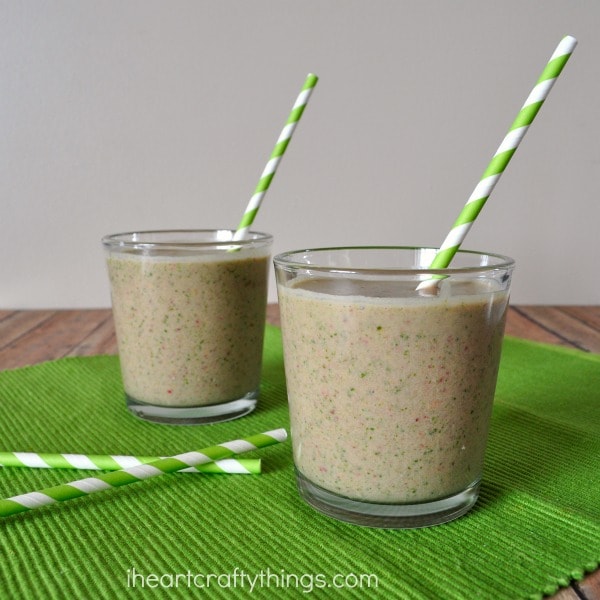 I always sing "It's Peanut Butter Jelly time!" and my kids come running and slurp their smoothie right up. This pretty little lady pictured below will finish all of hers and then drink some of mine if I'm not looking. She wears her green smoothie mustache proudly.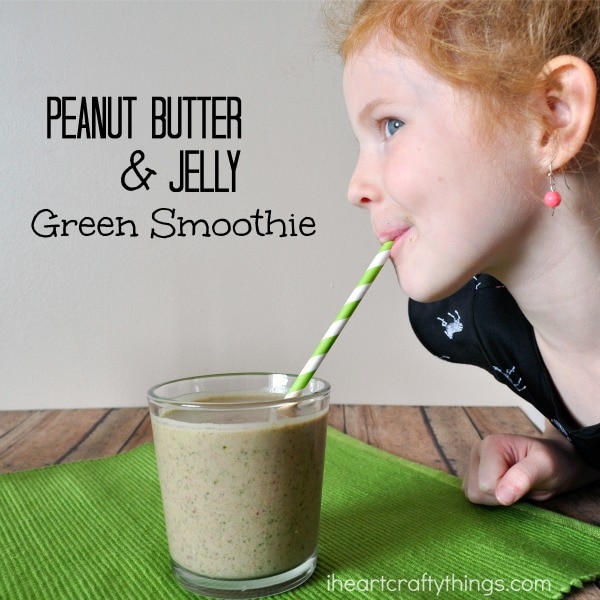 The smoothie has the perfect amount of sweetness from the strawberries but it's the richness of the peanut butter that really makes it fantastic. The Peter Pan® Simply Ground peanut butter has this amazing creamy and crunchy texture all at the same time and I love how that translates into the smoothie giving it the perfect amount of crunch when I'm drinking it. It also has no artificial colors, flavors, or preservatives and there's no need to stir it before you enjoy it, all a huge plus!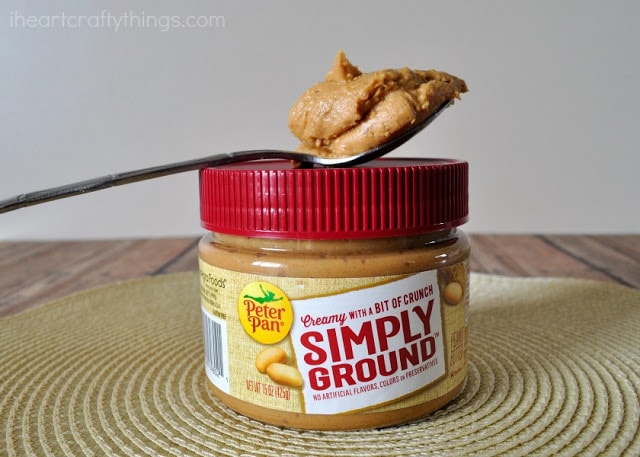 I picked ours up at my local Walmart. It was a little tricky to find hidden on the top shelf but it was right in the peanut butter section on the aisle with the condiments. Your going to want to buy several jars of it…Trust me! I forgot to mention how it has a large mouth jar which comes in super handy for dipping apple slices into it. It's another one of our favorite snacks. Find out which flavor of Peanut Butter fits your personality with this fun quiz!
Check out more fun ways to use Peter Pan® Simply Ground Peanut Butter!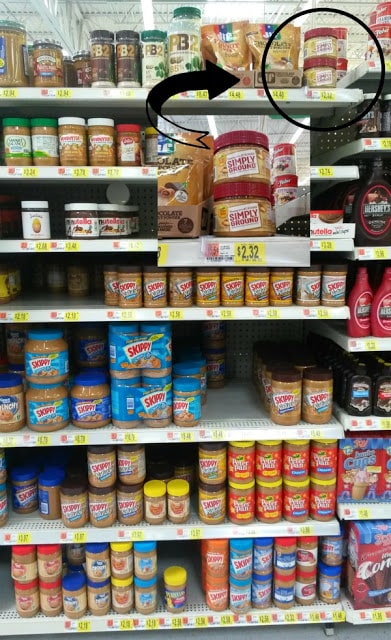 Follow I Heart Crafty Things on Facebook, Pinterest and Instagram for more crafty fun!