I've been really excited about the kids craft stars challenge this month with the material pasta. It's not something we've worked with very often so it was an extra fun challenge for me.
After looking at some elbows macaroni in my pantry I  decided they were the perfect shape for making a fun and colorful pasta fish craft.
The pasta adds awesome texture to our fish and they look like colorful scales so it was a perfect compliment.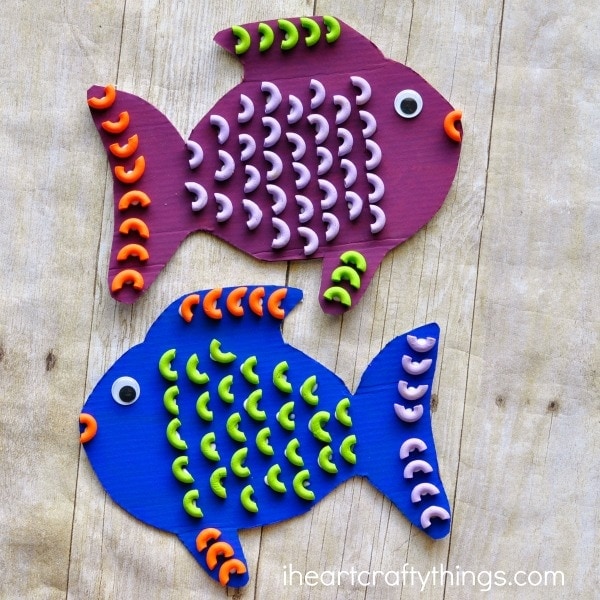 This post contains affiliate links to the products mentioned. Read our disclosure policy for more information.
How to Make a Pasta Fish Craft

Supplies Needed to Make this Fish Craft
– cardboard (like a cereal box)
– elbows macaroni pasta
– acrylic paint (colors of your choice)
– sandwich bags
– wax paper or parchment paper
– googly eyes
– scissors
– glue
Directions for this Pasta Fish Craft
1. Start by painting your elbows macaroni pasta. To do this, I squired some paint into the bottom of a sandwich baggy, then poured a handful of pasta into the bag. Seal it shut and squish the pasta around to coat them with the paint. Once coated, pour them out onto a sheet of wax paper or parchment paper to let them dry. Some of the pasta will come out in clumps stuck together, so use your fingers or a paintbrush to separate them. We chose to make three different colors of pasta. Do as many or as little as you want.
Check out our free Easter Bunny coloring pages!
Note: You can also dye the pasta traditionally with food coloring or liquid watercolors, but the colors won't turn out as bright as they will with acrylic paint.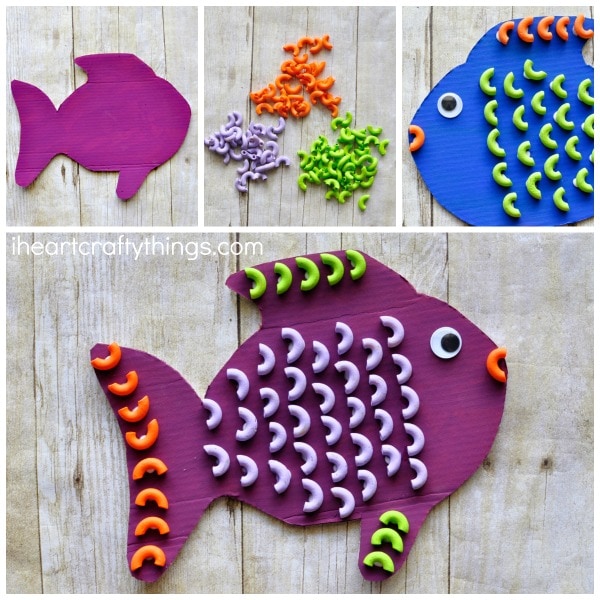 2. Cut a fish shape out of your cardboard. I am not great at free handing so I searched for a fish shape on Google and used it for a pattern for our fish. Paint your fish and set it aside to dry completely.
3. Once your pasta and cardboard fish are dry it's time for the fun part. Glue a googly eye onto your fish and then glue your pasta all over your fish to make fish scales and fun designs on your fish. Make sure to use a piece of pasta for the fish mouth because it works perfectly and brings the whole fish craft together.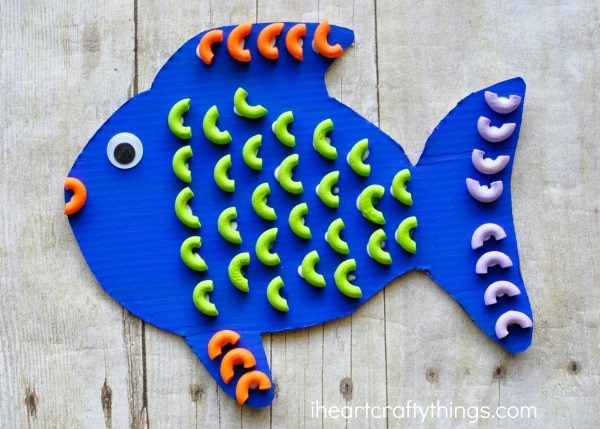 I love how the the combination of bright colors turned out on our fish! There are so many fun books that would go along great with this pasta fish craft. Here are some that we love:
Hooray for Fish! by Lucy Cousins
The Rainbow Fish by Marcus Pfister
Commotion in the Ocean by Giles Andreae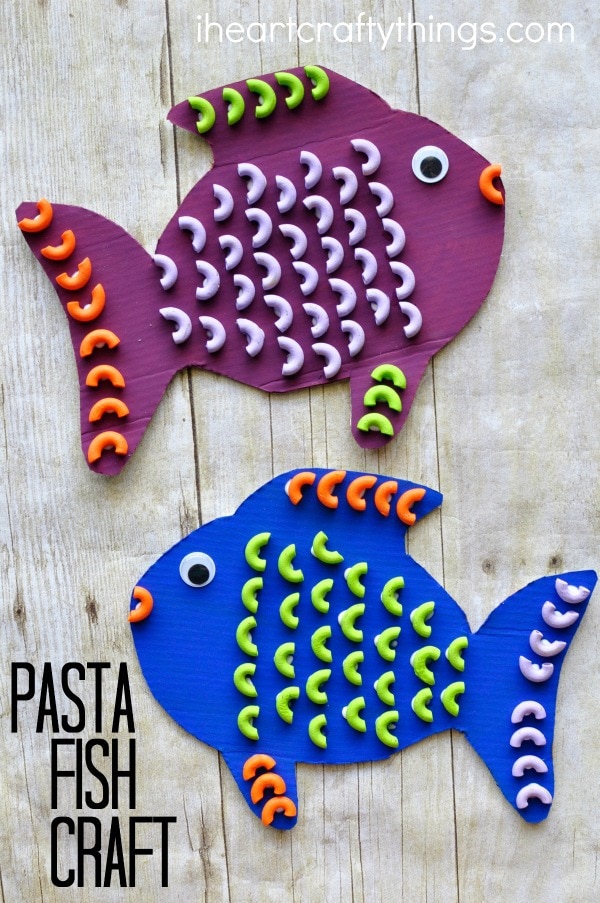 Check out these other pasta crafts from the kids craft stars! You can keep up with all of our latest crafts by following our Pinterest Board or following our hashtag #kidscraftstars on Instagram.
Colored Pasta and Clay Craft | Artsy Momma
Pasta Noodle Lion Craft | Crafty Morning
Pasta Peacock Craft | I Heart Arts n Crafts
Mr. Pasta Head Kids Art Project | hello, Wonderful
Hello Kitty Craft Bookmark using pasta | Artsy Craftsy Mom