I'm a redhead so naturally I get uberexcited when St. Patrick's Day rolls around every year and I have an excuse to make cute little orange-haired leprechaun crafts. This year is no exception and while we started with an adorable rainbow craft for St. Patrick's Day, today I have already moved on to my favorite little Irish characters. This paper bowl leprechaun craft is super easy to make and did I mention how adorable it is? Seriously, put it on your to-list so you can have some cute leprechauns hanging up on your craft wall for St. Patrick's Day. Let's get started…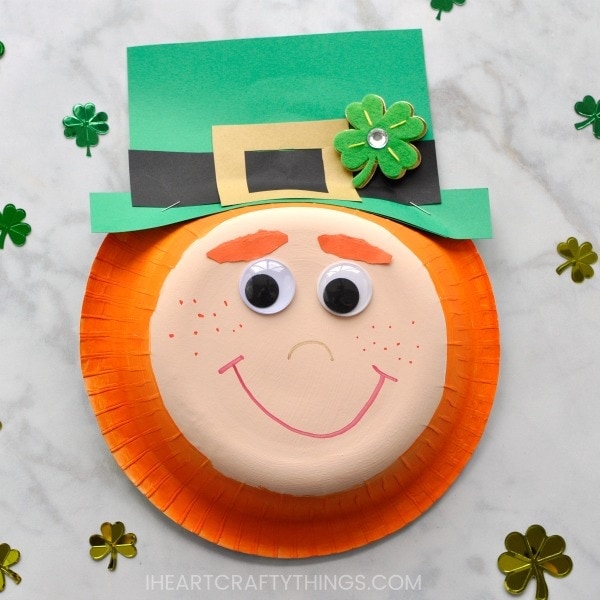 How to Make a Paper Bowl Leprechaun Craft
This post contains affiliate links to the products mentioned. I Heart Crafty Things is a participant in the Amazon Services LLC Associates Program, an affiliate advertising program designed to provide a means for sites to earn advertising fees by advertising and linking to amazon.com.
Supplies:
googly eyes
green, black and gold cardstock (or construction paper)
scissors
glue
stapler
Instructions:
1. Begin by painting the bottom of your paper bow. Start by painting the center circle section with peach paint. Then paint the outside rim of the paper bowl with orange paint. Set your paper bowl aside to allow the paint to dry completely.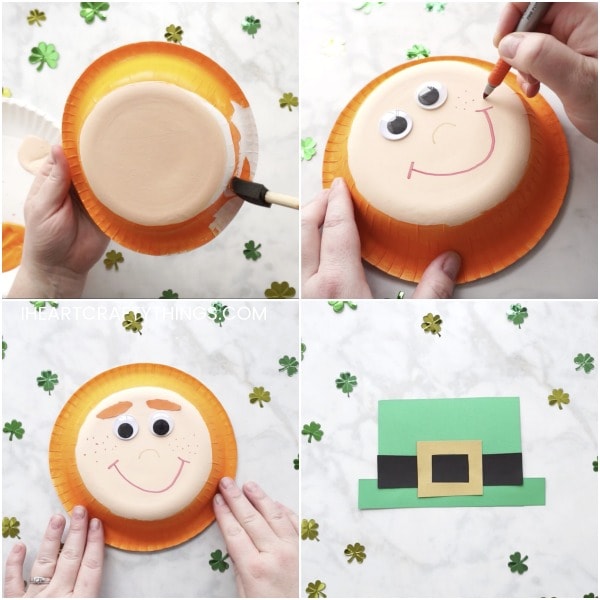 2. Once your paint has finished drying, glue googly onto the bottom of your paper bowl. Then use markers to draw a nose, smile and freckles on your cute leprechaun craft.
3. Tear two small strips off a piece of orange construction paper for eyebrows. Shape them with your scissors if needed. Then glue them above your googly eyes.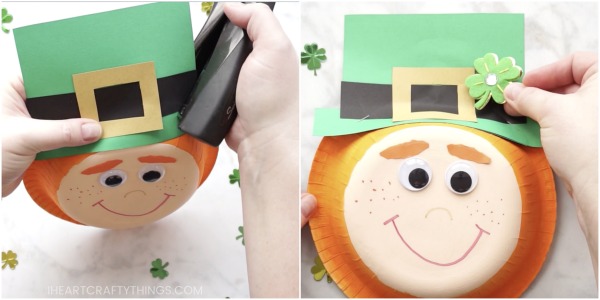 4. Cut out the shape of a leprechaun hat from green cardstock. Then cut out and glue a black strip above the brim of the hat. Next cut out a buckle from your gold cardstock and glue it onto the center of your black strip.
5. Staple the leprechaun hat at the top of the paper bow. Push the center of the hat downward so the hat lays down flat. Then finish your adorable leprechaun craft by adding a shamrock sticker onto his hat.
That's a mighty cute Leprechaun Craft if I say so myself!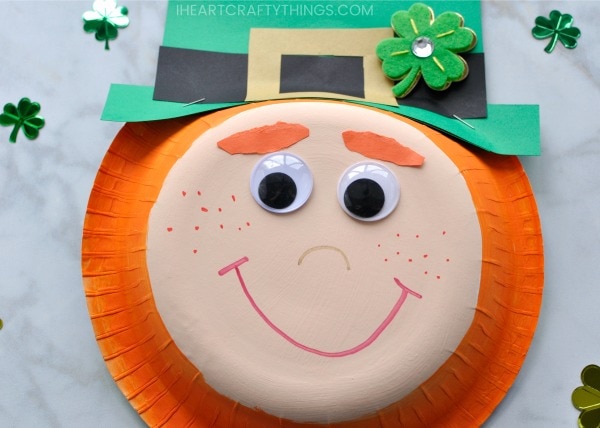 Looking for more fun St. Patrick's Day arts and crafts ideas:
These little shamrock finger puppets are oh so cute and super fun for kids to play with!
Here's a clever way to use orange fruity cereal into a cute leprechaun kids craft.
Kids will love giving these paper plate shamrock twirlers a whirl!