We are clearly obsessed with painted newspaper crafts. After we made our apple tree craft last week I knew we couldn't stop for the year until we made a beautiful painted newspaper fall tree craft. This is a super simple fall kids craft that is colorful and perfect for kids of all ages. Time to stock up on some newspaper because after giving this craft a go, you'll likely be obsessed with painted newspaper crafts just like us.  🙂 Find some book recommendations at the bottom of this post.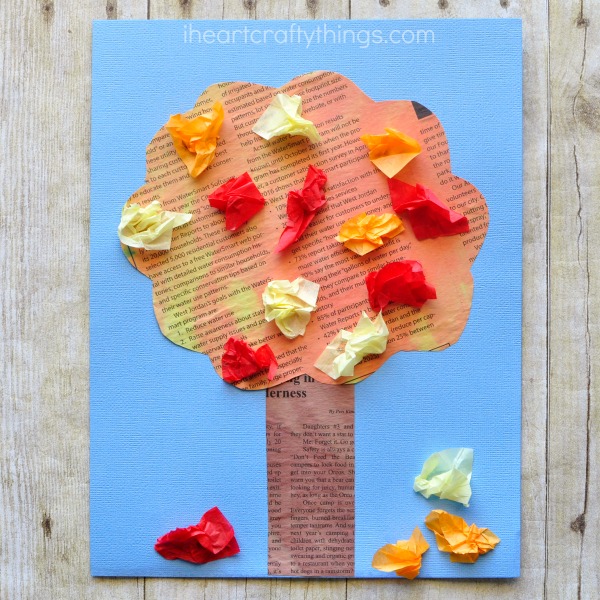 This post contains affiliate links to the products mentioned. Read our disclosure policy for more information.
How to Make a Painted Newspaper Fall Tree Craft

Supplies:
– light blue cardstock paper
– newspaper
– liquid watercolors
– red, orange and yellow tissue paper
– scissors
– glue
Directions:
1. Start by painting a section of your newspaper with your brown liquid watercolors and a section with fall inspired colors like orange, yellow and red. Your newspaper may be saturated but let it sit for several hours or overnight and it will crisp back up.
2. When your newspaper is finished drying cut out a tree trunk from your brown painted section and glue it onto the bottom of your blue cardstock paper. Then cut out a tree top from your orange and yellow painted section and glue it on top of your tree trunk.
3. You can leave your fall tree craft simple and leave it as is, or if you want to add some extra texture cut up red, orange and yellow tissue paper squares, crinkle them up and glue them all over your tree. You can even glue some at the bottom of your paper as if they are leaves falling off the tree.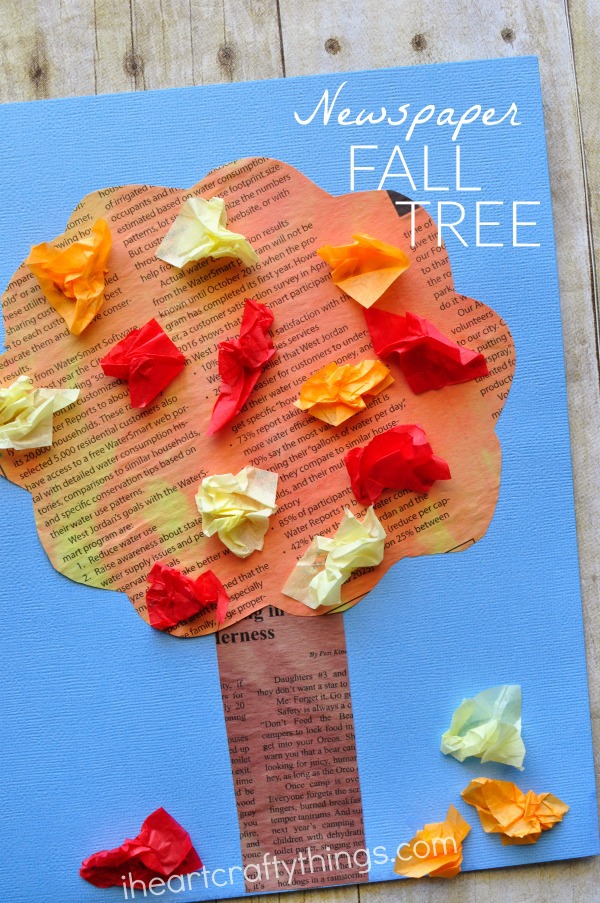 Try coupling this pretty newspaper fall tree craft with one of these books:
– When Autumn Falls by Kelli Nidley
– Fall Mixed Up by Bob Raczka