Looking for a fun craft to make with the kids this week for Shark Week? I've got you covered!
This newspaper shark craft for kids is amazingly simple to make and is great for kids of all ages so it makes a perfect activity for the whole family. Plus, it only requires a few supplies to make so you probably already have everything you need on hand for the activity.
When everyone is finished with their shark craft, hang them up on display and enjoy how custom each shark's personality is just like each person in your family.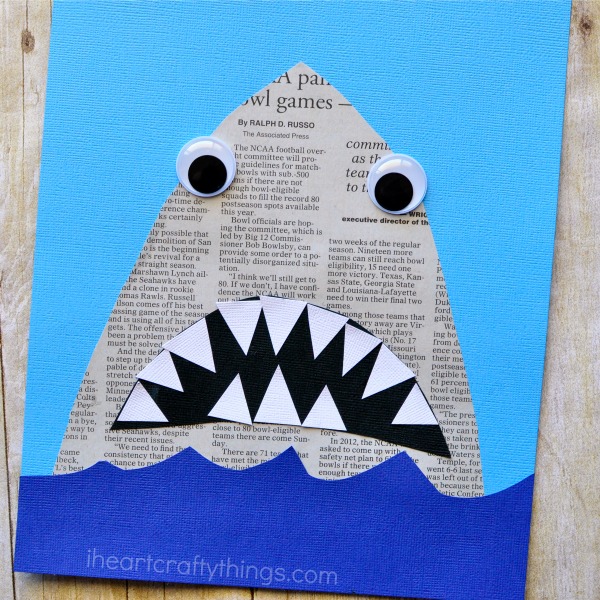 This post contains affiliate links to the products mentioned. Read our disclosure policy for more information.
I originally saw the idea for this shark craft on Pinterest from Learning in Spain. I've been so excited to make it with my kids for Shark Week. The only difference in our craft is we added the recycled element by using newspaper to make our shark. I love the added texture the newspaper brings to the craft, don't you?
How to Make a Newspaper Shark Craft

Supplies Needed for this Shark Craft
– light blue, dark blue, black and white cardstock paper
– newspaper
– googly eyes
– scissors
– glue
Directions for this Shark Newspaper Craft
1. Start by cutting out your shark face shape from your newspaper. The fun part about this craft is how everyone creates a personalized shark by how they cut out their face. You can make it skinny or wide, short or tall, however you choose. Glue your shark face onto your light blue cardstock paper.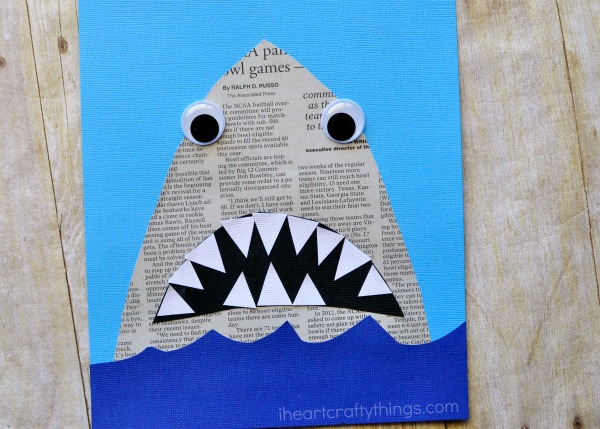 2. Cut out ocean waves from your dark blue cardstock paper (or construction paper) and glue them at the bottom of your light blue paper, underneath your shark face.
Upgrade your art skills! Learn how to draw a horse!
3. Cut out a shark mouth and teeth from your black and white cardstock paper. Glue them onto your shark face, together with your googly eyes.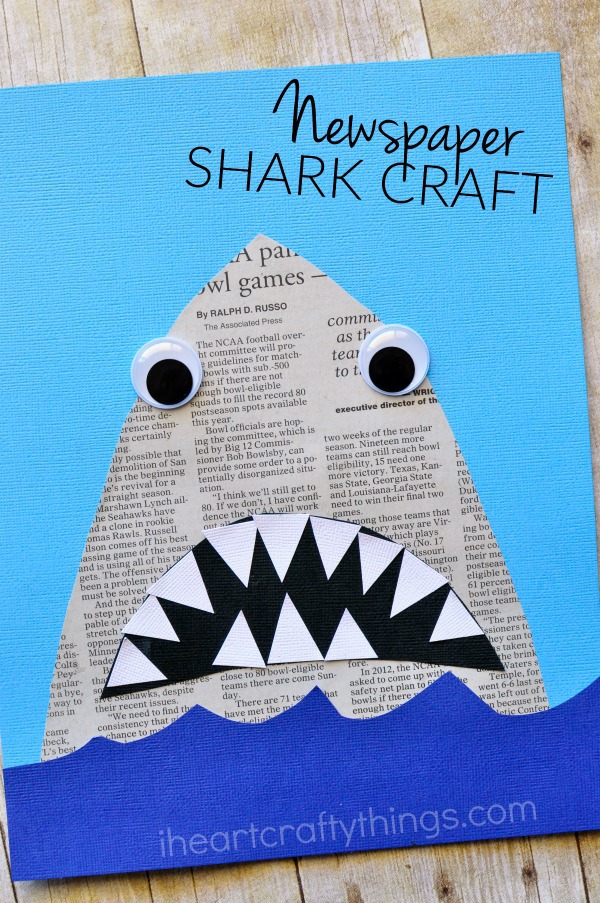 Looking for some fun books to go along with this newspaper shark craft for shark week? Try some of these:
– Shark-Mad Stanley Grouth by Griff
– Shark vs. Train by Chris Barton
– Clark the Shark by Bruce Hale
– Hark! A Shark! (Cat in the Hat's Learning Library)
– Surprising Sharks by Nicola Davies (fun non-fiction book for learning more about sharks!)