Who else has been loving the adorable llama trend this past year? I can't help but oogle every time I come across any type of llama decor because it is just so cute. I decided it was time to bring the colorful llama theme into a fun kids craft so today we are sharing how to make these playful llama craft finger puppets. Not only are they super fun to create and decorate but kids will have a blast playing with them afterwards. They would also make a great activity for a llama theme party.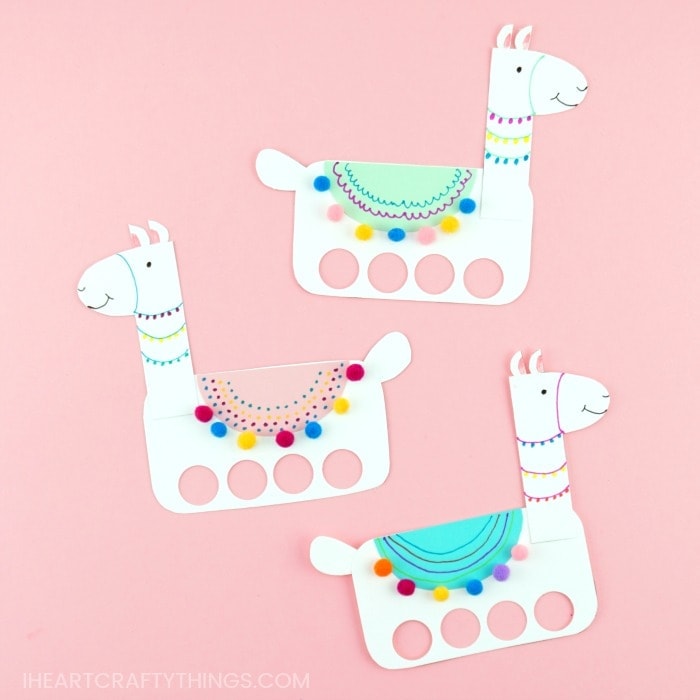 How to Make a Playful Llama Craft
This post contains affiliate links to the products mentioned. I Heart Crafty Things is a participant in the Amazon Services LLC Associates Program, an affiliate advertising program designed to provide a means for sites to earn advertising fees by advertising and linking to amazon.com.
Supplies:
*We received our pom-poms for free from our friends at Oriental Trading. All opinions expressed are 100% my own.
Directions:
1. Begin by downloading the llama craft template and printing it on your heavy white cardstock. Cut out each of the pieces from the template. Use the half circle piece in the template and cut out the shape from a colored piece of cardstock or construction paper.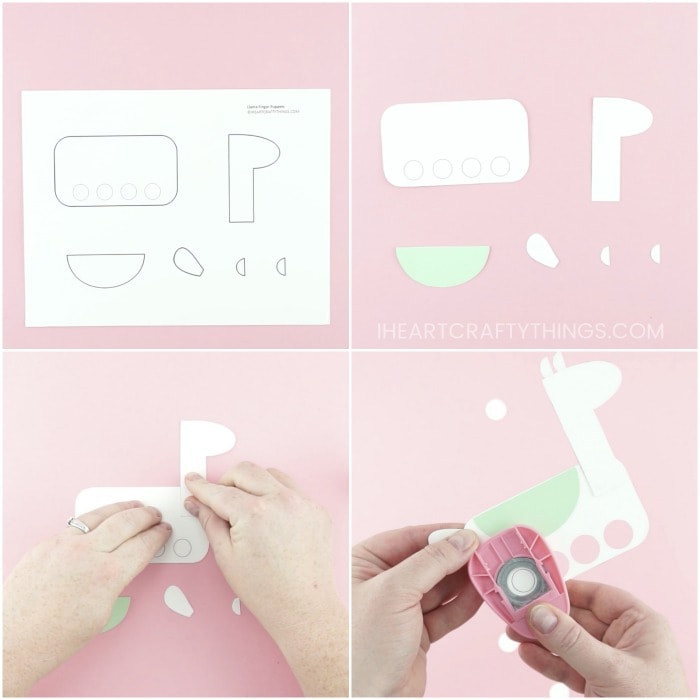 2. Glue the pieces of the template together. Start by gluing the llama head and neck onto the body. Then glue the tail onto the end of the body. Next glue the ears at the top of the llama head. Last glue the colored half circle on the llama's back.
3. Use a 3/4-inch circle punch to cut out the circles at the bottom of the llama body.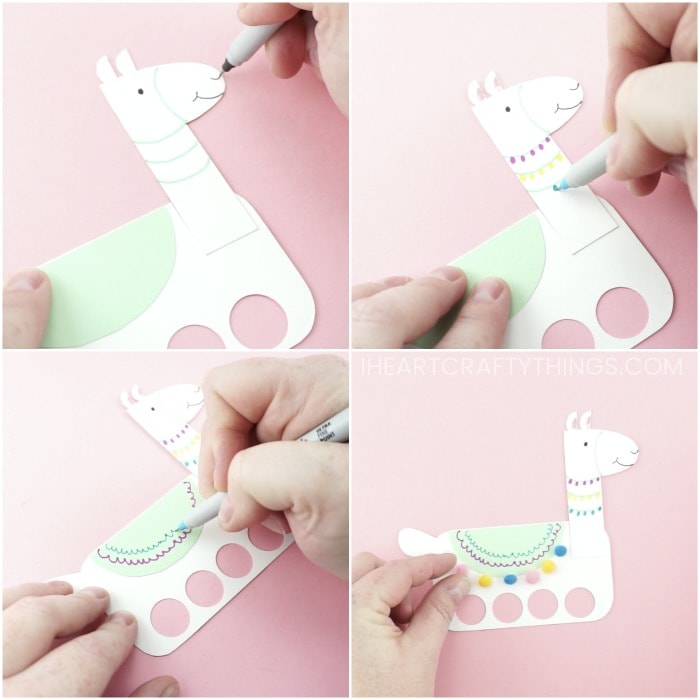 4. Choose several different colored markers to decorate your llama. Color an eye, nose and mouth on your llama face. Next fill in a small section on the ears with pink marker. Then draw the harness around the muzzle and neck.
5. Add circle tassels along the harness strings on the neck of the llama. You can also add lines, squiggles or dots inside the colored cardstock on the llama's back.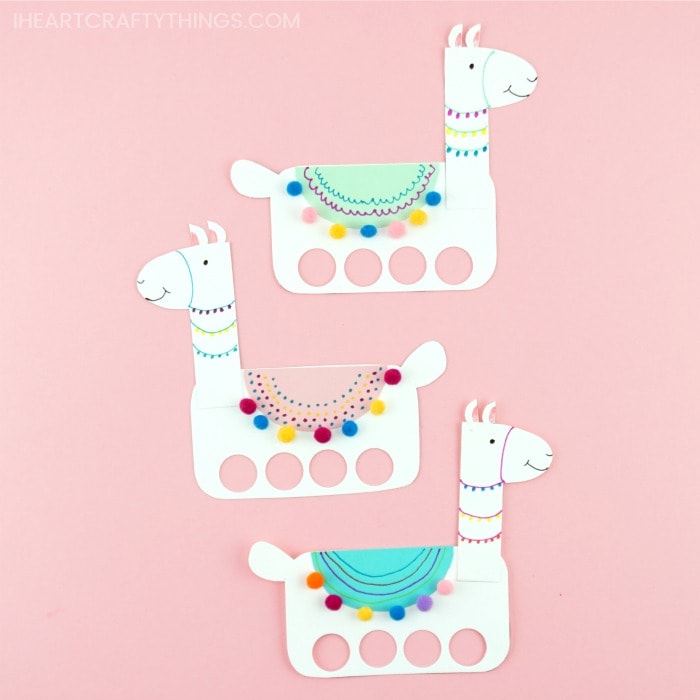 6. To finish your llama craft, add several dots of Tacky Glue along the bottom of the colored cardstock half circle. Add a small pom-pom on each dot of glue. Let the glue dry completely before playing with your llama finger puppets.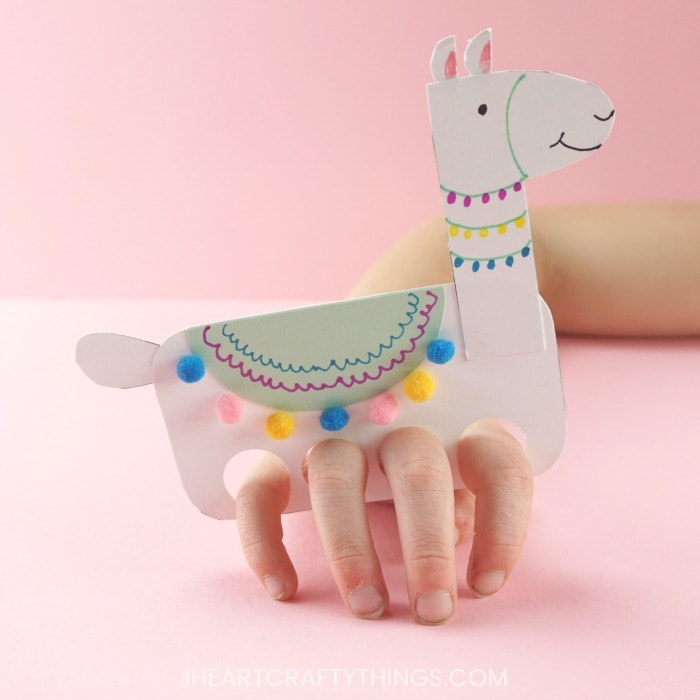 Your Llama Craft is complete!
To play with your llama finger puppets, place four fingers into the holes at the bottom of the puppet. Now move your fingers around and let your llama run, dance and jump around.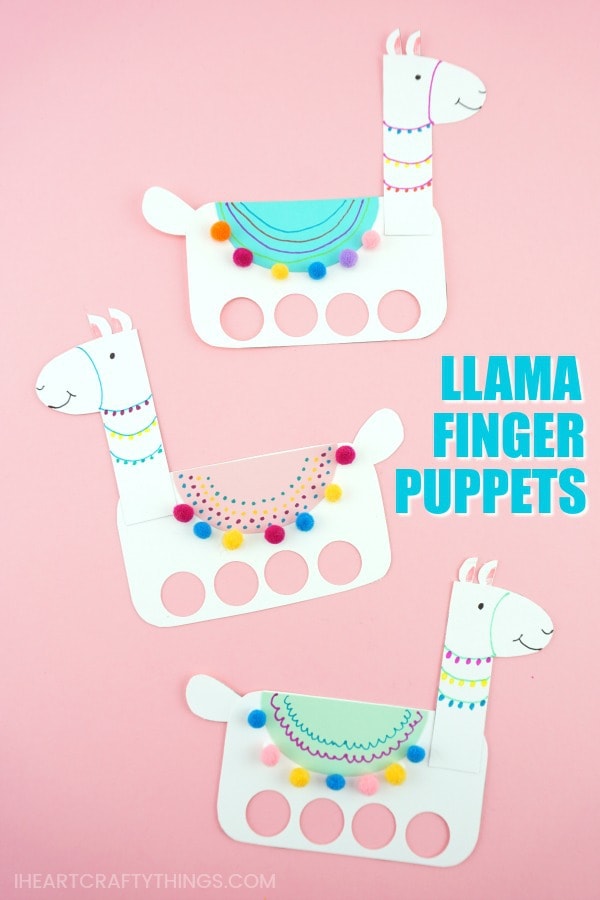 More Fun Finger Puppet Crafts
Have a Unicorn fan? They will love playing with these gorgeous unicorn finger puppets.
Planning a trip to the zoo soon? These cute giraffe finger puppets are a great craft to make after your visit.
Ahoy, mateys! Kids will have a blast making and playing with these awesome pirate finger puppets.