Finger puppets are the ultimate definition of fun for kids. Who I am kidding though, I'm an adult and I have as much fun with them as my kids do! 😉 This year for St. Patrick's Day add something extra special to your holiday celebrations by creating these awesome leprechaun finger puppets.
These adorable little leprechaun finger puppets are great for kids of all ages, especially for preschoolers. Preschool is a great time to work on strengthening fine motor muscles in the hands and fingers and that makes these leprechaun finger puppets a perfect compliment to your St. Patrick's Day celebrations.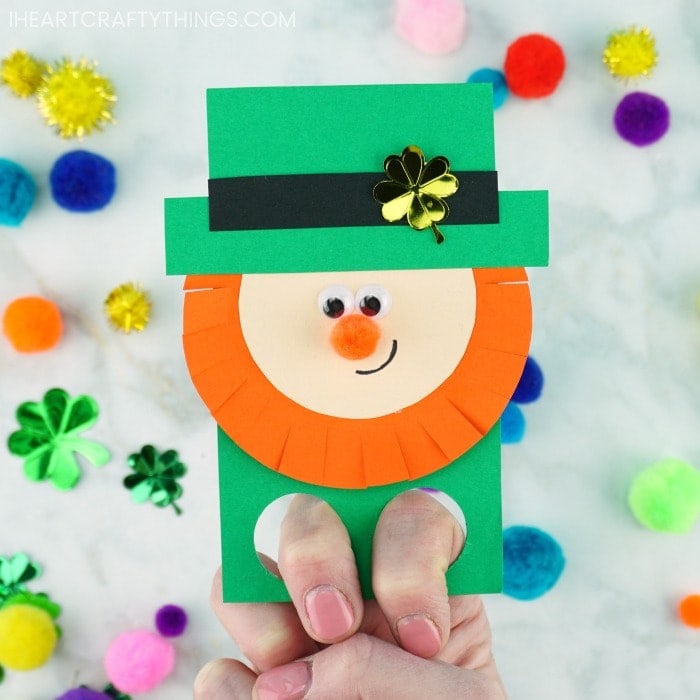 This fun St. Patrick's Day Craft only requires a few simple materials which you probably already have on hand at home and school, so will love how easy this leprechaun craft is to create.
Our handy template makes creating these leprechaun finger puppets extra simple so go grab your supplies and gear up for this amazingly fun St. Patrick's Day craft idea.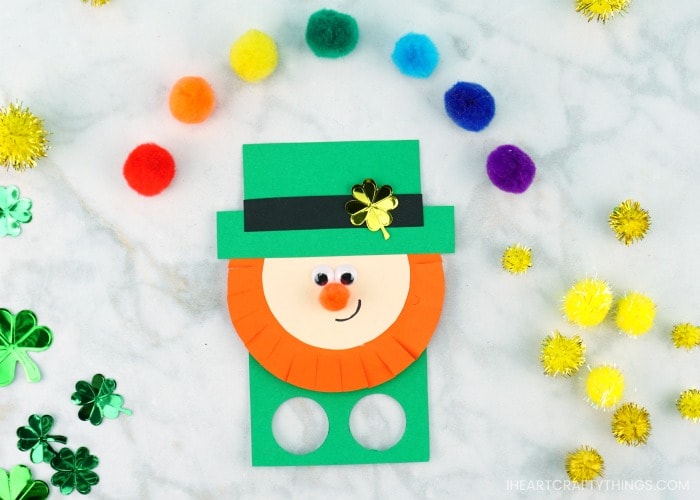 How to Make Awesome Leprechaun Finger Puppets
This post contains affiliate links to the products mentioned. I Heart Crafty Things is a participant in the Amazon Services LLC Associates Program, an affiliate advertising program designed to provide a means for sites to earn advertising fees by advertising and linking to amazon.com.
Supplies for Leprechaun Finger Puppets
leprechaun finger puppets template <—- GET THE TEMPLATE
white cardstock
pencil for tracing
green cardstock
orange cardstock
cream cardstock
black cardstock
3/4-inch circle punch
small googly eyes
small orange craft pom
fine tip black marker
extra strength glue stick
scissors
[Side note: If you don't have the resources or don't want to trace the template pieces onto colored cardstock paper, you can simply have kids color our black and white template with crayons or markers and then create their leprechaun finger puppets.]
Instructions for Leprechaun Finger Puppets
1. Begin by downloading and printing out the leprechaun finger puppets template on white cardstock. Cut out each of the pieces of the template.
2. Grab your pencil and use it to trace each of the pieces of the template on your colored cardstock. Trace the leprechaun rectangle body and rectangle bottom of the hat on green cardstock. Then trace the large beard shape on orange cardstock. Finally trace the leprechaun face on cream cardstock and the brim of the hat on black cardstock.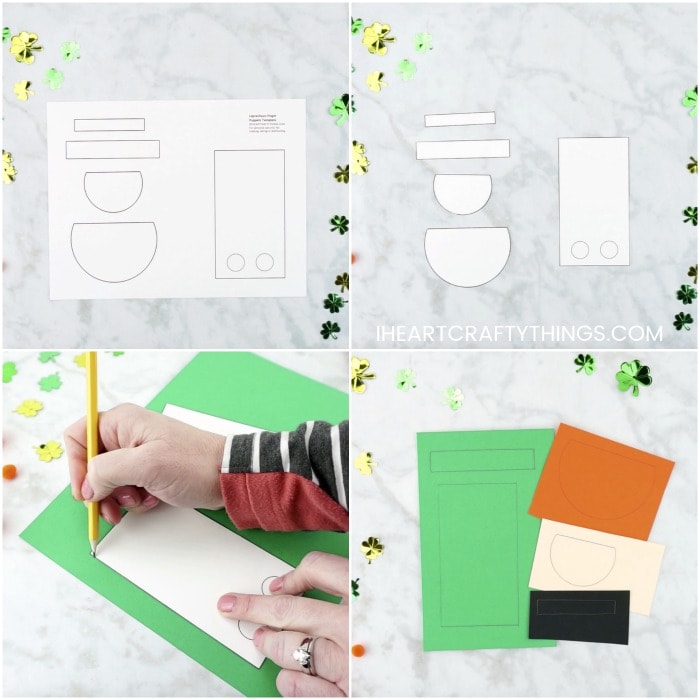 3. Cut out each of the traced template pieces on the different colored cardstock.
4. Place the leprechaun body template on top of the green one you've just cut out and line them up together as a guide. Use your 3/4-inch circle punch to cut out the two circles at the bottom of the rectangle. This creates the holes for you to place your finger in after your leprechaun puppet is created.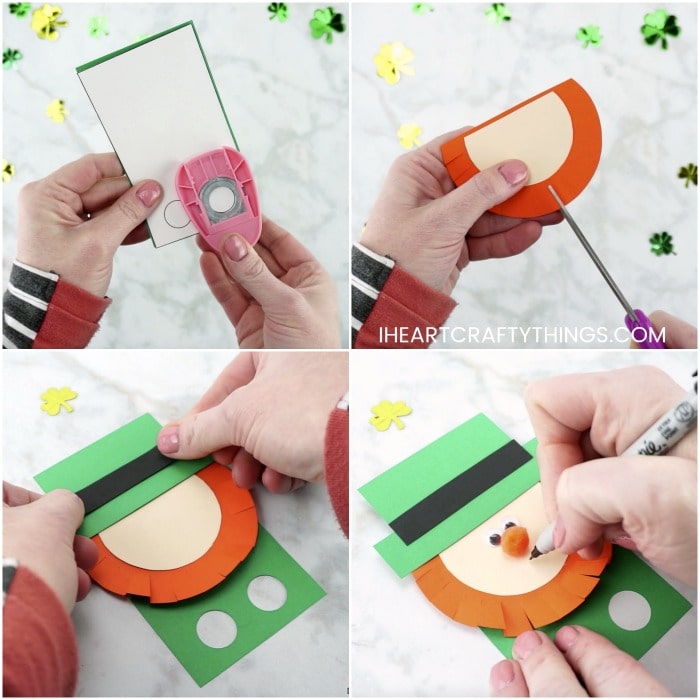 5. Glue the cream leprechaun face onto the orange beard. Using scissors, carefully cut strips along the entire perimeter of the beard. Just make sure to not cut into the face of the leprechaun.
Time to assemble your leprechaun puppets together
6. Add glue on the back of your leprechaun beard and glue it onto the green leprechaun body, leaving only a small amount of space above the finger puppet holes.
7. Now glue the bottom of the hat at the top of the leprechaun head. Finish by gluing the small black rectangle on the hat.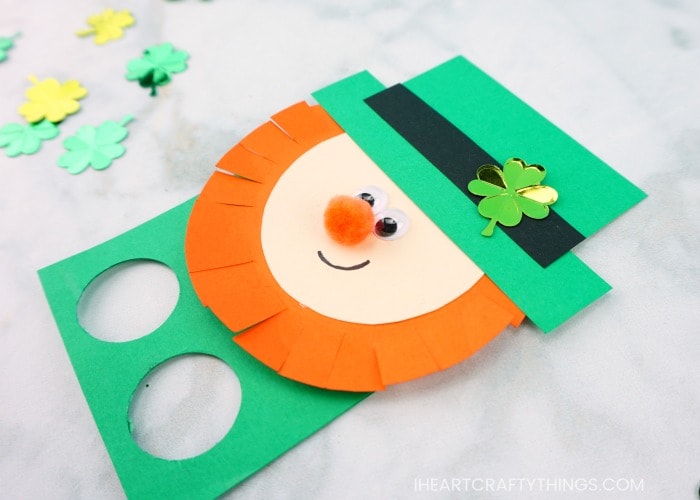 8. Use an extra strength glue stick or school glue to glue small googly eyes onto your leprechaun craft. Then glue a small orange pom on your leprechaun for a nose.
9. Grab your fine tip black marker and use it to draw a smile on your leprechaun craft.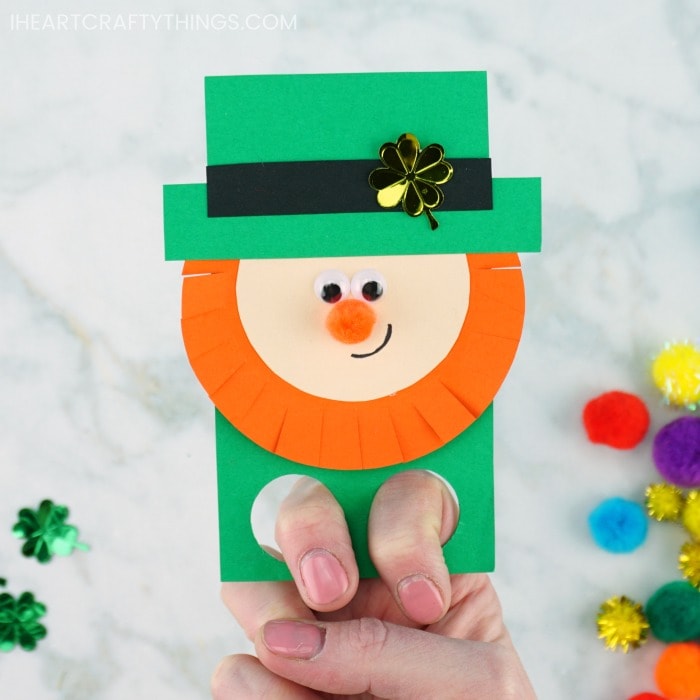 10. For a finishing touch, add a four-leaf clover embellishment or sticker on the brim of the leprechaun hat.
Your leprechaun finger puppets are ready for play time!
To play with your leprechaun finger puppets, place two of your fingers inside the holes at the bottom of your leprechaun. Move your fingers around and watch as your leprechaun walks and dances around.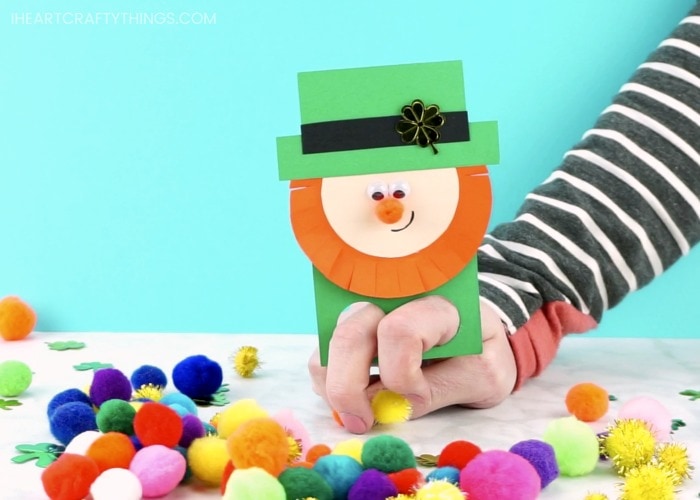 You can make a DIY theatre out of a cardboard box and put on a puppet show for your family, friends or classmates with your leprechaun puppets.
Or simply set up a play area for your little leprechauns with colorful rainbow poms, sparkly yellow poms to look like leprechaun gold and four-leaf clover stickers or embellishments laying around. Walk and dance your leprechaun finger puppets around in the colorful poms like they are playing in a rainbow.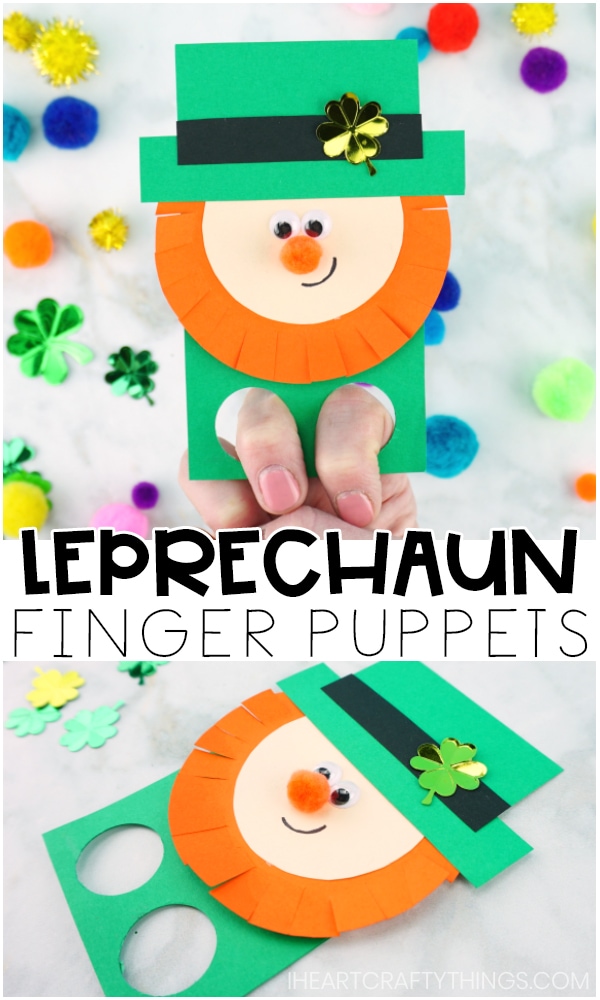 Video Tutorial: How to Make Awesome Leprechaun Finger Puppets
Watch the video below to be guided through each step of our leprechaun finger puppets craft.
You can view more easy kids craft tutorials on our Facebook page, or right here on our website.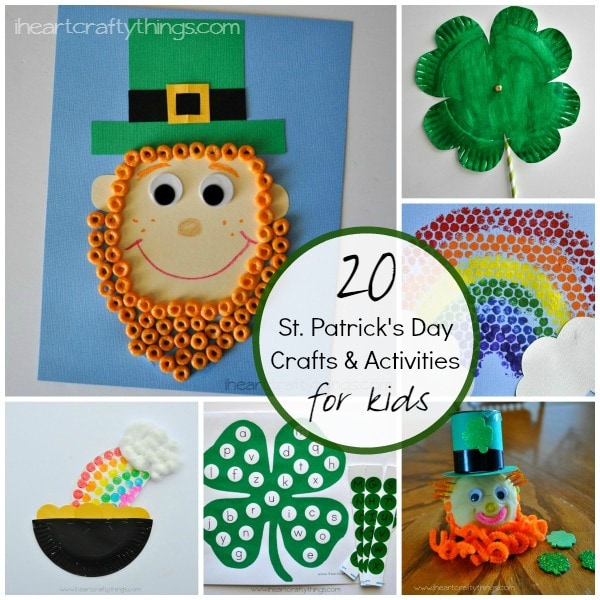 More Finger Puppet Craft Ideas
These winter gnome finger puppets are beyond adorable! We made them for the winter season but you can easily take off the snowflakes and create them for any time of the year.
Have unicorn fans? They are going to be ecstatic over creating and playing with these unicorn finger puppets. Guess what? You can use a similar design to make zebra and llama finger puppets too. Eeek! So much fun!
You won't believe how simple these duck finger puppets are to create with some simple shapes. Aren't they adorable? Perfect for toddlers and preschoolers for pretend play!
Looking for more fun and easy spring crafts? Check out this resource of over 150 spring craft ideas for kids.