My son and I made this darling Leprechaun Craft today and I am in love with how his turned out. He was pretty smitten by him too and told me his name was "Shammy." Too cute, right?! If you are looking for a simple craft to celebrate St. Patrick's Day, look no further. This leprechaun craft is super simple to make and kids of all ages will enjoy it. The torn paper construction paper beard adds some extra fun, festive flair and dimension to this cute kids Leprechaun craft too.
This Leprechaun craft and post has been edited since it was originally posted. You will find pictures of our original craft and the updated version here. If you have any questions, email me at rachel@iheartcraftythings.com.
How to Make a Simple Leprechaun Craft
This post contains affiliate links to the products mentioned. I Heart Crafty Things is a participant in the Amazon Services LLC Associates Program, an affiliate advertising program designed to provide a means for sites to earn advertising fees by advertising and linking to amazon.com.
Supplies:

Leprechaun Craft Instructions:
1. Below you can see how I prepped my paper pieces to start making the leprechaun craft. I cut an oval face shape out of a manila folder so we wouldn't have to color or paint it. You can always use white paper and just color it with a flesh colored crayon of your choice if you don't have a manila folder. You can see my pieces cut out for the face and hat pictured below. The orange construction paper will be used for the beard. NOTE: You can now get a pattern in my store to make prep time a breeze!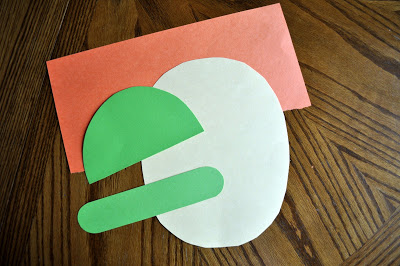 2. To start, glue the two hat pieces together and then glue it onto your Leprechaun Face. I had some shamrock glitter stickers so my son added those to the hat to make it special (optional). Instead of shamrock stickers you can also add a black hat belt and gold buckle to your leprechaun hat.
3. Then tear off small rectangle pieces of orange construction paper and glue them around the face to make the leprechaun beard. My son also tore a couple small pieces to use as eyebrows. When you are finished with the beard, glue on the eyebrows and two large googly eyes.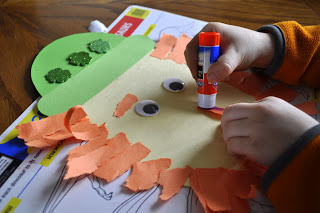 4. To finish your leprechaun craft, use crayons to finish making the face details by drawing on a nose and mouth. My son added freckles which I think made him extra cute.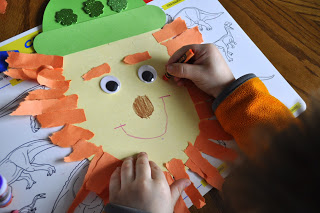 Your Leprechaun Craft is complete!
My favorite thing about this leprechaun craft is how different each child's leprechaun turns out. Each child can give their leprechaun a unique personality based on how their beard, eyebrows and smile look. This makes it a great craft to make at school to display on a classroom bulletin board for St. Patrick's Day.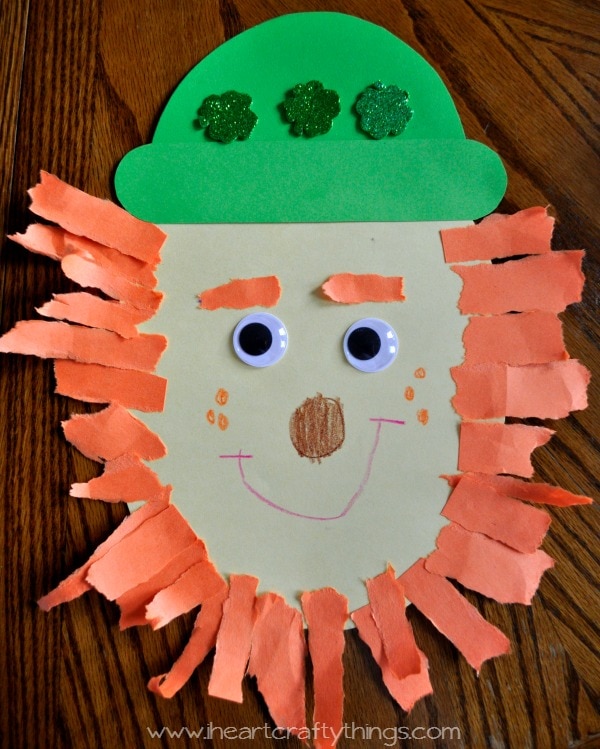 We have had so much interest in this craft over the years that we created a pattern to help for prep for home, preschool or in the classroom. You can find the pattern in my Teacher's Pay Teacher's store.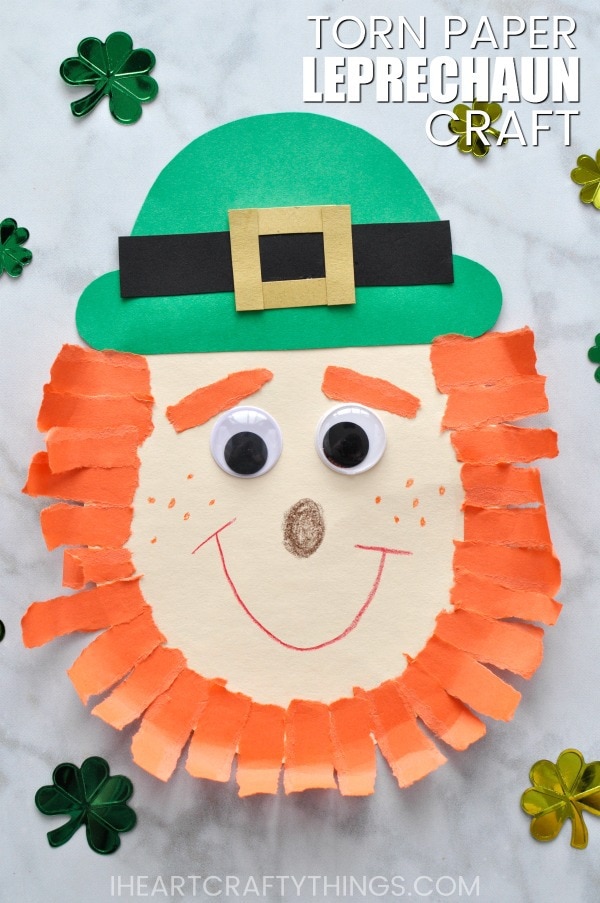 Looking for more fun St. Patrick's Day crafts:
This darling washi tape rainbow card is easy to make and will bring a big smile to someone's face.
Here is a fun way to turn a paper plate into a shamrock twirler. Load of fun for kids!
Do you want to pair this craft up with some Leprechaun books? Check out this post of 4 Fun St Patrick's Day/Leprechaun Books.