A big thank you to Hobby Lobby for sponsoring today's post. We hope you and your children enjoy making and playing with this Glitter Alphabet Slime Recipe.
Homemade slime seems to be all the rage lately, doesn't it?! I can see why since the stuff is so amazingly awesome to play with! It took me a few different tries to find a recipe that I love and now we always seem to have a container of colorful slime hanging out on our kitchen counter ready for someone to play with.
I came home with some colorful alphabet beads from Hobby Lobby last week and knew they would be a perfect addition to our favorite slime recipe.
Whether you are experienced at making slime or this will be your first time trying it, you and your kids are going to love this ooey, gooey Glitter Alphabet Slime Recipe.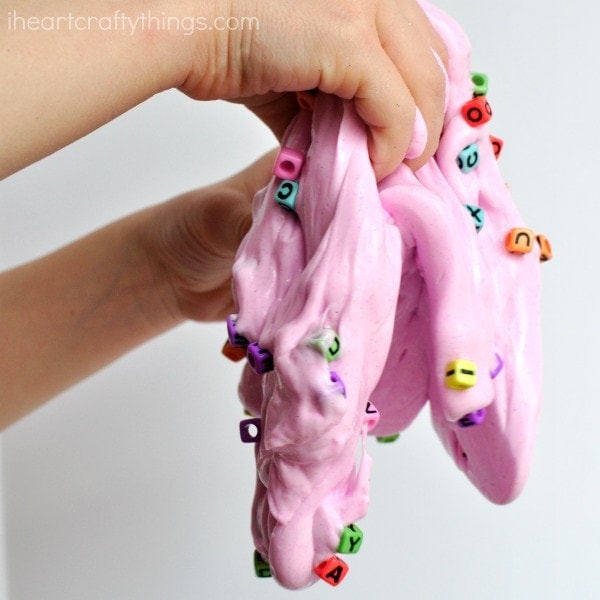 How to Make Glitter Alphabet Slime
Exploring slime is an amazing sensory experience for kids! It's a great opportunity for them to listen to what it sounds like when they squish the ooey, gooey slime through their fingers and great to experience what it feels like to touch the slime and squish it between their fingers. The addition of alphabet beads adds a fun educational component to this glitter slime recipe and we are excited to share it with you today.
Supplies Needed to Make this Glitter Alphabet Slime
½ cup Elmer's Glue-All Multi-Purpose Glue
½ cup water
½ cup liquid starch
food coloring
extra fine glitter
alphabet beads
½ cup measuring cup
large bowl
stirring spoon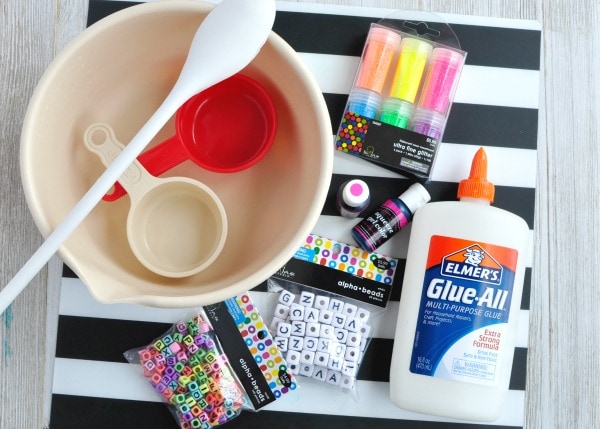 Instructions for Making this Alphabet Glitter Slime
1. Pour 1/2 cup of water into your large bowl. Then pour 1/2 cup of Elmer's Glue-All Multi-Purpose Glue into your bowl. Stir the two liquids together until they are thoroughly mixed.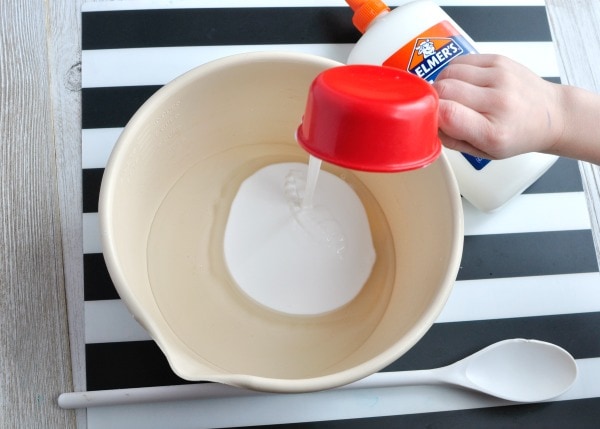 2. Add a drop or two of your food coloring into your bowl and thoroughly mix it. We love to use Squeeze Gel Color from Hobby Lobby because they have such a huge variety of colors to choose from. Plus a little bit goes a long way so the bottles last forever. Since you are combining the color with white glue it will be a muted version of the color.
TIP: If you use the gel color you really only need to add a tiny bit. If you add too much the slime might end up dying your hands when you play with it. I speak from personal experience.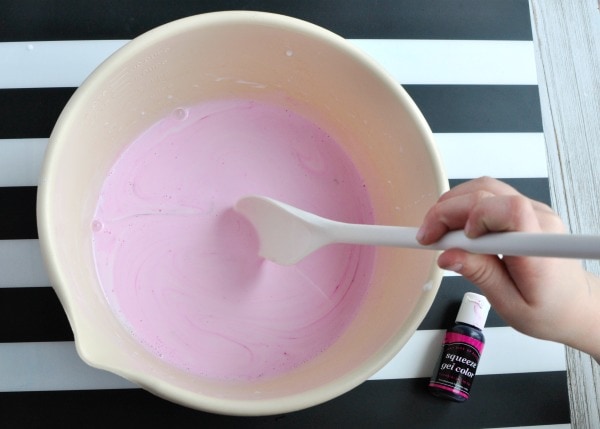 3. Add some fine glitter into your bowl and mix the solution together. At our house we live by the saying "glitter makes everything better" so we add a lot! In our pink slime pictured below we added both pink and purple fine glitter.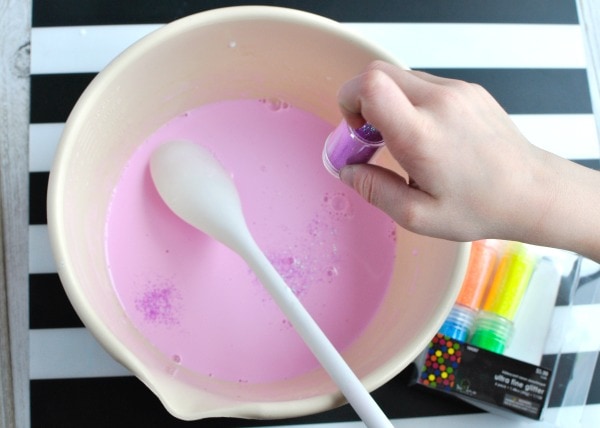 4. Measure out 1/2 cup of liquid starch, pour it into your bowl and begin stirring.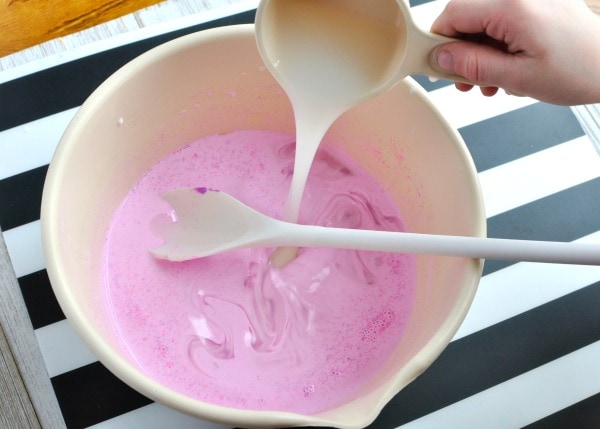 You'll notice the slime start to form immediately as you stir. Keep stirring as long as possible until you are left with a stringy slime consistency. Now comes the fun part! Use your hands to knead the slime for several minutes.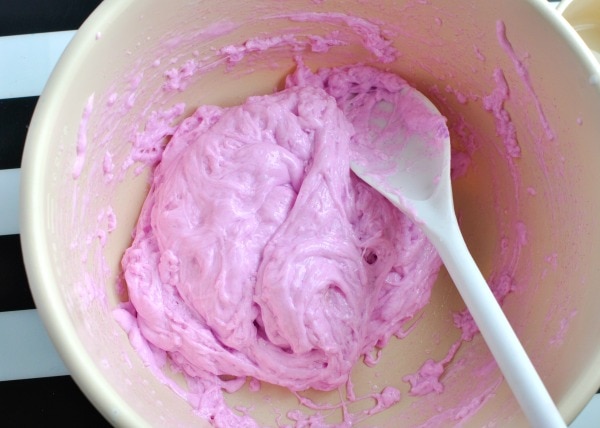 TIP: This is the part where I always get nervous because the slime still seems a bit stringy after kneading it for several minutes, but don't worry! Set the bowl aside and let it sit for at least 15 minutes and you will come back to smooth, beautiful slime in your bowl.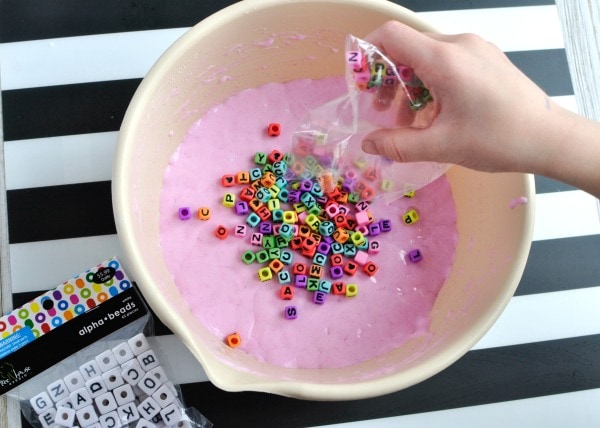 5. Before playing with your slime, pour your package of alphabet beads into your bowl. Press them down into your slime a bit and let them sit in the bowl for a few minutes to sink down into the slime a bit.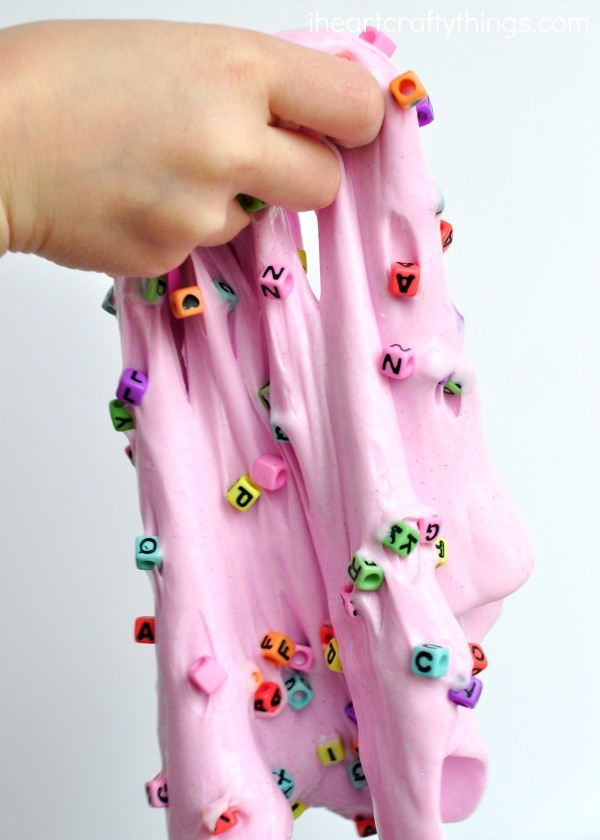 Playing with your Glitter Alphabet Slime
Slime should never be consumed! Children should always be supervised when making and playing with slime.
When my daughter played with her glitter alphabet slime, I left the activity completely open-ended. I was surprised to see how she naturally gravitated towards the letter beads.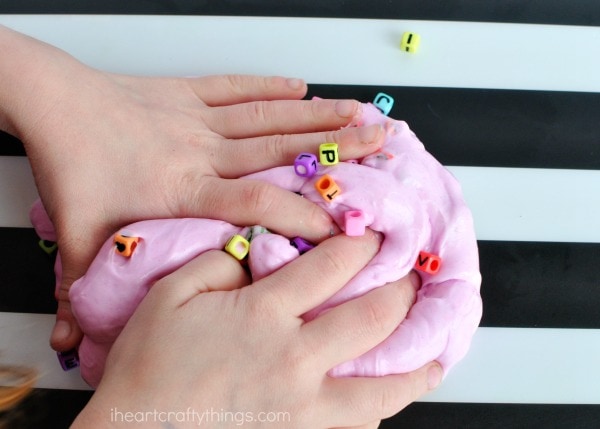 She pointed out and named letters all on her own. I watched her form a circle slime pizza and arrange the alphabet beads on the different slices how she wanted.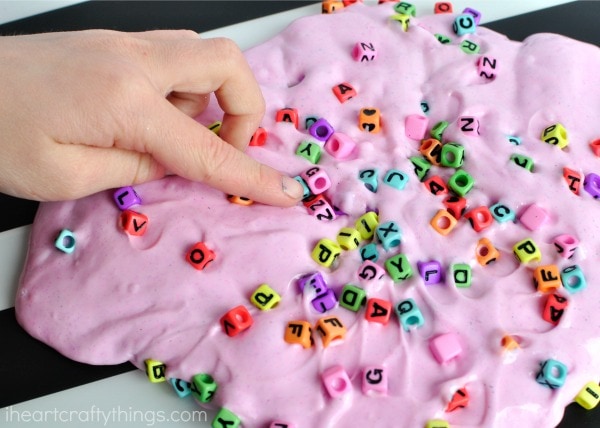 She also enjoyed holding the slime up high in the air and watched as it stretched back down to her place mat, admiring all of the colorful letter beads.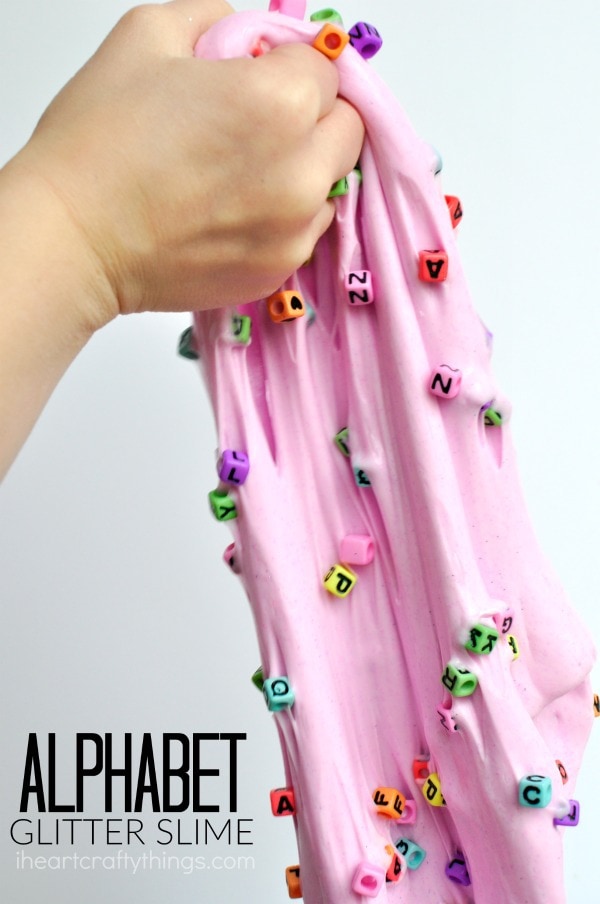 Tips for Keeping your Alphabet Slime Fresh:
Store your slime in an airtight plastic container for 1-2 weeks before tossing it out and making a new batch.
Always wash your hands thoroughly with soap and water before and after playing with your slime. This will help keep germs out of your slime so it will stay fresher longer.
We love to play with our slime on a clean plastic place mat so clean up is a breeze. If you play with your slime on a table or counter, make sure to wipe the surface before and after play with a disinfectant wipe. This will help keep your slime cleaner and fresher.
After the slime sits in the container for a long period of time you might notice some water separation on top of your slime. We always just pour any liquid out and knead the slime for a few minutes for it to absorb back in any water.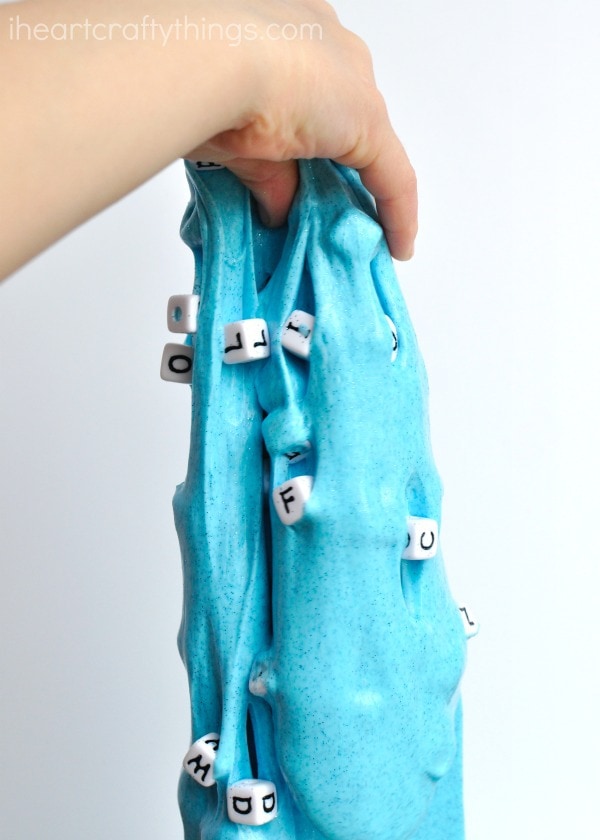 The best thing about making slime is how many different options you get to choose from when you make it…What fun color do you want to use? What kind of glitter and color do you want to choose? What fun mix-ins can you use to bring extra fun to your slime?
All of these fun options is what makes Hobby Lobby the perfect store for purchasing all of your slime supplies. They have a huge variety of different coloring agents, glitters and all the fun sequins, beads and mix-ins you could possibly think of. Not to mention how you can buy Elmer's Glue-All Multi-Purpose Glue in a larger quantity so you can make slime to your heart's content!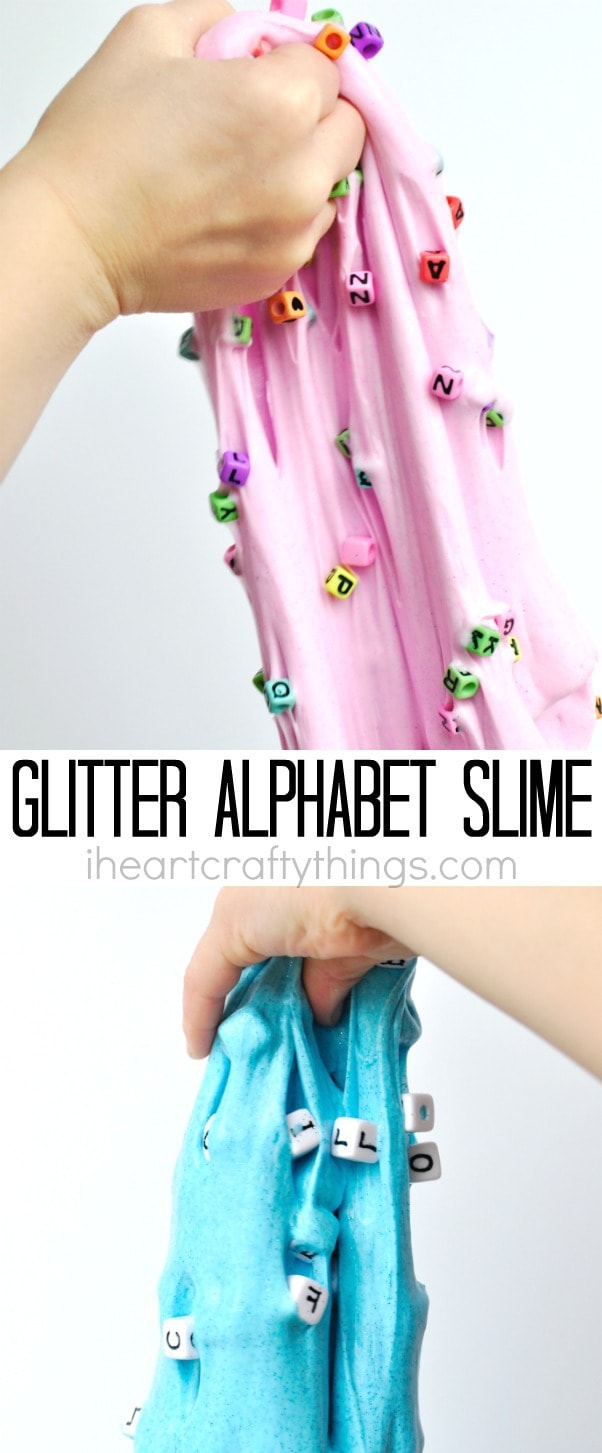 This is a sponsored conversation written by me on behalf of Hobby Lobby. The opinions and text are all mine.