Visiting the zoo is one of my preschooler's most favorite outings. She loves to sit and observe all of the animals and ask lots of questions.
One of her favorite animals at our local zoo is the giraffe. She is always amazed at their long, black tongues and she giggles as she watches them run around and play.
In honor of my daughter's love of giraffes, we made this adorable Finger Puppet Giraffe Craft.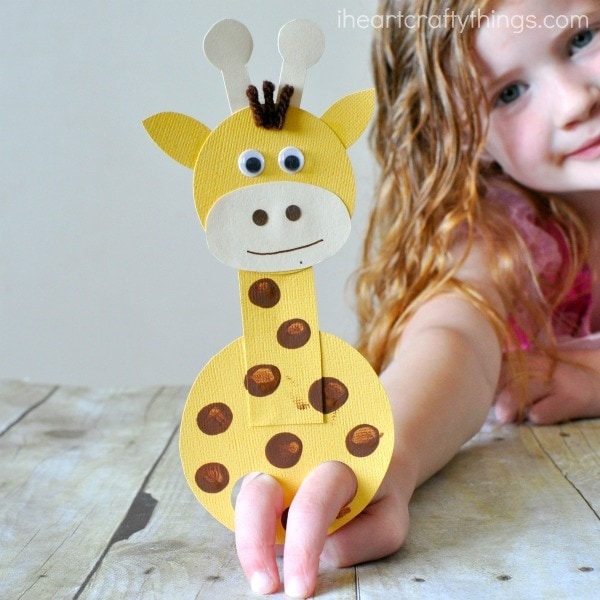 Finger puppets are such a hoot and are so fun to play with. We have made other animal finger puppets too, like zebras and llamas, as well as chicks and bunnies!  We truly have a blast with them!
But make sure to check out our other favorite zoo craft activities at the bottom of this post because we like more than just finger puppets around here!
How to Make a Finger Puppet Giraffe Craft
This post contains affiliate links to the products mentioned. Read our disclosure policy for more information.
*UPDATE* –We created a pattern for this craft you can download.
Supplies Needed for this Giraffe Craft
Yellow and brown cardstock paper
Cream colored cardstock paper (we used a manila folder)
Small googly eyes
Markers
Scissors
Glue
Instructions for assembling the Giraffe Craft
1. Cut out the following shapes from yellow cardstock paper: a 2 1/2-inch circle, a 3 to 3 1/2 inch circle, a rectangle for a giraffe neck and 2 ears. If you would prefer to simply print and cut these shapes out of our printable template, you are in luck! We recently created a pattern so you can do just that!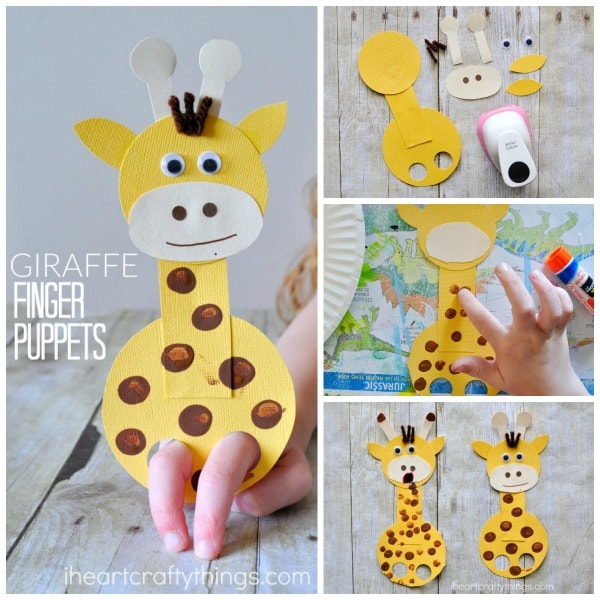 2. Using cream colored cardstock, cut out a snout and horns for your giraffe finger puppet. If you need help with the shape of these parts, check out the photographs below. They don't have to look identical, of course, and in fact, the uniqueness of each craft is often what makes it so special!
3. Take the 3/4-inch hole punch and punch two circles in the bottom of the larger yellow circle. These will become the finger puppet holes in the giraffe.
Check out these all new Barbie coloring pages
Next, glue the yellow rectangle giraffe neck onto the large circle. Glue the smaller circle on top of the rectangle neck. That becomes the giraffe head. Last, glue on your snout, ears, horns and googly eyes.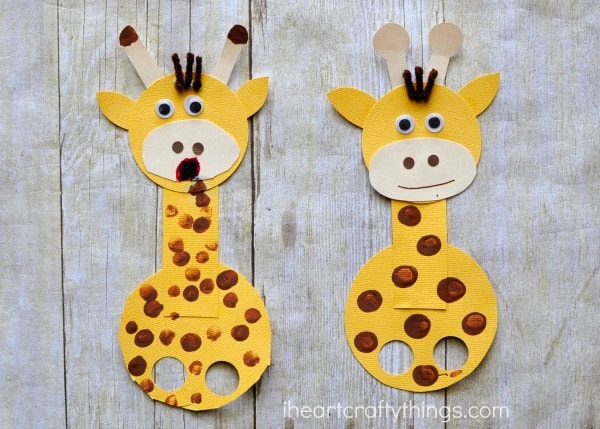 4. Punch out two brown holes with the hole punch and glue them onto the snout.  Cut off a few small pieces of brown yarn and glue them on top of the giraffe's head. Use markers to draw a mouth on your giraffe.
My preschooler also colored in the tips of her horns. You can personalize your giraffe craft whatever way you see fit!
5. Pour a small amount of brown paint onto a paper plate. Dip your finger into the paint and use it to make fingerprints all over your giraffe, making the giraffe spots.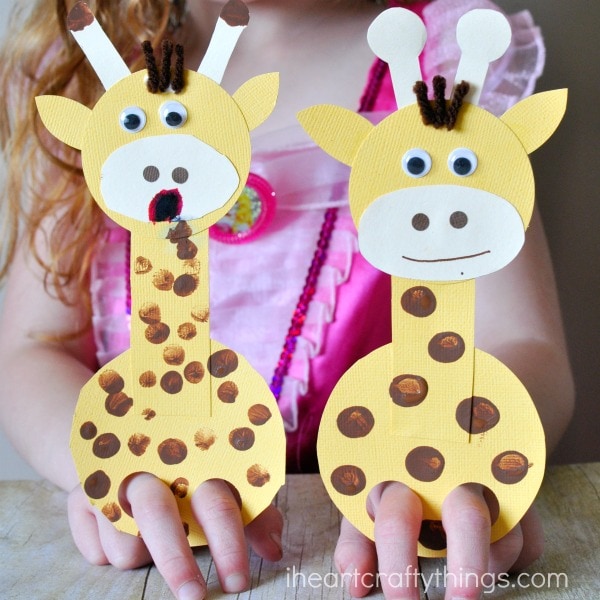 6. Once your paint and glue are finished drying, your finger puppet giraffe craft is ready for play! Simply place two fingers into the holes at the bottom of your giraffe puppet and start walking! Finger puppets can walk, run, dance and go wherever your imagination takes you!
Looking for some fun books to go along with this craft? Try one of these:
– Greedy Steve by Lisa McNeill
– Giraffes Can't Dance by Giles Andreae (one of our favorites!)
– Oh Dear, Geoffrey! by Gemma O'Neill
– Gemina the Crooked Neck Giraffe by Karen B. Winnick (Read our review of this book)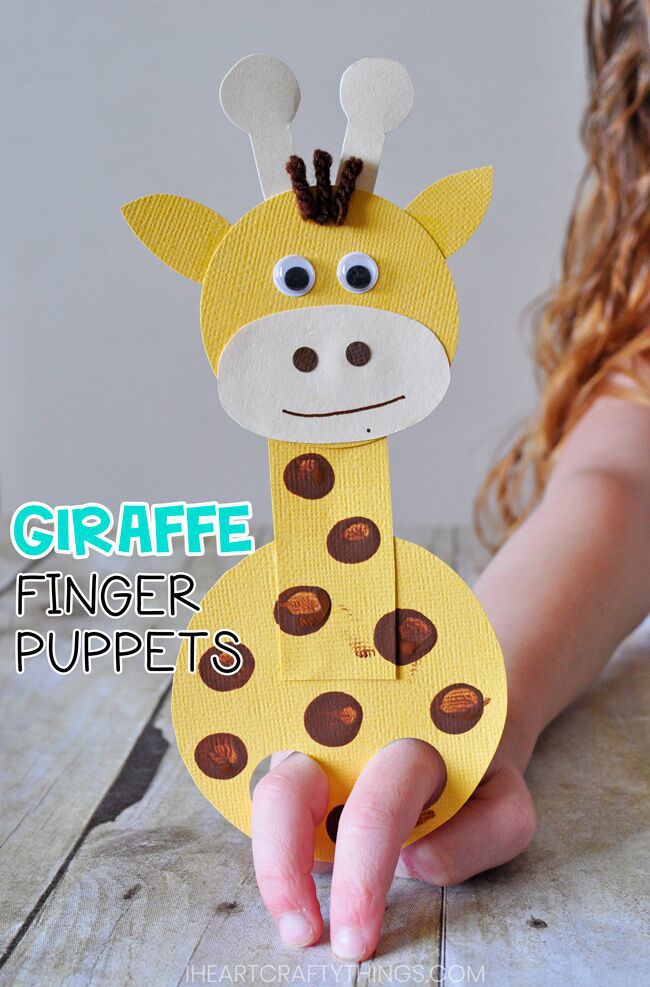 Video Tutorial: How to Make Giraffe Finger Puppets
Watch the video below for a step by step guide on how to make this giraffe craft with our template. Find more animal craft ideas and summer kids crafts by browsing the categories at the top menu bar of our website.
Looking for more fun and simple animal crafts for kids? Check out this list of over 50 zoo animal crafts your kids will love making!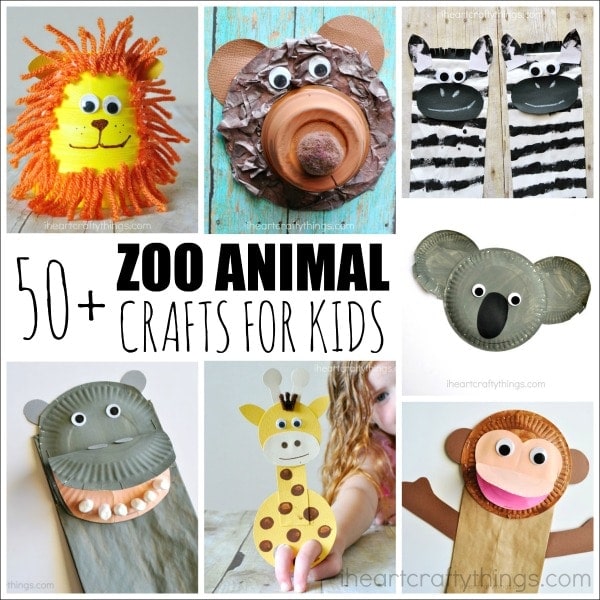 Check out more animal crafts and activities from some of our creative preschool buddies:
Recycled K Cup Lion Craft | Artsy Momma
Who Lives in the Zoo Sorting Tray | A Little Pinch of Perfect
Z is for Zebra Alphabet Craft | School Time Snippets
Zoo Creative Drawing Ideas | Hand Made Kids Art
Design a Zoo with Kids | Pink Stripey Socks