Like most children around the World, my daughter has been anxiously awaiting for Finding Dory to hit theaters this summer.
We have a Mommy-Daughter date planned to go see it tomorrow but in the meantime we have been having fun gearing up for the movie with this adorable Finding Dory craft. These Dory and Nemo envelope puppets make a great family activity after seeing the movie and they are so fun for play time.
If you have minion fans at your house your little ones might also enjoy our Minion envelope puppets.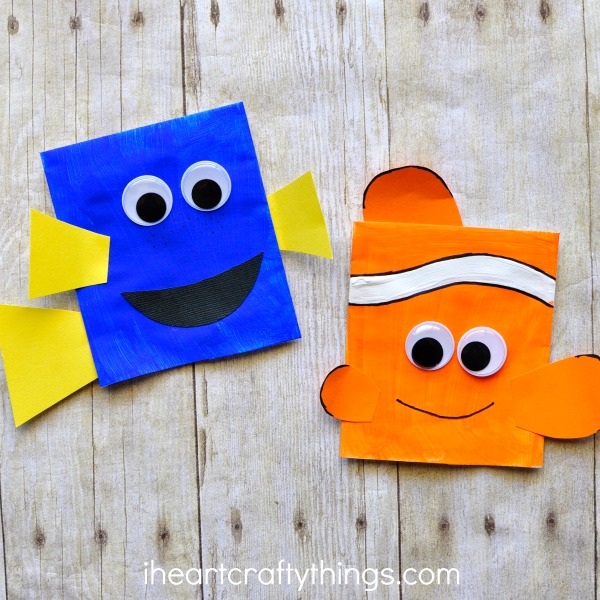 This post contains affiliate links to the products mentioned. Read our disclosure policy for more information.
Finding Dory Craft – Envelope Puppets

Supplies Needed for this Finding Dory Craft
– standard #10 envelope
– blue, orange and white paint
– paintbrush
– yellow, orange and black cardstock paper (or construction paper)
– googly eyes
– black marker
– scissors
– glue
Directions for this Finding Dory Envelope Puppets
1. Seal your envelope shut. Cut it in half. You'll use one half for Dory and one half for Nemo. Paint the front of each envelope half, one with your blue paint and one with orange paint. Set them aside to dry completely.
2. When your orange paint is dry, paint a white stripes across the top of the envelope. Let it dry.
3. Cut out the fins and tail for Dory out of your yellow cardstock paper and a mouth from your black cardstock paper. Cut out the fins and tail for Nemo out of your orange cardstock paper.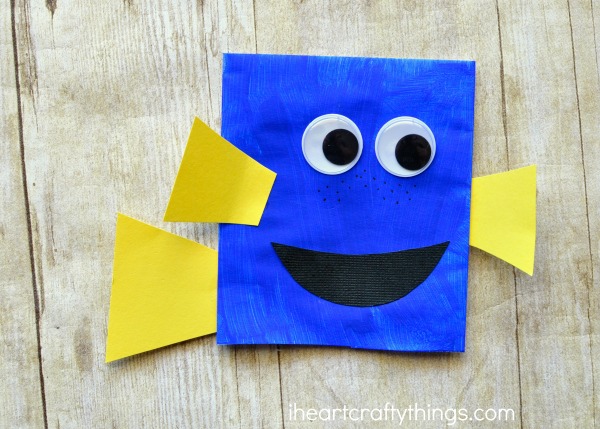 4. When your envelopes are dry,  glue the fins, mouth and googly eyes onto your envelopes.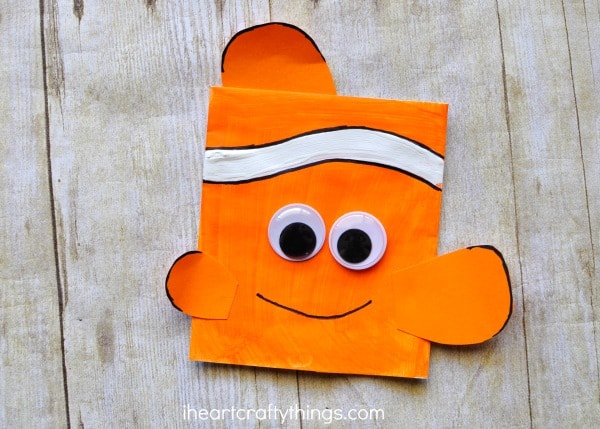 5. Use your black marker to add finishing details to your fish. For Dory, add her cute little freckles around her nose. For Nemo, outline the white stripe at the top of the envelope, all of the fins and add a cute smile.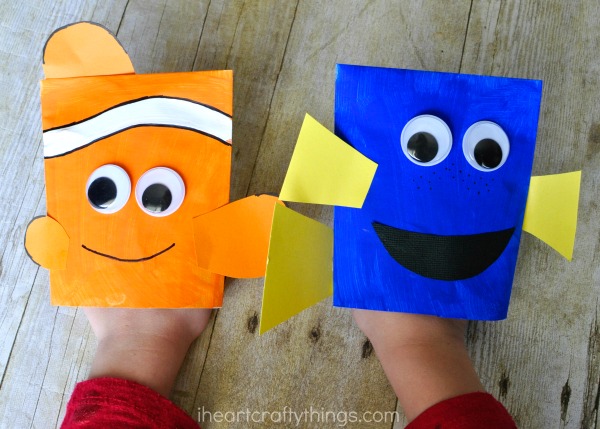 Now your Finding Dory craft is all ready for play! Simply place your hands inside the envelopes and have fun watching Dory and Nemo "just keep swimming".