One of my absolute favorite ways to craft with my children is based on children's books. There's something about creating something based on a story that fuels a child's imagination and brings books to life.
This past week we picked up an old classic at the library, There's an Alligator Under my Bed (affiliate link) by Mercer Mayer. It's an imaginative and creative story that makes something potentially scary, more lighthearted and funny. My daughter loves it!
After story time my daughter and I created these DIY Alligator Puppets. They are so fun for kids and inspire such fabulous imaginative play.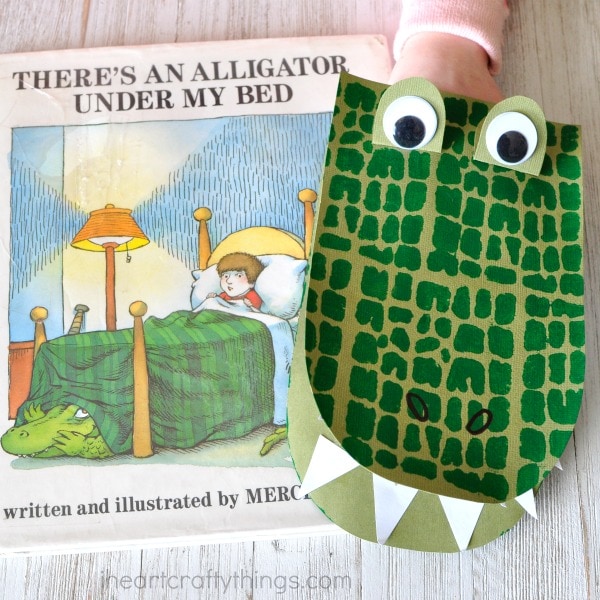 This post is part of a National Reading Month blog hop over at Learning and Exploring Through Play. All month long bloggers will be sharing arts and crafts, small world play and activities all based on children's books. I hope you will stop by and follow along through the month for amazing inspiration to use in your home.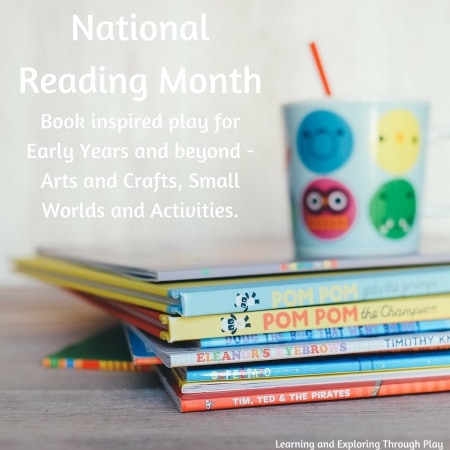 More about There's An Alligator Under My Bed by Mercer Mayer:
"The nightmare's gone, but what about that alligator? You have to be so careful getting in and out of bed! Maybe a midnight snack to lure him into the garage will do the trick. In this funny and beloved follow-up, Mercer Mayer faces another nighttime fear head-on." -Amazon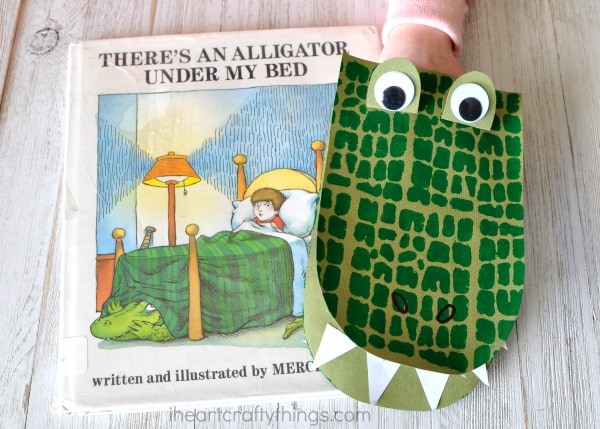 How to Make DIY Alligator Puppets
This post contains affiliate links to the products mentioned. Read our disclosure policy for more information.
Supplies for Making this Alligator Puppet Craft
green cardstock
googly eyes
white paper
scissors
glue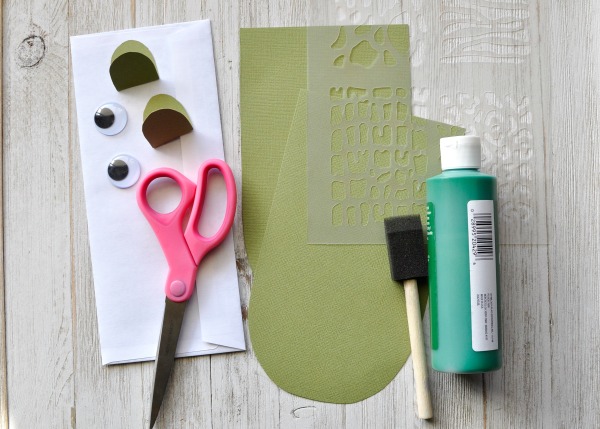 Instructions for Making these DIY Alligator Puppets
1. Get your #10 envelope ready for your DIY alligator puppets. Fold your envelope in half making a crease in the middle of the envelope and then unfold it. Open up the envelope and cut down the center of the envelope on the side with the envelope seal.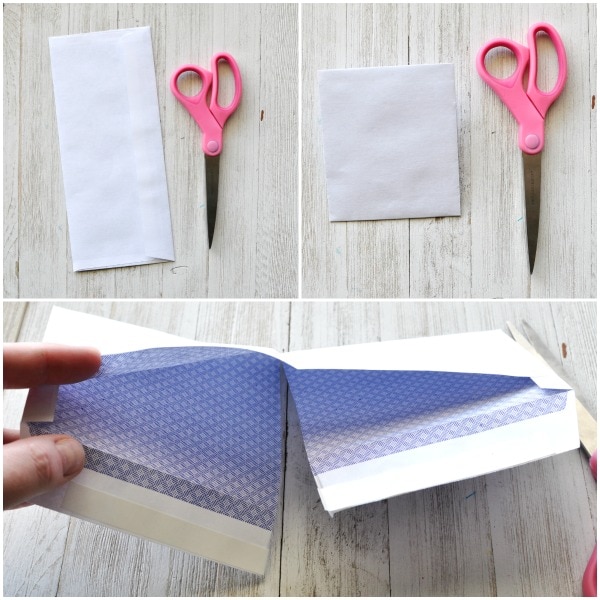 2. Seal the envelope shut on both sides.  Fold the envelope again and you'll have a slit cut down the center of the envelope. Now on the top folded section, make a slit on each side of the envelope about 1/2 – 1 inch to give a little more room for your hand. Set this envelope portion aside.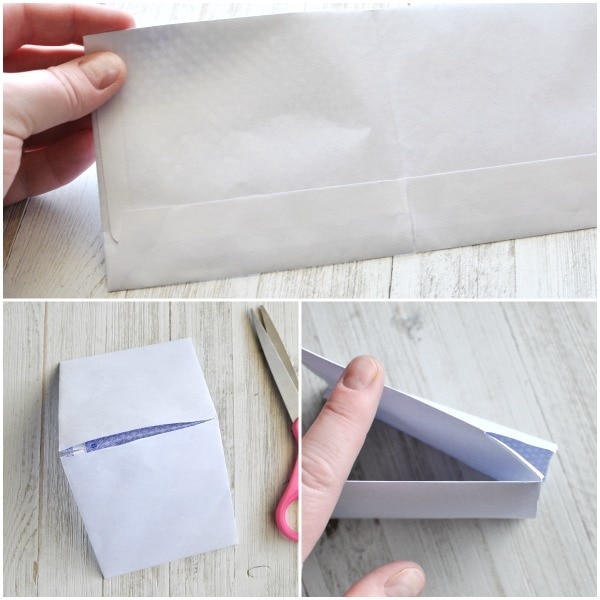 3. Fold your green cardstock in half and cut out the shape of an alligator mouth that will fit over your folded envelope. Since you folded your paper before cutting you should now have two separate mouth pieces, one for the top of the mouth and one for the bottom.
4. Use your alligator print stencil, green paint and sponge brush to paint both of your alligator mouth pieces. The stencil we had was a bit small so I held it in place for my daughter, then she dabbed her brush, then I moved the stencil and she dabbed her brush again, etc. Let the paint dry completely.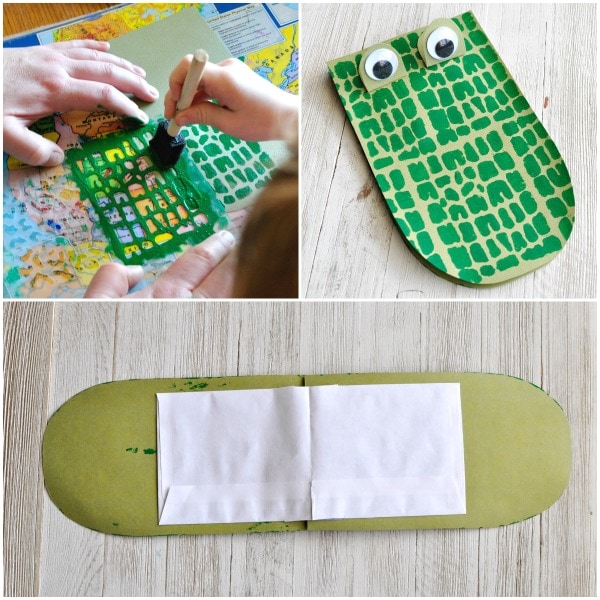 5. While your paint is drying, use the remainder of your green cardstock, fold a small section of it and cut out a half circle along the fold, twice. You'll glue one of the sections down on your alligator head leaving one half pointing up for your alligator eyes.
6. When your paint is finished drying, open up your envelope and glue one of the alligator face sections down on each half of the envelope. When you fold the sections together, the cut open slit of the envelope should be on the end of the alligator face, where you can slide your hand inside.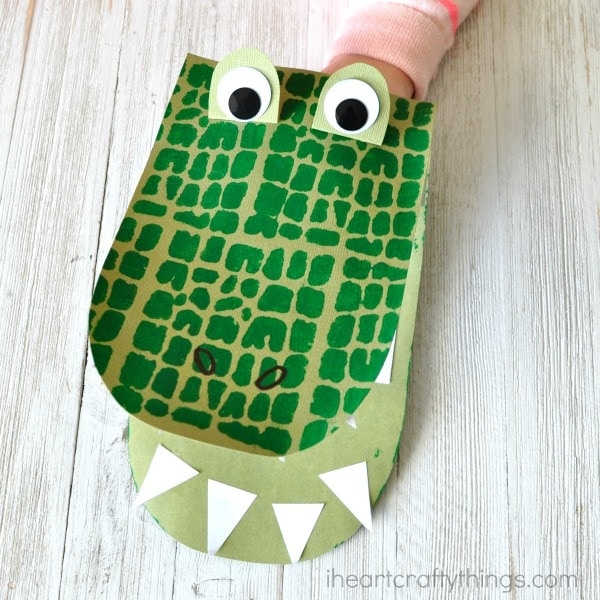 7. Finish your DIY alligator puppet by gluing on your green eyes and your googly eyes on those. Then cut out white triangle teeth and glue them on the inside of your alligator mouth. Finally, use a black marker to draw nostrils on your DIY alligator puppets.
Now your alligator is all ready for play! Simple place your thumb in the bottom section of the envelope and your other four fingers in the top section of the envelope. Open and close your thumb and fingers together to make your alligator mouth chomp, chomp, chomp, open and close.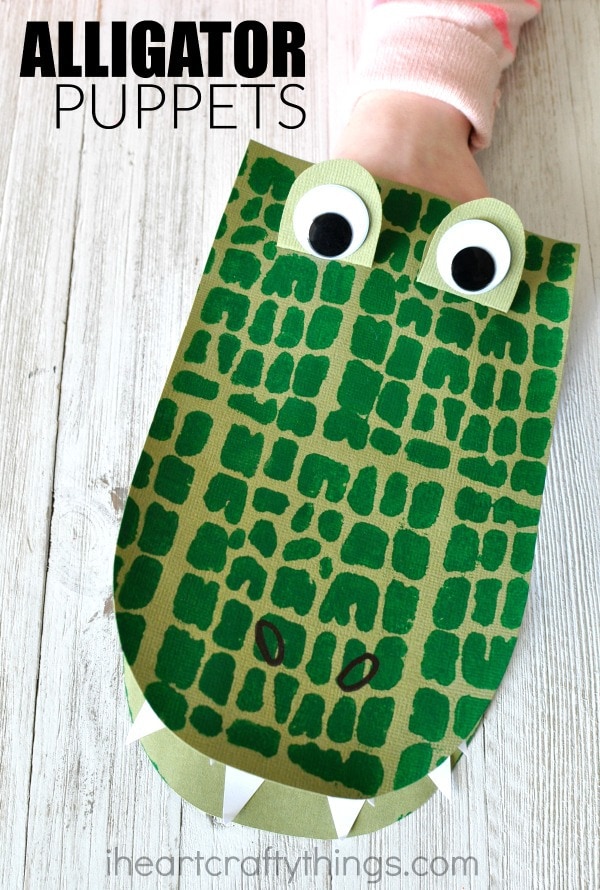 More book-inspired crafts you'll love:
Thing 1 and Thing 2 Dr. Seuss Craft
Planting a Rainbow Garden Craft
Baa Baa Black Sheep Craft
My Color is Rainbow Craft