Looking for a fun non-candy Valentine card to give out to friends this year? Well, if you are a unicorn fan you are going to flip out over the cuteness of these printable unicorn Valentine cards we are sharing today. In this post learn how to assemble these printable Unicorn Valentine Cards with the help of our  easy step-by-step tutorial and video.
My daughter loves all things unicorn so she was the inspiration behind these fun unicorn Valentine cards, along with the fun unicorn stampers I stumbled upon while browsing Amazon. I couldn't resist the cuteness of them! I also loved the idea of kids having a fun stamper to play with on Valentine's Day that would last them so much longer than a sugary piece of candy. You are going to adore these fun unicorn Valentine cards.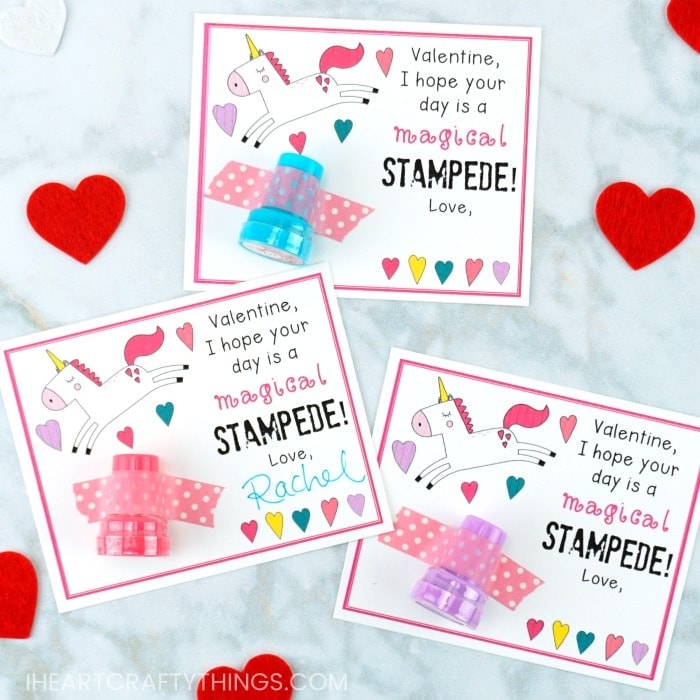 How to Make our Printable Unicorn Valentine Cards
This post contains affiliate links to the products mentioned. I Heart Crafty Things is a participant in the Amazon Services LLC Associates Program, an affiliate advertising program designed to provide a means for sites to earn advertising fees by advertising and linking to amazon.com.
Supplies:
(NOTE: The clipart used in our printable unicorn Valentine cards is from Clip Artisan.)
Instructions:
1. Begin by downloading the unicorn Valentine cards template and printing it out on white cardstock. We used 110 lb cardstock so they felt extra strong and durable.
2. Use a paper cutter or scissors to cut out each of your unicorn Valentine cards.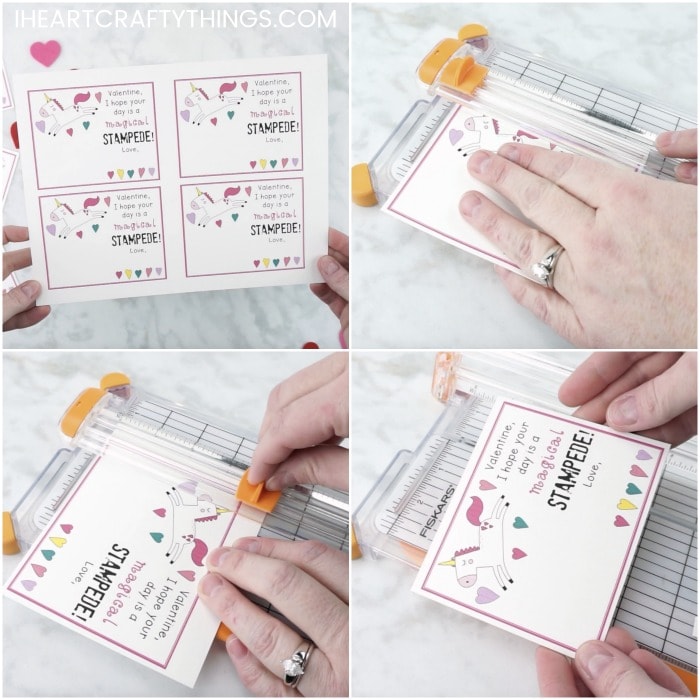 3. Grab your unicorn stampers. I was super excited to find these stampers on Amazon. They make such a fun non-candy Valentine treat for kids to play with.
4. Tear off a piece of pink washi tape several inches long. Attach the unicorn stamper to the middle of the washi tape strip and then tape it down onto the blank section of the printed unicorn Valentine card.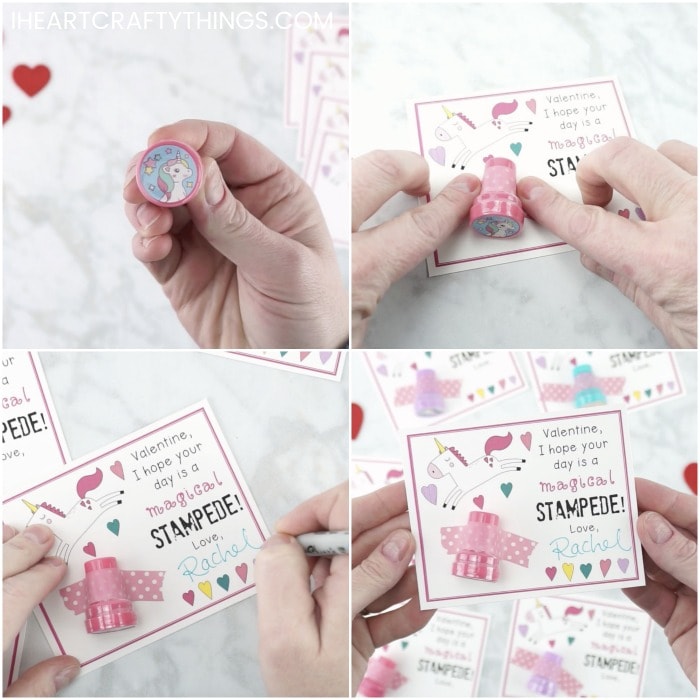 5. Continue adding the heart stampers to each of your Unicorn Valentine cards.
6. Use a marker to sign your name on the slot under "Love" on each of your unicorn cards.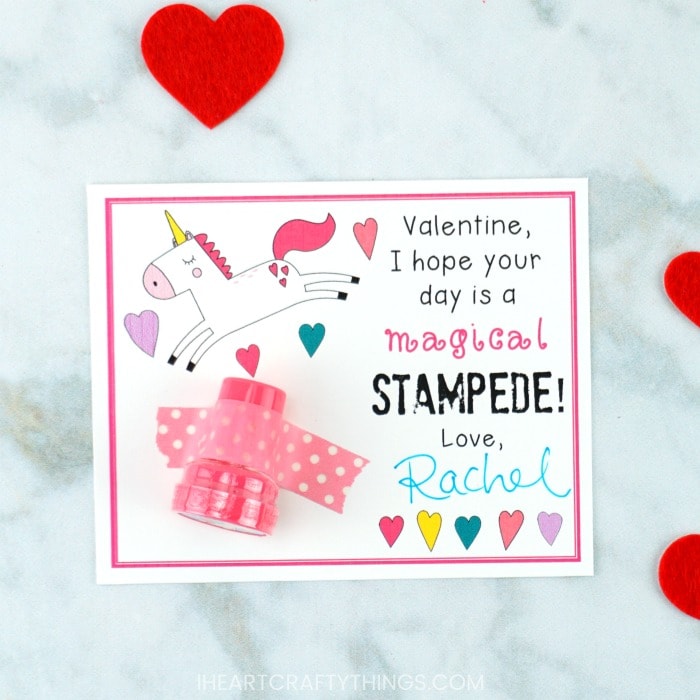 Your Unicorn Valentine Cards are complete!
Now you can take them to school on Valentine's Day and pass them out to all of your classmates and friends, wishing them a day of magical stampede.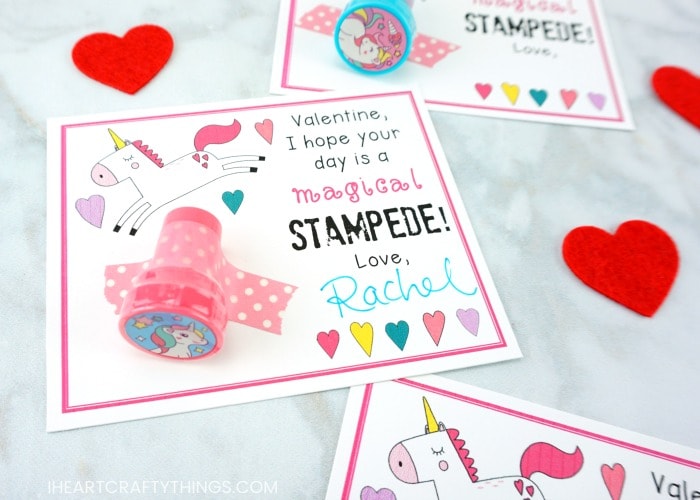 These sweet printable Valentine cards go along perfectly with our Unicorn Valentine Holder. You won't believe how simple the Valentine holder is to make by using two paper plates. It is perfect for a small preschool class or for using at home and it's absolutely adorable.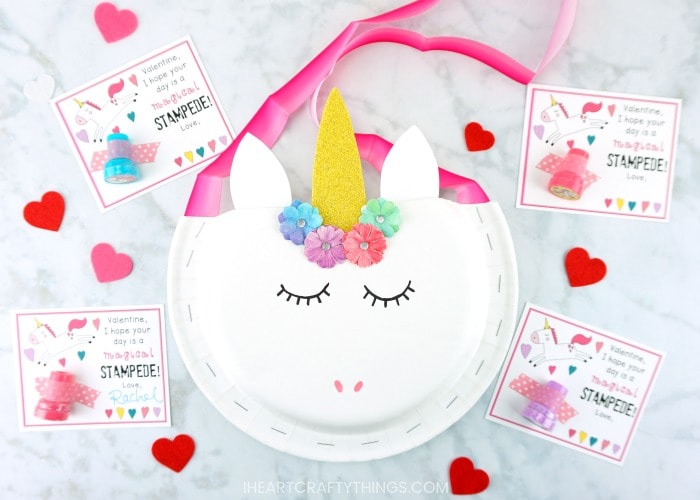 Video Tutorial: How to assemble your Printable Unicorn Valentine Cards
Watch the video below to be guided through each step of our paper plate Unicorn Valentine Holder and our Unicorn Valentine Cards. You can view more easy kids craft tutorials on our Facebook page, or right here on our website.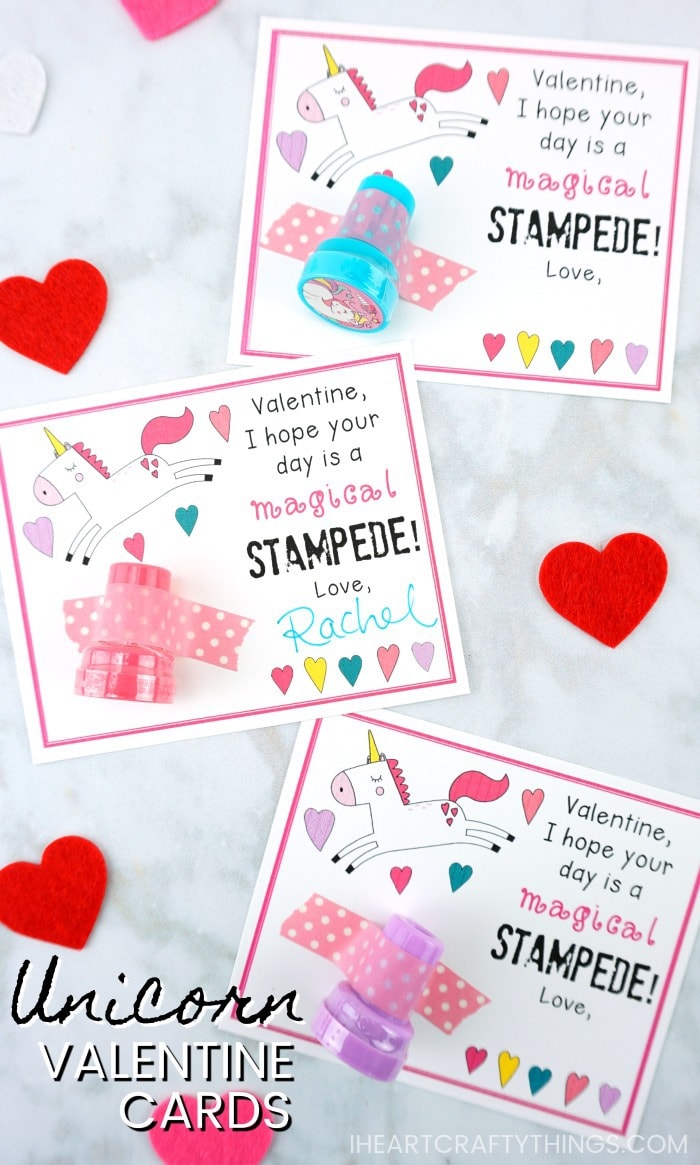 More fun Valentine's Day Card Ideas for Kids
This adorable Bear Valentine Card is a fun craft for kids to make at a classroom Valentine's Day party to give to Mom, Dad or a grandparent. We have a colored printable version and a black and white printable version for kids to color on their own.
Mom or Dad will swoon over this beautiful Cactus Valentine Card. The inside of the card says "I'm stuck on you!" A perfect Valentine card to give to someone special.
Combine circles and hearts together to create this easy Love Bug Valentine Card. A fun way to learn about shapes while making a Valentine card.