Do you have children who love making paper airplanes? If so, they are going to love creating these simple paper airplane valentine cards. 
Whether kids make these sweet airplane cards as homemade classroom Valentines, or for a favorite teacher or family member, they are sure to be a hit! We've made them for Valentine's Day but they would also make a great homemade card for Mother's Day or Father's Day.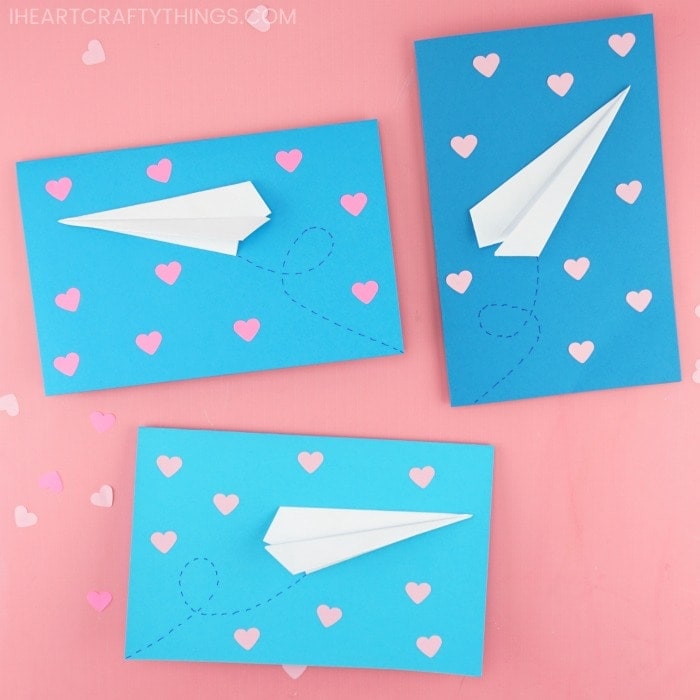 These cute paper airplane Valentine cards are super easy for kids to create once they learn how to fold a basic airplane from a piece of paper. We'll share a step by step guide for you in this post.
Don't be surprised if a few little paper airplanes come zooming by you in the process of kids making these adorable Valentine cards. The temptation of seeing how fast and far the airplanes will go is too hard to resist!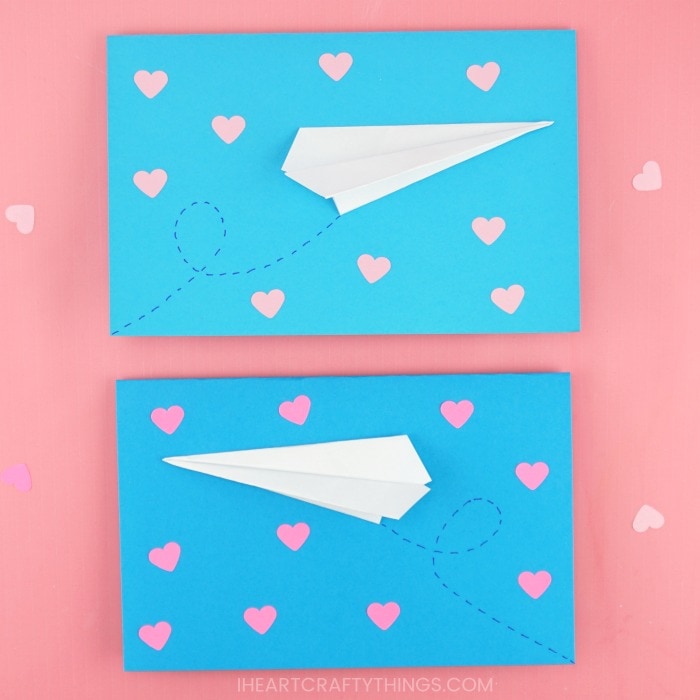 How to Make Paper Airplane Valentine Cards
Read our simple how-to instructions for making this simple paper airplane Valentine below, and make sure to catch our full video tutorial inside this post.
Supplies needed to make these easy Valentine cards:
This post contains affiliate links to the products mentioned. Read our disclosure policy for more information.
Instructions for creating your Paper Airplane Valentines
Step 1: Use a paper cutter or scissors to cut an 8 1/2-inch by 11-inch piece of white paper into quarters. Each quarter piece is used to make one paper airplane.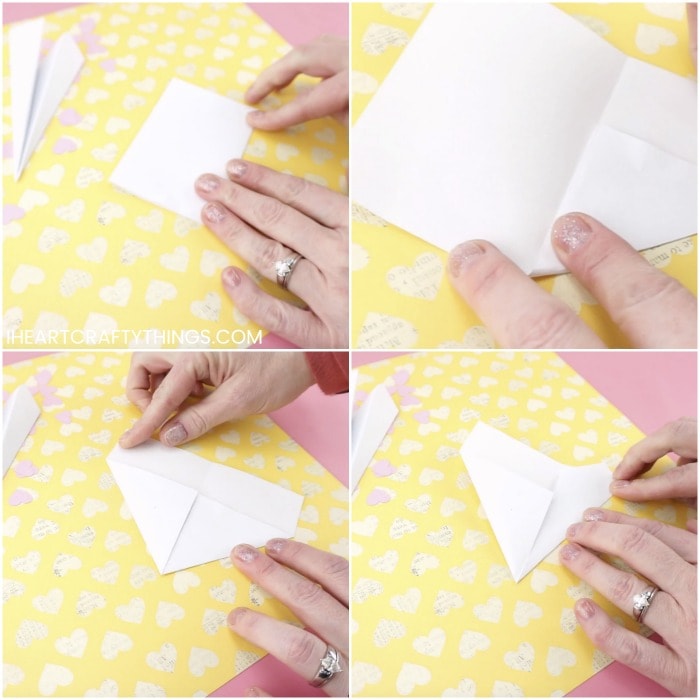 Step 2: Follow the steps below and photos to fold your small rectangle piece of white paper into a paper airplane:
Fold the rectangle paper in half width-wise.
Unfold the paper and then fold the top corners into the center line.
Fold the top edges into the center line.
Fold the paper plane in half.
Now fold the wings down to meet the bottom edge of the airplanes body.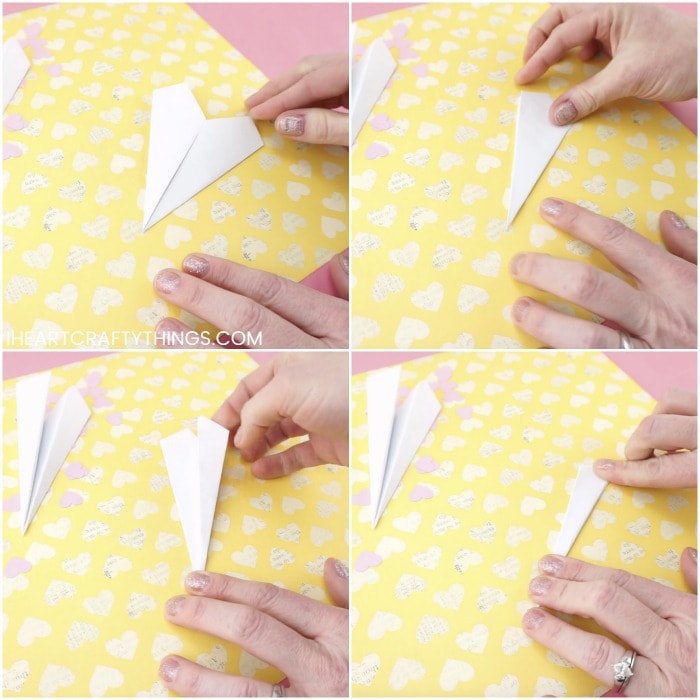 Step 3: Fold a sheet of blue cardstock paper in half to created a folded card. You can choose to fold the card lengthwise or longwise, whatever you like best.
Step 4: Using a glue stick, add glue to one side of the bottom of the airplane and glue it on the front of your blue folded Valentine card.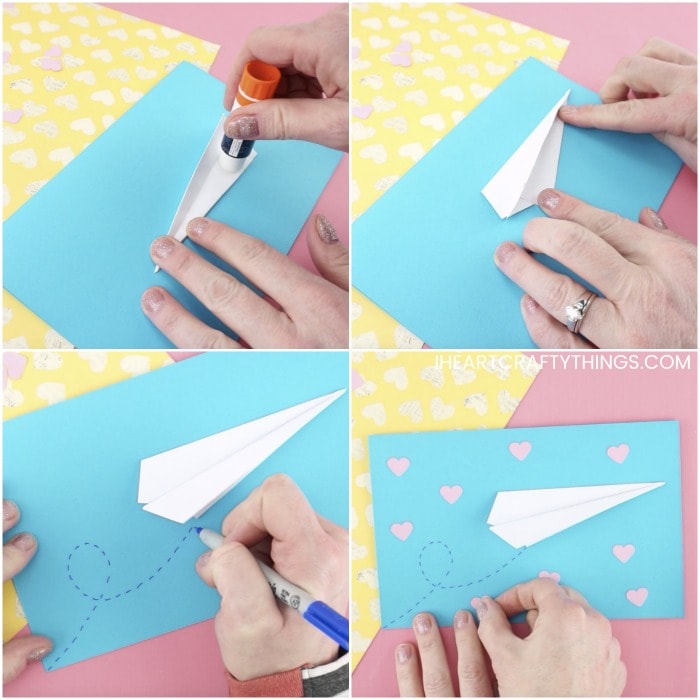 Step 5: Use a fine tip blue marker to draw a dashed line from the corner of your card to the bottom corner of your paper airplane. Get creative by adding a swirl to look like your plan has been flying in circles in the air.
Step 6: Cut out several small pink hearts with a paper heart punch. Glue the pink hearts around your airplane on the front of your Valentine card.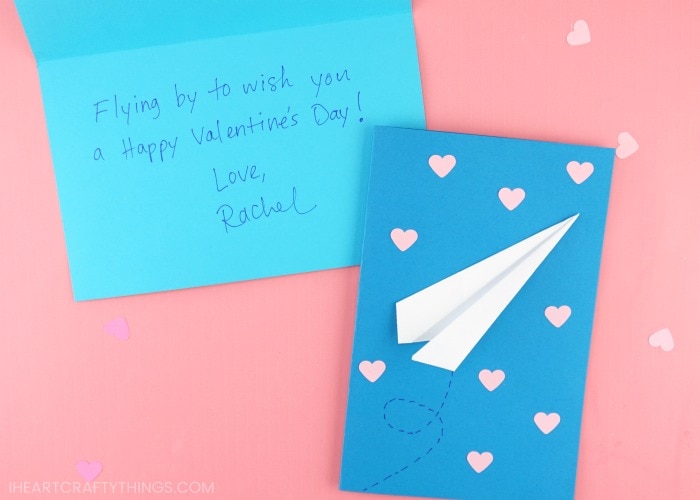 Step 7: Open up your card and write a fun message on the inside for Valentine's Day.
Here are a few fun ideas of a message you can write on the inside of your Paper Airplane Valentine Card:
Flying by to wish you a Happy Valentine's Day
You're just PLANE awesome
I'm PLANE crazy about you
You make my heart soar
LOVE is in the air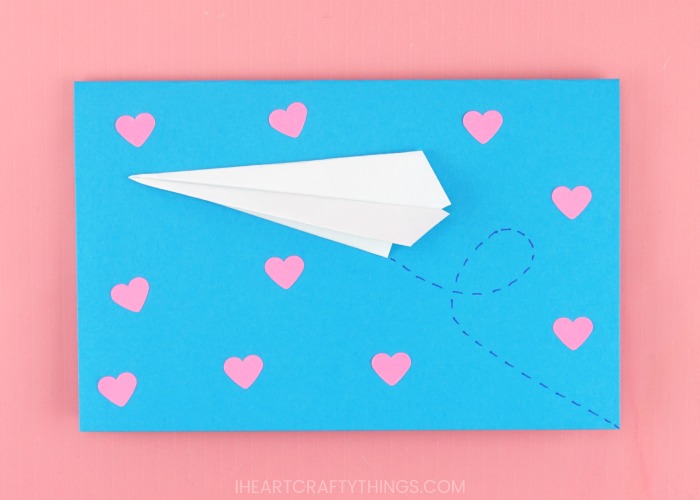 More Fun and Easy Valentine Cards You can Make
Did you know it's super easy to fold a paper heart shape into an envelope? Check out our easy tutorial for how to make a heart envelope!
Here's a simple way to make a cute pop up card for Valentine's Day to give to some love birds.
This 3D Hot Air Balloon Card is stunning and really easy for kids to make for someone special.