Celebrate the holiday of love with this simple heart windsock Valentine's Day craft. Toddlers and preschoolers will love watching the colorful hearts and streamers on their windsocks dance around in the breeze after making their craft.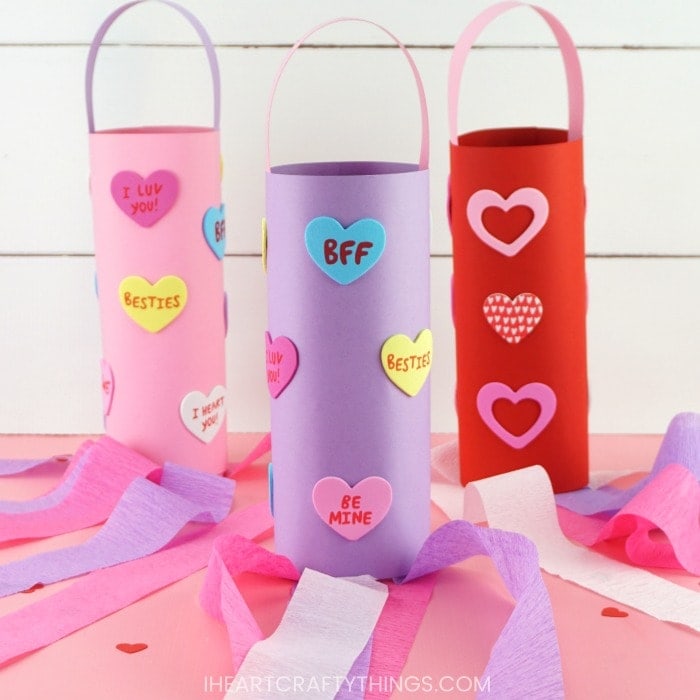 I don't know a child who doesn't love stickers, do you? To be honest, the idea of crafting with stickers makes even me a little giddy inside. That's how I know this simple heart windsock craft is sure to be a hit for Valentine's Day!
These Valentine's Day windsocks are a fun way to decorate a classroom or front porch for the holiday. Or they are a super simple take home craft for kids to make at a Valentine's Day class party.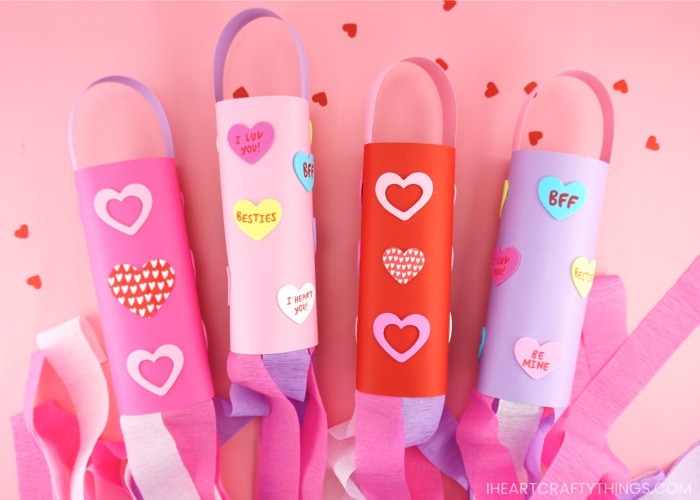 Valentine's Day Heart Windsock Craft
My favorite part about this easy Valentine craft is that each child's windsock will turn out with it's own unique look.
They get to choose what color windsock they want to make, what different colors for streamers they use, and how they decorate their windsock with different heart stickers.
Kids are going to love creating this simple heart windsock! Before you get started making your heart shaped cards, make sure to watch our full video tutorial inside this post.
Supplies needed for your Valentine's Day Windsock:
This post contains affiliate links to the products mentioned. Read our disclosure policy for more information.
pink, purple and red cardstock paper
party streamers (We used light and dark pink and purple)
foam heart stickers (We found our stickers at Michael's.)
glue stick
stapler
scissors
How to Make Heart Windsocks:
Step 1: Choose a color of cardstock paper you want to use to make your windsock. We went with Valentine's Day themed colors like pink, purple and red but the windsocks would look gorgeous made with any color of the rainbow.
Step 2: Lay out a handful of foam heart stickers. Peel the backing off a sticker and place it on your cardstock paper. Continue adding stickers until your entire paper is decorated.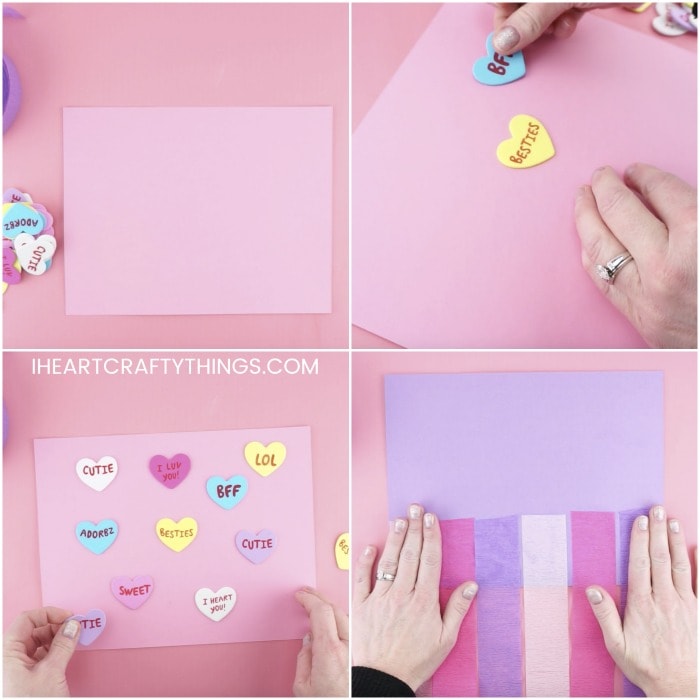 What kind of heart stickers should you use for this Valentine's Day craft?
After a little trial and error, we noticed thinner foam heart stickers work best for this craft project. If you use a foam sticker that is too thick, it will interfere with how the cardstock paper bends into a circle when making your windsock. Thinner and more flexible stickers work the best.
You could also use flat, paper or foil heart stickers for making your windsock. You won't get the extra dimension of the stickers raised around your windsock, but they will still work great.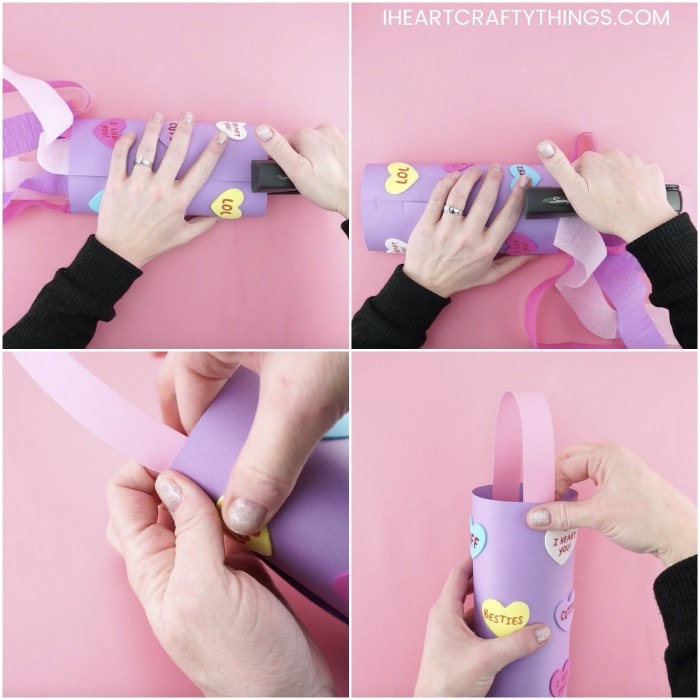 Step 3: Cut out six strips of crepe paper about 18-inches in length. You can do a mixture of colors, or stick with a single color. We used pinks and purples to match the Valentine-themed cardstock colors we chose for our windsocks.
Turn your heart sticker decorated cardstock face down. Add glue along the bottom one-third of the back of your cardstock paper and glue the six strips of crepe paper onto it.
Step 4: Bend your cardstock paper into a circle, connecting the ends together. Place two staples at the top and bottom of the windsock to join the ends together.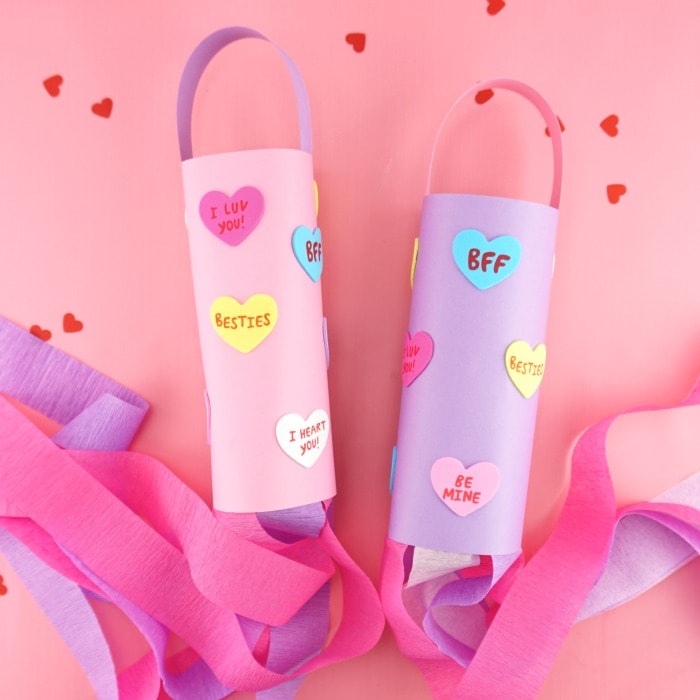 Step 5: Cut a length of cardstock 1-inch by 11-inches for a handle. Add a generous amount of extra strength glue stick on one end of the paper strip and attach it inside the top of the windsock. Add glue on the opposite end of the paper strip and attach it to the opposite end of the windsock to create your handle.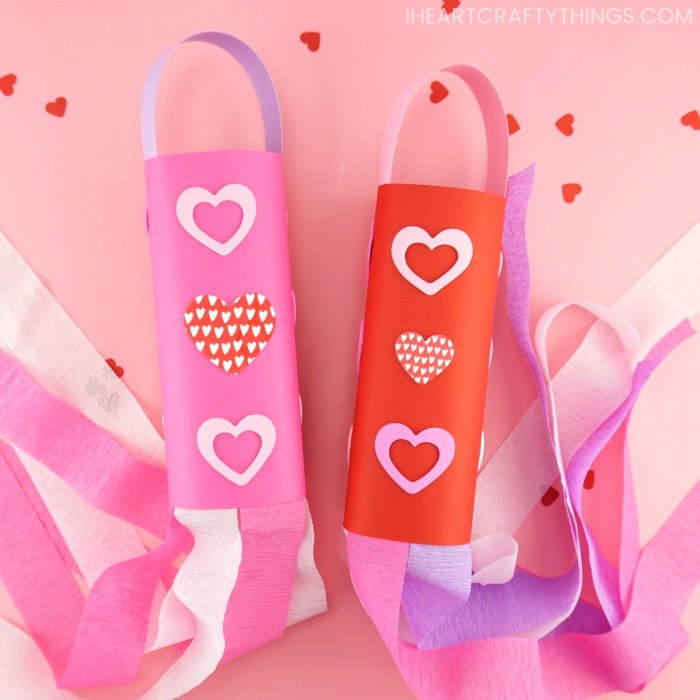 Hang your heart windsock outside and watch it dance around in the winter wind. Or display the windsock indoors for a festive Valentine's Day decoration.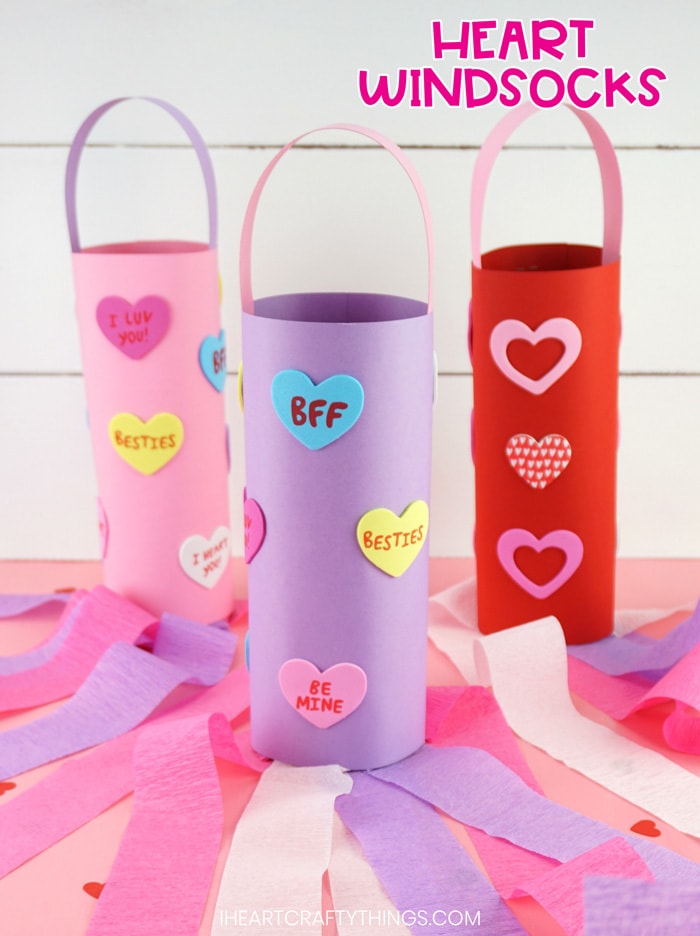 More fun and simple Valentine's Day Crafts for Kids
This handprint heart tree craft is stunning and would make a fun Valentine for kids to make for Mom, Dad or grandparents for Valentine's Day.
Paper hearts combine to make these darling heart trees. These pretty trees can be placed on a shelf for a fun Valentine's Day decoration.
Kids will get in some awesome sewing practice while making these colorful paper plate hearts. The sewing is great for fine motor skills for preschoolers too.
This DIY Rainbow Paper Heart Wreath over at my friend hello, wonderful's website is another fun paper craft for kids to make for Valentine's Day.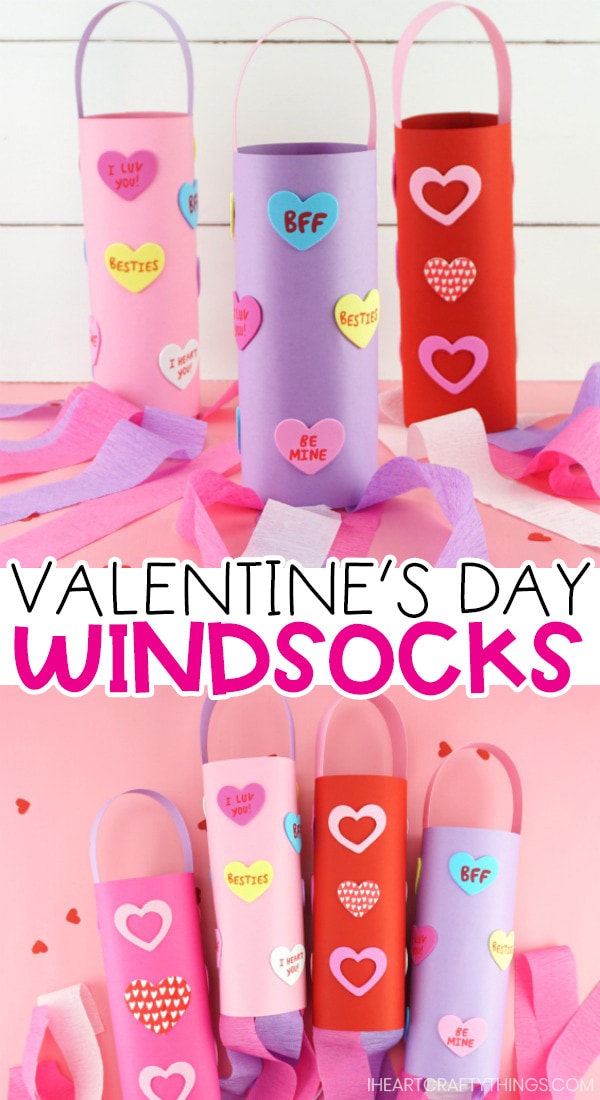 Need more Valentine and Heart crafts inspiration?
Check out our round up of over 40 of our favorite Valentine's Day craft ideas. Whether you are looking for some last minute Valentine's Day craft ideas or you have plenty of time for planning and prep, you are sure to find some amazing inspiration.