The heart envelope is a classic that has been around for ages. I loved making them when I was a child because they are easy to make and you only need a few supplies.
I've made creating your own heart envelopes super simple by making you a template to download before you get started. Once you get the hang of creating your own heart envelope card, you're going to be hooked!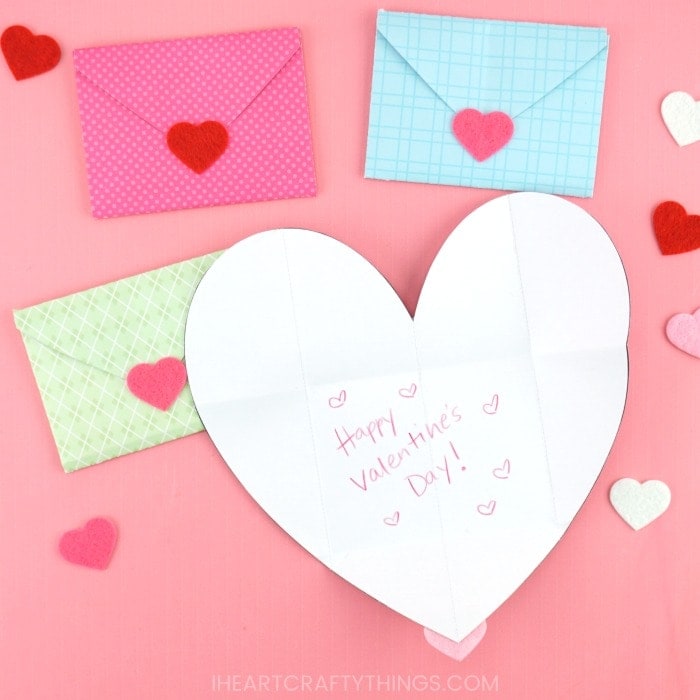 How to Make a Heart Envelope
These cute envelopes are perfect for holding a note to give to your friend or family member, or you can turn them into a heart envelope card for people to unfold and discover the message inside.
Heart envelopes are perfect for a Valentine's Day card, Mother's Day or for any occasion at all.
Follow our simple how-to instructions and tutorial for making a heart envelope card below, and make sure to watch our full video tutorial inside this post before you get started.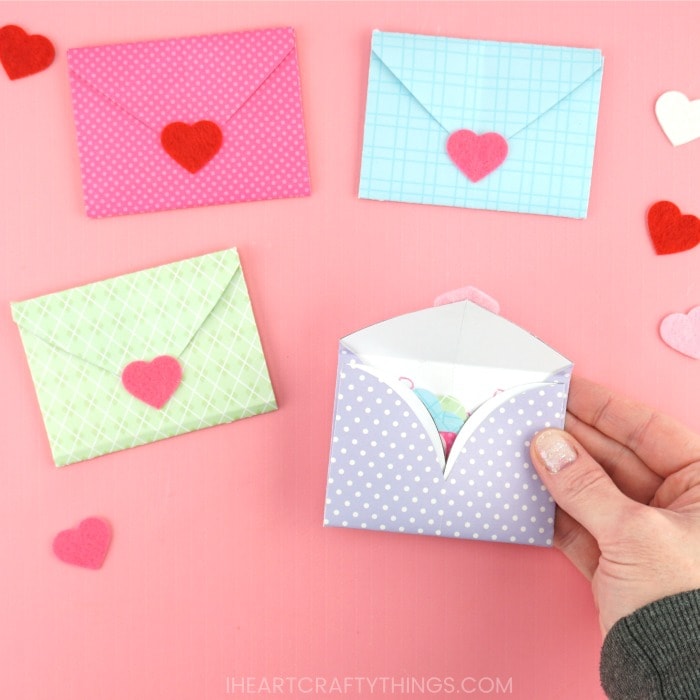 Supplies needed to make a Heart Envelope
This post contains affiliate links to the products mentioned. Read our disclosure policy for more information.
Instructions for making a Heart Envelope Card
Step 1: Begin by downloading and printing out out our heart envelope template on patterned scrapbook paper. If you plan to use the envelope as a card, you'll want to make sure the scrapbook paper is white on one side so can write a message on it.
Step 2: Cut out the printed heart template.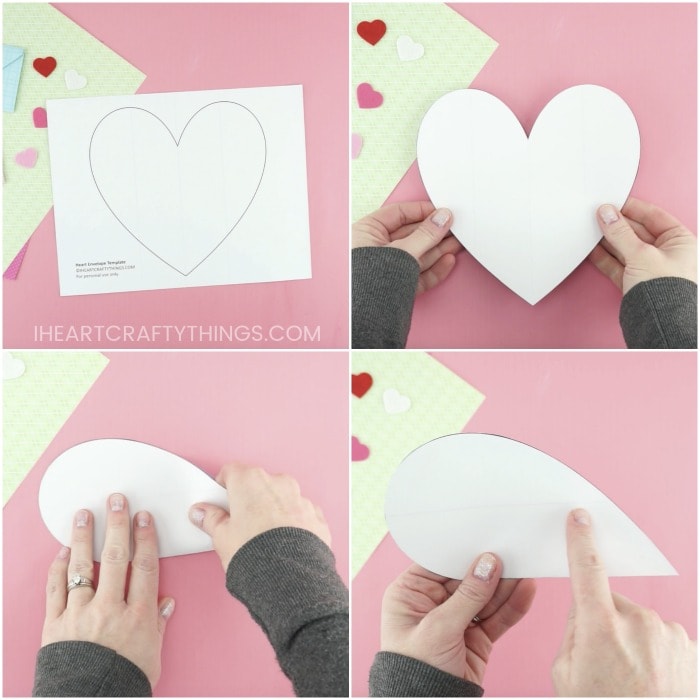 Step 3: Fold the heart in half along the lightly colored dashed line in the center of the heart.
Step 4: Fold the heart in half one more time along the second lightly colored dashed line on the heart. Then unfold the heart. These creased folds will help guide you in folding your envelope properly in the next few steps.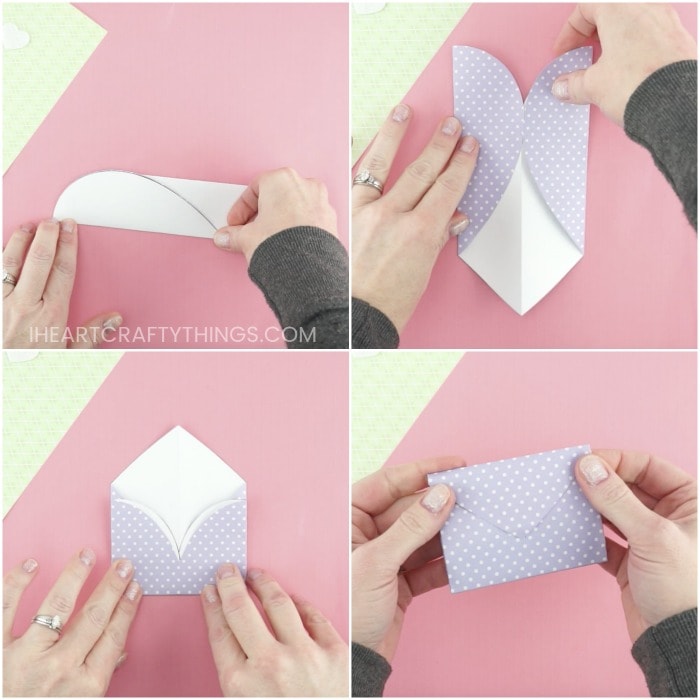 Step 5: Using the folded creased as a guide, fold the sides of the heart inward toward the center of the card.
Step 6: Flip your heart so the bottom point is at the top. Fold up the bottom section of the folded heart so that it sits just underneath where the top flap of the envelope folds down, as pictured above.
Step 7: Fold down the top flap of the envelope and secure it shut with a heart sticker.
If you are turning your heart envelope into a card, write a message on the inside of the heart with colored pencils, pens or crayons before sealing it shut with your heart sticker.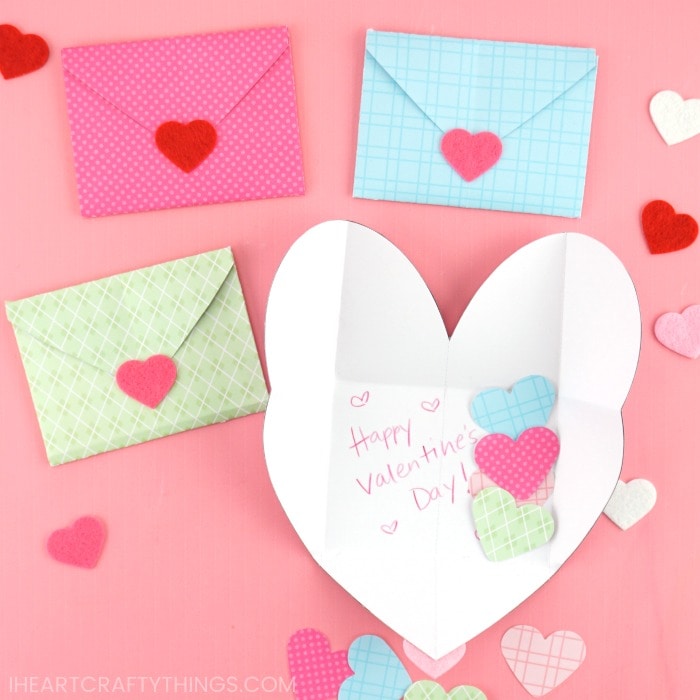 You can also add a small note inside the card before sealing it shut, or paper heart confetti.
In our tutorial you will see we used a small heart punch to make heart confetti from extra paper scraps and added the hearts inside our envelope before sealing it shut.
The confetti is an extra special surprise for the recipient for when they open up their card and unfold it to reveal the message on the inside.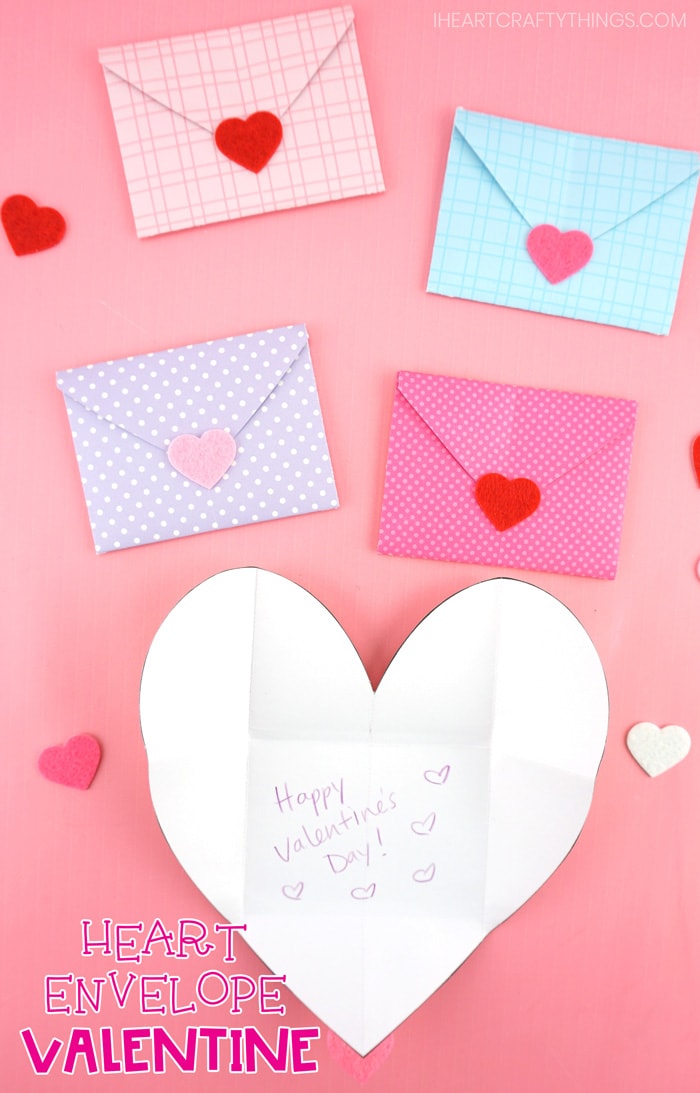 More Heart Crafts You Might Enjoy
Looking for more Valentine's Day hearts inspiration? Check out our round up of over 40 of the best Valentine's Day Crafts for Kids.
This rocking paper plate love birds craft is sure to make your sweetheart melt! It's so simple to make too!
Here's another fun way we used this same scrapbook paper for a spring flower bouquet craft. Another perfect idea for Valentine's Day or Mother's Day.
This woven heart craft from our friends at Fireflies and Mudpies is another classic and gorgeous Valentine's Day craft for kids to make.