Get ready for an afternoon full of fun with your little ones this summer creating one of these colorful fish windsocks. 
These simple fish windsocks are easy for preschoolers and kids of all ages to create. They make a great summer decoration to display at home or inside the classroom.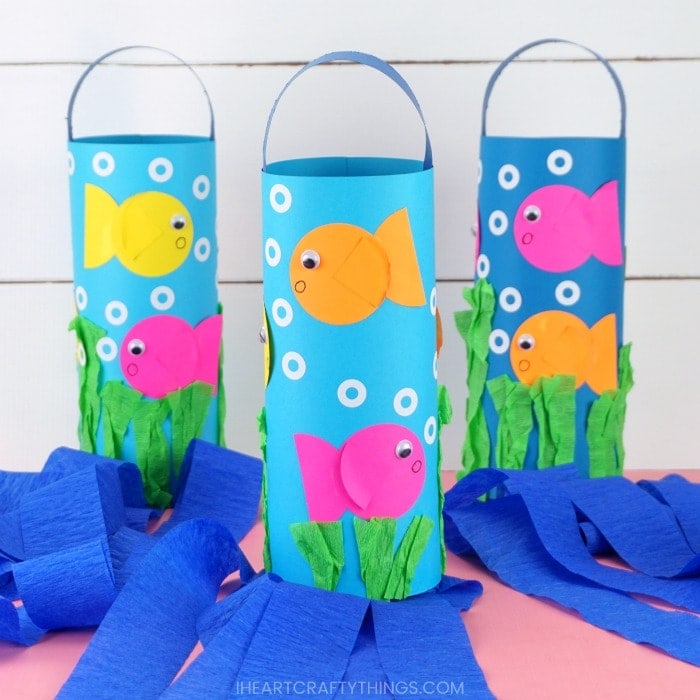 We have created a simple template for kids to use to create the fish on the windsock. Surprisingly each fish is made with two circles so this might be a fun craft to use with preschoolers when learning about circles. Especially since we've also used circle stickers to add bubbles coming out of each fish's mouth. Who doesn't love playing with stickers, right?!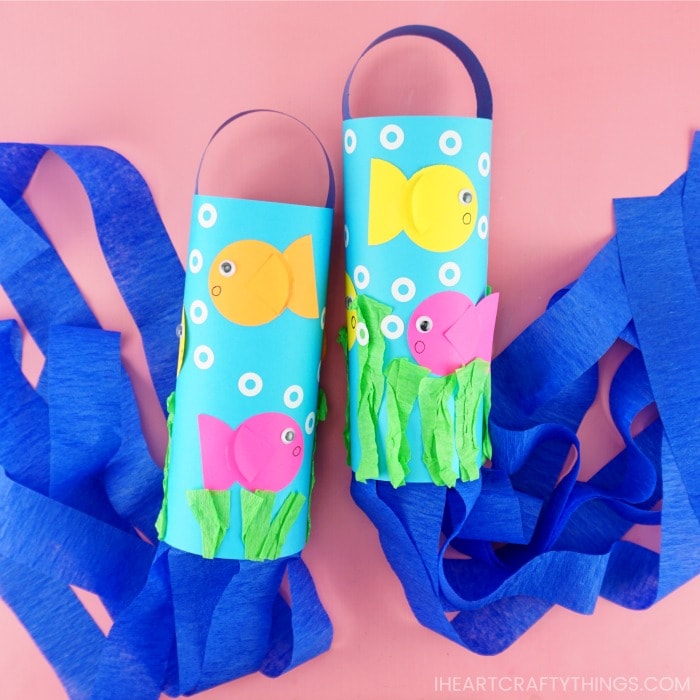 Easy Fish Windsocks for Kids
These colorful fish windsocks are fun to make as a summer themed craft, ocean craft, or as a preschool circle activity. They look so gorgeous hung under a covered front porch to blow around in the summer breeze, or hung anywhere inside the home or classroom.
Read our easy how-to instructions below for how to make your own fish windsocks. Make sure to watch our craft tutorial video inside this post before you get started.
Supplies needed to make this Windsock Craft
This post contains affiliate links to the products mentioned. Read our disclosure policy for more information.
Fish Template <—- Get the Template HERE
colored paper or construction paper
self-adhesive googly eyes (We received our googly eyes from our friends at OrientalTrading.com. All opinions expressed are my own.)
markers
extra strength glue stick
scissors
stapler
Instruction for How to Make a Fish Windsock
1. Download and print out the fish template on colored paper. You only need one template page per windsock, but if you want to have more than one color of fish you can print out more than one, or use them for multiple children.
2. After cutting out the fish pieces from the template, glue them together to create your fish. Glue the tail at the end of the fish body and the fin in the center of the fish body.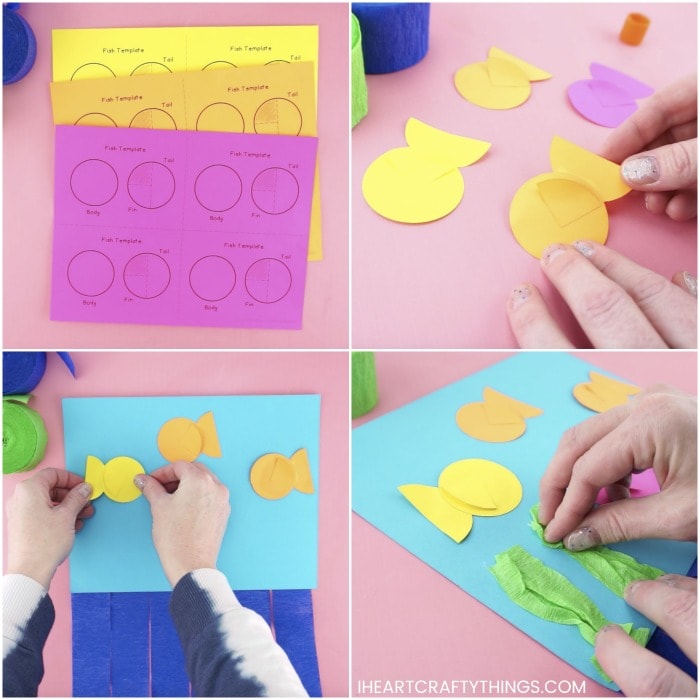 3. Cut out six 18-inch sections of blue crepe paper. Glue them on the bottom one-third of the blue cardstock.
4. Turn your windsock over so the blue crepe paper is on the underside. Glue each of your fish on the blue cardstock.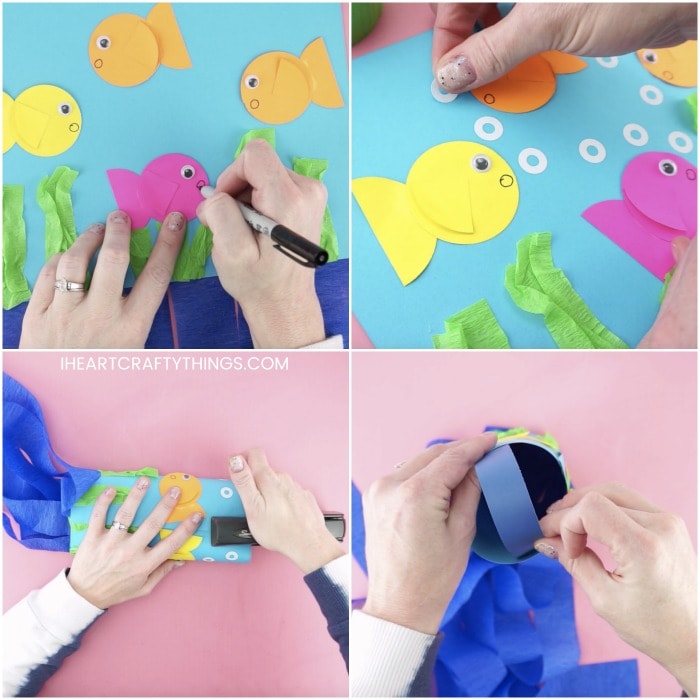 5. Cut small pieces of green crepe paper for plants. Crinkle up the pieces of green tissue paper and glue them along the bottom of your blue cardstock to create plants in your water.
6. Glue or attach googly eyes on each of your fish. Then use a marker to draw a circle mouth on each of your fish.
7. Place reinforcement circle labels on your blue cardstock to look like they are bubbles coming out of each fish's mouth.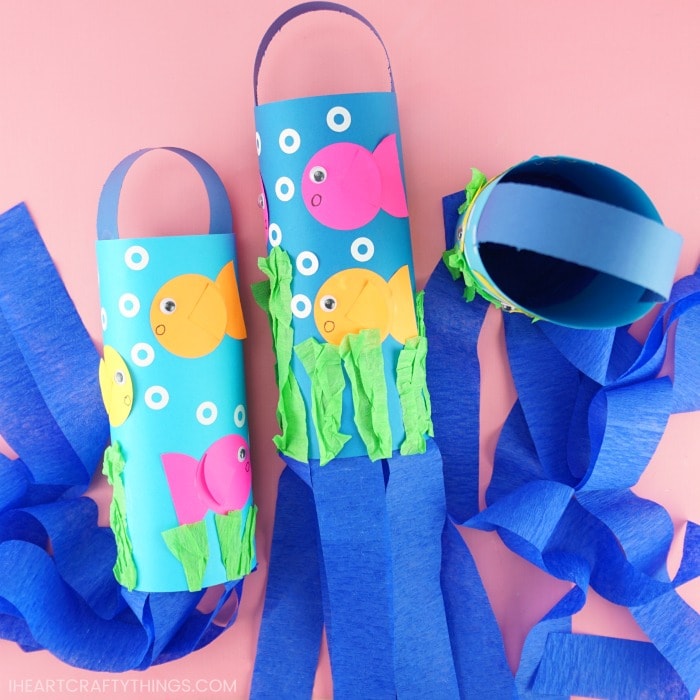 8. Bend your fish windsock into a circle, connecting the ends together. Place two staples at the top and bottom of the windsock to join the ends together.
9. Cut a blue paper strip handle that is 1-inch by 8 1/2-inches. Add a generous amount of extra strength glue stick on each end of the paper strip and attach it inside the top of the windsock for a handle.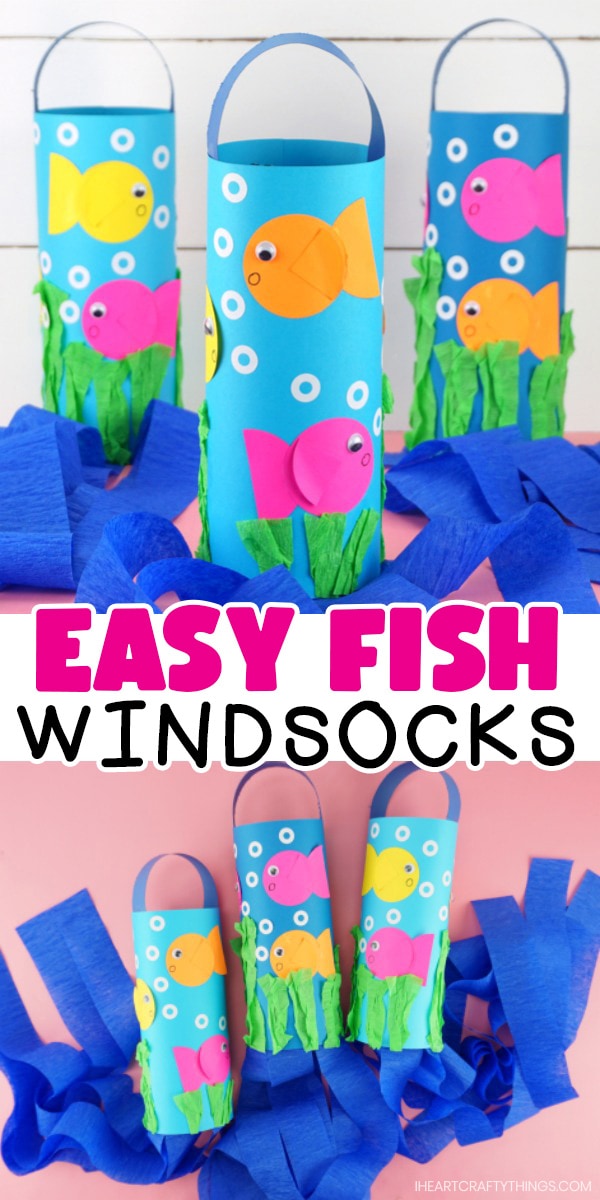 More Fun Ocean Crafts for Kids
Use paper bowls to make some colorful jellyfish this summer. They look so fun hung up from a ceiling for everyone to see.
See how to transform one piece of colored cardstock paper into this simple fish craft. The addition of the sequin scales gives them a fun pop of color.
Hang on to used newspaper for crafting! Here's a fun way to turn old newsprint into a fun ocean themed shark craft.
Looking for more creative ocean craft inspiration? Check out this list of 25 creative ocean crafts for kids.