Celebrate Earth Day this year by making these gorgeous Earth Day windsocks.
This simple Earth Day craft is easy for preschoolers and kids of all ages to create and it makes a great decoration to display at home or inside the classroom.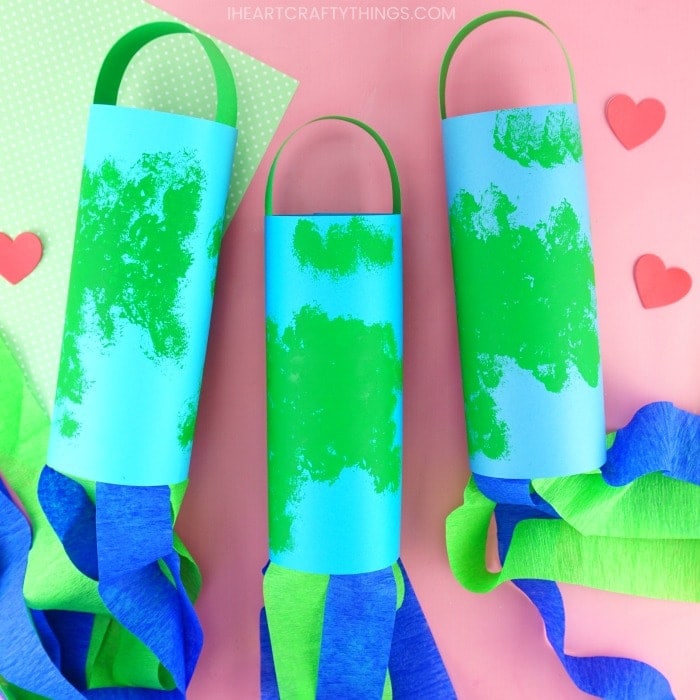 One of my kids' favorite activities when they were young was painting with craft pom-poms. The stamped pom creates a fun texture on cardstock paper. It is the perfect way to create the continents for this easy Earth Day craft.
These gorgeous windsocks will look stunning hung under a covered front porch to blow around in the spring breeze, or hung anywhere inside the home. They would also look fantastic hung up on display in a classroom for Earth Day decorations.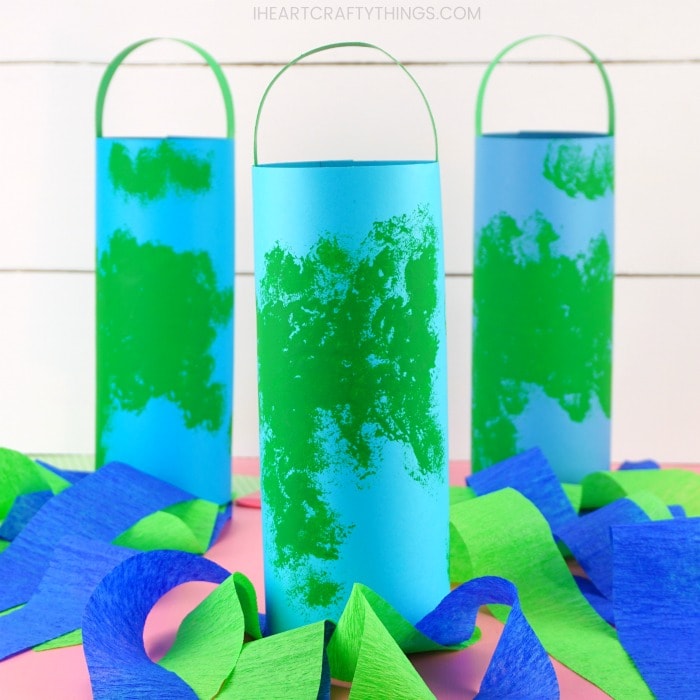 Easy Earth Day Windsocks
These beautiful Earth Windsocks are a fun activity to make at both home or school. Since the activity requires some drying time, it's a good idea to plan on two separate crafting sessions for kids to finish making their windsock.
Read our easy how-to instructions below for how to make your own Earth Day windsocks. Make sure to watch our craft tutorial video inside this post before you get started.
Supplies need to make your Earth Day Craft
blue cardstock (we used 65 lb.)
green and blue crepe paper
green acrylic paint
clothespin
large pom-pom
paper plate
green cardstock paper
scissors
glue stick
stapler
How to Make an Earth Day Windsock
1. Open up a clothespin and close it around a large craft pom-pom. This will be the paintbrush kids use for making their craft.
2. Pour a small amount of green paint on a paper plate. Dip the end of the pom-pom into the green paint and then press it onto a sheet of blue cardstock to start creating the land masses on your Earth.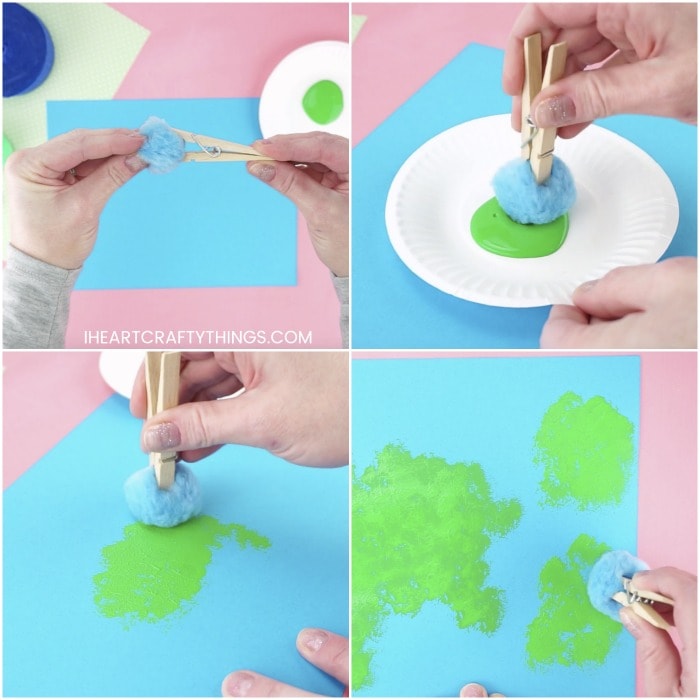 Continue dipping the pom-pom into the green paint and then stamping it all over the blue cardstock to make each of Earth's continents on your blue cardstock paper. Let your paint dry completely before moving onto the next step.
3. When your green paint has finished drying, turn your windsock over so the painted continents on the Earth are facing down. Cut out three pieces of 18-inch green crepe paper and thee pieces of 18-inch blue crepe paper. Glue them on the bottom one-third of the blue cardstock.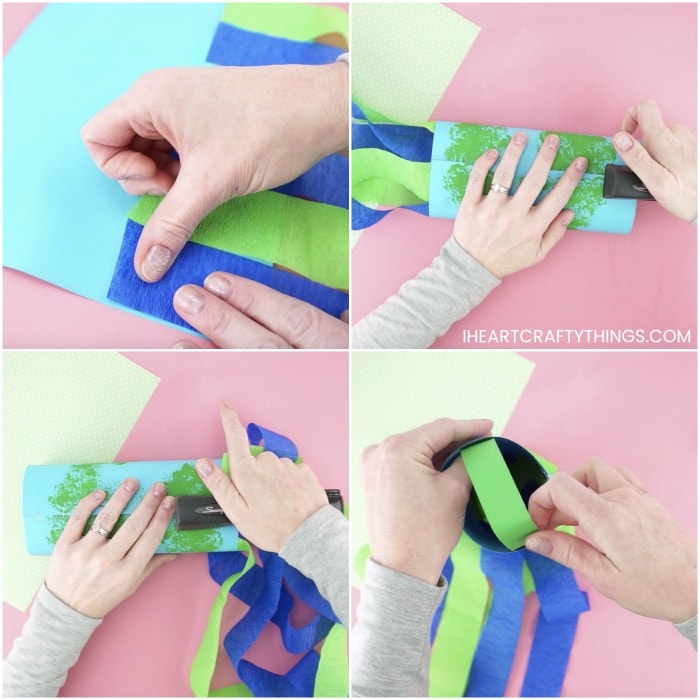 4. Bend your Earth Day windsock into a circle, connecting the ends together. Place two staples at the top and bottom of the windsock to join the ends together.
5. Cut a green paper strip handle that is 1-inch by 8 1/2-inches. Add a generous amount of extra strength glue stick on each end of the paper strip and attach it inside the top of the windsock for a handle.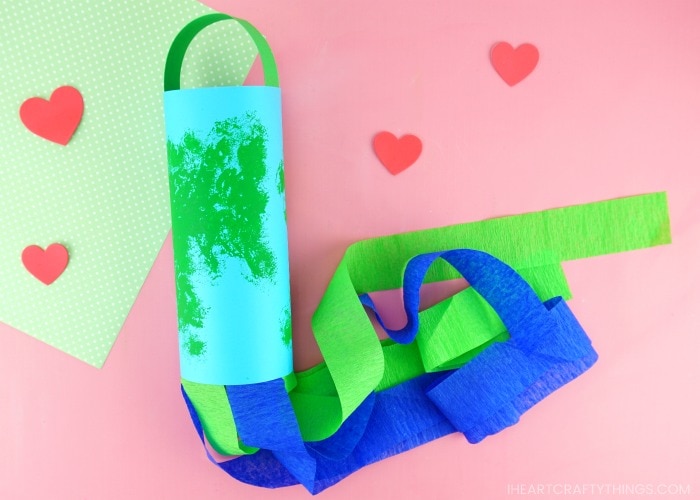 Once the glue is finished drying on your windsock, hang it up from the ceiling or a covered porch and watch it spin around in the breeze for Earth Day.
How does your family celebrate Earth Day? Check out more of our fun and easy Earth Day activities below.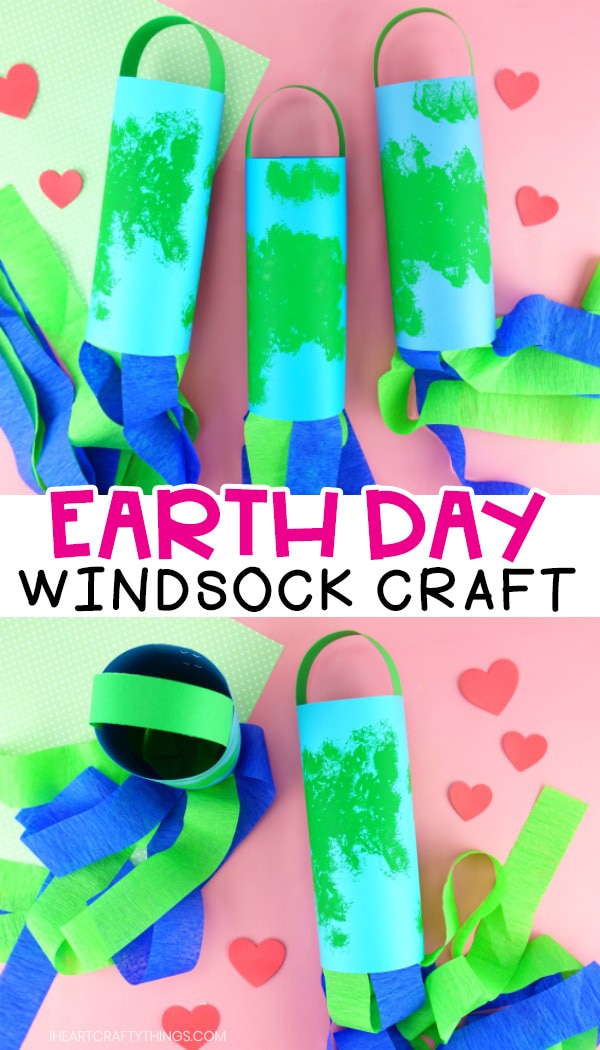 More Fun Earth Day Crafts Kids will Love
Have some leftover magazines laying around the house? Use them to create an amazing Earth Day Collage.
Recycle old newsprint into this gorgeous newspaper Earth Day craft. This is such a simple and fun craft for preschoolers to make!
Use another fun painting technique with shaving cream and acrylic paint to make this beautiful marbled art Earth Day craft.
Want more fun ideas? Check out our full list of over 25 awesome Earth Day arts and crafts ideas Click on the image below to be taken the full post.