Make learning about letters and the alphabet fun for preschoolers with this awesome book-inspired Chicka Chicka Boom Boom Craft. This bright and colorful chicka boom boom inspired craft is a simple and easy alphabet activity that kids will love!
Chicka Chicka Boom Boom by Bill Martin Jr. and John Archambault is a fun read aloud book for both toddlers and preschoolers. The way the story can be read animatedly mixed with the rhyming text makes it an easy favorite children's book at both school and home.
Here is a simple way to extend the excitement of this beloved children's book and make learning the letters of the alphabet fun for kids by making this easy coconut alphabet tree craft with paper, cupcake liners and alphabet stickers.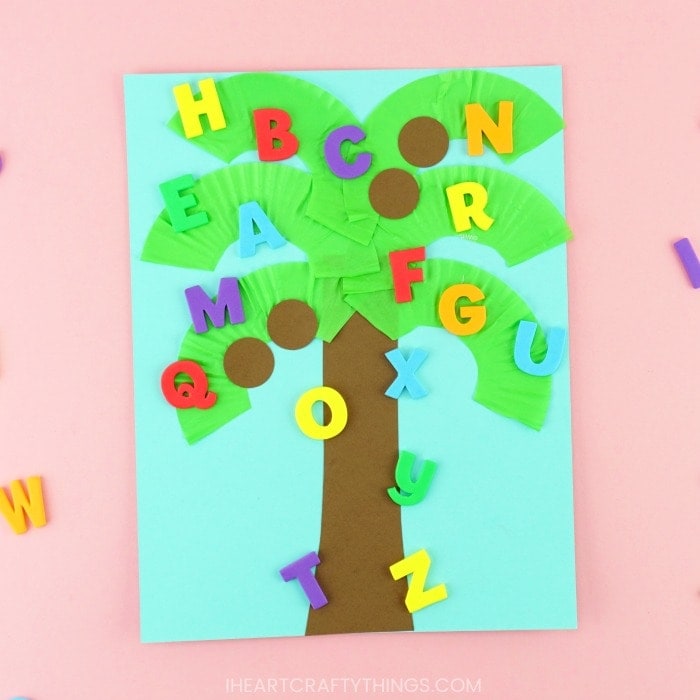 [This preschool craft activity was originally posted on May 20, 2015. It has since been updated with additional photos, a video tutorial and updated text.]
How to Make a Chicka Chicka Boom Boom Craft
This post contains affiliate links to the products mentioned. Read our disclosure policy for more information.
Supplies needed for this Chicka Boom Boom Kids Craft:
foam alphabet stickers (We found ours at Walmart but these glitters stickers look similar on Amazon.)
scissors
glue
Instructions for making your chicka boom boom alphabet learning activity:
Step 1: Start by prepping your cupcake liners for your coconut tree. Fold each cupcake liner in half. Cut the inside circle section of the cupcake liner out. Unfold the cupcake liner and cut it in half. You should end up with 6 sections after prepping all 3 cupcake liners.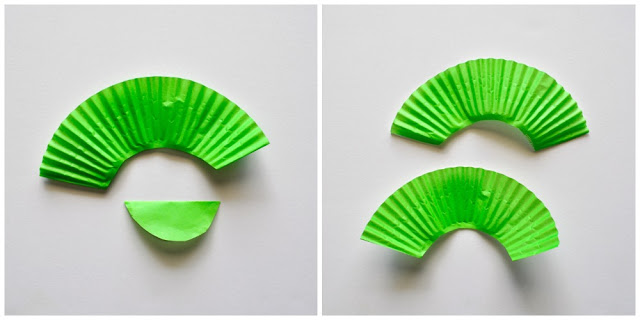 Step 2: Cut a coconut tree trunk out of your brown cardstock paper and glue it onto your light blue cardstock paper. Layer your cupcake liners at the top of the tree trunk and glue them on to look like a coconut tree.
Step 3: Cut out a few coconuts from your brown cardstock paper (we used four) and glue them onto your tree.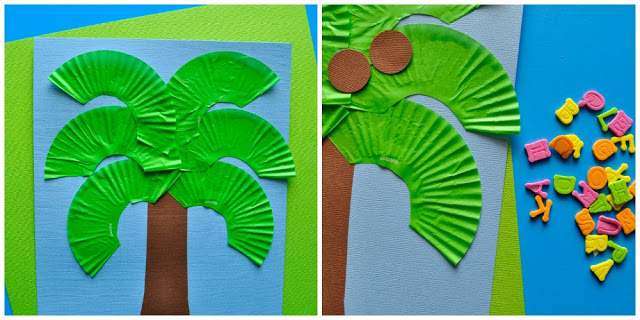 Step 4: Finish your Chicka Chicka Boom Boom Craft placing your alphabet stickers all over your tree. We used what we had on hand, which was uppercase foam letters. You could also use lowercase letters to be true to the story.
One fun way to incorporate alphabet recognition in this preschool craft would be to read the book together while your child puts the the letters on the tree.
As you read each page, your preschooler can find the correct alphabet sticker and then place it on the tree. Or if you have the craft made, you could also have your preschooler point to each letter on the tree as you read the pages of the book.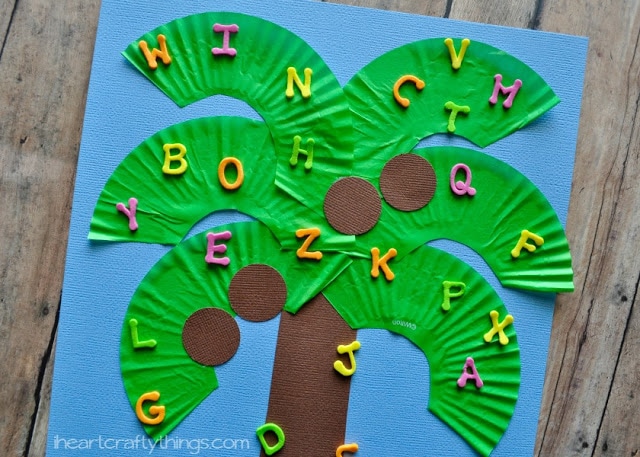 More fun alphabet learning activities for Preschoolers
Incorporate a fun science activity in your lesson plans by making this glittery alphabet slime. Call out a letter of the alphabet and have kids find it hidden in their slime.
For another sensory twist, mix up some brown and green play dough and let children act out the story by creating their own coconut trees with the playdough and letter beads.  Here is our favorite playdough recipe.
Magnetic letters another fun way for kids to get familiar with the alphabet. Carry them in a tin case and take them on the go for a word building activity kit.
Kids will love matching the letters of the alphabet with one of our many alphabet matching game free printables. A few of our favorites are our ladybugs, apples and flower garden printables.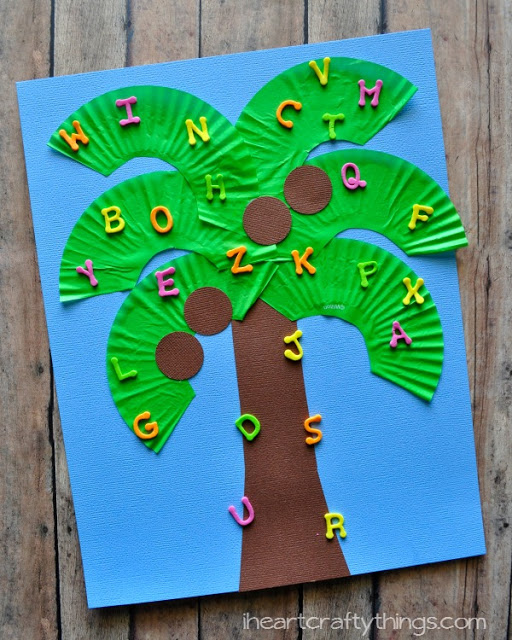 Video Tutorial: How to Make a Chicka Boom Boom Inspired Craft
Watch the video below for a step by step guide on how to make this fun cupcake liner alphabet craft.
Find more fun and easy children's book inspired crafts and learning activities by browsing the categories at the top menu bar of our website.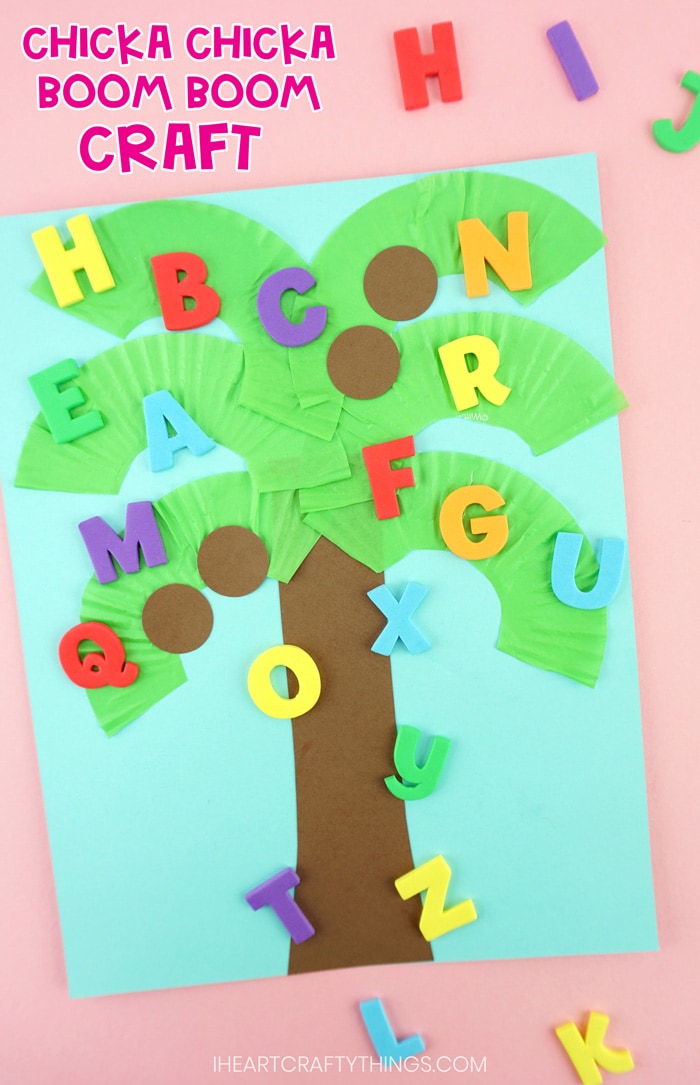 Looking for more preschooler arts and crafts inspiration? Check out this amazing resource of over 125 spring crafts for kids.