This bright and colorful Valentine's Day card is sure to make someone's heart burst with joy! Print out our simple 3D heart card template and follow along with our easy tutorial below to make your own heart card in no time at all.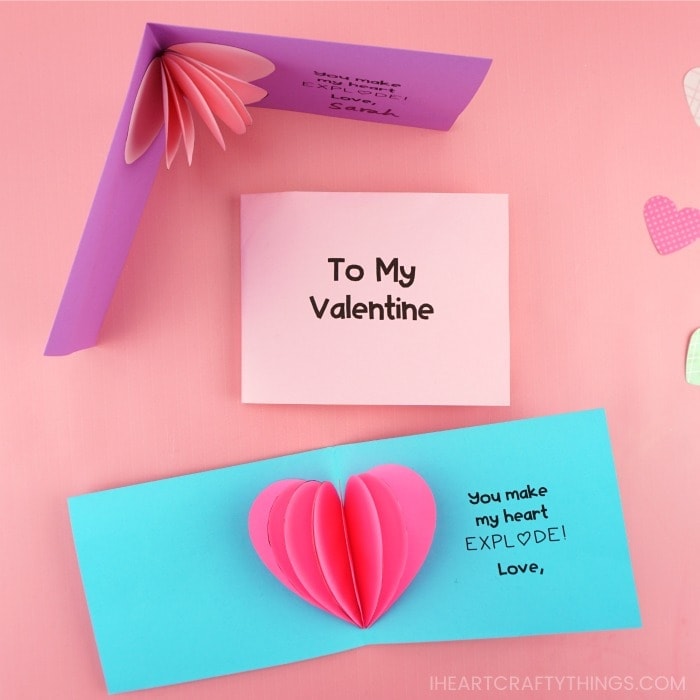 How to Make a 3D Heart Card
This gorgeous 3D Heart Card makes a perfect Valentine Card for kids to give to friends or family. The card is a little too advanced for smaller children to make but it would make a fabulous Valentine's Day craft for kids in Elementary School to create at school as a take home craft.
Before you get started, make sure to watch our full video tutorial inside this post.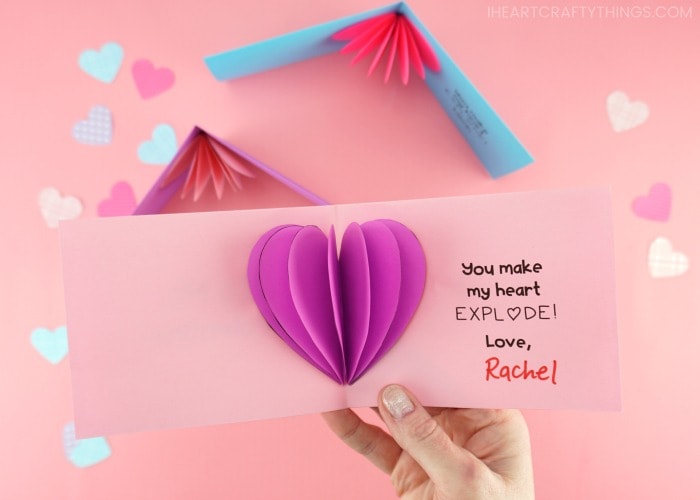 Supplies Needed for your 3D Heart Valentine's Day Card:
This post contains affiliate links to the products mentioned. Read our disclosure policy for more information.
Instructions for how to make a 3D Heart Pop Up Card:
Step 1: Download and print out the heart card template on colored paper. Make sure to use a different color for  the Valentine Card page of the template and the heart pages of the template to add to the colorfulness of the card.
Step 2: Use scissors to cut out each of the eight hearts from the template.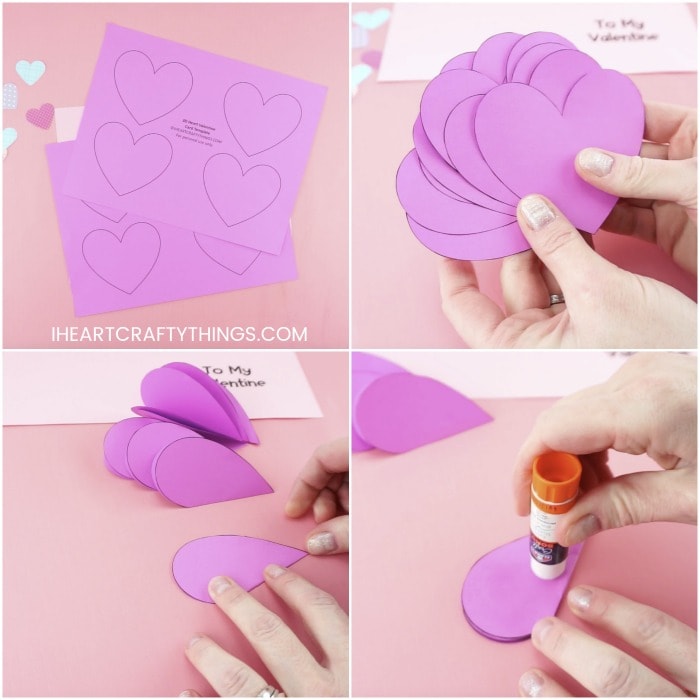 Step 3: Fold each of the eight hearts in half. Use your glue stick to add glue to one of the folded heart halves. Then glue another heart half onto it.
Continue adding glue and adding a paper heart until all eight have been glued together, creating a 3D heart.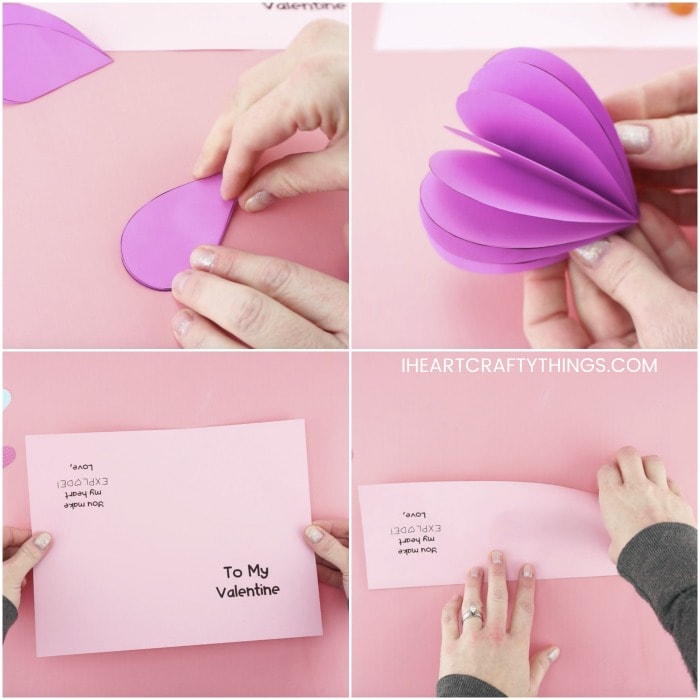 Step 4: Fold the Valentine card page of the template to create the base for your card. Start by folding the template in half lengthwise. Then fold the page in half again to form your folded card.
Step 5: Add glue to one of the outside halves of the 3D heart and glue it along the inside middle seam of the card. Then add glue on the opposite heart half and glue it down on the other side of the middle seam of the card.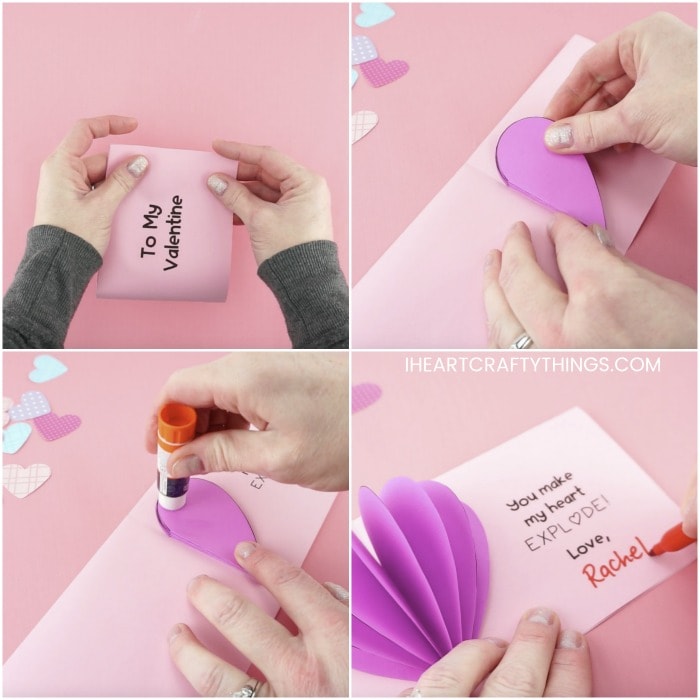 Step 6: Use a marker or gel pen to sign your name on the inside of the Valentine's Day card.
Step 7: Carefully fold the card closed with the 3D heart inside.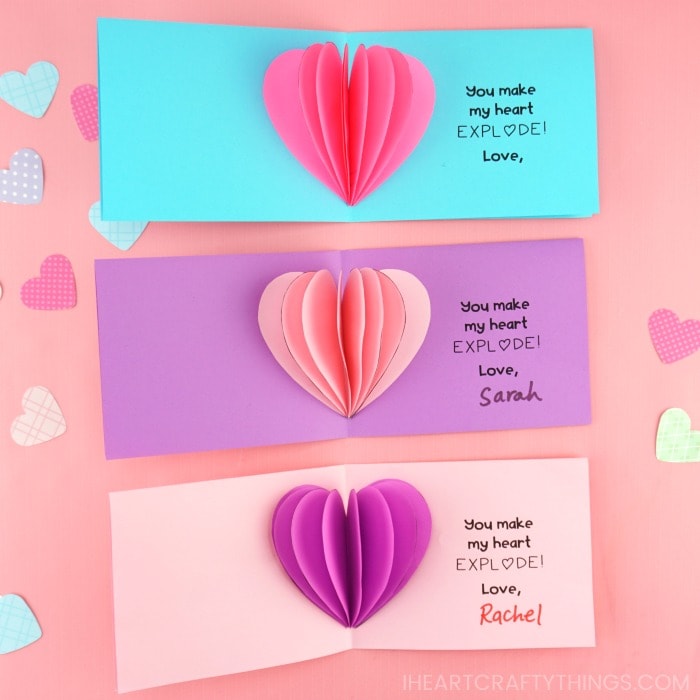 Your 3D Heart Card is complete and ready to give to someone special
When the card is opened, the fun 3D effect of the heart pops out of the middle of the card. The pop out heart looks gorgeous from all sides and angles.
Place the opened card on a shelf to admire it's colorful beauty!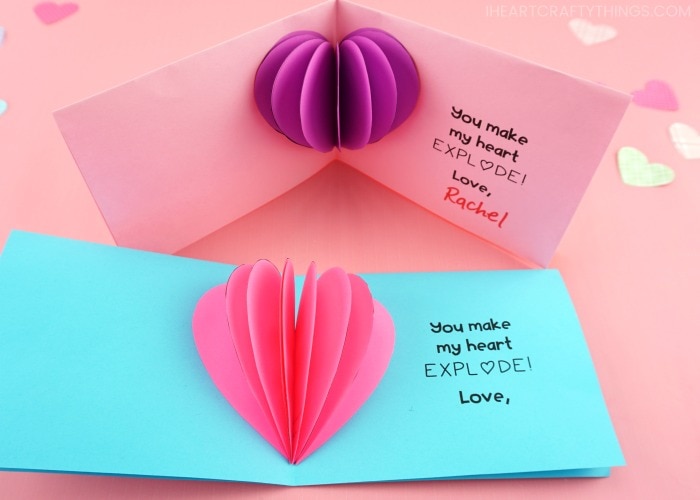 Want to make this gorgeous card for Mother's Day or a different time of year?
No problem! Simply print out the heart pages of our template but use a blank piece of colored paper for your card.
Then you can customize the inside and outside of the blank card however you like. You can write our same saying on the inside "You make my heart Explode!" or choose something completely different.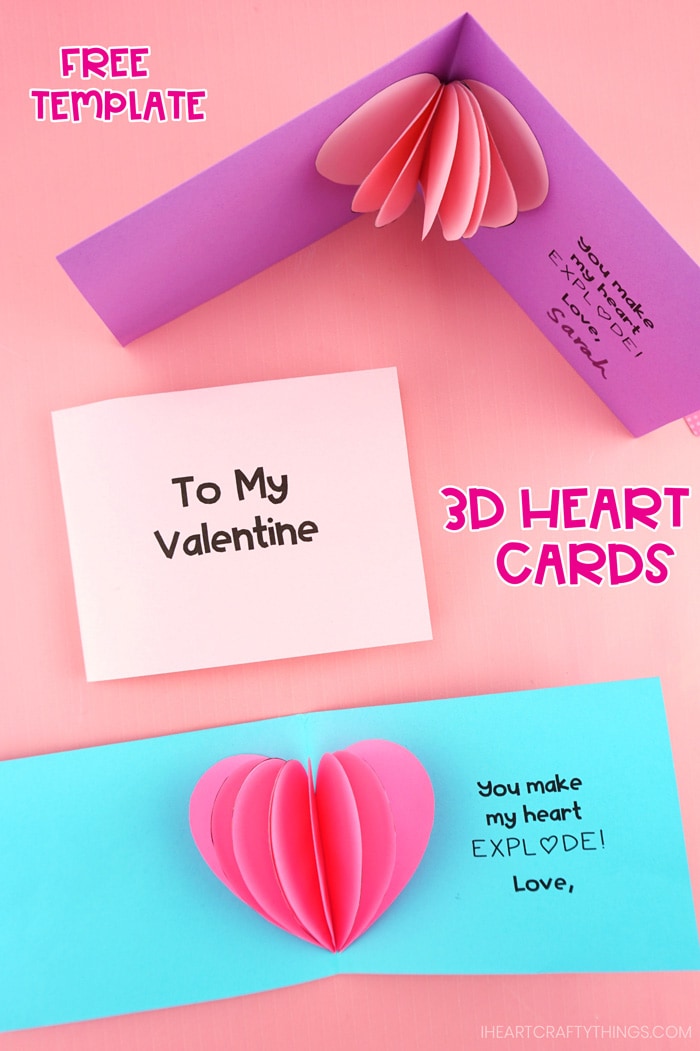 More Fun DIY Card Ideas
Here's another fun way to turn a 3D heart into a card. This 3D Hot Air Balloon Card is gorgeous and is great for Valentine's Day, Mother's Day or any time of year.
This cute You are my Sunshine Pop Up Card is a simple and fun way to help someone you know feel extra special.
Use our easy template to make this darling Hyacinth Flower Card for someone this spring. The 3D Effect on the front of the card is so fun!
These adorable butterfly handprint cards are fun and simple for littles ones to make any time of the year!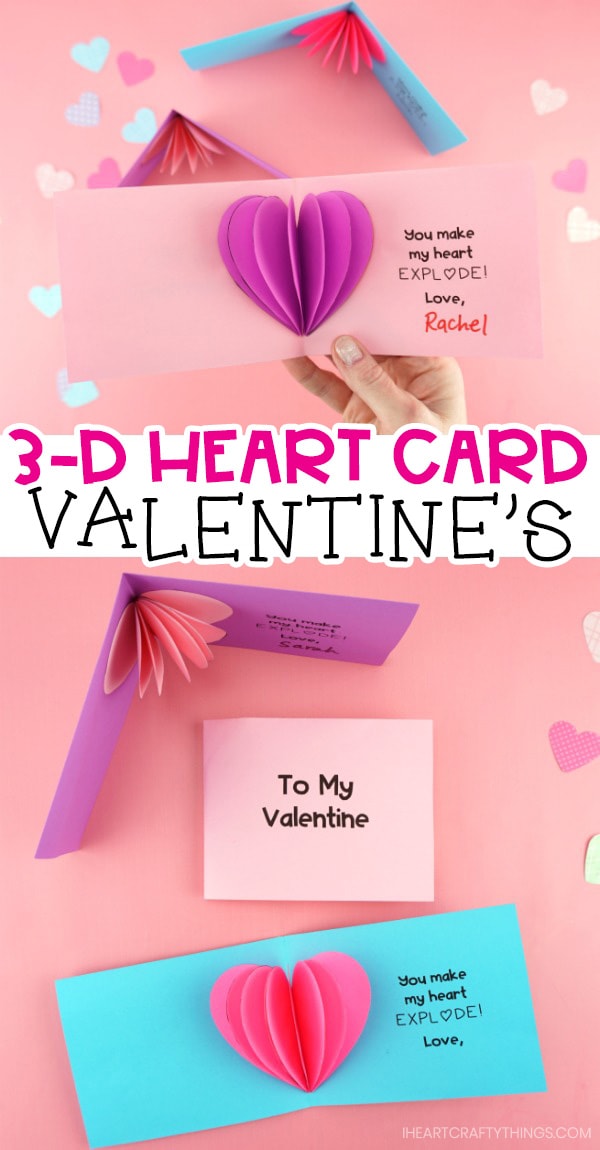 Looking for more Valentine's Day Crafts inspiration? Check out our post of over 40 of the best Valentine's Day Crafts for kids.