Our collection of cute puppet crafts keeps growing, and today we are adding this adorable wooden spoon mouse craft for kids to the mix.
Finding a mouse in your house is definitely not an exciting event but when they are in craft form they sure are cute. Especially when you combine the craft with a classic children's book with a mouse character.
This fun mouse craft we are sharing today is sure to delight the little ones in your life.
Check out or list of book recommendations at the bottom of this post.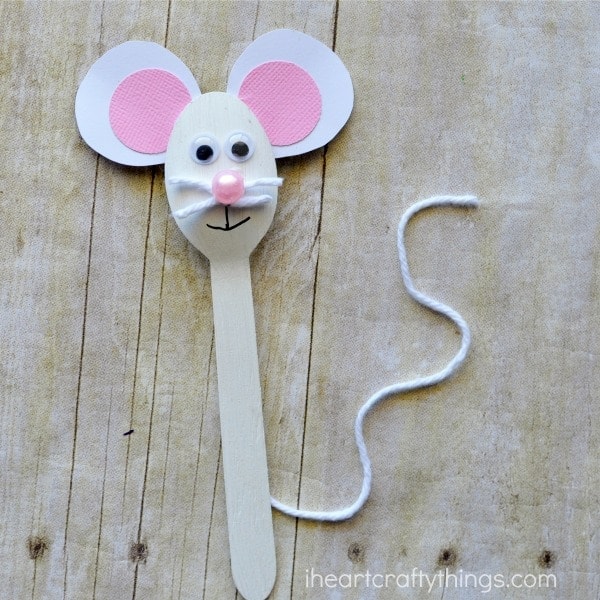 This post contains affiliate links to the products mentioned. Read our disclosure policy for more information.
How to Make a Wooden Spoon Mouse Craft
Supplies Needed for this Mouse Craft
– wooden party spoon
– white paint
– paintbrush
– white and pink cardstock paper
– white yarn or string
– round pink bead (Ours came from this Princess Plastic Beads set which we received from our friends at Craftprojectideas.com. You can find them at your local Walmart in the craft section.)
– black marker
– scissors
– hot glue gun (requires adult supervision)
Directions for this Wooden Spoon Mouse Craft
1. Start by painting the back of your wooden spoon with white paint. We used white paint but paint your mouse whatever color you'd like. Let it dry completely.
2. Cut out mouse ears from your white cardstock paper and pink circles to go inside them. Glue the pink circles onto the white ears. After you paint is dry, glue your ears onto the back of your mouse face. Next glue your googly eyes onto your spoon.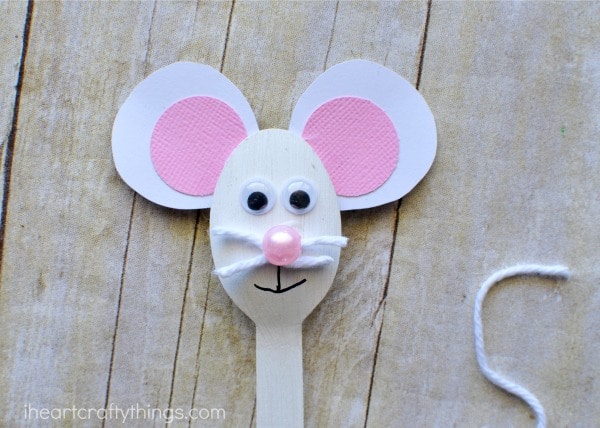 3. Cut two small sections of white string or yarn for the mouse whiskers. Add a dot of hot glue onto the middle of your mouse face and glue the two pieces of string in an X shape to make whiskers. Now add another dot of hot glue on top of the whiskers and glue your pink round bead on top for the mouse nose.
4. Finish your wooden spoon mouse craft by gluing a piece of white string onto the back of the spoon for a mouse tail and then draw a mouth onto your mouse with your black marker.
Isn't it absolutely adorable? You might enjoy combining this cute mouse craft with one of these fun children's books:
– The Mouse and the Motorcycle by Beverly Cleary
– If You Give a Mouse a Cookie by Laura Numeroff
– Frederick by Leo Lionni