Are you gearing up to learn about some arctic animals this winter season? If so, you will love this awesome polar bear craft! In this post learn how to make this fun pop-up polar bear craft idea with our handy polar bear template, step-by-step tutorial and video.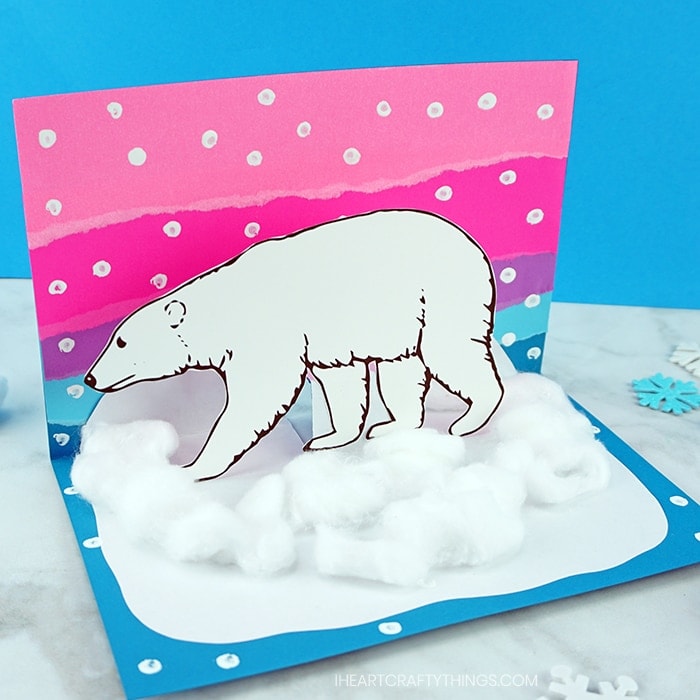 Every year in January when we feel the beginning of bitter cold temperatures, I'm reminded of why the winter months are such a great time of year to learn all about arctic and Antarctic animals. One of our favorite animals to learn about every year is the polar bear. We also love snowy owls and cute penguins. If you are learning and craft winter animals this year, you will love starting with our new polar bear craft idea we are sharing today.
How to Make this awesome Pop-up Polar Bear Craft Idea
This post contains affiliate links to the products mentioned. I Heart Crafty Things is a participant in the Amazon Services LLC Associates Program, an affiliate advertising program designed to provide a means for sites to earn advertising fees by advertising and linking to amazon.com.
Supplies:
110 lb. dark blue cardstock
scissors
glue
Instructions:
1. Begin by folding your dark blue cardstock in half. Set it aside for a moment.
2. Gather your pink, purple and blue colored paper. Tear a 2-inch strip off the top of each paper. These colors will be used to create your winter sky.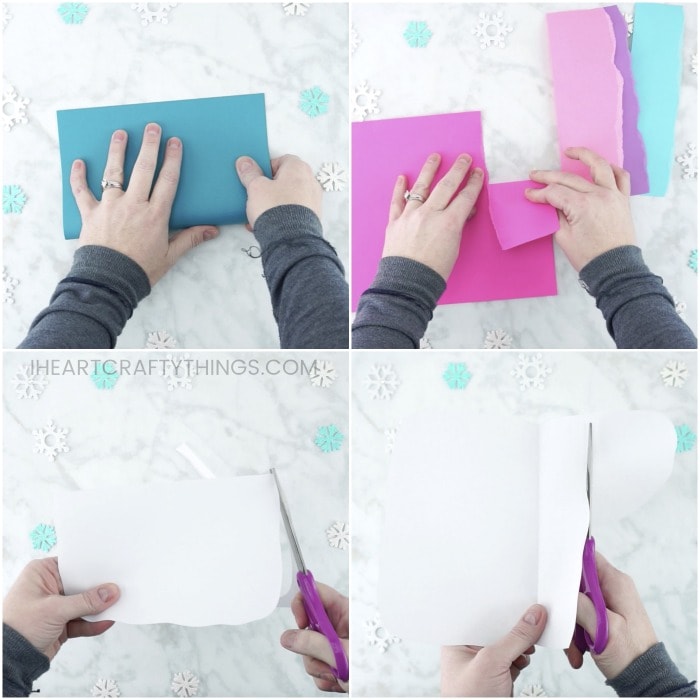 3. Fold your white paper in half. Then use scissors to trim around the outside edges of your paper. Open up your paper and trim down further on one-half of the paper leaving about 1-2 inches at the top.
4. Open up your folded dark blue cardstock. Add glue to it and layer your colored paper strips to make your winter sky background.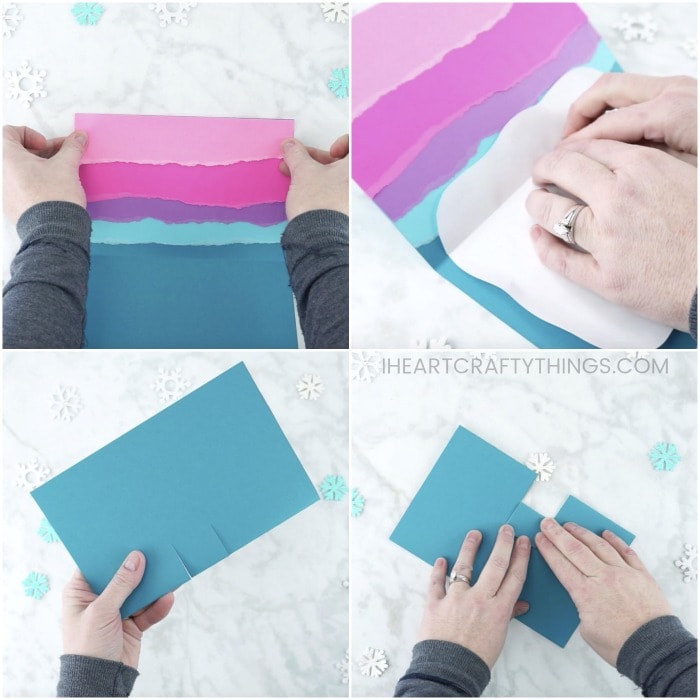 5. Now add glue on the back of your white paper. Line the creases of the white paper and dark blue cardstock together and then glue them to each other.
6. Close the blue cardstock and make two slits in the middle of the folded edge of the paper about 1-1/2 inches apart. Fold down the blue paper along the slits you cut.
7. Open up the blue cardstock again, invert the folded piece in the middle of the paper so it stands upright in the middle of the crease.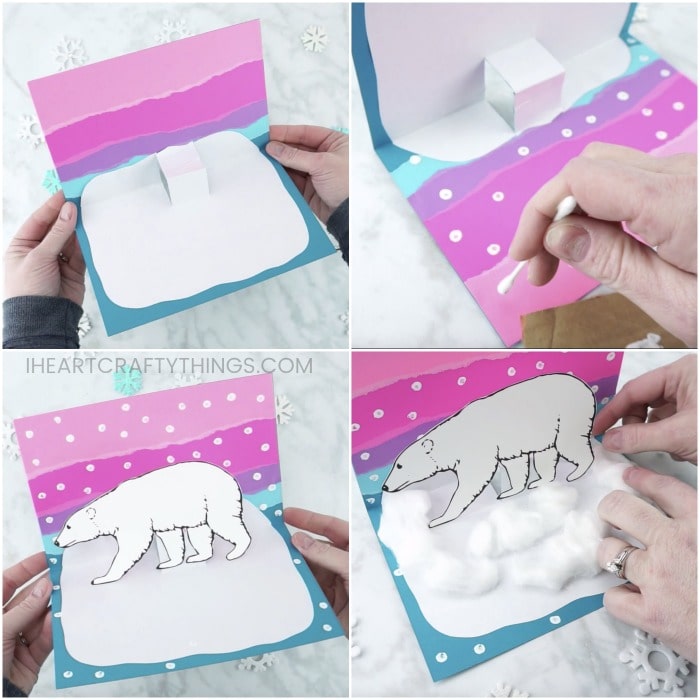 8. Add a small amount of white paint to a piece of cardboard or a paper plate. Dip a Q-tip into the paint and press it onto the colorful sky background of your polar bear craft. Continue dipping the Q-tip in paint and then all over the background to create snowflakes falling from the sky. You may even like to add some on the bottom half of your craft.
9. Print out the polar bear craft template on white cardstock paper and cut it out.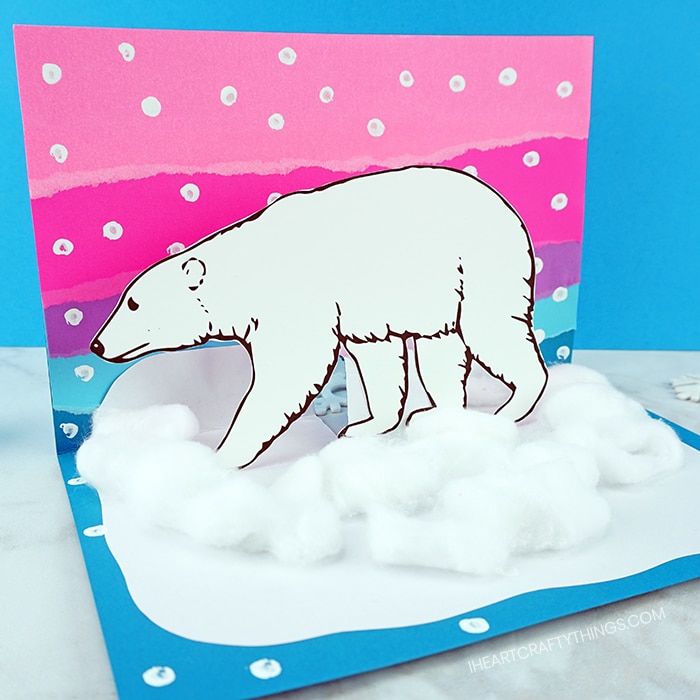 10. Add glue on the pop-out section of the folded cardstock. Attach your polar bear to the glue.
11. Stretch out 3-5 cotton balls to make them longer and thinner to look like clumps and hills of snow. Add glue on the bottom of your craft, around the polar bear, and glue the cotton ball pieces down.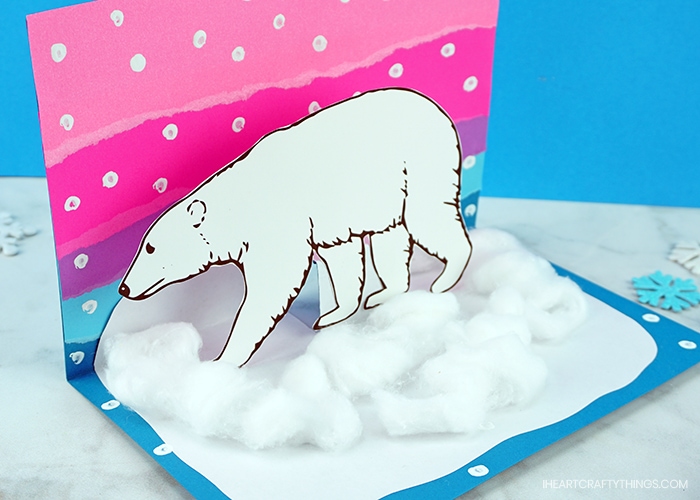 Your awesome polar bear craft idea is complete!
The colorful background and the way the polar bear pops off the page gives this fun polar bear craft a fantastic two-dimensional look. Cotton ball snow at the bottom of the craft adds extra texture and dimension to the polar bear too.
Video Tutorial: How to Make a Pop-up Polar Bear Craft
Watch the video below to be guided through each step of this polar bear craft idea. You can view more easy kids craft tutorials on our Facebook page, or right here on our website.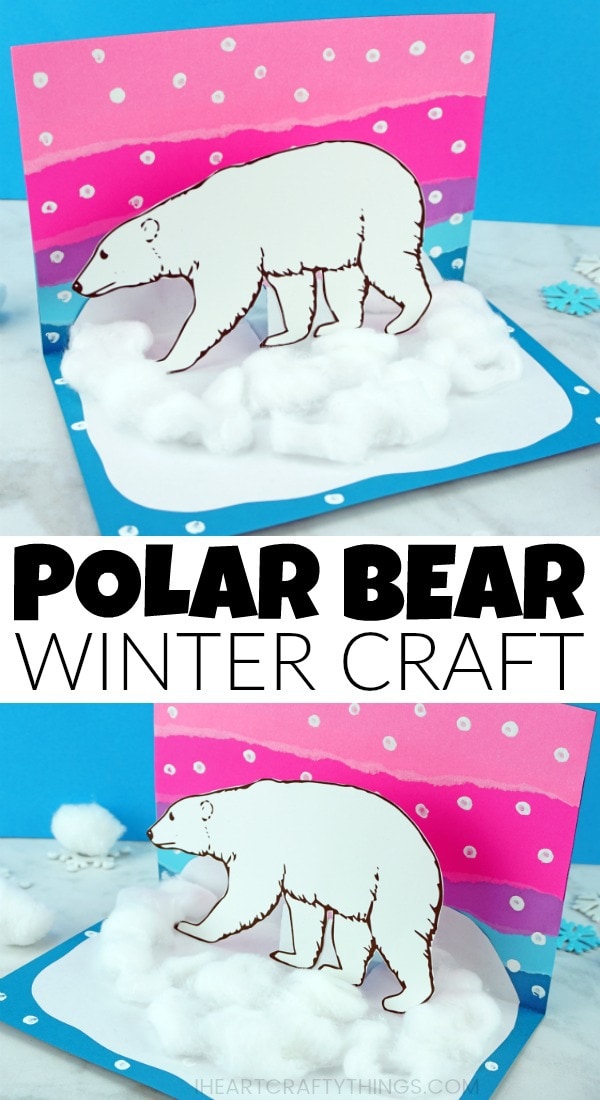 More fun winter crafts for kids
Grab some paper plates and yarn and use them to create this beautiful snowflake yarn art project. A great way for kids to begin strengthening their sewing skills.
Old newspapers are the perfect base for creating this gorgeous newspaper winter landscape art project. The end result is a beautiful mixed media art project that kids of all ages will enjoy.
Learning about more animals this winter season? Check out this list of more than 50 winter animal craft ideas.